Homemade Maple Walnut Granola
Homemade Maple Walnut Granola, an easy 20 minute homemade granola recipe made with maple syrup, walnuts, and cinnamon. Slightly sweet with a perfect crunch!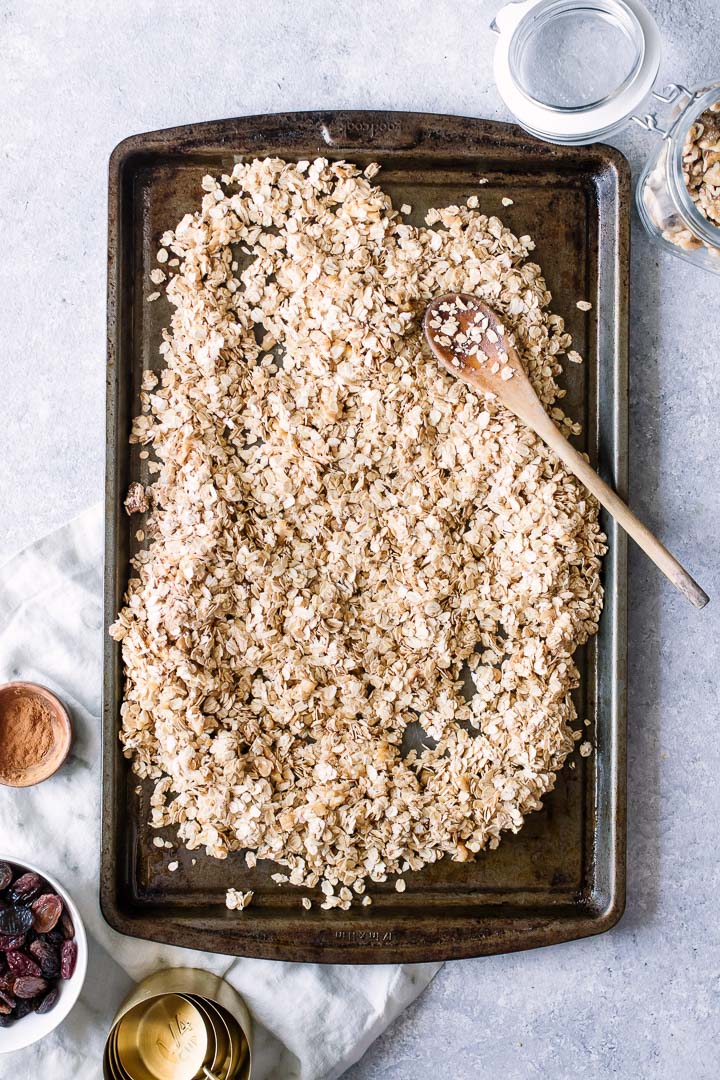 Did you know you can turn oats into a delicious and crunchy granola? If you're an oatmeal aficionado, making homemade granola is a way to take that to the next level. In this recipe, we've combined old-fashioned rolled oats with crushed walnuts, maple syrup, and dried fruit — it's the perfect topping that makes fruit, desserts, and yogurt even more delicious.
👉 Here are three reasons why you should make a batch of walnut granola:
It's delicious. This granola is crunchy, naturally sweet, and has a warm, fall-themed flavor from the cinnamon. It's so tasty, especially when combined with breakfast dishes and dessert!
It's versatile. You'll never get bored with homemade granola. It's easy to adjust and add any spices, seasonings, and toppings that you like. Switch it up by using different nuts, seeds, and dried fruits.
It only takes 20 minutes to make. All you have to do is mix the ingredients together and roast in the oven before you have delicious granola to snack on!
Ready to learn how to make homemade granola with walnuts? Let's do it!
---
🍁 Ingredients
You don't need much to make the perfect granola, only a few dry ingredients, a few wet ingredients, a sheet pan and an oven and voila — perfect granola every time. Here's an overview of the basic ingredients for this recipe:
Oats: any oats will do, but we like the large, old-fashioned oats because they make for a crunchier granola!
Walnuts: you'll need 1/2 cup of crushed walnuts for this recipe. If you don't have walnuts on hand, you can use other nuts and seeds (we love pumpkin seeds or sliced almonds).
Ground cinnamon: our favorite warm spice to use in fall-themed recipes.
Maple syrup: brings sweetness and helps ingredients stick together for the perfect granola!
Dried fruit: try raisins or dried cranberries; they bring a sweet, tart flavor to this crunchy snack.
Recommended tools: baking sheet, mixing bowl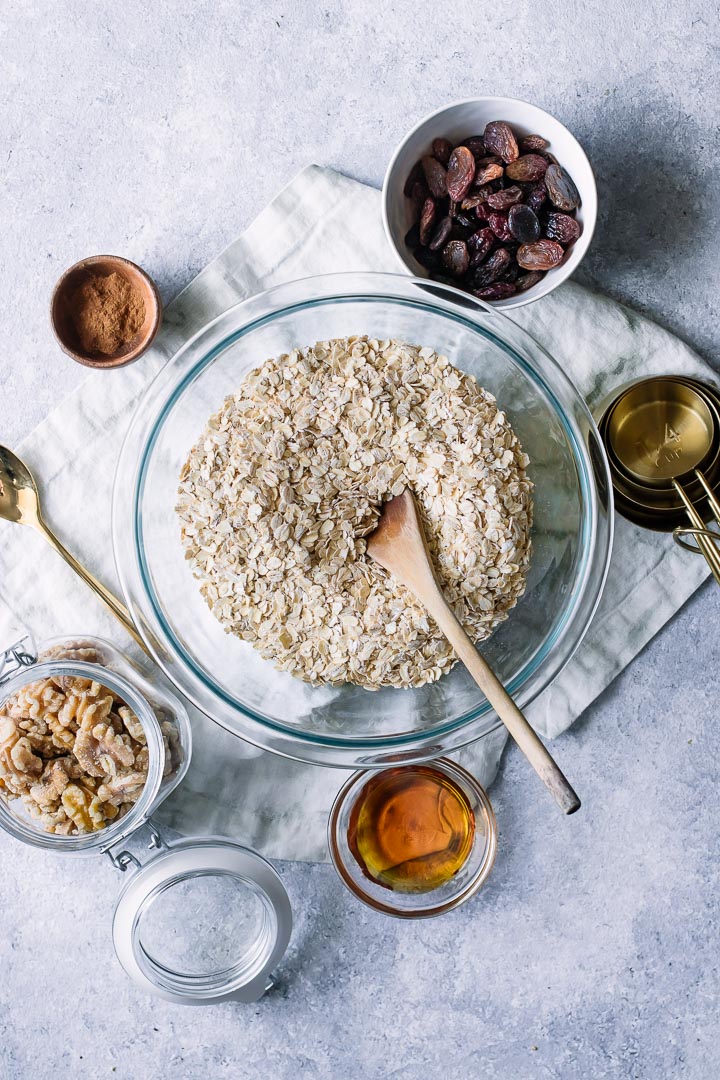 ---
🥣 How to make (step-by-step photos)
1️⃣ Step One: Preheat oven + prep ingredients
Start by preheating your oven to 250 degrees F.
In a mixing bowl, mix the oats, walnuts, and cinnamon together. Give it a stir, then combine with maple syrup to lightly coat the dry mixture.
---
2️⃣ Step Two: Bake granola until crunchy
Next, you'll spread the granola mix on a parchment paper-lined baking sheet. Roast in the oven until dry and crunchy, but not burnt. This will take about 20 minutes.
---
3️⃣ Step Three: Let granola cool + add raisins
Finally, take the granola out of the oven. Set it aside and let it cool completely.
Once the granola is cooled, toss it with raisins or other dried fruit. Enjoy!
Important! Do not bake granola mix with raisins; only mix them in after baking. Baked raisins burn easily.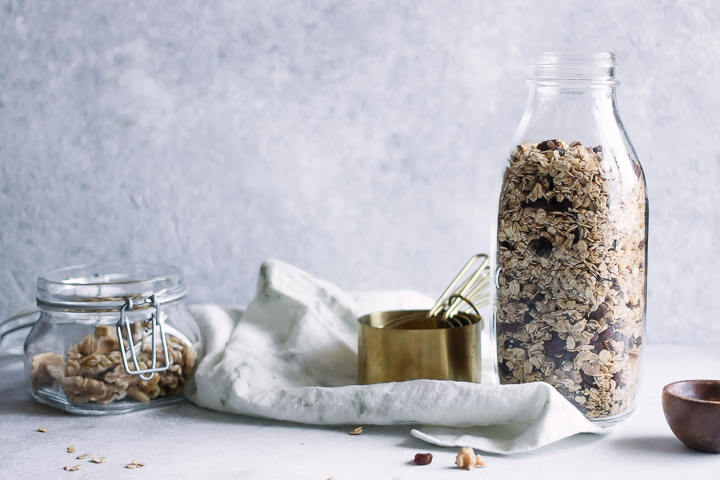 ---
❓ Recipe questions + quick tips
What are the health benefits of walnuts?
There are a variety of health benefits associated with eating walnuts. What really makes them shine is their healthy fat content, which is good for the heart, supports brain health, and more. Additionally, walnuts are a source of fiber, disease-fighting antioxidants, and vitamins and minerals like Vitamin E and manganese.
Why is my granola not crunchy?
To get the perfect crunch in granola, you need to mix dry oats with a small amount of liquid. Liquid sweeteners like maple, agave, and honey add a slight dampness when mixed with oats, and help to make it crunchier. It is also a good idea to roast granola on low heat for about 20 minutes to make it as crunchy as possible.
Is eating homemade granola healthy?
Homemade granola is typically made from healthy ingredients, including oats, nuts, seeds, and dried fruit. While these provide fiber, vitamins, minerals, and protein, granola can be high in calories and is easy to overeat. We suggest eating granola in moderation; a handful is a reasonable portion size. You are also better off making granola from scratch because you can control the types of ingredients and the amount of sugar that's in it.
---
🥞 How to serve
There are so many possibilities for how you can serve walnut granola. Here are a few of our favorite ways:
Have as a snack on its own. Grab a handful of granola and enjoy as a simple, balanced snack between meals!
As a breakfast topping. You can't go wrong with adding granola to breakfast staples like yogurt parfaits, oatmeal bowls, and even pancakes and waffles. It can even be used as a topping for smoothies and fruit bowls!
Enjoy as cereal. Mix some walnut granola with your favorite milk or milk alternative for a crunchy cereal.
Dessert mix-in. Top cake, brownies, cookies, or ice cream with a couple of spoonfuls of granola.
Get creative with toppings. Make this recipe your own by adding different types of nuts (pecans, pistachios, coconut), seeds (sunflower seeds, flax seeds), spices (vanilla, nutmeg, pumpkin spice), or sweets (honey, agave, brown sugar, raisins).
---
🧊 How to store
You're going to love this homemade granola so much, it's unlikely that you'll have leftovers! If you do, make sure to keep it in a sealable container and eat within one month. While it could stay fresh for longer, granola tends to go stale the longer that it's stored.
Granola can be kept in the refrigerator, but it will keep its quality when stored at room temperature. We do not suggest storing granola in the freezer.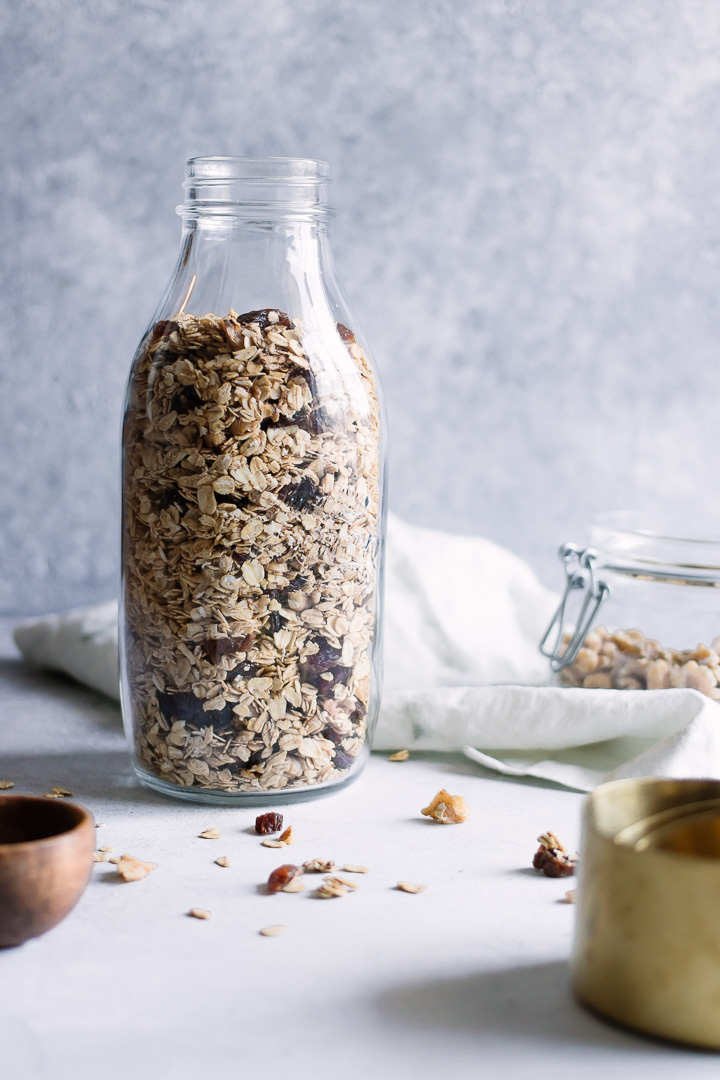 ---
♻️ Sustainable kitchen tips
Looking to take your green lifestyle to the next level? You're off to a good start, because DIY walnut granola reduces food and packaging waste on its own. Make the recipe even more eco-friendly with these tips:
Use eco-friendly bakeware: choosing environmentally cookware is key to a building a green kitchen, that's why we love using our eco-friendly baking sheet.
Choose responsible ingredients: in addition to using organic ingredients from farms we know and trust when possible, we always buy USDA Grade A organic maple syrup to ensure proper maple extraction practices
---
🧡 More homemade granola recipes
Looking for more granola recipes? We've got you covered:
Maple Walnut Granola
Maple Walnut Granola, an easy 20 minute homemade granola. Made with maple syrup, walnuts and cinnamon, it's slightly sweet with a perfect crunch.
Ingredients
4

cups

old fashioned rolled oats

½

cup

crushed walnuts

other nuts and seeds

1

tablespoon

ground cinnamon

¼

cup

maple syrup

1

cup

raisins

or other dried fruit
Instructions
Prep oven + ingredients: Preheat oven to 250 degrees. Toss oats, crushed walnuts and cinnamon dry ingredients together. Stir in maple syrup to lightly coat dry mixture, but not soak (use more/less if needed).

Bake until crunchy: Spread on a lightly oil greased sheet pan and bake for 20-30 minutes, or until dry and crunchy but not burnt. Stir 1-2 times throughout cook time to evenly cook.

Serve: Enjoy in and on smoothies, yogurt and oatmeal bowls…or with your favorite milk or milk alternative for a crunchy cereal.
Notes
Recipe notes: Substitute walnuts for other nuts and seeds, such as pecans, almonds, or sunflower seeds.
Leftovers + storage: Granola can be saved in an airtight jar or container for months, which makes it a great recipe to cook in large batches.
Nutrition notes: This simple homemade granola recipe is a great topping for yogurt bowls or eaten as a cereal with plant-based milk. It is a good source of fiber, plant-based protein, and healthy fats from nuts.
Nutrition
Serving:
1
serving
Calories:
190
kcal
Carbohydrates:
33
g
Protein:
5
g
Fat:
5
g
Saturated Fat:
1
g
Polyunsaturated Fat:
3
g
Monounsaturated Fat:
1
g
Sodium:
6
mg
Potassium:
237
mg
Fiber:
4
g
Sugar:
4
g
Vitamin A:
3
IU
Vitamin C:
1
mg
Calcium:
36
mg
Iron:
2
mg
UPDATE: This recipe was originally published in September 2018 and updated for clarity in September 2021.