Are Silicone Baking Mats Eco-Friendly?
Are silicone baking mats eco-friendly alternatives to parchment paper? We deep dive into how they're made and whether using silicone mats is a zero waste replacement for single-use baking papers.
Do you use silicone baking mats? These rubbery-feeling baking mats work like traditional parchment paper by providing a pan lining for baked foods and completely replace single-use baking papers like parchment paper. But are they eco-friendly?
Replacing single-use parchment paper for silicone baking mats will provide an eco-friendly nonstick surface solution. Silicone roasting mats can be used with any foods that roast in the oven – from baked goods like cookies to roasting vegetables like broccoli – as a zero waste kitchen solution.
Read on to learn more about how silicone baking mats are made, how long they last, and how to dispose of them in a sustainable way.
---
❓ What are silicone-baking mats?
Silicone baking mats work much like parchment paper for baking. They are heat resistant, food-grade, easy to clean, and best of all, they are reusable. You can use silicone-baking mats when baking cookies, bread, or other baked treats, as well as for roasting vegetables.
Available in many sizes, you can purchase silicone baking mats that will fit small, medium, and large cookie sheets. When using rolls of parchment paper, you must cut each sheet from the roll separately, which takes time and results in smaller pieces of paper that are not used and discarded.
That is not so with silicone baking mats because they are already cut to fit your sheet pans and you can purchase silicon-baking mats for every pan size you own. In addition, the best part is when you are through baking, you rinse your mat, dry it, and store it for later use.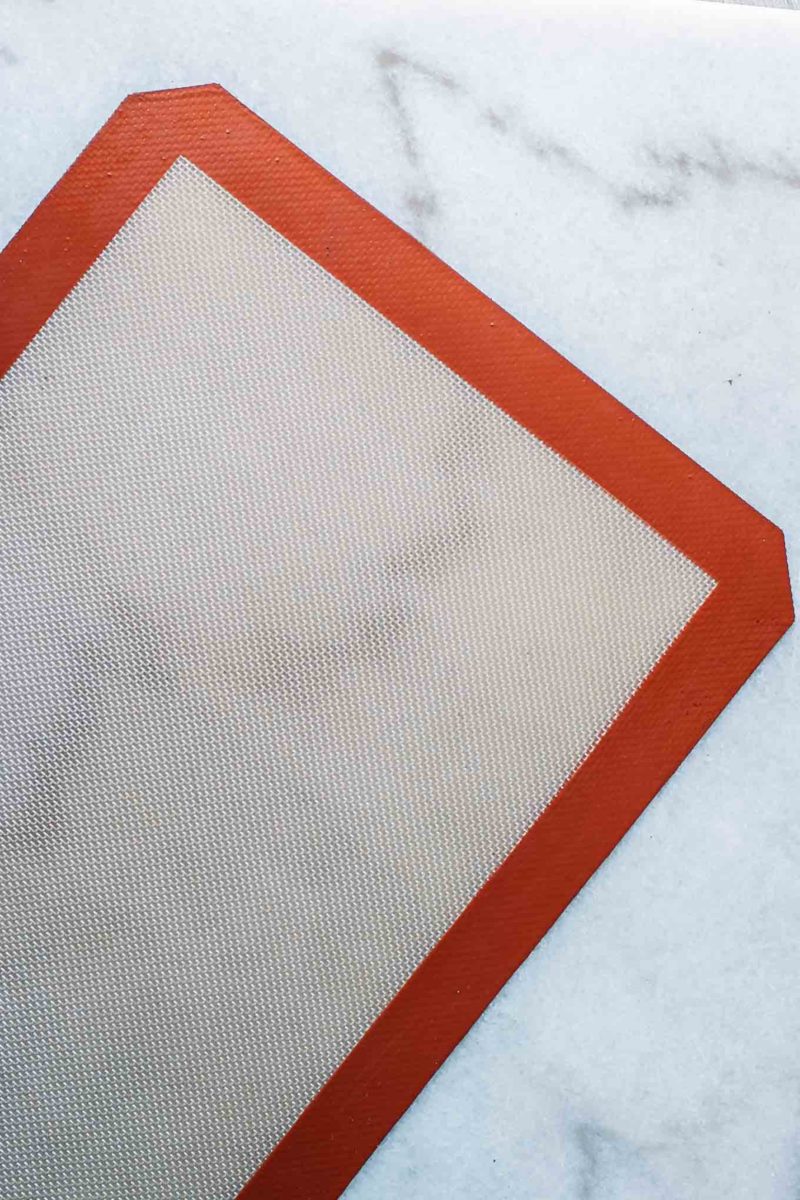 ---
🏭 How silicone baking mats are made
Silicone baking mats are created from a synthetic polymer that is made from a mixture of silicone (a naturally occurring substance) with a fiberglass netting. According to the FDA, formulated into a nonstick mat that resists heat and staining, silicone baking mats are food safe up to 500 degrees Farenheit.
Silicon will not react with other materials, and it does not release toxic fumes when it is heated. These qualities make it the perfect replacement for parchment paper when baking your family's favorite treats.
Many rubber spatulas are made from silicon, and they hold up well under repeated use. So, using that as a gauge, you can see silicon-baking sheets will have the same longevity and ease of cleaning, and best of all, they are eco-friendly alternatives to single use items.
---
🔄 How long is the life cycle of a silicone baking mat?
There is no definitive answer to this question. Baking mats can be reused for a very long time and many people use them several years. However, even though silicone baking mats do not wear out easily, they will become dirty over time and we also advise you to replace your baking mat every year depending on the frequency of use.
To keep them clean and in good use, is recommended to wash them with a neutral soap or a dishwashing liquid before first use and after each use. They easily clean up at high temperature in the dishwasher even though we recommend washing by hand as much as possible. Remember that the dishwasher will reduce the life expectancy of your baking mats if they are not placed in a suitable basket or bag.
It's also key to keep them away from sharp objects, heat sources and direct sunlight, and corrosive cleaning products which could damage the silicone.
---
♻️ How much parchment paper is saved from using silicone baking paper
Silicone baking mats will save you lots of parchment paper and aluminum foil. If you consider that a big box of parchment paper for $10 dollars contains 500 sheets, we can say that using silicone baking mats instead of this kind of paper will help you save money in the long term. In fact, buying a good quality silicone baking mat means not having to buy other kitchen utensils such as parchment paper, aluminum foil or cooking sprays, since you can use them all at the same time.
In addition, with a silicone baking mat you will avoid wasting valuable resources that are used for making this type of papers. In fact, they require high amounts of wood fibers and energy to manufacture. Check out our guide on whether parchment paper is eco-friendly and why you should use things like silpats instead.
---
🗑 How to dispose of silicone baking mats
Silicone baking mats are classified as "green" and it may possible to recycle them, depending on your local regulations. We recommend to check with your local recycling company for their rules.
Some zero waste proponents say that using silicone cookware may not be as eco-friendly of a choice as people may think because many times silicone products cannot be recycled, and are not suitable for composting.
However, it's important to compare the long product life of a single baking mat (if well cared for) compare to the life of single-use parchment paper (and its packaging). And even though parchment paper is made of – you guess it – paper, it is not usually compostable or recyclable.
---
👉 What is the most eco-friendly baking mat alternative?
While using baking mats are a great alternative to using parchment paper, the most sustainable baking choice is to use no paper or mats at all. Simply roasting and baking with a thin layer of oil is the most eco-friendly choice, and purchasing durable, long-lasting cookware that you clean and care for is the most environmentally-friendly choice.
---
🛍 Where to buy silicone baking mats
Shop EarthHero
EarthHero is a sustainable zero waste online shop that features kitchen products like reusable silicone baking mats. Use code FORKINTHEROAD for 10% off (affiliate link).
Shop Amazon
Amazon has an array of silicone bakeware products, including baking mats. It also carries the most popular brand Silpat, which is what we use in our kitchen (affiliate link).
---
💚 More eco-friendly kitchen guides
Curious about the environmental sustainability of your kitchen products? Check out our other sustainable kitchen guides:
♻️ Want more inspiration for going green in the kitchen? Join the Green Living Community for plant-based recipes, sustainable kitchen hacks, and get our FREE guide to meal planning to reduce food waste!