Beet Greens Smoothie, a sustainable way of using beets and beet greens in vibrant green smoothie. Beautiful and tasty!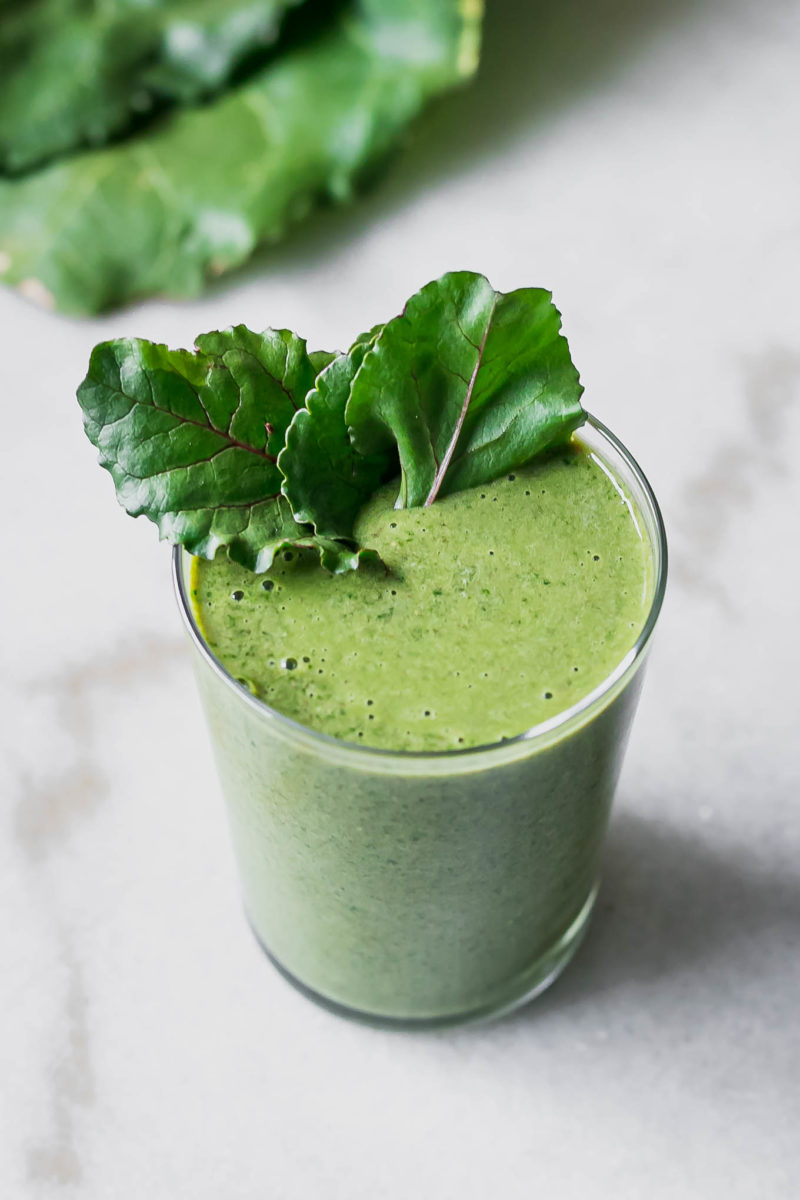 Do you throw out beet greens? You're missing out! Beet greens are actually edible and add extra flavor and flare to our swirled beet greens smoothie. It's a unique show-stopping smoothie that's also a great way to be sustainable by reducing food waste.
👉 Ready to learn how to make this food scrap smoothie? Let's do it!
---
🌿 Ingredients
This zero-waste smoothie features super fresh ingredients, including fruit, beet greens, and spices. Here's an overview of what you'll need to make it:
Banana: one frozen, sliced banana is needed to make this recipe extra creamy and smooth.
Chopped beetroot and beet greens: the base of the smoothie! Check out our guide on How to Store Beets.
Ginger, cinnamon, nutmeg, vanilla extract: what we used to bring the smoothie a delicious, fresh flavor.
Plant-based milk: you can use any type of milk that you'd like to blend the ingredients together—those with a thicker consistency like oat milk or pea milk tend to work better for smoothies.
Date: adds some natural sweetness to this recipe (all you need is one!).
Optional: shredded beets and beet greens as a topping
Recommended tools: high-powered blender, knife set, cutting board
---
🥣 How to make (step-by-step photos)
1️⃣ Step One: Slice and freeze the banana
First, slice the banana into 1/2 inch (1-2 cm) slices. Arrange on a plate or in a bowl, and place in the freezer for at least 15 minutes before blending it into this smoothie. Don't freeze the entire banana with the peel, or else you won't be able to remove the outer peel before using it because it will be too hard (we've made this mistake).
❓ Why use frozen banana in smoothies instead of ice? Freezing banana slices (and other fruit) instead of using ice will give your smoothie a smoother consistency that isn't grainy from the blended ice. You can add ice if you need to, but we like to start with a frozen fruit base and then add in ice if we need a thicker consistency.
---
2️⃣ Step Two: Make the beetroot smoothie
Once the banana slices are frozen, add them to a high-powered blender or food processor with the chopped beetroot, spices, vanilla, date, beet greens, and plant-based milk (we used oat, but pea milk also works great for smoothies because of its thick consistency).
Blend the ingredients together until smooth. Depending on your preference, you can add 1-2 ice cubes to make the consistency thicker or add more plant-based milk for a thinner consistency.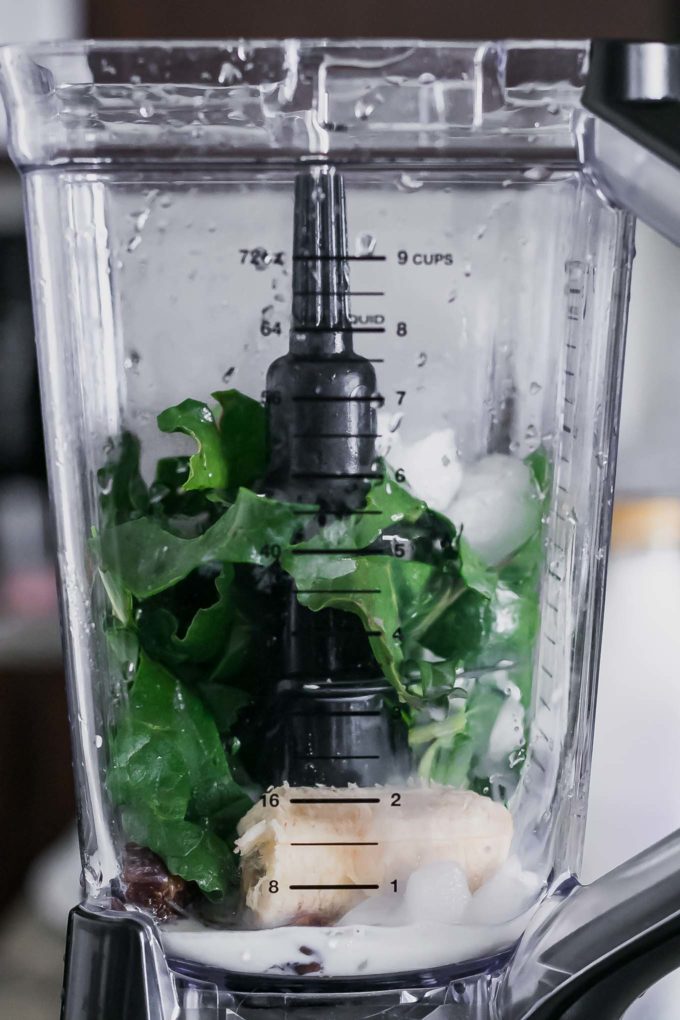 ---
3️⃣ Step Three: Serve smoothie
When the smoothie is blended, pour it in a glass and garnish with small beet leaves (optional), and enjoy!
---
❓ Recipe questions + quick tips
What if I don't want to use banana?
In place of banana you can use another smooth ingredient like avocado or even a plant-based yogurt like coconut or oat milk yogurt. Beets on their own are not a super smooth ingredient, and while you may get a smooth consistency if you have a very high-powered blender, we suggest using a creamy ingredient like banana, avocado, coconut cream, or vegan yogurt for extra creaminess.
How do you cut and wash beet greens?
Simply cut beet greens from the hard stems, soak in water, and then let dry. Then remove any hard stems and chop.
Do I have to use the spices you listed?
No! You can omit the cinnamon, nutmeg, vanilla, and ginger if you'd like but we included them in the recipe because they add a nice warm flavor. However, a smoothie with banana, beet, beet greens, and dates will still have a great earthy flavor.
How do you make a smoothie without ice?
To make a smoothie without ice, freeze the fruit you're using first. The frozen fruit will do double duty as a flavorful ingredient and take the place of ice for a smoother consistency.
What plant-based milk should you use in a smoothie?
Any plant-based milk will do, but a milk alternative with a thicker consistency like oat milk or pea milk is best for smoothies. These thicker milks will make for a smoother, thicker texture.
---
💡 How to serve
You'll love this colorful, tasty smoothie — here are some of the best ways to enjoy it:
As a healthy breakfast. Our beet top smoothie is full of fiber and nutrients, so it's the perfect option to start your day with! Increase the protein and healthy fats with some nut butter, chia seeds, hemp seeds, or plant-based yogurt.
As an energizing snack. Switch up your afternoon snack routine with a beet top smoothie! This recipe is simple and delicious, and it's the perfect way to boost your energy levels. Pair it with some nuts or seeds so that it will hold you over until your next meal.
Make it a bowl. You can't go wrong with smoothie bowls! This is a fun way to switch up smoothies, and you can add all of your favorite toppings.
---
♻️ Sustainable kitchen tips
Looking to take your green lifestyle to the next level? While this recipe is a great way to reduce food waste in itself, here are some ways that you can make it even more eco-friendly:
Make the smoothie while beets are in season. The best time to add beet greens to smoothies is when beets are at the height of their growing season. Find out when they're in season hear you here.
Opt for Fair Trade fruit. Bananas and other tropical fruits are often grown on plantations in countries where fair living wages are not commonly paid to farmworkers. To ensure your fruit is ethically harvested, choose those that have a Fair Trade certification (see a list of all our recommended trustworthy food certifications).
Compost the food scraps. Banana peels and any scraps that you accumulate from the beets should be tossed in the compost bin (rather than in the trash!).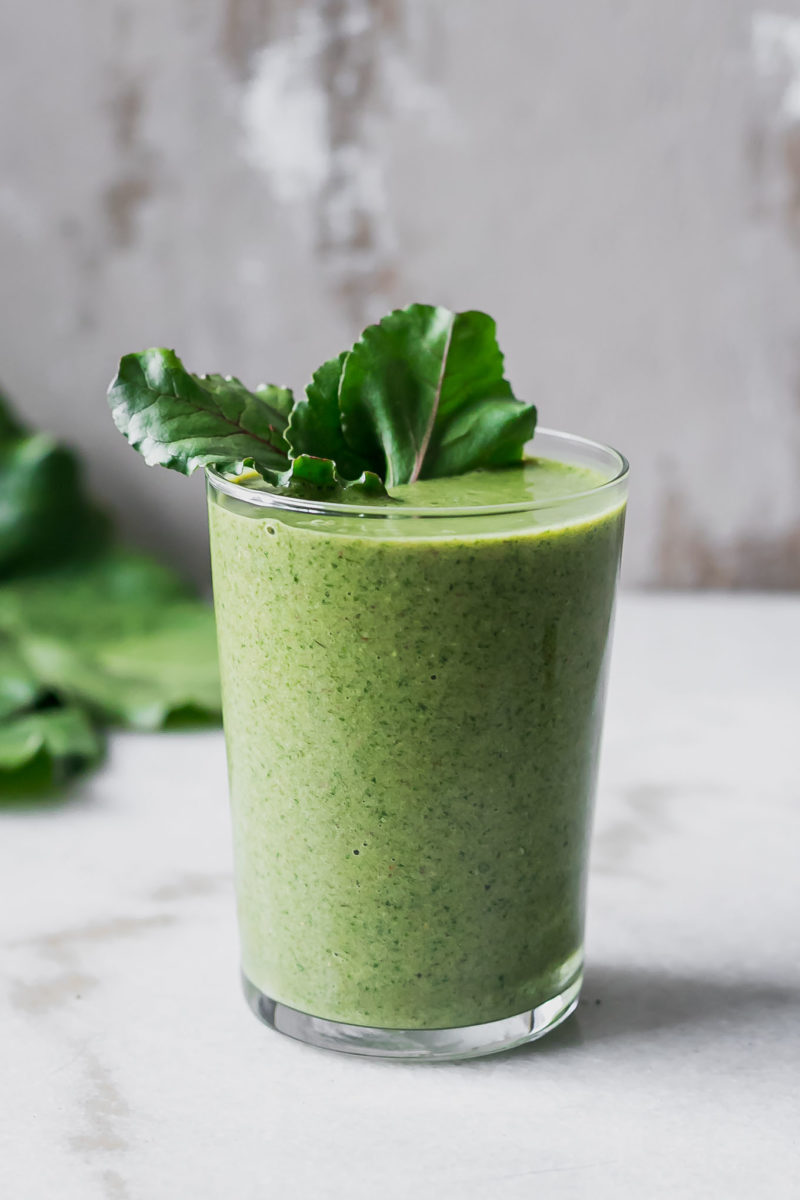 ---
🌱 More beet top recipes
Want more recipes using beet greens? Check out our other food waste recovery recipes using beet tops:
Looking for more scrap smoothies? Try out Zero Waste Radish Greens Smoothie and our Low Waste Carrot Leaves Smoothie!
Beet Greens Smoothie
Swirled Beet Greens Smoothie, a sustainable way of using beets and beet greens in vibrant red and green smoothie. Beautiful and tasty!
Ingredients
1

large

banana

sliced and frozen

½

cup

beet root

peeled and cubed

½

teaspoon

minced ginger

¼

teaspoon

ground cinnamon

¼

teaspoon

vanilla extract

1

pinch

nutmeg

½

cup

plant-based milk

½

cup

beet greens

washed and sliced

1

whole

medjool date

pitted and soaked

Optional:

shredded beets and beet greens

as garnish
Instructions
Freeze banana: First, slice banana into small slices and place in the freezer for about 15 minutes to freeze. Freezing the banana means you don't have to add additional ice to the smoothie to make it cold. After freezing, you'll use ¾ of the banana for the beetroot layer and ¼ for the greens layer.

Blend smoothie ingredients: Add the banana to a blender with the chopped beets, ginger, cinnamon, vanilla, nutmeg, date, beet greens, and plant-based milk (we used oat milk). Blend until smooth, adding ice for a thicker consistency and more plant-based milk for a thinner consistency.

Serve the smoothie: When done, pour the beetroot smoothie into a serving glass. To serve later, freeze glass and remove from freezer for 10-15 minutes to let thaw enough to drink. Enjoy!
Notes
Notes: Freezing the banana will mean you don't have to add ice to the smoothie, however if you like a colder and thicker consistency then add 1-2 ice cubes to the beetroot base.
Tools Needed: high powered blender, knife set, cutting board
Nutrition Notes: This smoothie uses all plant-based ingredients and is gluten-free. It is high in fiber and, depending on which plant-based milk you choose, it may also be a good source of plant-based protein. Feel free to add your own plant-based protein powder for a more filling smoothie.
Nutrition
Serving:
1
serving (1 smoothie)
Calories:
231
kcal
Carbohydrates:
52
g
Protein:
5
g
Fat:
2
g
Saturated Fat:
1
g
Polyunsaturated Fat:
1
g
Monounsaturated Fat:
1
g
Sodium:
154
mg
Potassium:
930
mg
Fiber:
8
g
Sugar:
32
g
Vitamin A:
1561
IU
Vitamin C:
21
mg
Calcium:
220
mg
Iron:
2
mg