Za'atar Crispy Chickpea and Leek Salad
Za'atar Crispy Chickpea and Leek Salad, an easy farro grain bowl in a light za'atar and lemon dressing. Under 10 ingredients and ready in less than 40 minutes with enough for leftovers the next day. Spice up your salad night!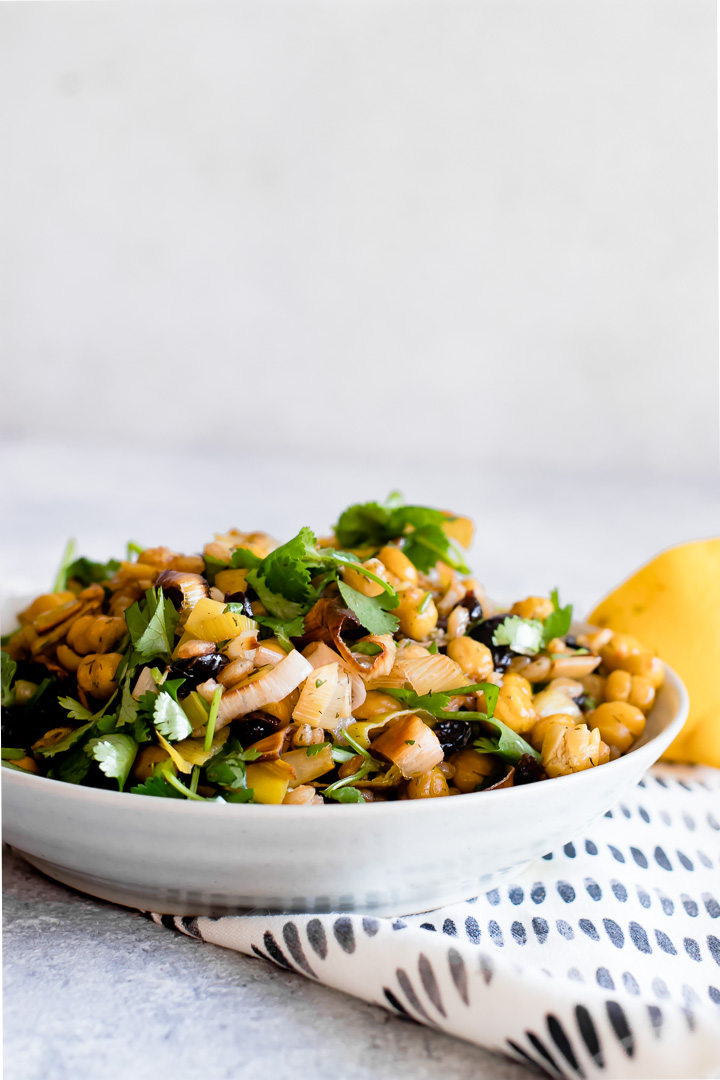 It's that time of the year when seasonal eating becomes a bit more mundane. A time when you're missing seasonal berries and leafy greens, but doing your best to eat with the seasons. However, don't think of winter as a time of scarcity as there is seasonal produce to be enjoyed throughout the year no matter where you live!
Recently Anessa of Food Finessa reached out to discuss a recipe collaboration and when I heard she lives on the east coast of the United States, I knew it was the perfect opportunity to share about winter produce from coast-to-coast. We both committed to researching what produce is in season in our respective regions (she's in Rhode Island, I'm in California) and created recipes featuring our area's local harvest.
And what did we come up with? Anessa created this delicious Penne in a Roasted Beet Sauce with Fried Sage (!) and I whipped up this Za'atar Crispy Chickpea and Leek Salad. Who said January produce is boring?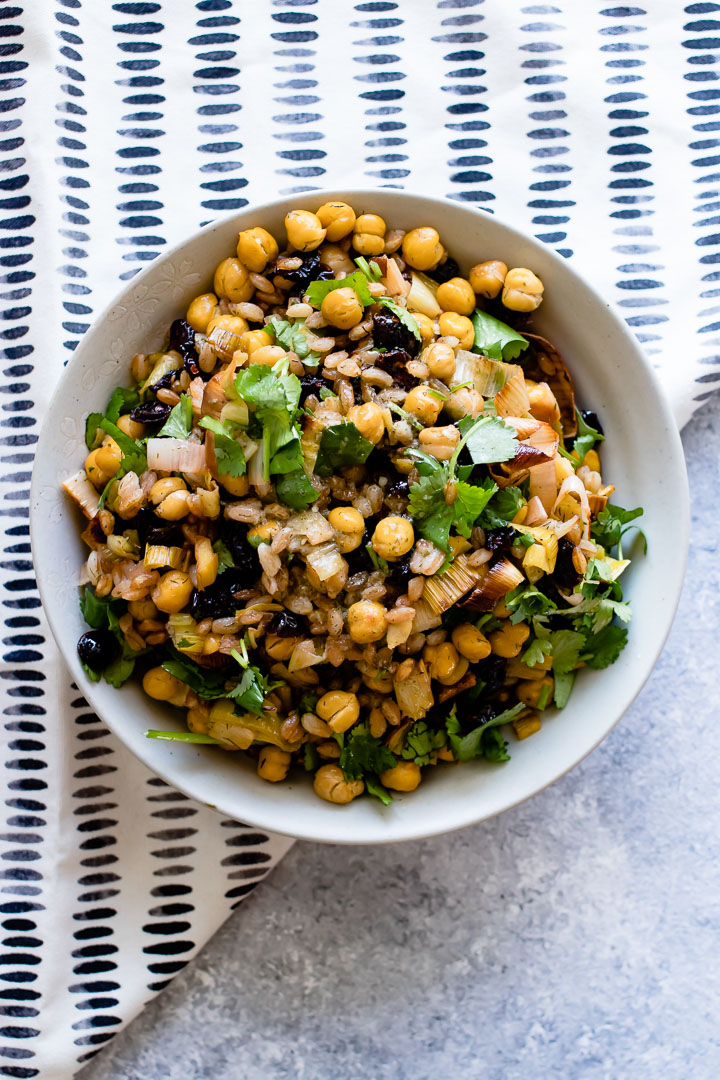 Living in California, we're lucky to have a much longer growing season that most other parts of the United States and when I saw leeks were starting to show up at my local farmer's market (a vegetable I usually associate with spring and summer) I knew they would make it into my recipe.
Let's talk about leeks
I did a little research into leeks and found that they originated in Central Asia but became popular in Ancient Egypt and throughout the eastern countries surrounding the Mediterranean Sea (also, did you know leeks are the national emblem of Wales?). I knew pairing them with crunchy baked chickpeas, toasted farro, and za'atar would be a great way to incorporate them into a Mediterranean grain salad.
Leeks are members of the allium family and are cousins of onions and shallots. They have a very distinct flavor and are delicious in salads and lend a rich flavor to stews and soups. Leeks are simple to cook with; they are best used by first removing the first one or two outer layers (which capture and harbor the most dirt) and then slicing along the white stem until you reach the green leaves. However, if you practice "root to stem" cooking then wash and save the greens for making a delicious vegetable scrap soup stock.
How to roast chickpeas that are truly crunchy
I've baked chickpeas many times before and after much experimenting I've found the secret to get that chickpea crunch you desire: removing the skins, letting them air dry as much as possible, and roasting at high heat.
Obviously time can be a factor and on a busy weeknight you don't want to spend 30 minutes removing the outer layer from a large batch of chickpeas when you could be spending that time with your family, but if you do have some time on your hands then I suggest getting two bowls and setting up a chickpea shelling system. Get your kids involved! I have to admit it was an oddly satisfying task.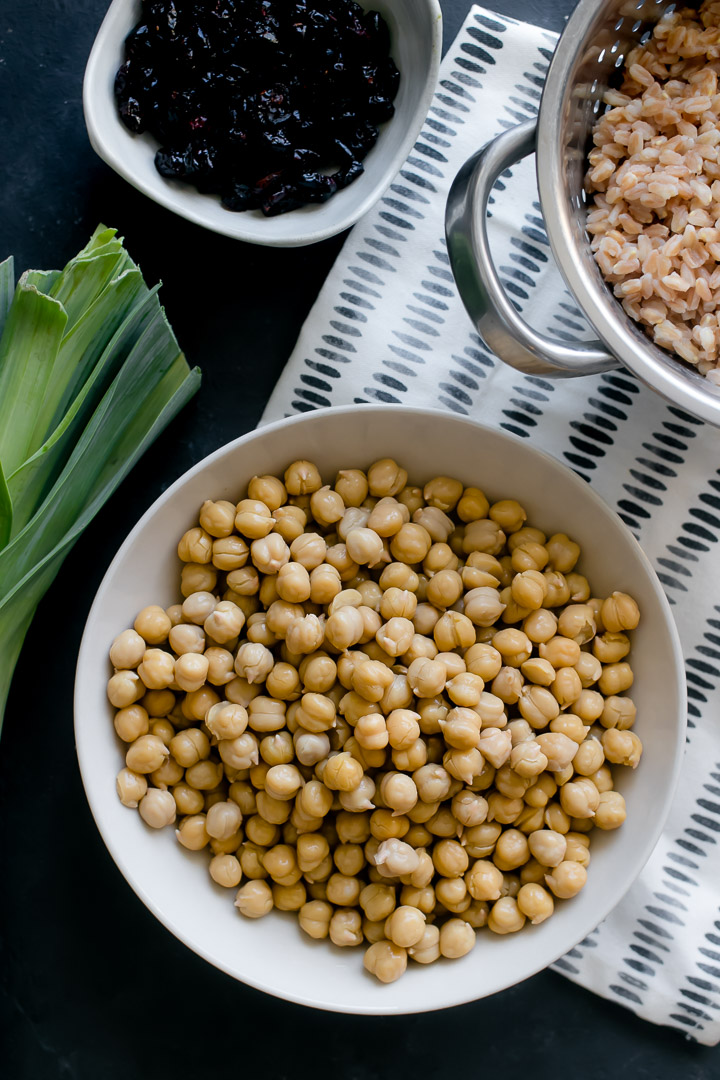 If you don't have time to let chickpeas air dry, don't worry. Wrapping them in a kitchen towel and giving them a little squeeze will do the trick. But don't squeeze too hard! We want our garbanzos whole before roasting.
What is za'atar?
Za'atar is the generic name for a spice blend commonly used throughout the Middle East. It usually includes some combination of oregano, thyme, sumac, and sunflower seeds and is used on meats, fish, in dips, and on breads. For this Za'atar Crispy Chickpea and Leek Salad I used it both as a spice before roasting the vegetables and also inside the dressing.
Za'atar crispy chickpea and leek salad: great weeknight meal!
Try roasted chickpeas on their own with our Spicy and Sweet Baked Chickpeas Snack!
It's not secret that we love our grain and lentil bowls around here. This Black Bean, Corn & Farro Salad is a weekly lunch staple, and our Easy Lentil Bowl with Sunny Egg & Spicy Harissa is the standing "Todini Thursday night special." But this Za'atar Crispy Chickpea and Leek Salad is good enough to make a regular appearance in our rotation.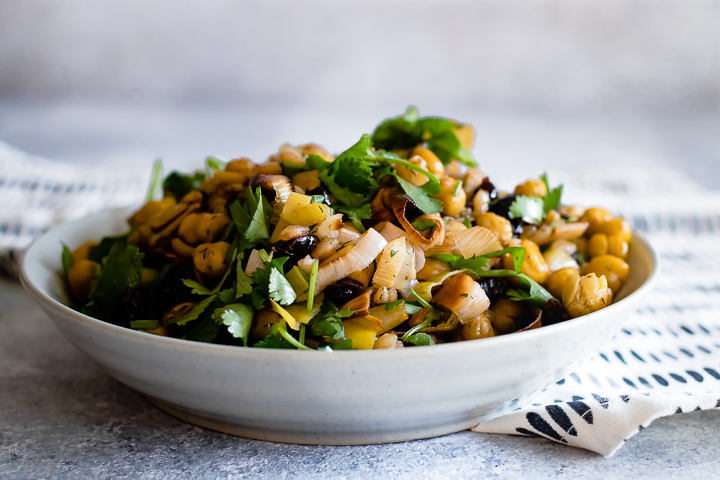 Yield: 4 serving
Za'atar Crispy Chickpea Leek Salad
Easy roasted crispy chickpea and leek salad with farro in a light za'atar and lemon dressing. Under 10 ingredients and ready in less than 30 minutes. Spice up your next salad night!
Ingredients
Chickpea Leek Salad
1 large can (30oz, 850g) chickpeas, drained and peeled
1 cup (128g) farro, cooked
2 large leeks, peeled and sliced
1 teaspoon olive oil
1/2 teaspoon za'atar
 1/4 cup (32g) dried cranberries, chopped
1/4 cup cilantro, finely chopped
Za'atar Dressing
1/4 cup olive oil
3 garlic cloves, minced
Juice and zest of 1/2 lemon
Instructions
Salad
Preheat oven to 400 degrees.
Toss chickpeas, cooked farro, and sliced leeks with olive oil, za'atar, and salt and spread on an oiled sheet pan. Bake for about 25-35 minutes (depending on your oven), stirring every 10 minutes to ensure evenly roasted. Remove when chickpeas are dry and leeks and farro are lightly browned.
Let cool 5-10 minutes and then transfer to large bowl and toss with chopped cranberries, cilantro, and desired amount of dressing.
Dressing
Combine all ingredients in a small food processor and pulse until well blended.
Optional: If you find the dressing is too tart, add a very small amount of sugar (or honey, agave, etc.) to taste. The sugar will balance the salt and lime acidity.
Notes
Leftovers & Storage: Za'atar Crispy Chickpea and Leek Salad will keep up to a week in the refrigerator and can be served warm or cold.
Nutrition: This recipe is high in plant-based protein, a great source of fiber, and provides heart healthy fats. It's a super filling salad that can be eaten as a dinner entree or a side item.
Nutrition Information:
Yield:
4
Serving Size:
1 serving
Amount Per Serving:
Calories: 187
Total Fat: 15g
Saturated Fat: 2g
Trans Fat: 0g
Unsaturated Fat: 12g
Cholesterol: 0mg
Sodium: 44mg
Carbohydrates: 14g
Fiber: 1g
Sugar: 9g
Protein: 1g
We are participant in the Amazon Services LLC Associates Program, an affiliate advertising program designed to provide a means for us to earn fees by linking to Amazon.com and affiliated sites.