Vegan Fusilli Pasta Salad
Vegan Fusilli Pasta Salad, a fast and easy weeknight meal that's perfect for lunch leftovers. Fresh basil, tomato, onion and olive oil make up this simple, ten minute pasta salad!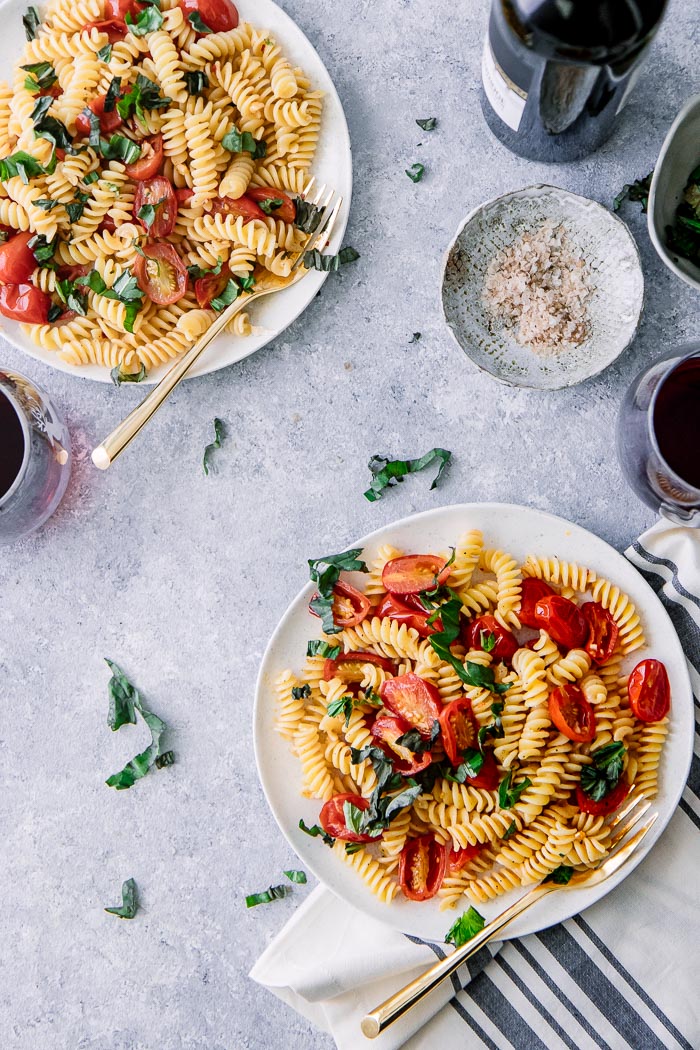 Picture this: it's a weeknight, you've had a long day at work and you just finished making dinner. There are no leftovers to speak of and you think to yourself, "Oh, it will be fine if I buy my lunch again tomorrow."
But then you realize it would be the third time you've eaten out this week and you're nearing $40 just on lunches alone.
Sound familiar?
I'm guilty of the late night "I don't want to make lunch" self talk. Hell, I will self talk my way out of anything I really don't want to do but after staring at your bank account after just a week of $15 salads (yes, $15 salads in San Francisco!) it's hard to justify your late night laziness.
So how should you combat the lazy lunch late nights?
With a plan. A lunch plan. That includes this Vegan Fusilli Pasta Salad.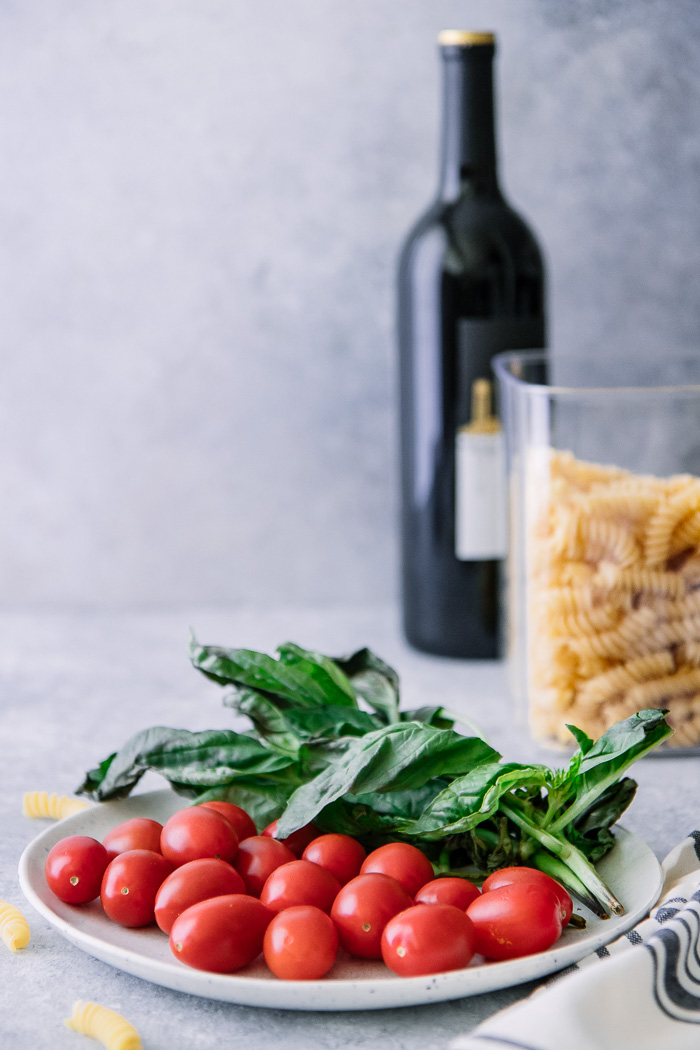 Do you have 10 minutes? Good, then you have enough time to make this Vegan Fusilli Pasta Salad.
This Vegan Fusilli Pasta Salad is another of my favorite "Sunday Salads," or salads and other easy dishes that can be made on the weekend and eaten all week long.
Making a big batch of pasta salad on a Sunday will mean you have lunch on days you don't have dinner leftovers, have a side dish for protein when you want an easy weeknight dinner, and a snack for when you get home from work famished but it's not quite dinner time so you stand in front of the refrigerator and eat whatever is in front of you.
Oh, wait – you don't do that?
The beauty with this Vegan Fusilli Pasta Salad recipe (and with most recipes you'll find here on Fork in the Road) is that is can easily be customized to fit your tastes, your dietary preferences, the season or even just your mood.
Feel like basil one week and thyme another? Fine. Don't want fusilli pasta but instead want farfalle? Go for it. The world is your pasta salad. Or, in other words, you do you and you do your pasta salad however you want.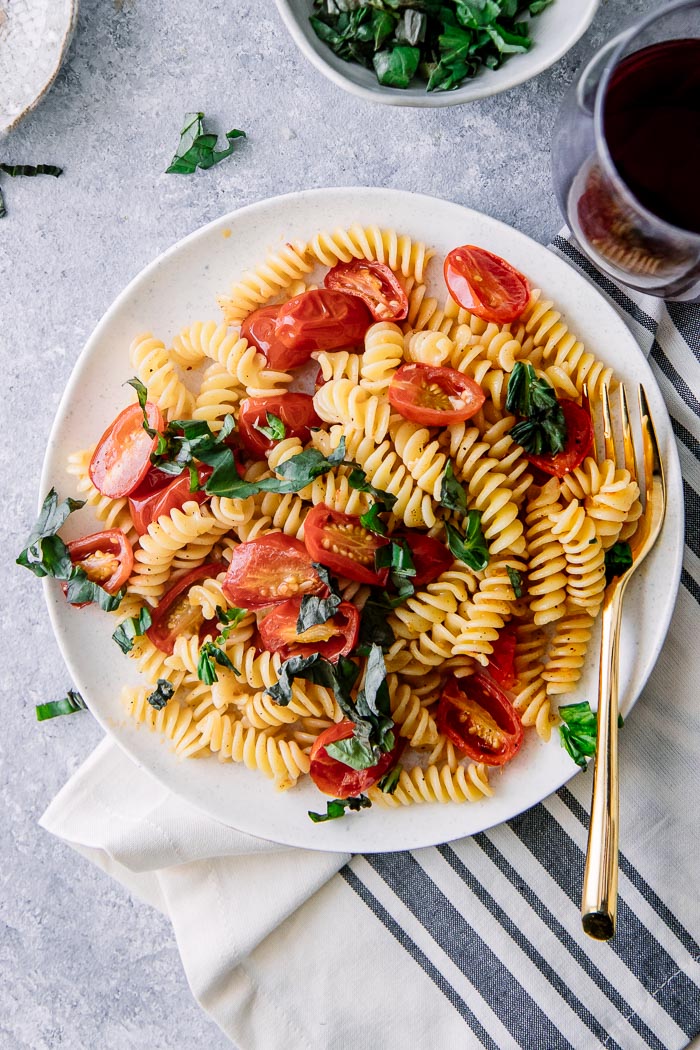 The perfect pasta salad equation.
Pasta salad is a staple dish that is like pizza or chili – there are truly endless amounts of ingredient possibilities and most everyone has their favorite.
Growing up I was not a fan of cream-based cold pasta and that aversion has carried over into adulthood, so my pasta salads are always made with an olive oil base and whatever pasta I love at the moment (right now I'm having a bucatini moment, but fusilli seemed like a great choice for a cold pasta salad).
Below is a general ingredient equation that I use for my pasta salads:
You really cannot go wrong with this basic equation and you can (and should!) add your favorite protein source (beans, fish, poultry, meat or dairy).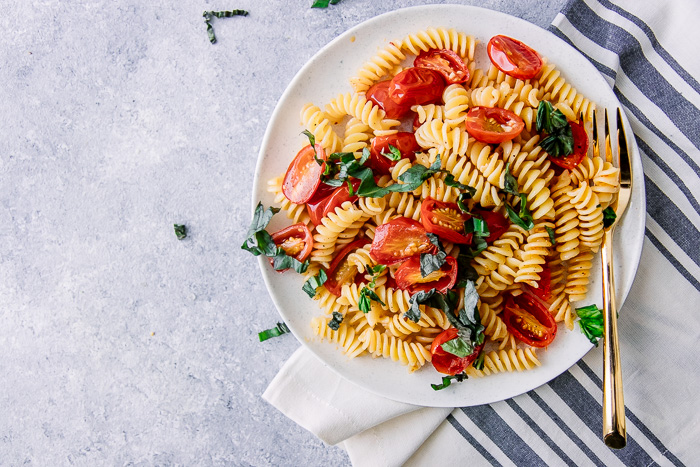 ---
Love pasta and grain salads? Try our Black bean, Corn & Farro Salad and Za'atar Crispy Chickpea and Leek Salad, two of our favorite easy recipes to make and eat throughout the week.
Did you try this Vegan Fusilli Pasta Salad? Leave us a comment and recipe rating below and let us know how it turned out. Save this recipe for later to your favorite pasta or salad Pinterest board and make sure to tag me on Instagram so I can see your pasta salad creations!
Yield: 4 servings
Vegan Fusilli Pasta Salad
Vegan Fusilli Pasta Salad, a fast and easy weeknight meal that's perfect for lunch leftovers. Fresh basil, tomato, onion and olive oil make up this simple Italian-inspired cold pasta dish that's perfect for barbecues and outdoor picnics.
Prep Time 5 minutes
Cook Time 10 minutes
Total Time 15 minutes
Ingredients
2 cloves garlic
2 cups cherry tomatoes, halved
Juice of one lemon
1 cup fresh basil, chopped
Instructions
Bring 6 cups of lightly salted water to a boil. Add pasta and cook until al dente, about 8 minutes.
In a separate large pan, heat olive oil over medium-low heat. Add cherry tomatoes and cook until soft, about 3 minutes. Add garlic and cook until crispy, about 2-3 minutes more. Reduce heat and simmer.
When pasta is done, drain and immediately add to pan with olive oil. Top with fresh basil, salt, black pepper, red pepper flakes and juice of one lemon. Mix well and remove from heat.
Either serve warm or let cool on the stove before packing individual lunch servings for the week.
Notes
Leftovers & Storage: This Vegan Fusilli Pasta Salad recipe is a perfect make-ahead recipe that can be chilled and stored in the refrigerator for 5-6 days before eating.
Nutrition: This vegan pasta salad recipe is a great pasta dish that featured vegetables and healthy fats, however it is a starch-heavy meal. To balance, pair it with a green salad with beans for a more balanced plant-based meal.
Nutrition Information:
Yield:
4
Serving Size:
1 serving (about 1 cup)
Amount Per Serving:
Calories: 372
Total Fat: 19g
Saturated Fat: 3g
Trans Fat: 0g
Unsaturated Fat: 16g
Cholesterol: 0mg
Sodium: 138mg
Carbohydrates: 42g
Fiber: 3g
Sugar: 3g
Protein: 8g
We are participant in the Amazon Services LLC Associates Program, an affiliate advertising program designed to provide a means for us to earn fees by linking to Amazon.com and affiliated sites.