Vegan Fusilli Pasta Salad
Looking for an easy plant-based pasta salad with fusilli pasta? Look no further! This Vegan Fusilli Pasta Salad uses an oil-based sauce with cherry tomatoes, fresh basil, lemon juice, and crunchy garlic for a light and fresh pasta salad that's perfect served warm or cold.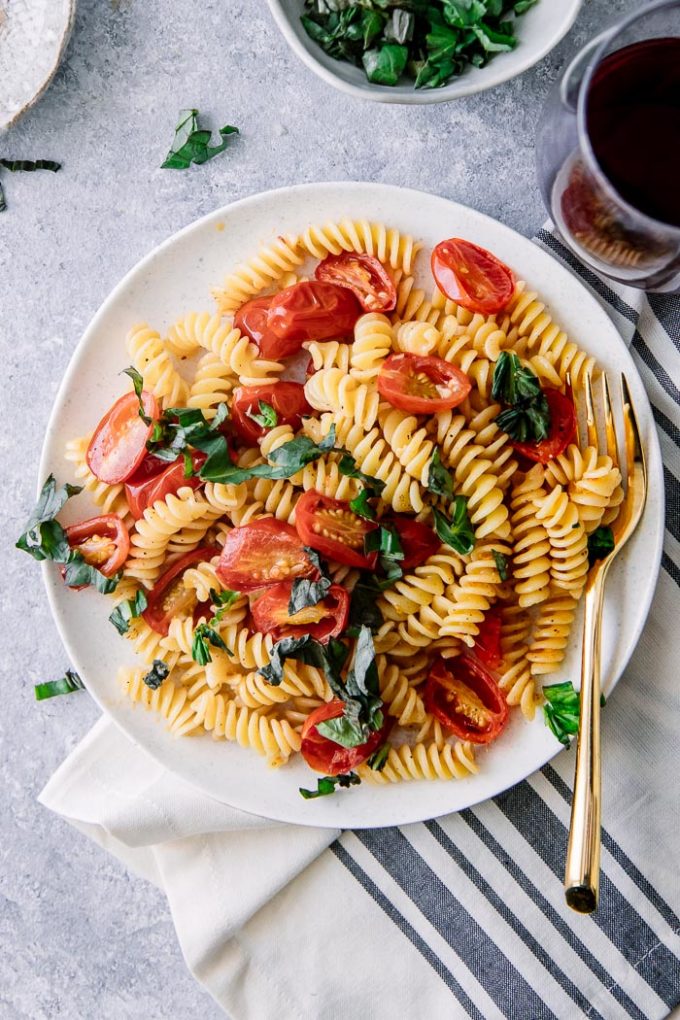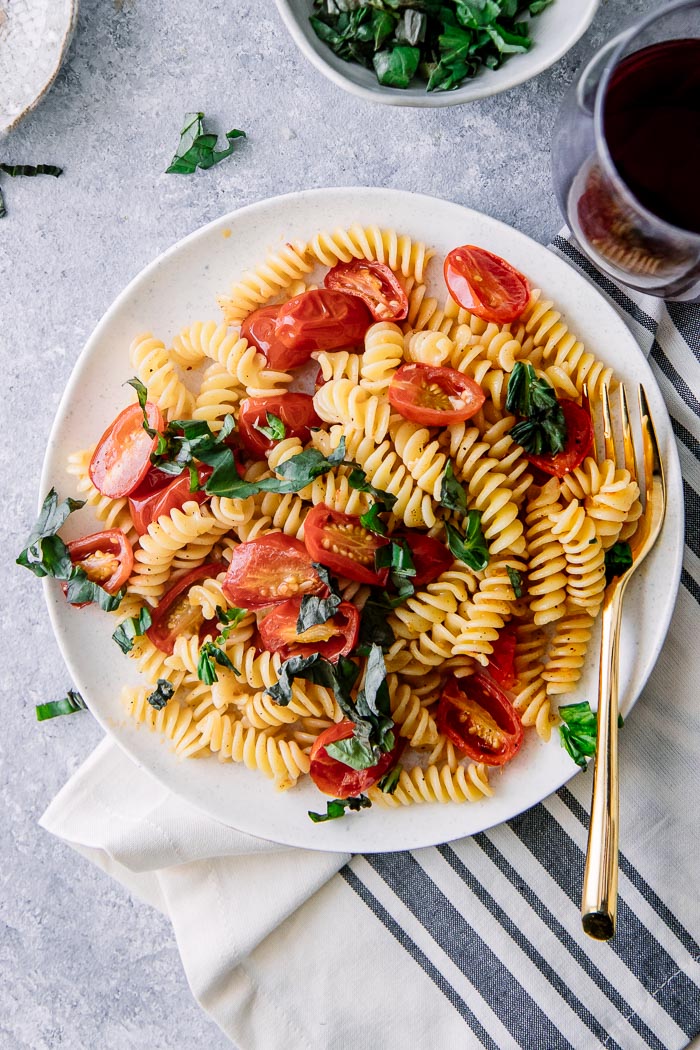 Love fusilli pasta noodles? So do we! And we love them even more because they're the PERFECT pasta for pasta salads. Whether you're making creamy or light oil-based dressing, fusilli's curved shape is the best for clinging to vegetables and sauces in cold pasta salads.
👉 Here's why you should be making this fusilli pasta salad recipe:
It's easy. Ready in only 20 minutes, this pasta salad is great served cold as a salad or warm as a traditional pasta dish.
It's tasty. Using cherry tomatoes, crispy garlic, and fresh lemon and herbs, this pasta salad pops with flavor with only a few simple ingredients.
It's great for meal prep. Simply make a big batch, separate into containers, and then store in the refrigerator for a quick grab-and-go meal.
Ready to learn how to make a simple vegan fusilli pasta salad? Let's do it!
---
🍅 Ingredients + substitutions
Fusilli pasta: Fusilli noodles serve as the base of this pasta salad recipe, though you could use any pasta shape that you have. We personally like fusilli in pasta salads because it's a thicker noodle that holds sauces and oils well and the curved shape also helps stick to the other ingredients like tomatoes and herbs. You can use whole wheat or even an alternative flour pasta like chickpea or black bean for a fun twist.
Olive oil: Olive oil serves as the base of the pasta salad sauce. Most traditional pasta salads are made with creamy (dairy) bases, but this vegan option uses a simple olive oil-based that's flavored from the vegetables in the salad.
Cherry tomatoes: Tomatoes are cooked until they soften to help flavor the olive oil. We chose cherry tomatoes because they burst when cooked, making for a tastier oil-based sauce.
Garlic: Garlic adds flavor to the olive oil sauce and we're cooking the garlic slices until they begin to get crispy, which also adds a nice crunchy texture.
Red pepper flakes: Spicy red pepper adds a kick to the sauce. However, if you're not into spicy then you can reduce the amount or completely omit this ingredient.
Lemon juice: Fresh squeezed lemon juice adds a nice acidic zing to the salad sauce.
Fresh basil: Fresh chopped basil is added for flavor and a pop of green color.
Salt and pepper: A pinch of salt and pepper adds flavor. Go crazy and try different types of salts, such as a flaked sea salt, or even a flavored sprinkling salt for a unique taste.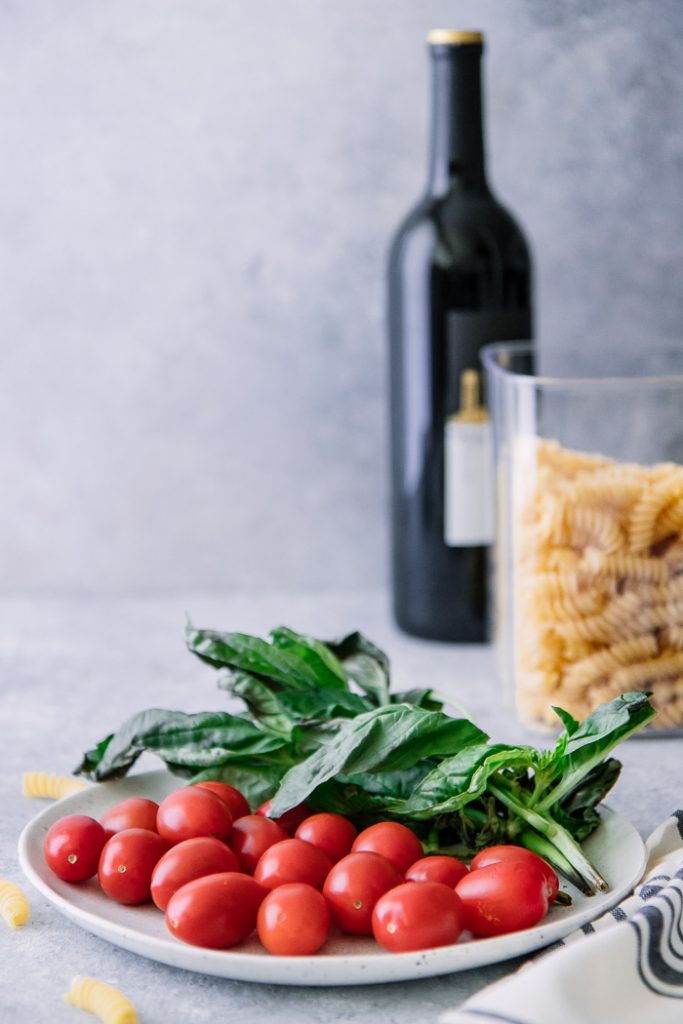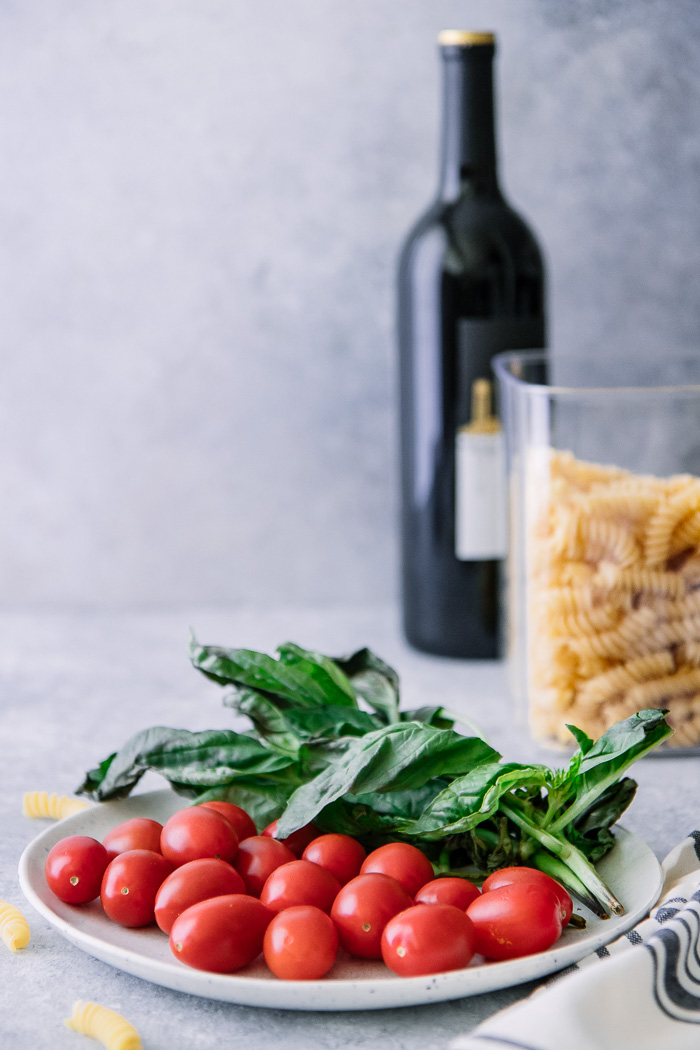 ---
🥣 How to make
1️⃣ Step One: Prepare the pasta
First things first, prepare the fusilli noodles until they're cooked al dente.
To do this, bring 6 cups of salted water to a rolling boil and add the dry fusilli noodles. Cook until they're "al dente," or until they've softened but still have a firm texture. This usually takes about 8 minutes, but check your pasta package for exact recommended times.
👉 Can you use other pasta shapes for this recipe? Yes! While we love fusilli pasta because it's round, corkscrew shape holds onto sauces and oils and clings to other pasta salad ingredients, you can use any type of pasta in this recipe. Other good options are penne, farfalle, and gemelli.
---
2️⃣ Step Two: Prepare the vegetables and oil-based sauce
While the pasta is cooking, it's time to prepare the oil-based pasta salad sauce.
In a medium sauce pan heat olive oil over medium-low heat. Add the cherry tomatoes and cook until they're soft and begin to burst and release their juices, which takes about 3-5 minutes.
Next, add sliced garlic and cook until it begins to crisp and brown, about 2 minutes. Then remove the pan from heat and add the red pepper flakes and stir the sauce so they release their red, spicy flavor into the olive oil. Then set the pan aside.
---
3️⃣ Step Three: Toss pasta with oil and vegetables
When the pasta is done, drain the water and add the pasta back to the cooking pot.
Then pour the olive oil and cooked vegetables over the pasta noodles, stirring well to coat.
Next add a squeeze of fresh lemon juice, a handful of chopped fresh basil, and a sprinkle of salt and pepper. Toss the noodles and then let them cool.
---
4️⃣ Step Four: Cool and serve
Once the noodles have cooled, store the salad in an airtight storage container and put into the refrigerator for 1-2 hours, or until the salad is cold.
This pasta salad is traditionally served cold, however you can also serve room temperature or even serve warmed as a more traditional pasta main or side dish.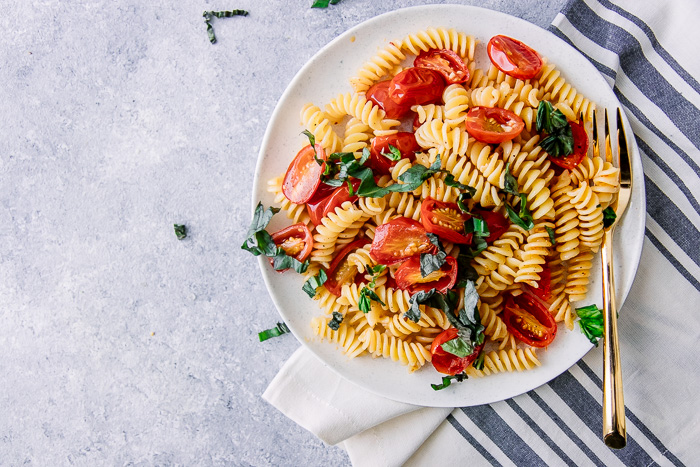 ---
❓ Questions + quick tips
Which pasta is best for pasta salads?
Short and thick pasta shapes are the best options for pasta salads, especially noodle shapes that have curves and crevices that can cling to sauces and other ingredients. Good pasta shapes for pasta salad include fusilli, penne, farfalle, and gemelli noodles, though any pasta shape will work.
Should I rinse pasta when making pasta salad?
Do not rinse pasta after it has been drained for pasta salad. Water will rinse away the natural starches on the pasta that help the noodles cling to sauces and other ingredients.
How do you cool pasta down for a salad?
Pasta can be cooled by draining and then tossing in a small amount of olive oil to prevent noodles from sticking together before cooling in a bowl at room temperature or in the refrigerator. To cool pasta faster, put it in a bowl of ice water after draining to quickly bring the temperature down.
Will pasta salad keep overnight?
Pasta salad should be stored in an airtight container in the refrigerator and is good for 5-6 days afterward. Throw away any pasta salads that have been left out for longer than 4 hours and are not chilled with ice, especially if it contains dairy ingredients.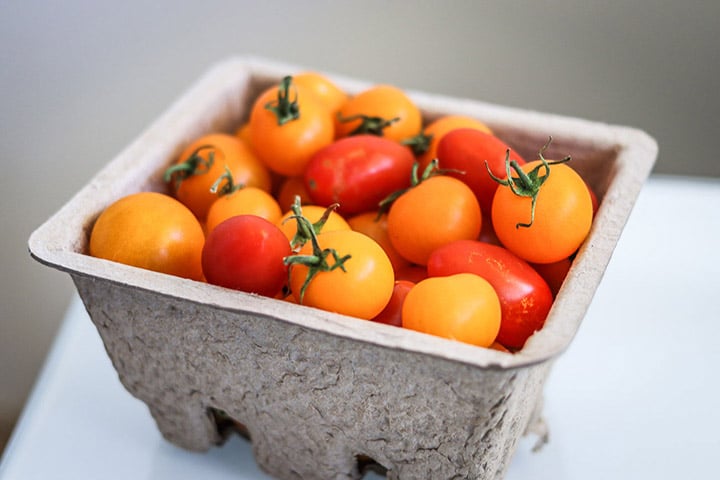 ---
🌿 Variations
The pasta salad possibilities are endless! Use this vegan fusilli pasta salad recipe as a foundation and get creative with ingredients for your own unique take on this simple salad.
Switch up the pasta noodles. Try this recipe with farfalle, gemelli, orrechiette, or your favorite pasta noodle of choice.
Add seasonal vegetables. Get creative and use different seasonal vegetables in this salad. Try zucchini and yellow squash in the summer, pumpkin in the fall, brussels sprouts in the winter, and fresh asparagus in the spring.
Get creative with toppings. Toss in a few nuts like almonds or seeds like sunflower or pumpkin for a crunch. Sprinkle with nutritional yeast or another plant-based cheese alternative for a different flavor profile.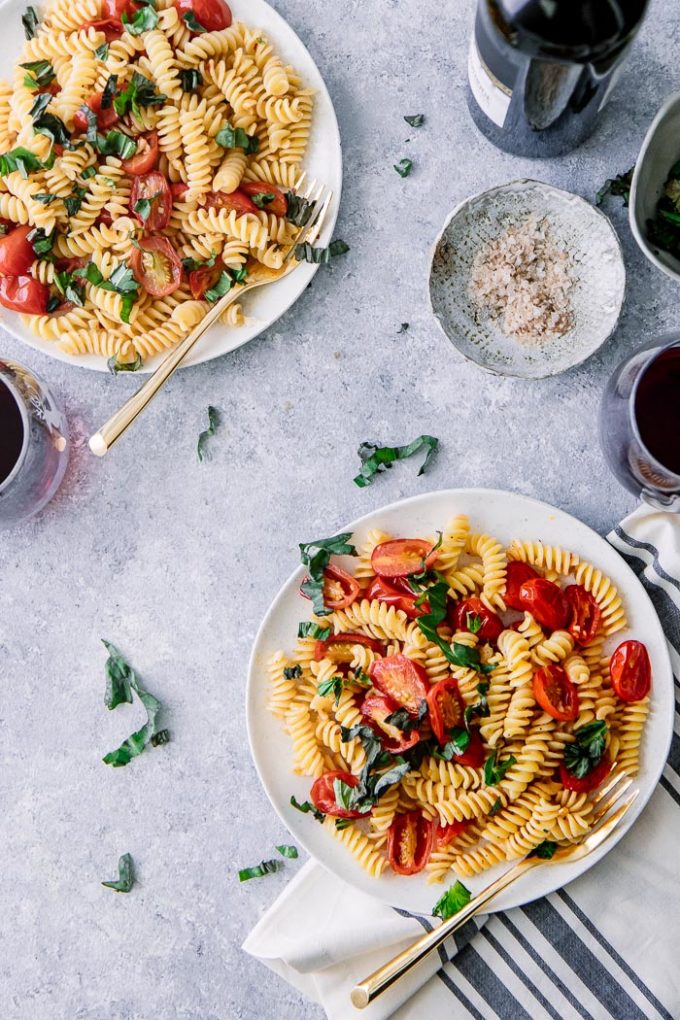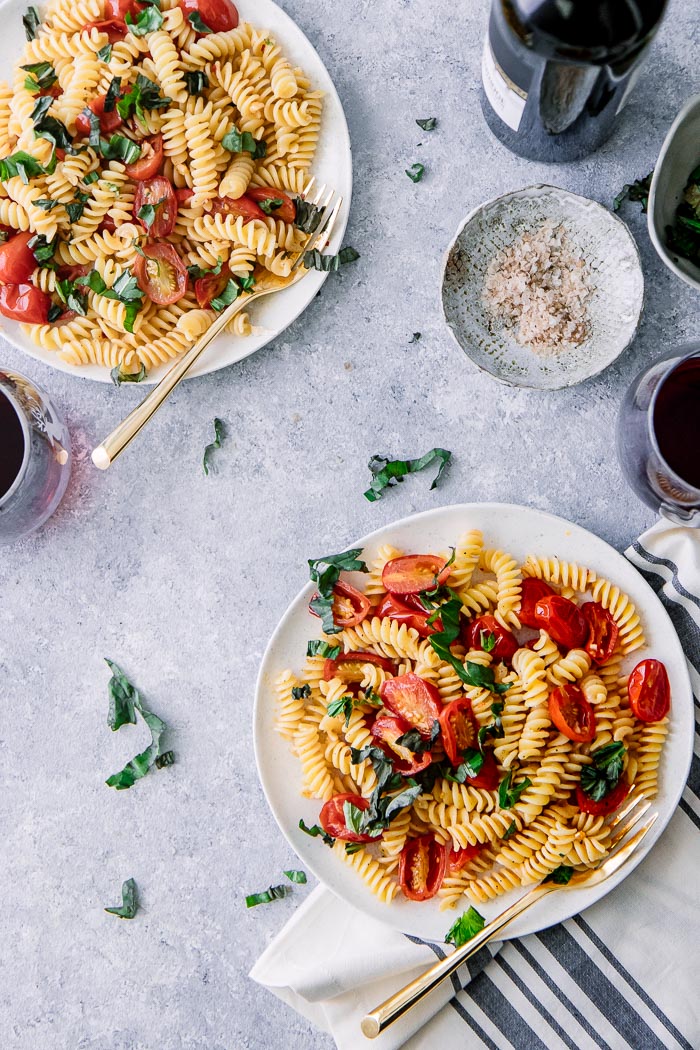 ---
🍝 More vegan pasta recipes
Vegan Fusilli Pasta Salad
Vegan Fusilli Pasta Salad uses an oil-based sauce with cherry tomatoes, fresh basil, lemon juice, and crunchy garlic for a light and fresh pasta salad that's perfect served warm or cold.
Ingredients
2

cups

dry fusilli pasta

⅓

cup

olive oil

2

cups

cherry tomatoes

halved

2

cloves

garlic

sliced

¼

teaspoon

crushed red pepper flakes

1

tablespoon

lemon juice

from about 1 lemon

1

cup

fresh basil

chopped

1

pinch

salt and pepper
Instructions
Prepare pasta: Bring 6 cups of salted water to a boil. Add pasta and cook until al dente according to package instructions, usually about 8 minutes.

Prepare vegetables: Meanwhile, in a separate large pan heat olive oil over medium-low heat. Add sliced cherry tomatoes and cook until soft, about 3 minutes. Add sliced garlic and cook until crispy, about 2-3 minutes. Reduce heat to very low, then add crushed red pepper flakes and cook 30-45 seconds more, or until the pepper flakes release their spicy red color into the oil (but do not burn the flakes). Remove pan from heat and set aside.

Toss pasta with vegetables: When pasta is done, drain the cooking water and add pasta back to the pot you boiled the water in. Pour the vegetables and oil mixture over the pasta, add juice of one lemon, fresh chopped basil, and a pinch of salt and pepper. Mix well to completely coat the pasta in the oil.

Cool and serve: Let the pasta salad cool in the pot and then store in an airtight container in the refrigerator until ready to serve. This pasta salad is delicious served cold, room temperature, or even served warm as a traditional pasta dish.
Notes
Recommended tools: environmentally-friendly cookware, glass storage containers
How to store: After the pasta has cooled, store in an airtight storage container in the refrigerator for up to five days. We do not recommend freezing cooked pasta because it loses its texture when thawed and reheated.
Meal prep tips: To meal prep, make once and divide up the pasta into individual airtight containers and store in the refrigerator. Then pull out a container each day when you're ready to eat, or to bring with you.
Nutrition notes: Nutrition information is an estimate. This recipe features only plant-based ingredients, making it a great pasta salad option for vegans. Make it gluten-free by using gluten-free pasta noodles. Use whole wheat noodles to increase fiber and other nutrients not found in traditional fusilli pasta noodles.
Nutrition
Serving:
1
serving (about 1 cup)
Calories:
324
kcal
Carbohydrates:
33
g
Protein:
6
g
Fat:
19
g
Saturated Fat:
3
g
Polyunsaturated Fat:
15
g
Sodium:
24
mg
Fiber:
3
g
Sugar:
3
g
👉 UPDATE: This recipe was originally posted in June of 2018 and was updated with clearer and more informative instructions in March 2021.