Turnip Greens Pesto, a simple root-to-stem recipe using turnip leaves instead of basil to make pesto sauce. Quick, delicious, and a great way to use plant parts that are commonly thrown away.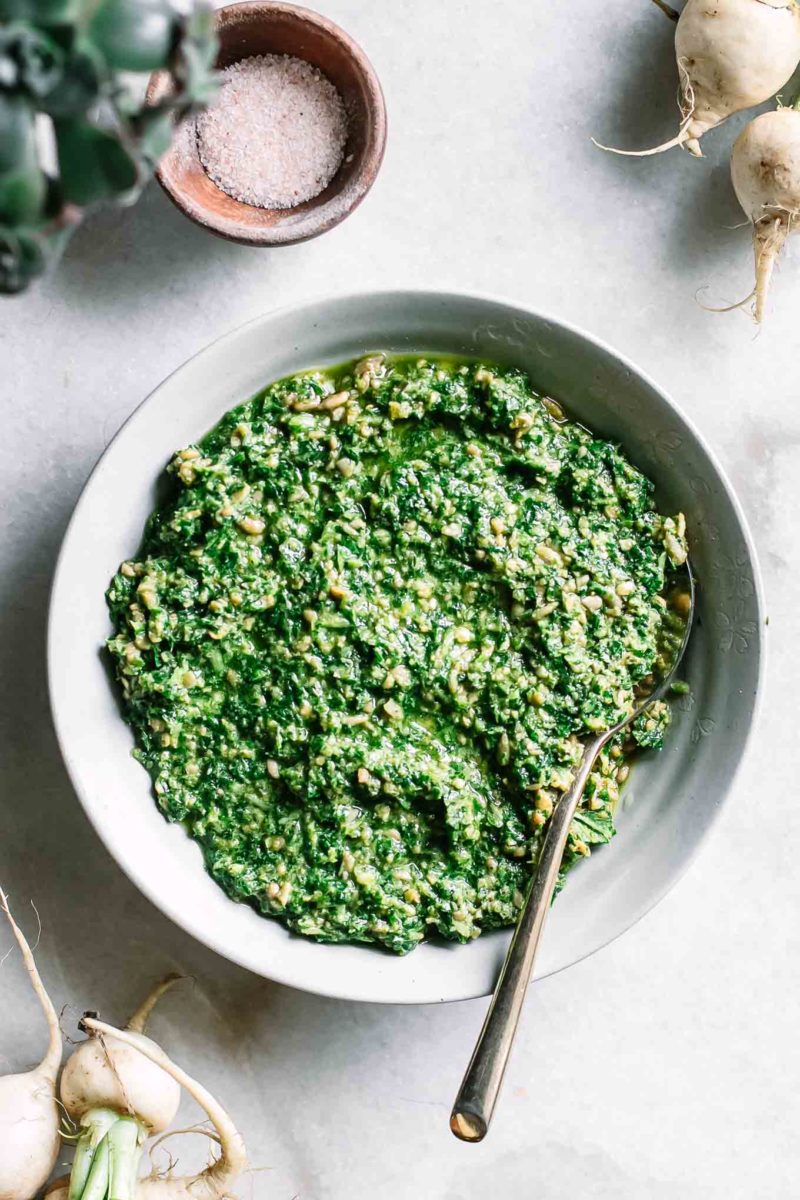 Did you know that you can eat the leaves on turnips? Yes, it's true! Not only are turnip greens edible, they're a great sturdy green for salads, cooked on their own as a side dish, or even in sauces like this turnip greens pesto.
👉 Here are three reasons why you should be using turnip greens in pesto sauce:
It reduces food waste. In our quest to become green eaters, we've been implementing more root-to-stem cooking techniques, including this one! Turnip greens are often thrown away, but this is the perfect way to use the entire vegetable. Good for you and good for the planet!
It's a crowd-pleaser. This pesto is so tasty no matter what, but the turnip greens add a note of freshness that you'll want to add to everything! It's a great dish to share as an appetizer at gatherings.
It's as easy as it gets. All you have to do to make this pesto is add the ingredients to a food processor and pulse with some olive oil. Make a big batch so you can use it over and over again in dishes like pasta, pizza, soups, or as a dip for vegetables.
Ready to learn how to make vegan pesto with turnip greens? Let's do it!
---
🌿 Ingredients
The fresh flavors of this food waste recovery pesto come together with just a few simple ingredients, including the following:
Turnip greens: Greens are the primary ingredient in pesto, and turnip tops are what we used in this recipe.
Nuts or seeds: Traditional pesto is made with pine nuts. However, it tastes great with other varieties of nuts like cashews or walnuts! You can also make it nut-free by using pumpkin seeds or hemp seeds.
Nutritional Yeast: A common vegan staple that resembles the taste and texture of parmesan cheese! It provides vitamin B12, which plant-based diets often lack.
Olive oil: Adds a flavor boost to pesto and brings some liquid, preventing it from becoming too thick.
Seasonings: We used garlic, salt, and pepper to bring flavor to this pesto. You can add more or less according to your preferences.
Optional ingredients: Add a little lemon juice to balance out the pesto with acid and brighten the flavor.
Recommended tools: A food processor or blender, knife set, cutting board, and salad spinner are the main tools you will need to make spinach pesto.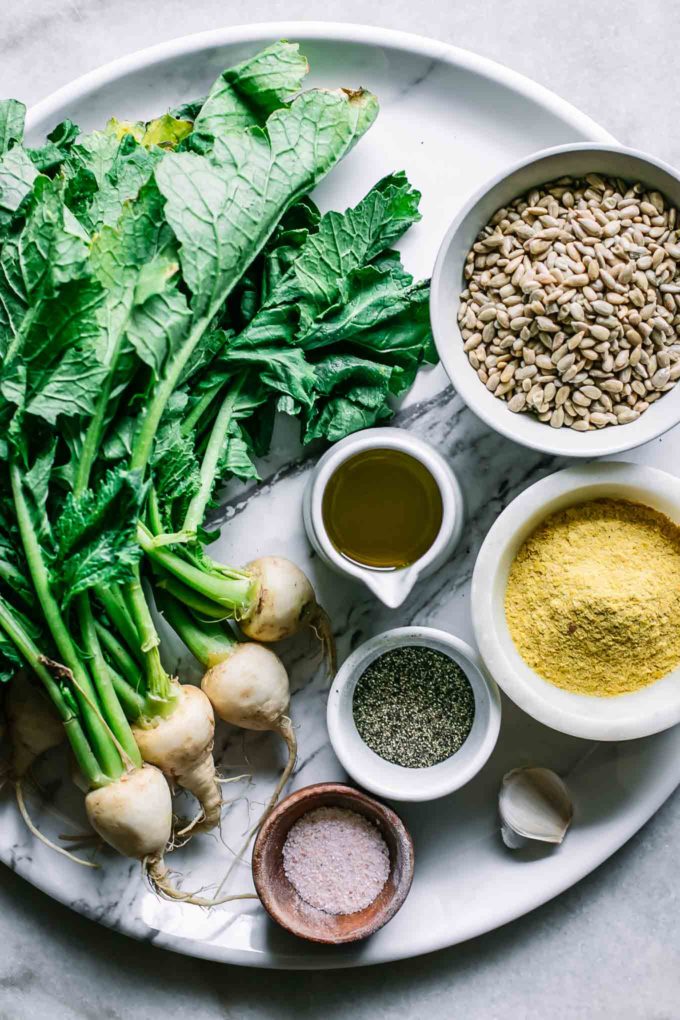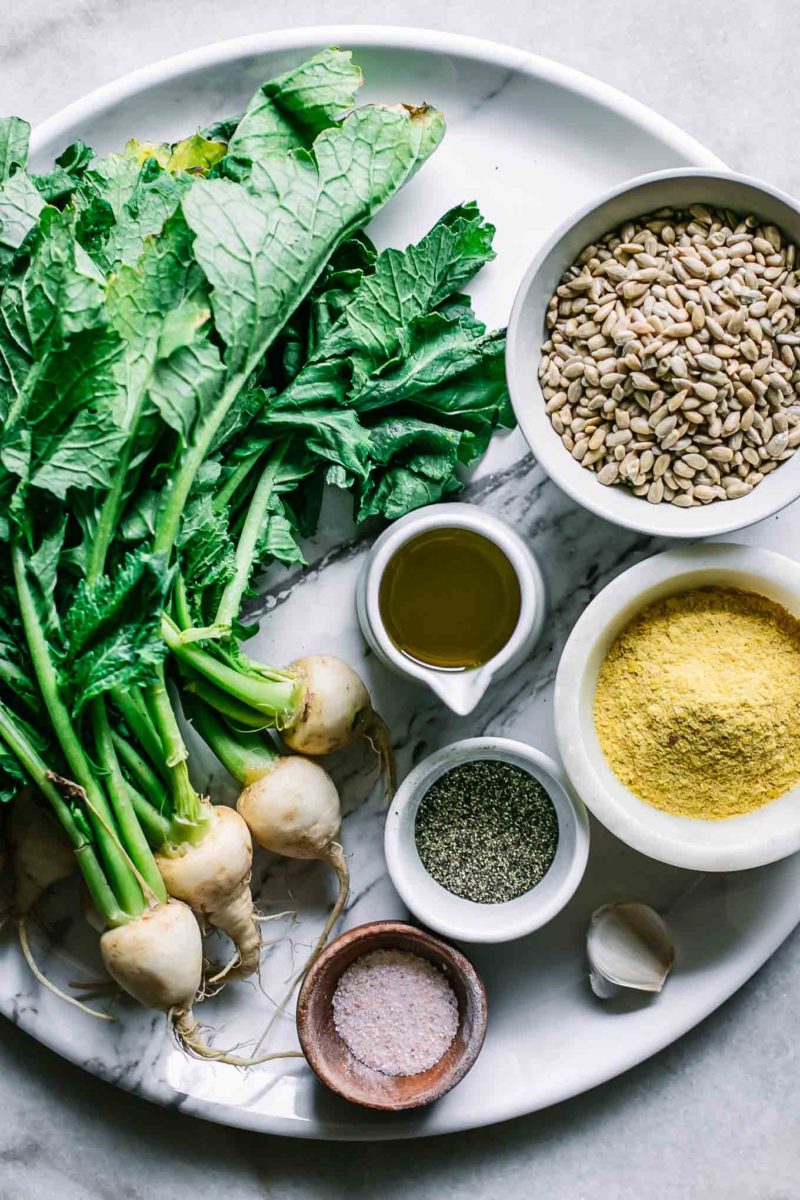 ---
🥣 How to make (step-by-step photos)
1️⃣ Step One: Wash + prep turnip greens
First, cut the turnip greens from the turnip stems. It is a good idea to wash them to remove any dirt—submerge the greens in a bowl of water and toss them around with your hands. Remove from the water and allow them to dry by placing flat on a plate or kitchen towel. You can also spin them in a salad spinner to dry.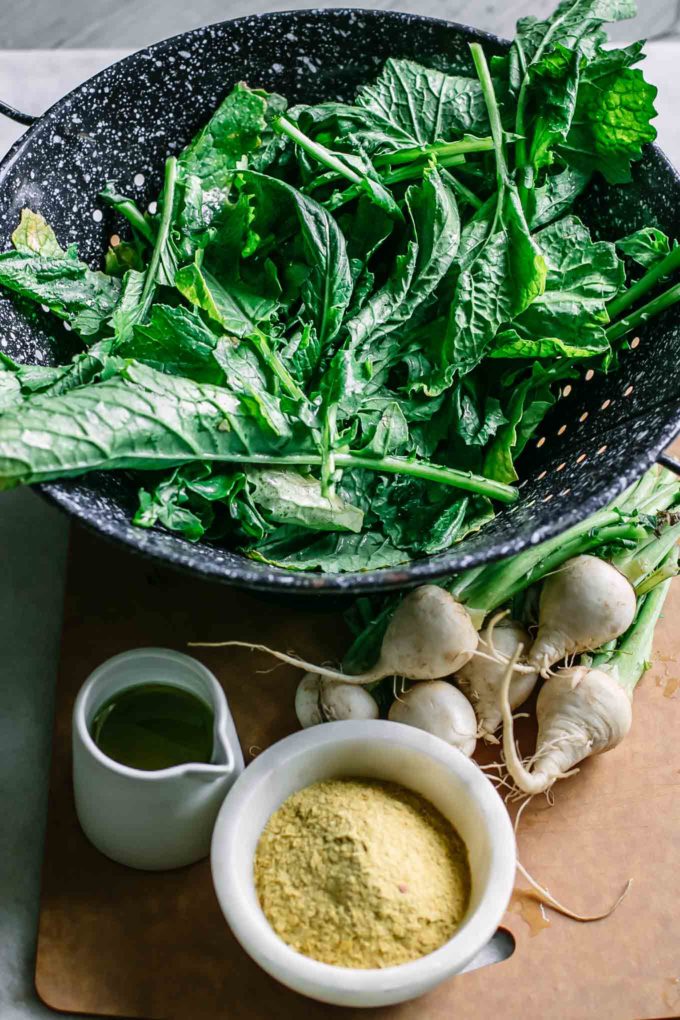 ---
2️⃣ Step Two: Pulse greens, nuts, garlic, + oil
Next, place the clean and dry turnip greens in a blender. Add nuts and garlic cloves and pulse until finely chopped.
While the ingredients are being pulsed, drizzle in olive oil slowly. Continue to pulse until the chopped ingredients are well coated in oil but not completely smooth (the best pestos are a bit chunky).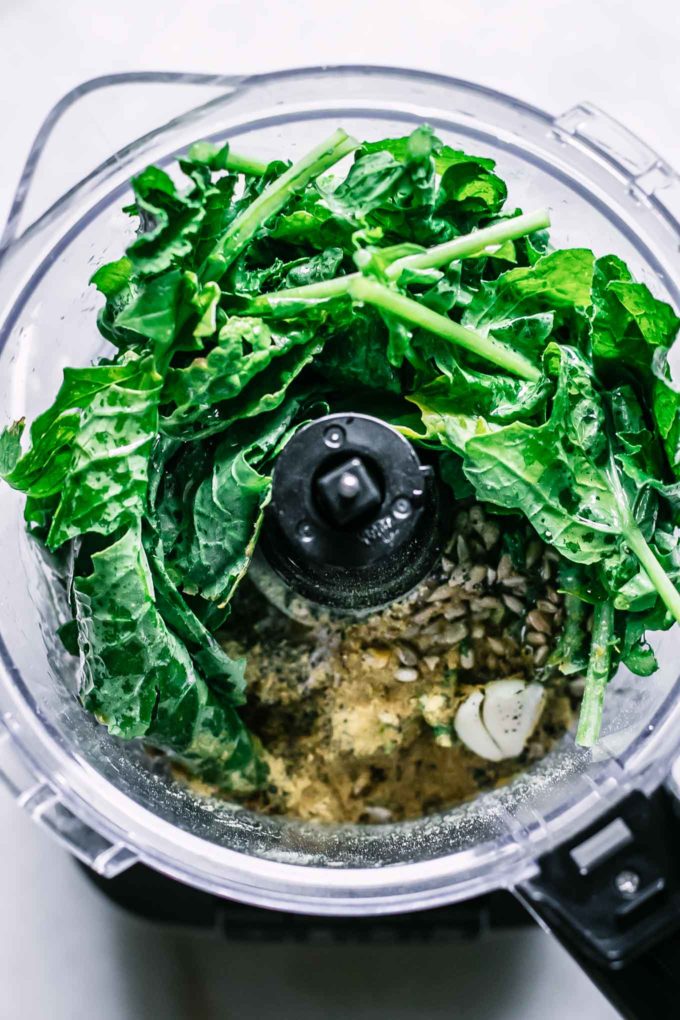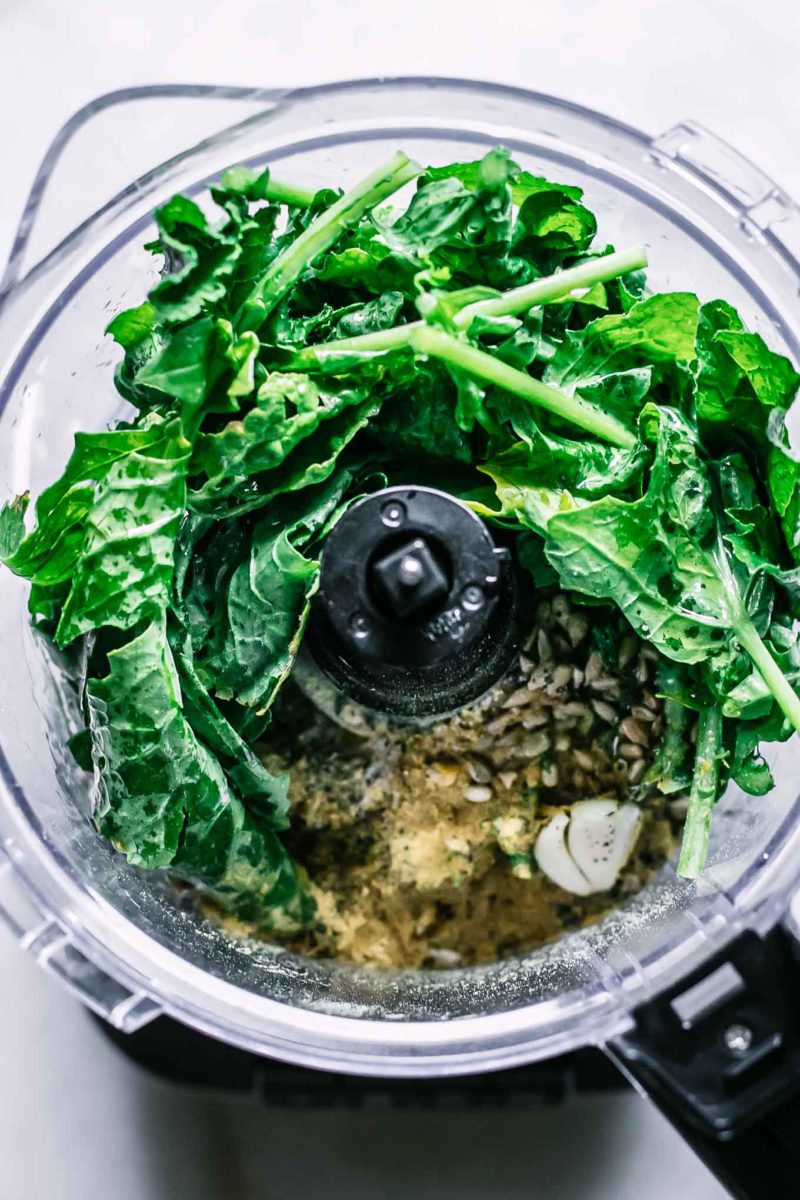 ---
3️⃣ Step Three: Blend in nutritional yeast, spices + lemon juice
Finally, it's time to add the nutritional yeast and spices to the pesto. Add them to the blender slowly until your desired taste is reached.
If you choose to add lemon juice, you can mix that in during the last step. Store the pesto in an airtight container in the fridge until ready to serve!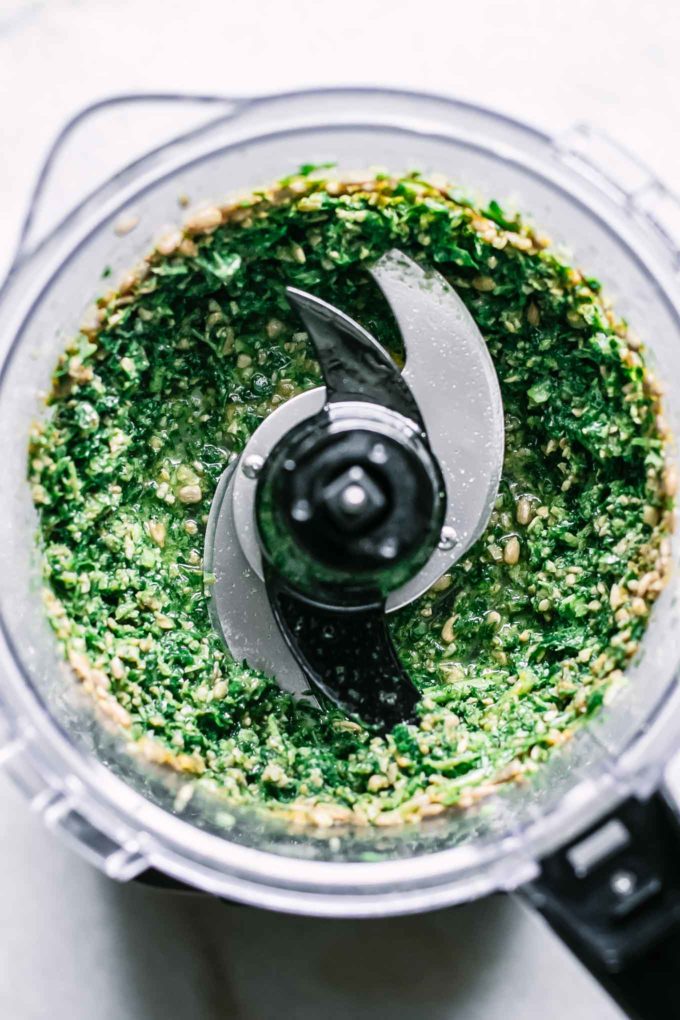 ---
❓ Recipe questions + quick tips
What do you use pesto sauce for?
Pesto sauce can be used to add flavor and texture to a variety of dishes. A few common ways to use it are as a dip for veggies, spread for sandwiches, or topping for pizza. You can also mix it into salad dressings, cook it into bread, or use it as a pasta sauce.
What can turnip greens be used for?
The possibilities are endless for how you can use turnip greens! You can use them to make salads, add them to sandwiches, or sauté them for a delicious side dish. They are also delicious cooked into soups.
What is the flavor of turnip greens?
Turnip greens have a flavor that is often compared to arugula or mustard greens. It can be described as somewhat bitter and peppery. The flavor is less prominent when they are cooked, but you will notice a slight spicy flavor when you eat them raw.
Is it OK to eat raw turnip greens?
Yes, it is OK to eat raw turnip greens. Before eating them, you should give them a quick wash to remove any dirt and germs. Some people prefer to eat them when they are cooked, since it makes them less bitter. Additionally, you can improve their flavor by combining them with spices and seasonings like we did in this homemade pesto recipe.
🌱 How to serve
Pesto made with turnip tops instead of basil can be used in the same ways that you use regular basil-containing pesto, such as:
Enjoy as a sauce, dip, or spread. Pesto pairs well with just about anything! Pasta, pizza, sandwiches, bruschetta—the possibilities really are endless. You can also dip raw veggies in pesto, or use it as a topping for meat or fish.
Blend with salad dressing. Mixing some pesto into salad dressings adds a note of freshness that tastes absolutely delicious with veggies and greens. Simply combine some pesto with more olive oil and lemon juice so it can be drizzled over your favorite salad.
Use it as a soup garnish. Add a dab of turnip green pesto to your favorite soup recipe for a touch of added flavor.
---
🧊 How to store
Got extra pesto? We love making homemade pesto because you can make a smaller amount to use all at once, or make a big batch to add to meals all week long. Here's how to store leftover pesto for the best quality:
Refrigerator storage: 1 week in an airtight container.
Freezer storage (if applicable): 6 months in a sealed freezer-safe container.
👉 Pro tip: Prevent your pesto from browning by drizzling a thin layer of olive oil on the surface of pesto before putting it in the refrigerator or freezer. You can add pesto to ice cube trays, freeze, and transfer to a freezer-safe storage bag. Having small quantities on hand are perfect for when you need a quick flavor enhancer!
---
♻️ Sustainable kitchen tips
Trying to prioritize sustainability in your kitchen? Us too! While this recipe is a fantastic way to reduce food waste, here are a few other tips and tricks to make it even more eco-friendly:
Take advantage of turnip season! The best time to make pesto with turnip tops is when turnips are at the height of their growing season. Find out when turnips are seasonal near you here.
Re-purpose veggie scraps. If you accumulate any other scraps from the turnips, they would make a flavorful addition to homemade food scrap vegetable broth.
Make pesto in bulk. You can buy lots of turnips while they are in season, and then make big batches of pesto that you can freeze and use for months to come. This will prevent you from needing to buy pre-made pesto or buying ingredients out of season.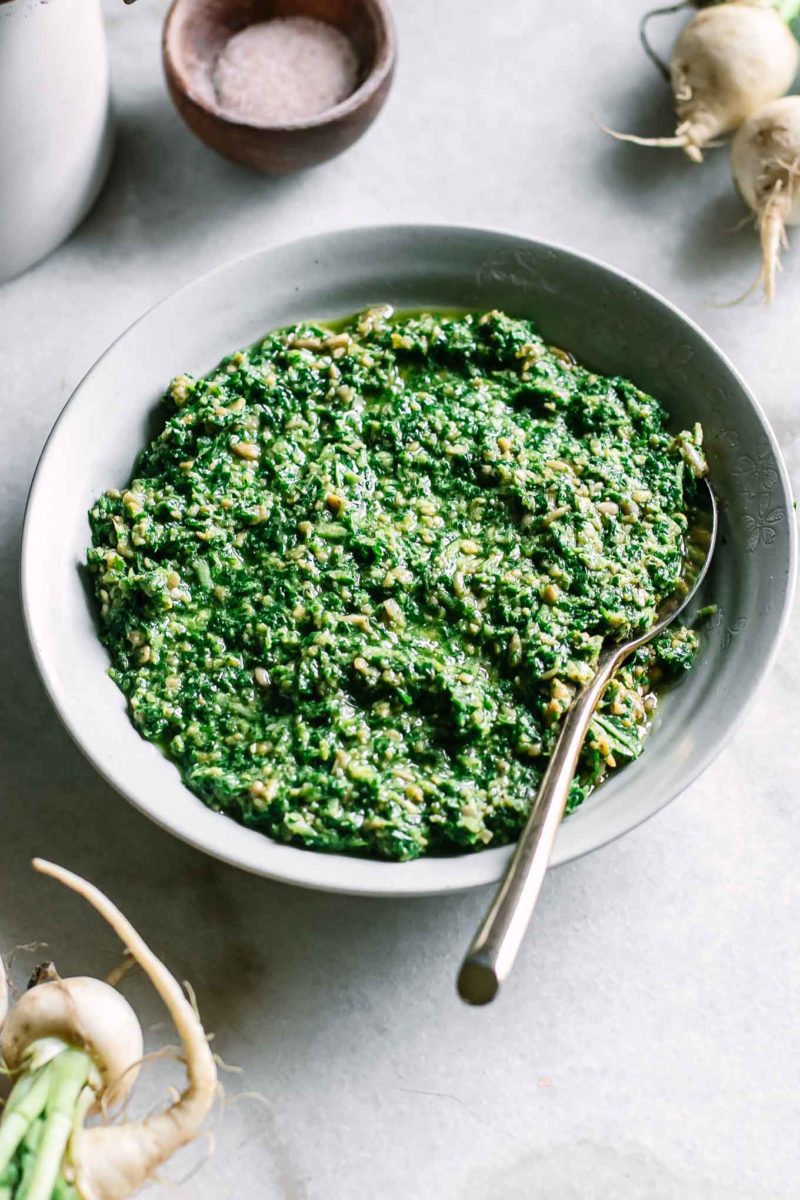 ---
🌿 More pesto recipes
Want to make more pesto? Look no further! Here are some more vegan pesto recipes:
Looking for more recipes with turnips? Try our Herb-Roasted Turnips and Carrots, Roasted Turnip Top Chips, Baked Turnip Chip Slices.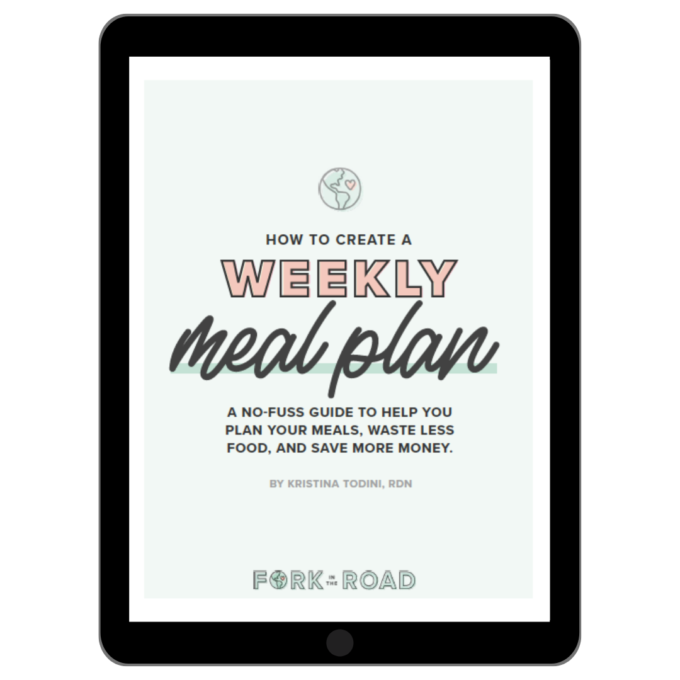 Turnip Greens Pesto Sauce
Turnip Greens Pesto, a simple root-to-stem recipe using turnip leaves instead of basil to make pesto sauce. Quick, delicious, and a great way to use plant parts that are commonly thrown away.
Ingredients
2

cups

turnip greens

chopped

⅓

cup

pine nuts

or other nuts or seeds

2

whole

garlic cloves

½

cup

olive oil

extra virgin

½

cup

parmesan cheese

or nutritional yeast

⅛

tsp

salt

⅛

tsp

pepper

freshly cracked

1

tablespoon

lemon juice
Instructions
Wash turnip tops. First, wash the turnip greens by removing from the stem. Submerge them in a bowl of water, then allow them to dry by laying them flat or using a salad spinner.

Blend ingredients. Once the greens are dry, add them to a blender along with pine nuts or seeds and garlic cloves. Pulse until finely chopped while slowly pouring in olive oil. Continue to pulse until the ingredients are well combined, but not completely smooth.

Add nutritional yeast and seasonings. Next, sprinkle in the nutritional yeast, salt, and pepper. Pulse the ingredients together a few more times until combined. Give the pesto a taste and add more seasonings until you reach your desired taste. Add lemon juice, if desired.

How to serve. Mix some pesto into your favorite pasta, use it as a topping for pizza or sandwiches, or serve as a dip for raw veggies.
Notes
Nuts and seeds? Traditional pesto sauce uses pine nuts, but any nut or seeds will be delicious in this pesto. You can make it with walnuts, cashews, pumpkin seeds, or even hemp seeds.
Tools needed: food processor or blender, knife set, cutting board, salad spinner
Prep ahead: Make homemade pesto up to 2-3 days before serving, or freeze until ready to use.
Leftovers and storage: Leftover pesto should be stored in an airtight container in the refrigerator for up to four days, and in the freezer for up to 2 months (possibly longer).
Nutrition
Serving:
1
serving
Calories:
187
kcal
Carbohydrates:
2
g
Protein:
3
g
Fat:
19
g
Saturated Fat:
3
g
Polyunsaturated Fat:
3
g
Monounsaturated Fat:
11
g
Cholesterol:
4
mg
Sodium:
142
mg
Potassium:
84
mg
Fiber:
1
g
Sugar:
1
g
Vitamin A:
1644
IU
Vitamin C:
9
mg
Calcium:
102
mg
Iron:
1
mg