Thai Basil, Lemongrass & Forbidden Rice Soup
Thai Basil, Lemongrass, and Forbidden Rice Soup, a Thai-inspired spicy chicken and rice soup featuring galangal, Thai basil, kaffir leaves, and lime. A big, bold, and flavorful dish!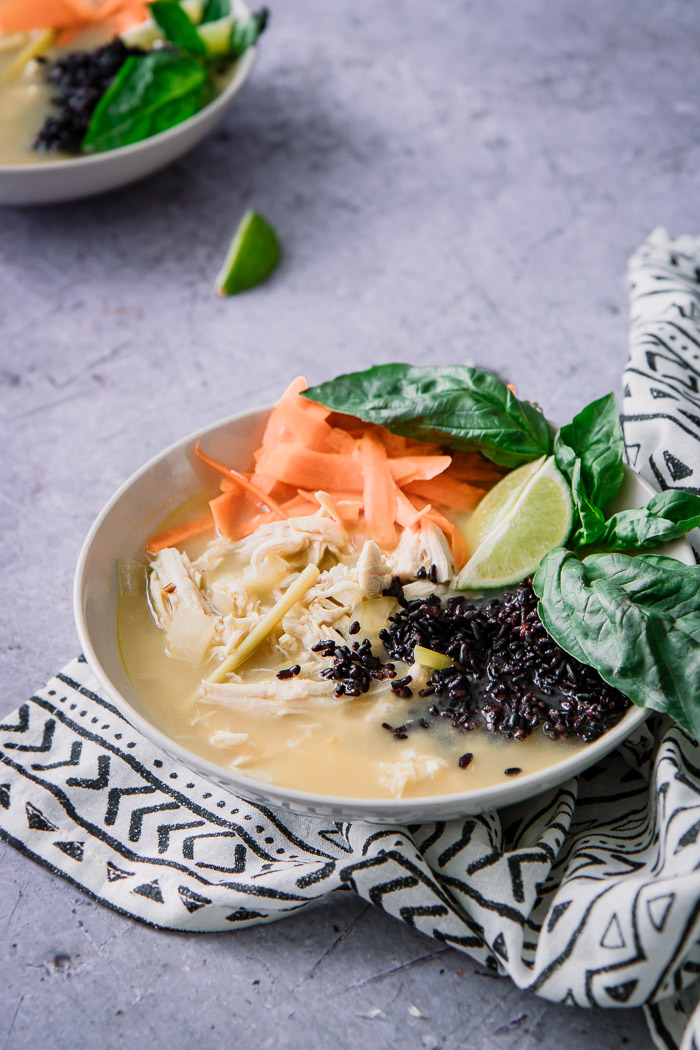 Thai food combines all of my absolute favorite flavors: basil, kaffir lime, garlic, ginger, lemongrass, chilies, and coconut. Somehow this odd mix of ingredients mixes together in a wonderful bold blend that is recognizably Thai.
After spending nearly a month in Thailand a few years ago I can confirm that everything from the high end restaurants to the street food is nothing short of amazing. I had the pleasure of taking a Thai cooking class while visiting the northern city of Chiang Mai, but somehow I've never been able to recreate those flavors in my own kitchen.
Until now.
This Thai Basil, Lemongrass and Forbidden Rice Soup is a creative take on chicken and rice, inspired by the flavors of Thailand. Don't let the ingredient list scare you, it's actually a very simple soup recipe that comes together in less than an hour and–like most soups–tastes better as leftovers.
But first, let's take a look at some of the ingredients you may not have cooked with before.
How to Cook with Lemongrass and Galangal
Finding ginger and chilies shouldn't be a problem at most grocery stores, but lemongrass and galangal will likely need to be sourced at an Asian specialty store. This was my first time working with both ingredients and I followed this video to learn how to cut lemongrass for soups. I chopped the soft centers and added to the pot, but also used the harder shells to flavor the broth (but remember to remove them before eating).
Galangal is a root vegetable in the ginger family, but its very distinct flavor is what differentiates Southeast Asian cooking from similar Asian cooking styles. It should be peeled and either grated over soups or cut into larger pieces to flavor broth.
Like the lemongrass, I removed the large galangal pieces before serving as they are very tough and nearly inedible (but they shouldn't be skipped!).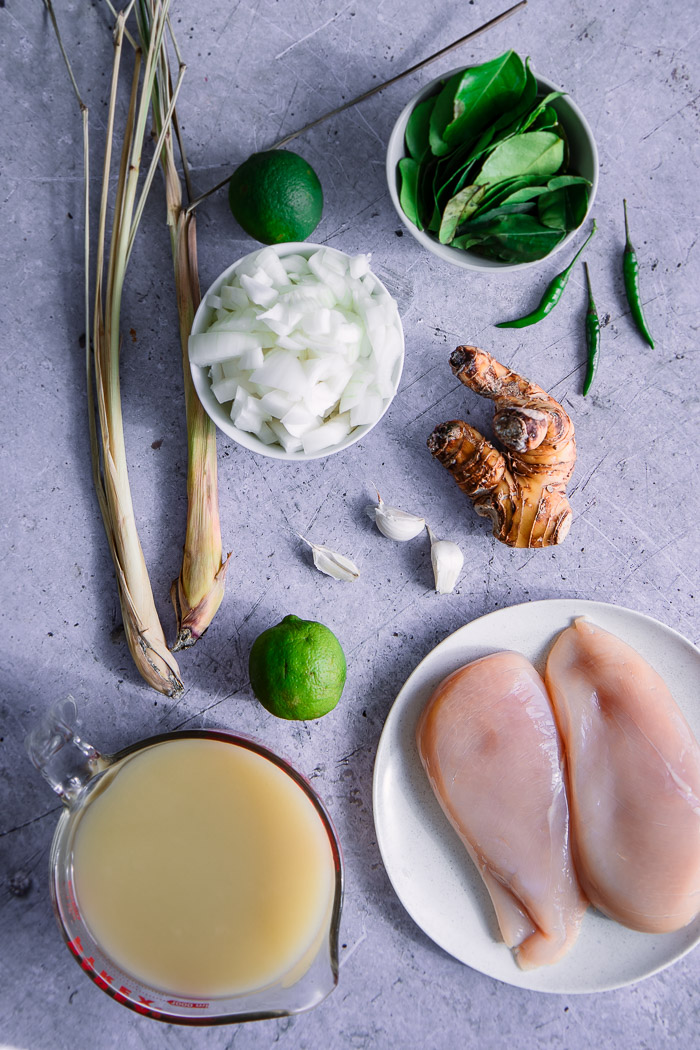 A Word About Forbidden Rice
Forbidden rice. The name alone sounds mysterious and exotic. Black rice varieties have been growing in China for more than 10,000 years, but the rare rice was reserved exclusively for emperors and royalty. A study was done on the 21 types of black rice and researchers found that all forbidden rice is descended from a mutation in Japanese rice, which was thought to be cultivated into the forbidden rice we know and love today.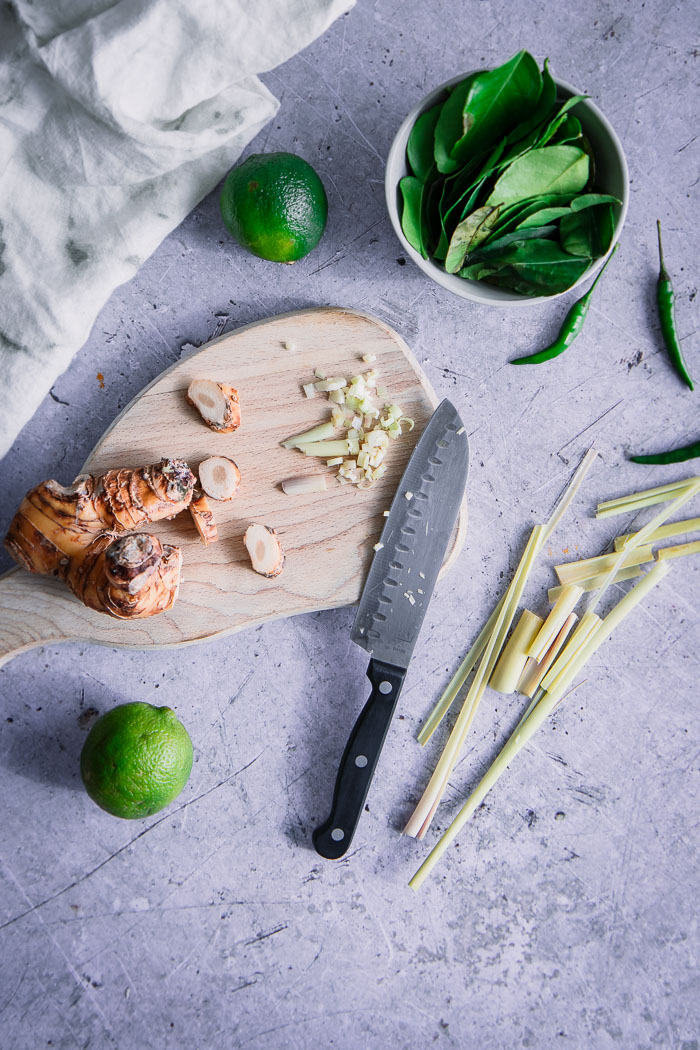 Nowadays it has become a foodie fixture, replacing humdrum white or jasmine rice for an interesting twist on the starch staple. The dark color of forbidden rice comes from the antioxidant anthocyanin, which also gives eggplants and blueberries their dark hues.
A recipe that calls for ingredients you aren't familiar with shouldn't be skipped. Accept the challenge, learn something new, and incorporate these new culinary skills into future meals.
Tips, tricks, and tools: This Thai-inspired soup uses many ingredients that may be new to you, but does not require much cooking equipment other than a soup pot or a ceramic dutch oven.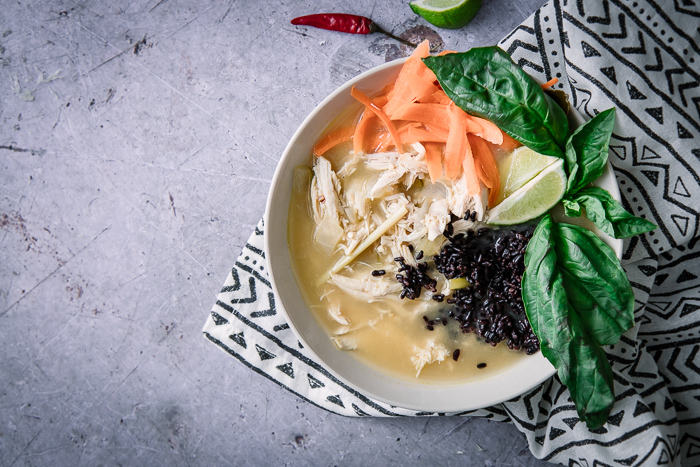 ---
Loving this Thai-inspired soup? Check out our other soups inspired by our travels, such as Pozole Verde and Colombian Ajiaco.
Did you try this Thai Basil, Lemongrass , and Forbidden Rice Soup? Leave us a comment and recipe rating below to let us know how it turned out. Saving this recipe for later? Pin it to your favorite soup Pinterest board and make sure to tag me on Instagram so I can see your soup creations!
Yield: 6 servings
Thai Basil Lemongrass Forbidden Rice Soup
Thai Basil, Lemongrass, and Forbidden Rice Soup, a Thai-inspired spicy chicken and rice soup featuring galangal, thai basil, kaffir leaves, and lime. A big, bold, and flavorful dish!
Prep Time 10 minutes
Cook Time 45 minutes
Total Time 55 minutes
Ingredients
1 onion, chopped
3 garlic cloves, minced
2 lemongrass roots, soft centers minced and harder shells cut in 2 inch sections
3 1/2 inch pieces galangal
Juice of 2 limes
1 cup Thai basil leaves, chopped
2 chicken breasts
1 carrot, shaved
Instructions
Heat oil in large soup pot or dutch oven on medium heat. Add onion, garlic, lemongrass roots and shells, galangal, ginger, and chilies. Cook 3-5 minutes, or until onion starts to soften.
Add stock, fish sauce, lime juice, kaffir leaves, salt, and chicken breasts.. Bring to boil for a few minutes to release flavors, then reduce heat to simmer for 30 minutes.
Remove galangal and hard lemongrass shells. Remove cooked chicken, allow to cool, then shred with fork and return to soup.
Add precooked forbidden rice prior to serving. Rice will release color and blacken soup if added before cooking.
Top with basil leaves and carrots, and enjoy!
Notes
Leftovers & Storage: This Thai Basil, Lemongrass, and Forbidden Rice Soup can be stored in the refrigerator for up to five days, and in fact the flavors get better with time and the soup is even more delicious on the second day.
Nutrition Information:
Yield:
6
Serving Size:
1 serving
Amount Per Serving:
Calories: 381
Total Fat: 8g
Saturated Fat: 2g
Trans Fat: 0g
Unsaturated Fat: 5g
Cholesterol: 47mg
Sodium: 1029mg
Carbohydrates: 49g
Fiber: 2g
Sugar: 16g
Protein: 28g
We are participant in the Amazon Services LLC Associates Program, an affiliate advertising program designed to provide a means for us to earn fees by linking to Amazon.com and affiliated sites.