Sweet and Spicy Roasted Chickpeas
Sweet and Spicy Roasted Chickpeas, a simple crunchy baked garbanzo beans recipes with maple and cayenne for a sweet and spicy kick. Cooked without oil, this recipe is easy, healthy, and oh-so tasty!
Have you tried roasted chickpeas? When baked low and slow garbanzo beans become crunchy on the outside and soft on the inside, making them the perfect easy snack or crispy salad topping.
👉 Here are three reasons you should be roasting chickpeas:
They're tasty. With a touch of maple syrup and cayenne, these roasted chickpeas are sweet with a spicy kick.
It's easy. Simply combine ingredients and roast low and slow for a simple garbanzo bean snack.
They're healthy. Eat 'em on their own as a snack or use them as a healthier alternative to croutons.
Ready to learn how to make roasted garbanzo beans? Let's do it!
---
📹 Recipe video
Click the video below or keep scrolling to see the steps to make this recipe.
---
🥣 How to make (step-by-step photos)
1️⃣ Step One: Drain and dry out the chickpeas
Whether you're using canned chickpeas or cooking them from dry, it's important to first drain the liquid from the chickpeas (save it for other uses, see tips in the Sustainable Kitchen section below) and let the chickpeas dry out a bit before roasting.
To do this, we suggest draining the chickpeas from their liquid and spreading them out on a plate, sheet pan, or other flat service for about 30-60 minutes, or even longer for crispier chickpeas.
While this isn't 100% crucial, it does help the chickpeas lose some of their absorbed moisture and lets them get crispier on the outside when roasting.
---
2️⃣ Step Two: Preheat oven + season chickpeas
When the chickpeas have dried, preheat your oven to 400 F (about 200 C).
Add the chickpeas to a medium-sized mixing bowl with the cumin, turmeric, cayenne pepper, pinch of salt and pepper, and 1 tablespoon of maple syrup.
Mix to coat the chickpeas with the maple syrup, so the spices stick to the garbanzo beans when baking, but since they dry out a bit when in the oven we'll add more maple syrup when they've finished baking.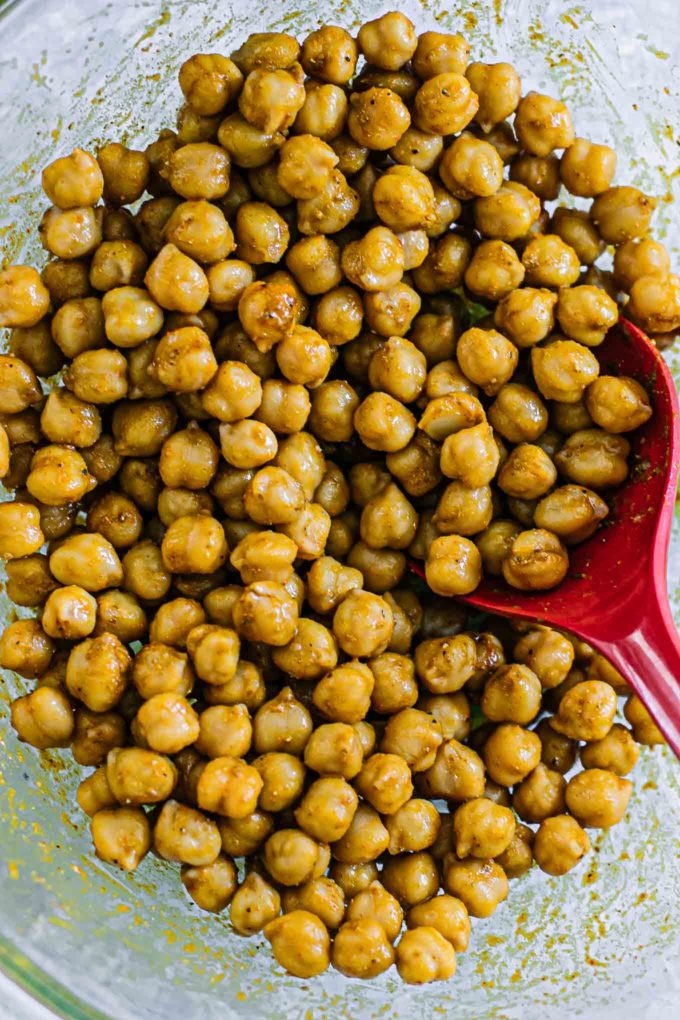 ---
3️⃣ Step Three: Roast garbanzo beans in the oven
When the chickpeas have been seasoned with the maple syrup and spice, spread them out into a single layer on a sheet pan for roasting.
Bake them in the preheated oven for about 20-30 minutes, stirring occasionally to make sure they brown on all sides. We like to check on them after 10 minutes, stir, and then check again every 5-7 minutes until they're golden brown on all sides.
When you think they're done, give one a taste test and if they have a crunchy golden brown outside and a softer inside then you'll know they're done.
---
4️⃣ Step Four: Add additional maple glaze
After the garbanzo beans are done baking, remove them from the oven and pour them back into the mixing bowl.
Add an additional tablespoon of maple syrup and stir to combine, coating the chickpeas in a sweet glaze.
👉 Why do you add maple syrup twice? We're making these roasted chickpeas without oil, so we're adding maple syrup once to coat them with a sticky liquid to help the spices stick them when roasting. However, they dry out when cooking and the maple syrup sweetness isn't as strong, so we're adding another drizzle of maple when they're done to add a bit more sweetness to the dried, roasted chickpeas.
Finally, serve up these chickpeas as an appetizer or snack on their own, or use them as a crunchy topping on salads or grain bowls.
---
❓ Recipe + ingredient questions
Should you use canned or dried garbanzo beans for roasted chickpeas?
You can use either canned or dried garbanzo beans making making roasted chickpeas. Both canned and dried chickpeas will need to be drained from their liquid and then dried out for 30-60 minutes before roasting to let any absorbed liquid dry out for a crunchier taste after roasting.
Can you roast chickpeas without soaking?
It is not necessarily to soak chickpeas before roasting them. You can make roasted chickpeas from either canned or dried chickpeas. If you are making them from dried, cook them directly on the stovetop in a pot of water simmering for 1.5-2 hours. Alternatively, chickpeas can also be made in a pressure cooker for 20 minutes on the bean setting without soaking first.
Why are my roasted chickpeas not crunchy?
Roasted chickpeas are usually not crunchy because the garbanzo beans held too much absorbed liquid before baking. Whether you're using canned chickpeas or chickpeas cooked from dried, the water they're stored in will need to be drained and the chickpeas should be spread out to dry for at least 30-60 minutes before roasting. It is also possible the oven heat is not high enough or they need to be cooked longer to release their moisture.
Why are my roasted chickpeas soft?
Roasted chickpeas will remain soft when baked if they are holding onto too much moisture, if they haven't been allowed to dry before roasting, or if they're not roasted at the right temperature or for longer enough to allow them to release their water and become crispy.
Are roasted chickpeas healthy?
Roasted chickpeas are healthy, and are a great alternative to snacks like potato chips and can also be a healthier alternative to croutons on salads and bowls. A one cup serving of chickpeas contains 15 grams of protein and 13 grams of fiber, and making them a good source of plant-based protein (USDA Food Nutrient Database).
---
🌿 Substitutions + variations
Get creative in the kitchen and make this recipe your own with these suggested variations:
Sweet: Skip the maple syrup and use agave nectar or even simple syrup; brown sugar can be used as well, however the sweet taste won't be as strong as the sugar may not stick to the chickpeas the way that a liquid sweetener will.
Spicy: Use cayenne pepper, chili pepper, chili flakes or crumbles, or even a few squirts of hot sauce to add spice to roasted chickpeas.
Other spice: Try dried herbs like oregano or thyme, a spice blend like curry powder, or go simple with just salt and pepper.
---
♻️ Sustainable kitchen tips + tricks
We're all about going green in the kitchen, here are tips for making this recipe more sustainable:
Save the liquid from chickpeas.
The liquid chickpeas is canned or cooked in, also called aquafaba, is liquid gold for plant-based eaters. Use it to thicken sauces, as a replacement for milk in vegan baking, or even whip it up into a dessert like this Vegan Avocado Chocolate Mousse.
Use dried chickpeas.
Save on packaging waste from cans by buy dried chickpeas in bulk. To rehydrate, simple soak over night and then simmer in water for 1.5-2 hours or throw them into the Instant Pot or other pressure cooker with water and cook on the bean setting for about 25 minutes.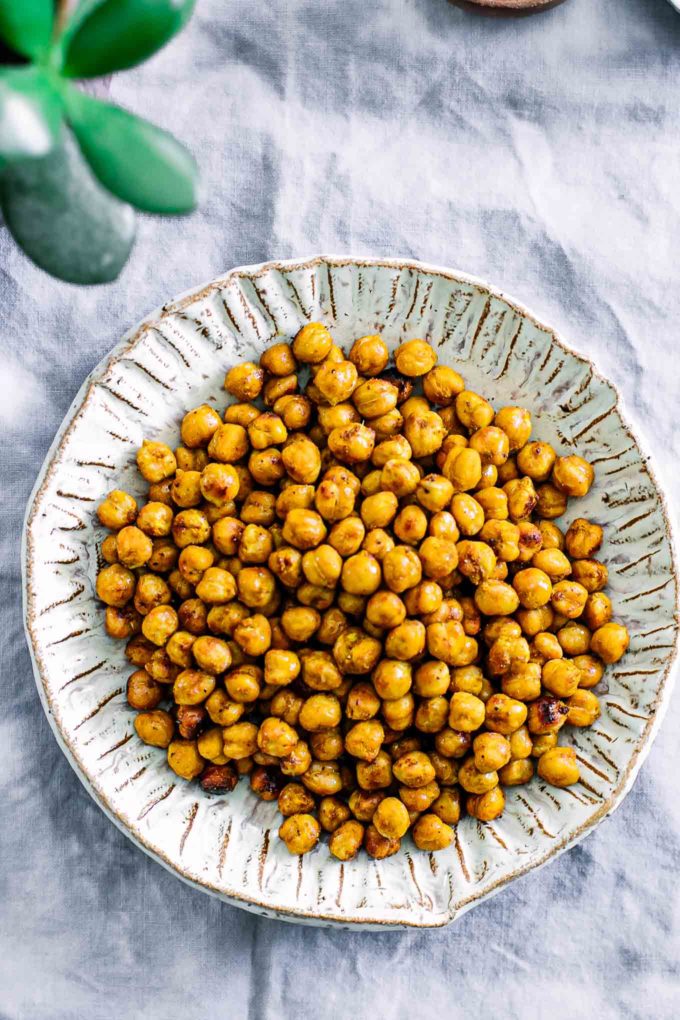 ---
🌱 More recipes with chickpeas
Yield: 4 servings
Sweet and Spicy Roasted Chickpeas Recipe
Sweet and Spicy Roasted Chickpeas, a simple crunchy baked garbanzo beans recipes with maple and cayenne for a sweet and spicy kick. Cooked without oil, this recipe is easy, healthy, and oh-so tasty!
Prep Time 5 minutes
Cook Time 25 minutes
Additional Time 1 hour
Total Time 1 hour 30 minutes
Ingredients
1 1/2 cups chickpeas (1 can drained, or 3/4 cup cooked from dried)
2 tablespoons maple syrup, divided
1 teaspoon cumin
1 teaspoon turmeric
1/8 teaspoon cayenne pepper
Pinch salt and pepper
Instructions
Prep chickpeas: For crispier chickpeas, dry out canned or cooked chickpeas that have been storied or cooked in liquid for at least 1 hour before cooking. To do this, drain chickpeas from their liquid (save the aquafaba liquid for other uses) on a sheet pan on your counter or in your refrigerator for at least 30-60 minutes before roasting. The drier the chickpeas, the crispier they'll be after cooking.
Preheat oven: Preheat your oven to 400 F (200 C).
Season chickpeas: When chickpeas have dried, add them to a medium mixing bowl with 1 tablespoon of maple syrup, cumin, turmeric, cayenne pepper, and pinch of salt and pepper. Mix well to combine all ingredients, making sure the maple syrup lightly coats all chickpeas so that the spices stick to them.
Roast in oven: Spread the seasoned chickpeas onto a sheet pan, spacing them out so that they're all in one single layer (this will help them to become crispier). Bake in the oven for a total of 20-30 minutes, stirring every 10 minutes to evenly roast on all sides. Taste them throughout baking to test out how done they are; when chickpeas are browned and have a crunchy outside and soft inside then they're done.
Add additional maple glaze: After removing the chickpeas from the oven, add them back to the mixing bowl and stir in the remaining maple syrup. This will add a touch more of sweetness back to the roasted chickpeas, as they tend to lose some sweetness when roasted.
Serve: Serve chickpeas as an appetizer, snack, or as a topping for salads and bowls.
Notes
Recipe notes: Dried or canned chickpeas will work for this recipe; if cooking from dried then use 1 cup dried chickpeas. For a spicier snack, double the amount of cayenne pepper (we kept it conservative but feel free to add more cayenne pepper if desired). You can use brown sugar in place of maple syrup, however it will not stick as well to the chickpeas. If using sugar, we suggest adding 1-2 teaspoons of oil to the chickpeas to help the spices and sugar to stick when roasting.
Prep ahead: You can prep this recipe by drying and adding the syrup and spices up to two days ahead of time and then popping into the oven just before serving.
Leftovers and storage: Store chickpeas in an airtight container on the counter for up to 4 days, or in the refrigerator for 5-6 days. We do not recommend freezing, though if you do try it then let us know how it turns out and we'll update the instructions.
Nutrition notes: Nutrition information is an estimate. This recipe is vegan, gluten-free, and oil-free.
Nutrition Information:
Yield:
4
Serving Size:
1
Amount Per Serving:
Calories: 131
Total Fat: 2g
Saturated Fat: 0g
Trans Fat: 0g
Unsaturated Fat: 1g
Cholesterol: 0mg
Sodium: 25mg
Carbohydrates: 24g
Fiber: 5g
Sugar: 9g
Protein: 6g
We are participant in the Amazon Services LLC Associates Program, an affiliate advertising program designed to provide a means for us to earn fees by linking to Amazon.com and affiliated sites.