Summer Peach Panzanella Salad
Summer Peach Panzanella Salad, a fresh salad of fresh tomatoes, ciabatta bread and summer peaches drizzled in a light olive oil dressing. Just peachy!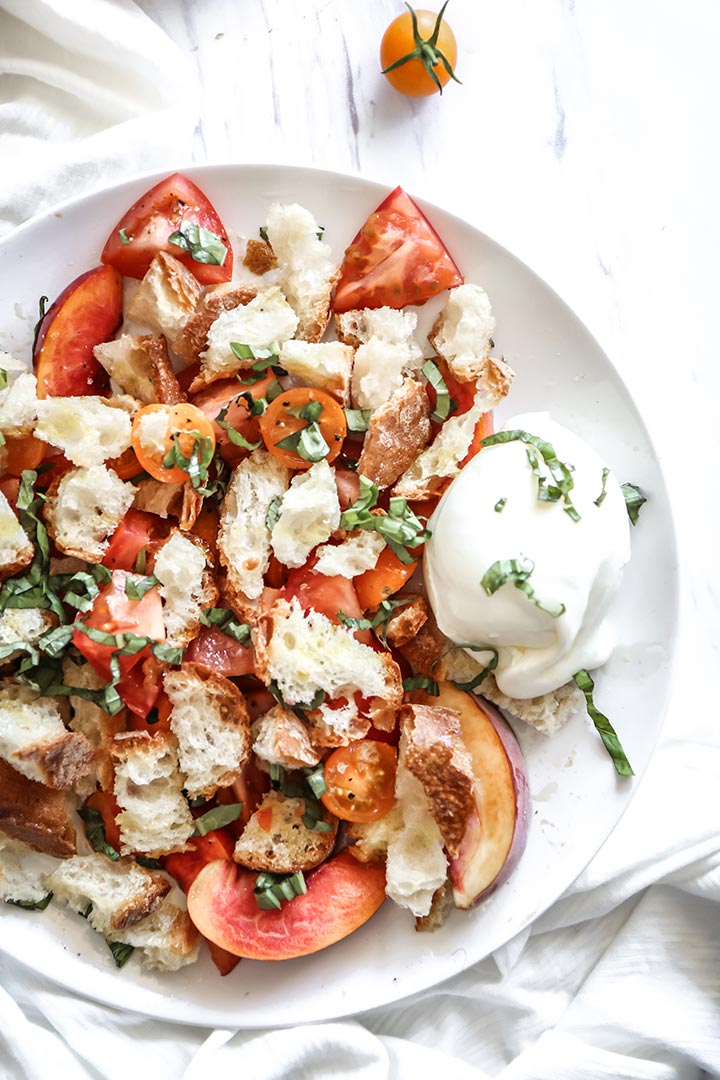 My love of summer tomatoes is well documented, and if you've been reading this blog for very long you'll know I can't get enough of stone fruit. So when I had the grand idea of combining the two very different flavors in a panzanella salad I knew it would either be amazing or end up in the trash.
It did not end up in the trash.
Panzanella salads are sometimes hit or miss. The perfect panzanella must have fresh seasonal tomatoes, which makes the prime panzanella eating window between late July and late September in my neck of the woods (Northern California).
But most importantly (to me), a panzanella salad must have a delicious dried bread that is less like a crouton and more like bread that sat out too long. While freshly baked bread is delicious, this is one of the only times you'll want at least one day old bread. Fresh bread will soak up the olive oil dressing and become mushy, but older dried bread will lend a crunch without becoming a soggy mess.
You may be thinking, "Why can't I just use croutons for a panzanella salad?" and I will immediately tell you to stop right there and banish that thought from your mind. Croutons?!?
No, panzanella salads are not for bagged, overly flavored croutons. Panzanella salads are made for bread intentionally dried to be a panzanella ingredient.
You heard that, you're bread must be "intentional."
And guess what? Making your own croutons from fresh bread is not only healthier, but also more sustainable. Win, win!
Sustainable Kitchen Trick: How to make homemade croutons from fresh bakery bread
So how do you make "intentional" dried bread for this Summer Peach Panzanella Salad? There are two ways to achieve peak panzanella-ness, explained below:
Dry bread out the old fashioned way: left out on the counter for too long. If you're like me you have a habit of buying loaves of fresh bread from my favorite local bakery and not finishing them in time before the bread is dry and almost inedible. THIS is the perfect bread for a panzanella salad (also perfect crumbled in my Vegan Favorite Tomato & Leek Soup, but that's a story for another day). To get the perfect naturally-dried panzanella bread cut the bread when it's still fresh into small 1 inch sections and place in a paper bag on the counter for 1-2 days. Sprinkling with a bit of garlic powder and a pinch of salt is never a bad idea either.
Or do it the quick and easy way: cut fresh bread into small pieces and dry in the oven over low heat. If you're short on time and only have fresh bread, cut it into small 1 inch portions and place on a cookie sheet, sprinkle with spices and herbs (see recipe below) and dry out over low heat (around 200 degrees) for about 30 minutes. Perfectly dried and toasted panzanella bread.
Enough with the talk, let's get to the recipe! I'd LOVE to hear how this fresh Summer Peach Panzanella Salad turns out and let me know if you try another variation. Enjoy!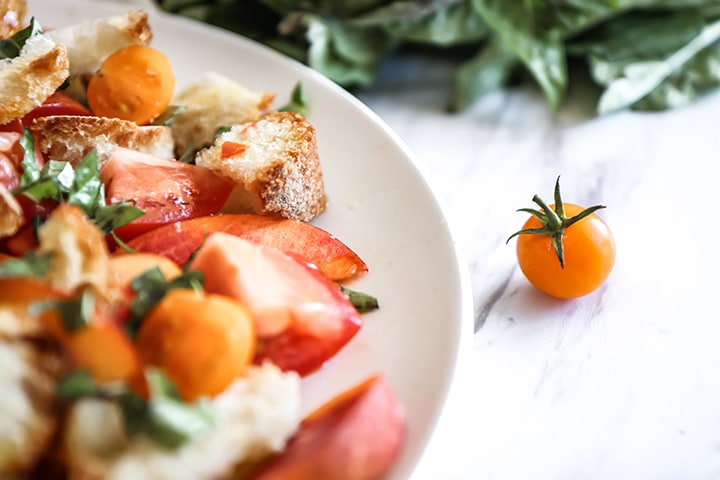 Love this Summer Peach Panzanella Salad?
Try one of these summer salad favorites:

Yield: 4 servings
Summer Peach Panzanella Salad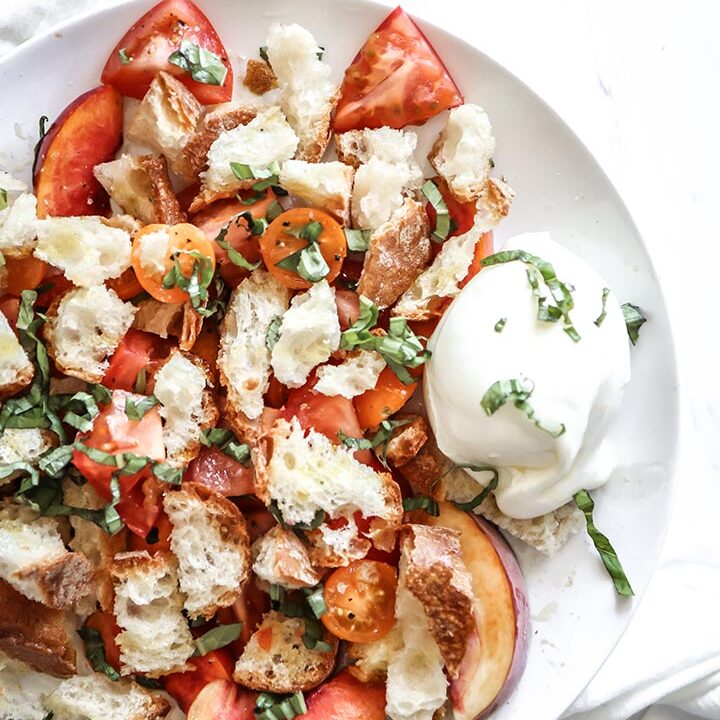 Summer Peach Panzanella Salad, a light salad of fresh tomatoes, ciabatta bread and summer peaches drizzled in a light olive oil dressing. Just peachy!
Prep Time 10 minutes
Cook Time 25 minutes
Total Time 35 minutes
Ingredients
1/2 loaf fresh ciabatta, cut into 1" pieces and dried
1/2 teaspoon garlic powder
pinch salt
2 heirloom tomatoes, sliced into 1 inch thick pieces
1 cup cherry tomatoes (optional, but delicious)
2 peaches, sliced
4 tablespoons olive oil
1/2 cup fresh basil, thinly sliced
salt and pepper to taste
Optional: If you're a dairy eater, a fresh ball of burrata cheese is recommended for this recipe
Instructions
To make dried bread (see post for more info): cut ciabatta bread into 1 inch pieces and place on cookie sheet. Sprinkle with garlic powder, salt and pepper (and other spices, if desired) and bake on low heat (about 200 degrees) for 20-30 minutes, or until dry. Alternatively, bread can dry if left in paper bag for 1-2 days.
Combine dried bread, tomatoes and peaches together in a large bowl. Drizzle with olive oil and add basil, salt and pepper. Toss to coat.
Serve by plating salad mixture and topping with more basil and a ball of burrata, if desired. Enjoy!
Notes
Vegan? Leave out the optional cheese and this recipe is entirely plant-based!
Storage and leftovers: This Summer Peach Panzanella Salad can be kept in the refrigerator for up to 3 days, but is best when eaten immediately as the bread will soak up the olive oil and become soggy.
Nutrition Information:
Yield:
4
Serving Size:
1 serving
Amount Per Serving:
Calories: 346
Total Fat: 17g
Saturated Fat: 3g
Trans Fat: 0g
Unsaturated Fat: 13g
Cholesterol: 6mg
Sodium: 435mg
Carbohydrates: 41g
Fiber: 4g
Sugar: 13g
Protein: 8g
We are participant in the Amazon Services LLC Associates Program, an affiliate advertising program designed to provide a means for us to earn fees by linking to Amazon.com and affiliated sites.