Spicy Ruby Red Grapefruit Margarita
Spicy Ruby Red Grapefruit Margarita, a tangy take on the Mexican classic. With freshly squeezed grapefruit and lime juices and a dash of spice, this homemade margarita is tart treat!
Do you love grapefruit? I must admit I have not always like the tangy fruit. I always expect the sweetness of an orange when digging in but then find myself wincing as if I bit into a lemon.
However, grapefruit has been growing on me lately. The large citrus fruit has a bad rap as a diet food from the 1980's, but I believe there's something more to grapefruit than eating it with a spoon.
Instead, I think grapefruit belongs in a margarita.
This spicy grapefruit margarita recipe combines three citrus fruits: tangy ruby red grapefruit, tart fresh limes, and sweet navel oranges. Add a bit of jalapeño and gold tequila and you have yourself a perfect refreshing happy hour.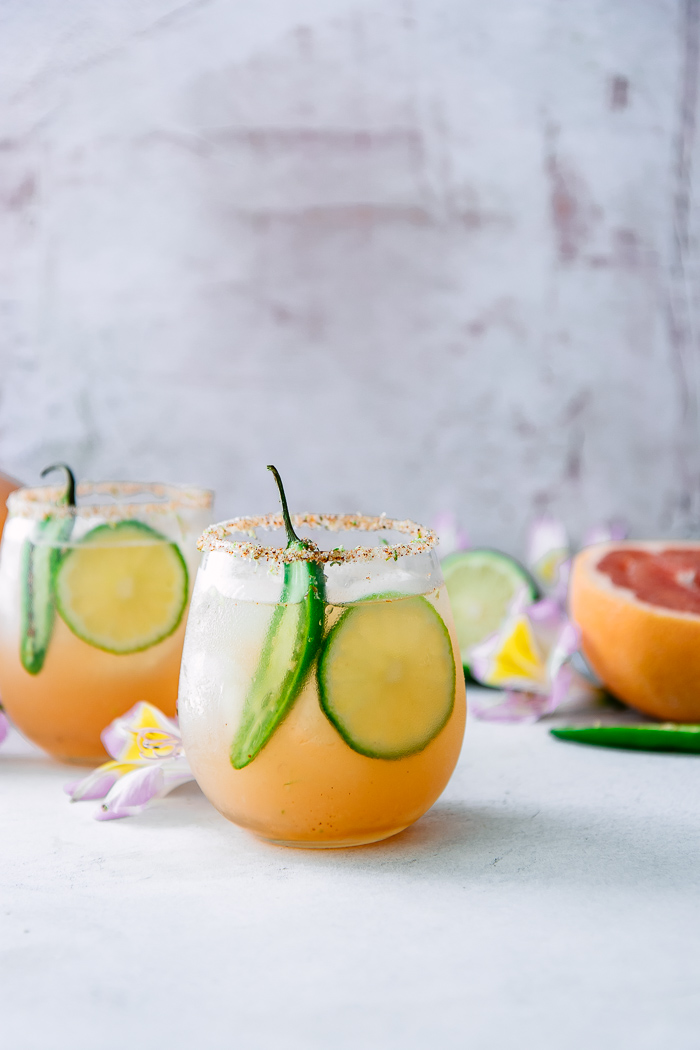 How to make the perfect grapefruit margarita
This Spicy Ruby Red Grapefruit Margarita recipe starts by extracting a bit of spice from jalapeño peppers. There are many ways to incorporate the spice of a pepper into a cocktail, but my personal favorite is to place a sliced pepper into a cocktail mixer and muddle (or smash) it until it releases its spicy oils.
The rest of the cocktail can then be built on top: a bit of tequila, a splash of triple sec, a dash of agave (if using), and a combination of fresh fruit juices. Shake it all up and pour over a ice in a glass with a chile lime salted rim. Perfection.
Tips, Tricks & Tools: To make the perfect margarita, first you'll need a good cocktail set with a shaker and a muddler. I also like to have a set of good cocktail glasses. Because as much as we love reusable yogurt and pickle jars (we're so sustainable), sometimes it's nice to be an adult and drink out of a real glass.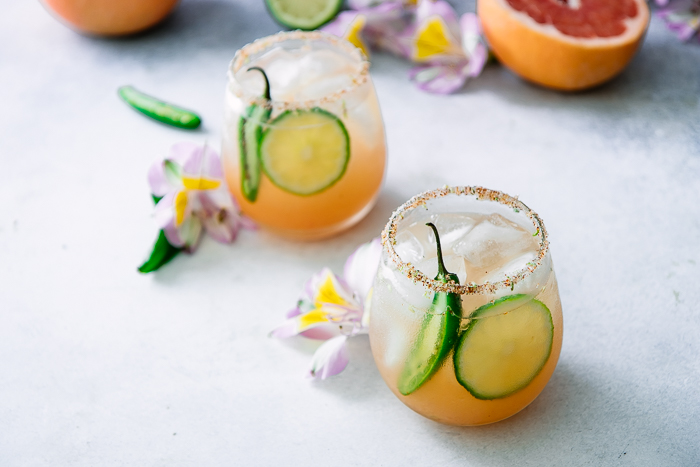 ---
Looking for more freshly made cocktails? Try out my Blood Orange, Kiwi & Mint Margaritas, Pomegranate Margaritas, and Homemade Boozy Blackberry Lemonade, two of my favorite choices for fresh fruit-infused happy hour. Throw in a White Bean Hummus Mezze Platter for a pickable platter to share with friends.
Did you make this Spicy Ruby Red Grapefruit Margarita? Leave me a comment and a recipe rating below and let me know what you think. Save this recipe for later by pinning it to your favorite Pinterest cocktail board and make sure to tag me on Instagram, I want to see your happy hour in action!
Yield: 2 margaritas
Spicy Ruby Red Grapefruit Margarita
Spicy Ruby Red Grapefruit Margarita, with freshly squeezed grapefruit and lime juices and a dash of spice. This homemade margarita is tart treat!
Prep Time 10 minutes
Total Time 10 minutes
Ingredients
1 jalapeno, sliced
3 oz gold tequila
1 oz triple sec
2 oz fresh ruby red grapefruit juice (about 1 medium fruit, squeezed)
2 oz fresh lime juice (about 1 lime, squeezed)
1-2 oz fresh orange juice (about 1 navel orange, squeezed)
2 cup ice cubes
Instructions
Place one of sliced jalapeno (or both halves if you really like spice!) in cocktail mixer and use muddler to smash it a few times to release oils (don't overdo it unless you really like heat).
Add tequila, triple sec, agave nectar, and grapefruit, lime, and orange juices to mixer. Add one cup of ice, put lid on mixer, and shake well until mixed (about 10-15 seconds). Strain and pour over ice in glass with chile lime salted rim.
Chile lime salted rim: place salt, chile, and lime zest on a plate and mix until well combined. Wet rim of glass with lime juice and place rim down on salt mixture.
Notes
Leftovers & Storage: This margarita recipe can be made up to 3-4 days ahead of time, however make sure to strain and remove the jalapeno before storing or else you'll be in store for a very spicy surprise!
Nutrition Information:
Yield:
2
Serving Size:
1 margarita
Amount Per Serving:
Calories: 184
Total Fat: 0g
Saturated Fat: 0g
Trans Fat: 0g
Unsaturated Fat: 0g
Cholesterol: 0mg
Sodium: 1062mg
Carbohydrates: 17g
Fiber: 1g
Sugar: 11g
Protein: 1g
We are participant in the Amazon Services LLC Associates Program, an affiliate advertising program designed to provide a means for us to earn fees by linking to Amazon.com and affiliated sites.