Cast Iron Skillet Paprika Potatoes
Cast Iron Skillet Paprika Potatoes, a simple pan fried potatoes recipe with garlic, paprika, and smoked salt crisped in a cast iron skillet. Perfect for breakfast, lunch, or dinner!
Love restaurant breakfast potatoes but don't know how to make them at home? This simple crispy potatoes recipe uses a cast iron skillet to get perfectly potatoes that are soft on the inside and crispy on the outside. The secret? Boil potatoes first and then finish in a cast iron skillet.
👉 Ready to learn how to make crispy cast iron skillet potatoes with smoked paprika? Let's do it!
---
🥣 How to make (step-by-step photos)
1️⃣ Step One: Boil potatoes to soften
The first step to making breakfast potatoes that are crispy on the outside and soft on the inside is to boil them until they begin to soften.
To do this, simply bring water to a boil in a medium pot and then add potatoes once the water reaches a rolling boil. Then cook until they begin to soften, about 6-8 minutes.
Once the potatoes are starting to soften (but aren't completely cooked), drain them from the water and let them cool. Then cut each potato into halves or quarters – the smaller the pieces, the crispier they'll become when cooked.
---
2️⃣ Step Two: Cook potatoes until crispy
Next, it's time to crisp up the potatoes. To do this, heat butter (or oil) in a cast iron skillet over medium high heat.
When the pan is hot and the butter is melted, add the cut potatoes and arrange the so they're in a single layer on the pan. Cook until they are crisp, about 10-12 minutes, stirring occasionally to brown them all all sides.
---
3️⃣ Step Three: Season and serve potatoes
When the potatoes are almost done, add the chopped garlic and and sprinkle the potatoes with the smoked paprika, salt, and pepper.
Cook 1-2 minutes more until the garlic is crisp, but not burnt. Then remove the potatoes from the skillet and enjoy!
---
❓ Recipe questions + quick tips
What are the best potatoes to use for breakfast potatoes?
The best potatoes are usually made with a smaller, non-starchy potatoes variety like yellow or red potatoes, new potatoes, or the bigger Yukon Gold potatoes. Steer clear of russet potatoes when making breakfast potatoes or home fries because they won't have the soft and crunchy texture usually associated with breakfast potatoes.
What is the best pan to cook breakfast potatoes in?
A large stainless steel pan or cast iron skillet is the best choice to make breakfast potatoes because they will give the potatoes the crispiest texture while also keeping the center soft.
Should you use butter or oil for breakfast potatoes?
Both butter and oil can be used to cook breakfast potatoes, however butter will add a depth and a slightly salty flavor.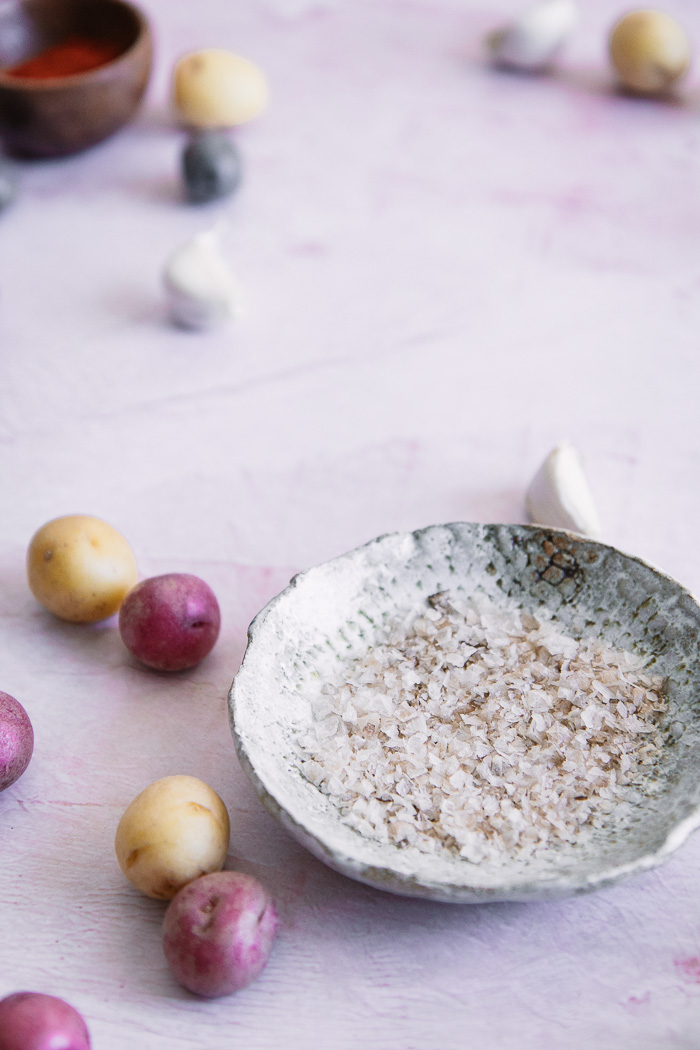 ---
🍳 How to serve
Skillet potatoes are a super versatile side dish! Here are some of our favorite ways to serve them:
Serve as a side with eggs or frittata. Pair these cast iron skillet potatoes with a side of eggs or with a frittata like our Mediterranean Chickpea Frittata.
As the base of a breakfast bowl. Serve your next breakfast as a bowl, like our Smoked Salmon Breakfast Bowl.
Mixed with cold salad. These potatoes are also delicious when served cold over the top of a salad and mixed with a light dressing.
---
🧊 How to store
Pan fried potatoes are a great make-ahead recipe that can be saved and reheated at a later date. Here's how to store for best taste and texture:
Refrigerator storage: Store in an airtight container in the refrigerator for up to 3-4 days. Reheat in a skillet with a small amount of butter or oil.
Freezer storage: Store leftover potatoes in the freezer in a freezer-friendly bag for up to 2-3 months. Thaw in the refrigerator for 1 day, then reheat in a skillet with butter or oil to crisp them up after thawing
---
🥔 More tasty potato recipes
Want more simple (but tasty) potato recipes? We've got you covered:
Cast Iron Smoked Paprika Potatoes
Smoked Paprika Skillet Potatoes, a simple breakfast potatoes recipe with pan fried new potatoes, garlic, paprika, and smoked salt crisped in a cast iron skillet.
Instructions
Boil potatoes: Bring 6 cups water to a boil in a small saucepan. Add potatoes and boil until soft, about 8-10 minutes. Drain, let cool, and then cut each potato in half or quarters (smaller pieces will become crispier when cooked).

Cook potatoes: Heat butter in cast iron skillet over medium high heat. Add potatoes and cook until crisp, stirring occasionally, about 10-12 minutes.

Season and serve: When potatoes are almost to desire crispness, add garlic, paprika, and smoked salt. Sautee until garlic is crisp, about 2 minutes. Remove potatoes from heat and serve.
Notes
Leftovers and storage: The potatoes can be stored in an airtight container in the refrigerator for 4-5 days, however for maximum flavor and crispy texture they are best served immediately.
Nutrition Information
Serving: 1serving, Calories: 183kcal, Carbohydrates: 41g, Protein: 5g, Fat: 1g, Saturated Fat: 1g, Polyunsaturated Fat: 1g, Monounsaturated Fat: 1g, Cholesterol: 1mg, Sodium: 313mg, Potassium: 978mg, Fiber: 5g, Sugar: 2g, Vitamin A: 79IU, Vitamin C: 45mg, Calcium: 41mg, Iron: 2mg
UPDATE: This recipe was originally published in June 2018 and updated for clarity in April 2022.
We are participant in the Amazon Services LLC Associates Program, an affiliate advertising program designed to provide a means for us to earn fees by linking to Amazon.com and affiliated sites.