Smoked Paprika Skillet Potatoes
Smoked Paprika Skillet Potatoes, a simple vegan spuds recipe with pan fried new potatoes, garlic, paprika, and smoked salt crisped in a cast iron skillet. Perfect for breakfast, lunch, or dinner!
For years crispy pan fried potatoes have eluded me. I pinned down the perfect oven baked potato rounds recipe, but every time I tried frying potatoes in a pan I was disappointed and gave up. Why was it that every time I ordered pan fried potatoes in a restaurant they were cooked to perfection but mine came out hard?
Then I learned what you and everyone else probably already knows: you must boil potatoes first to get that perfectly crispy on the outside and soft on the side texture.
Rocket science, I know. Just call me Captain Obvious.
But once I learned this simple trick (and once I invested in and fell in love with a good cast iron skillet) there was no turning back. Pan fried potatoes for breakfast? Yup, just add eggs. Pan fried potatoes for lunch? Toss them in a greens salad and call it a day. Pan fried potatoes for dinner? You bet. There was no stopping me.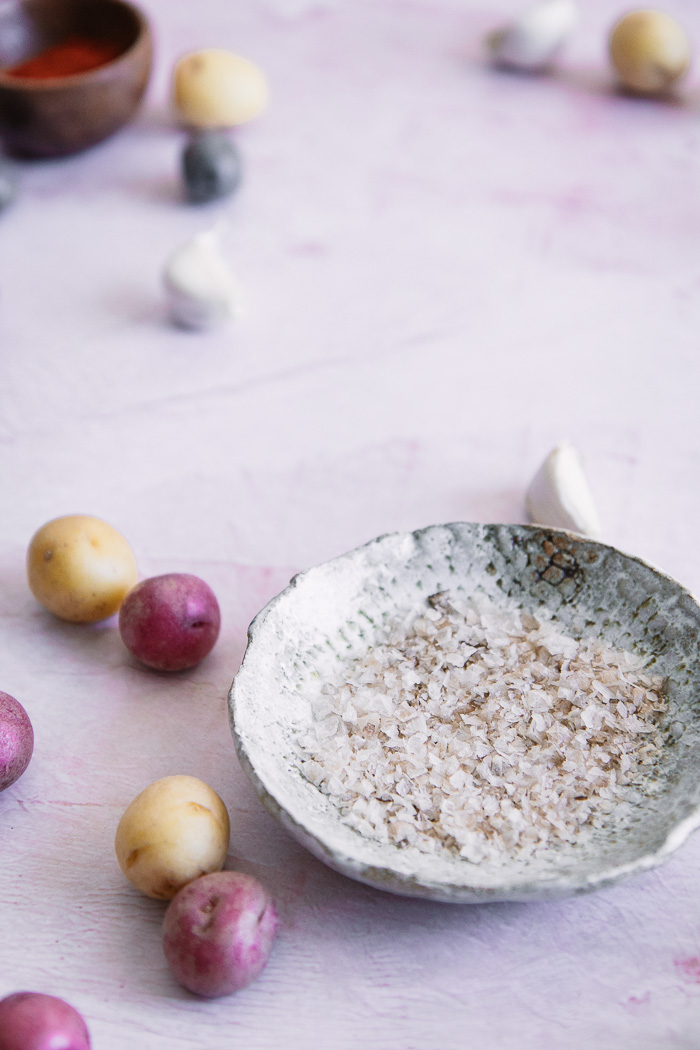 The great thing about pan fried potatoes is that there are endless flavor possibilities. Rosemary, thyme and garlic are solid choices if you're feeling traditional, and turmeric, cumin, or fennelgreek if you're feeling fancy. Other than the requisite salt and pepper, it's hard to go wrong when choosing spices for pan fried potatoes.
However, these Smoked Paprika Skillet Potatoes are my favorite flavor combination at the moment.
Smoked Paprika Skillet Potatoes: Easy as 1-2-3
To get the ultra-crispy on the outside and soft on the inside potatoes, first you must boil them until soft and then cut in half before pan frying. Small new potatoes or red potatoes work best, in my experience (but definitely experiment with other varieties and let me know!).
Then fry them up in a cast iron skillet with a bit of vegan butter and add the garlic at the end for a crispy texture.
Serve them with your favorite breakfast, like my Saffron Chickpea Chard Hash with Sunny Egg or Olive Tapenade with Sunny Egg.
Tips, Tricks & Tools: A good cast iron skillet is key for delicious skillet potatoes (hence the name) but they can also be cooked in a normal frying pan. The winner of this recipe is actually the spices; I'm LOVING Maldon Smoked Sea Salt on everything right now.
---
I hope you enjoy this pan fried potatoes recipe as much as well do, it's become a weekend brunch staple in our house. If you're looking for more breakfast and brunch recipes try out our Black Cherry Basil Ricotta Toast and Meyer Lemon Marscarpone Dutch Baby Cake, two of our favorites.
Did you make this Smoked Paprika Skillet Potatoes recipe? Leave a comment and a recipe below to let us know what you think. And don't forget to pin this recipe to your breakfast Pinterest board to save for later!
Yield: 4 servings
Smoked Paprika Skillet Potatoes
Smoked Paprika Skillet Potatoes, a simple vegan spuds recipe with pan fried new potatoes, garlic, paprika, and smoked salt crisped in a cast iron skillet.
Prep Time 5 minutes
Cook Time 30 minutes
Total Time 35 minutes
Ingredients
3 cups (480g) new potatoes
1 tablespoon vegan butter
3 cloves garlic, chopped
Instructions
Bring 6 cups water to a boil in a small saucepan. Add potatoes and boil until soft, about 8-10 minutes. Drain, let cool, and then cut each potato in half or quarters (smaller pieces will become crispier when cooked).
Heat butter in cast iron skillet over medium high heat. Add potatoes and cook until crisp, stirring occasionally, about 10-12 minutes.
When potatoes are almost to desire crispness, add garlic, paprika, and smoked salt. Sautee until garlic is crisp, about 2 minutes.
Remove potatoes from heat and serve.
Notes
Leftovers & Storage: The potatoes can be stored in an airtight container in the refrigerator for 4-5 days, however for maximum flavor and crispy texture they are best served immediately.
Nutrition Information:
Yield:
4
Serving Size:
1 serving (about 3/4 cup)
Amount Per Serving:
Calories: 150
Total Fat: 3g
Saturated Fat: 2g
Trans Fat: 0g
Unsaturated Fat: 1g
Cholesterol: 8mg
Sodium: 301mg
Carbohydrates: 28g
Fiber: 3g
Sugar: 2g
Protein: 3g
We are participant in the Amazon Services LLC Associates Program, an affiliate advertising program designed to provide a means for us to earn fees by linking to Amazon.com and affiliated sites.