Smoked Golden Beet Carpaccio
Smoked Golden Beet Carpaccio, a simple salad of roasted golden beets, soft goat cheese and fresh frisée with a smoked salt dressing.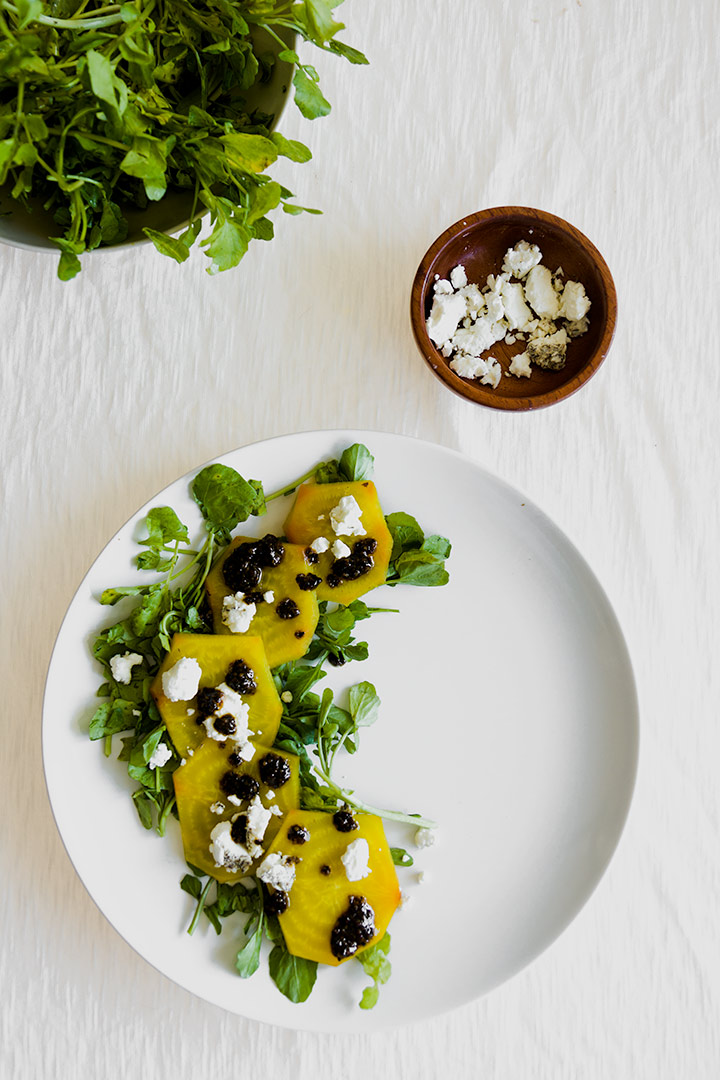 Beets, you either love 'em or you hate 'em.
I've found that the people who really, really love beets are people who have a deep love for the earthy taste of vegetables. They're the people who can eat a salad dry, balk at the idea of smothering broccoli in cheese, and refuse to buy tomatoes out of season. They're the true vegetable lovers, through and through.
And of course I fit in this category.
But if you don't LOVE beets then don't worry, this Smoked Golden Beet Carpaccio is your gateway drug to becoming a beet groupie.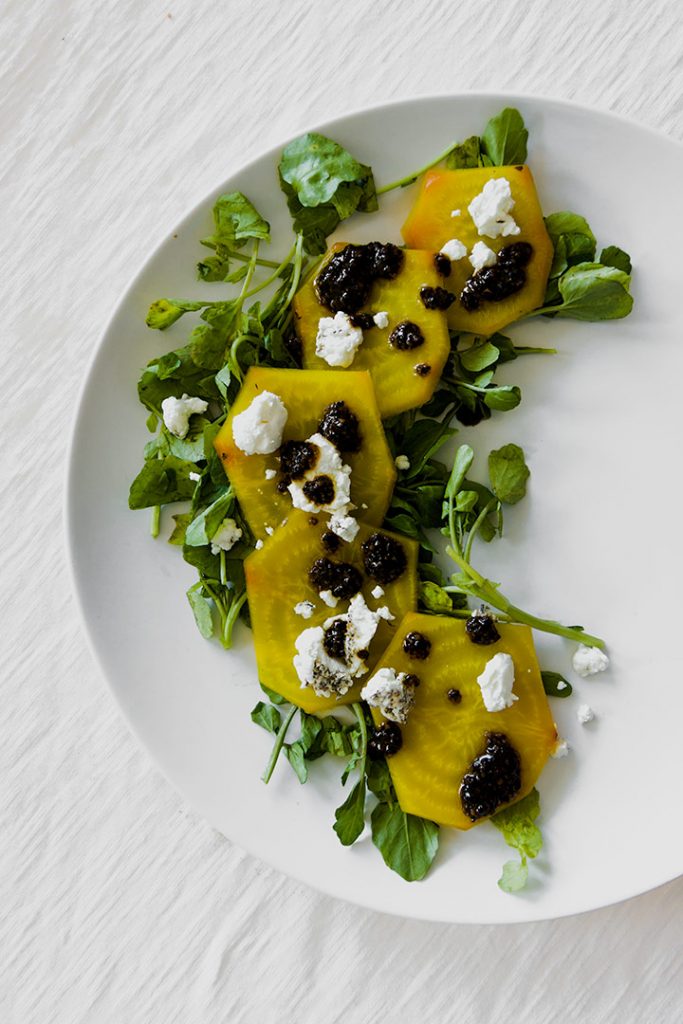 If you are new to trying beets, golden beets are the perfect first step. Golden beets are the milder and slightly sweeter cousin to red beets – and make less of a mess than their cherry red-juiced counterparts.
A root vegetable, the bulbs and leaves of beets are edible and are available year round but peak in the autumn months of September, October and November.
Beets are a super versatile vegetable but roasting is my favorite way to prepare them. Placing them in a shallow pan or oven-safe skillet covered with aluminum foil which makes for a soft beet with skins that can be peeled easily.
Because beets have an earthy or "dirt" taste (don't let that scare you!) they pair well with other bold-flavored ingredients. In my mind, beets and goat cheese are a food match made in heaven and the addition of a smoked salt dressing and light, crisp frisee make this the perfect fall flavor salad.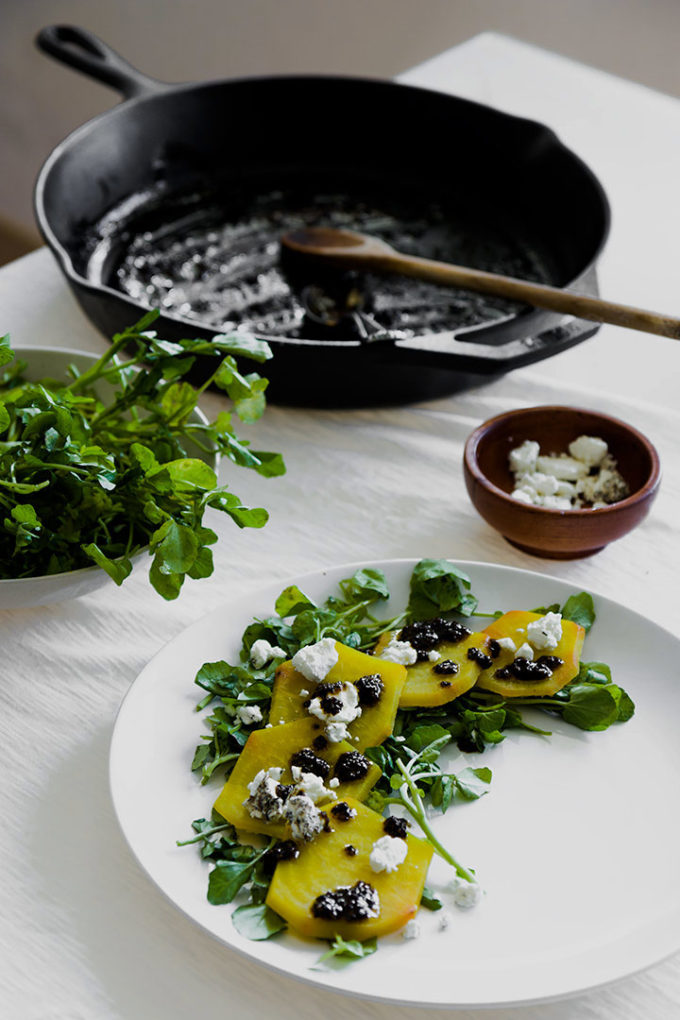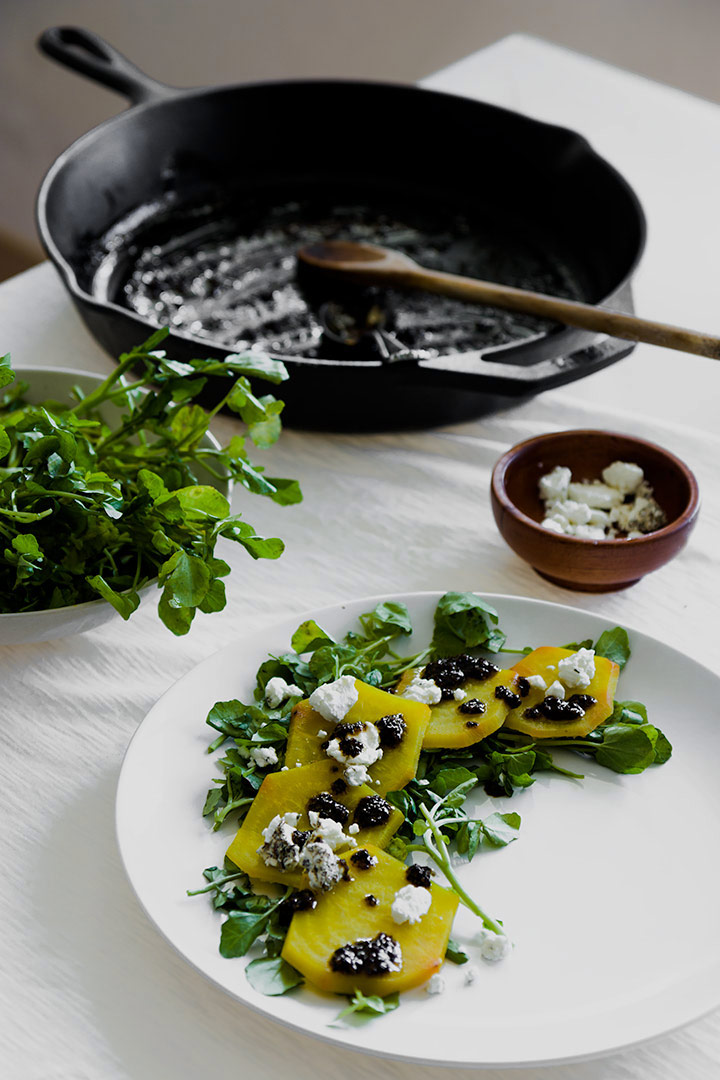 Smoked Golden Beet Carpaccio: Tips, Tricks & Tools
This Smoked Golden Beet Carpaccio is super simple to make and doesn't require extra kitchen tools, but below are a few tips and tools that I use.
Cast Iron Skillet: While you can roast beets in any shallow pan or even on a cookie sheet, I am partial to my Lodge cast iron skillet. I was hesitant about buying one but it has truly been a kitchen lifesaver and I use it almost daily.
A good vegetable peeler. Because I spent way too many years using a rinky dink potato peeler and finally saw the light. This set of three vegetable peelers have peeled my veggies and saved me hours of my life because they're so easy to use.
Smoked salt. Don't have smoked salt on hand? Don't worry! My favorite is San Francisco Salt Company Smoked Hickory Salt, which is delicious on vegetables and meats alike (a little goes a long way!). I also have tried and like Frontier Smoke Salt, as well as all of their spices.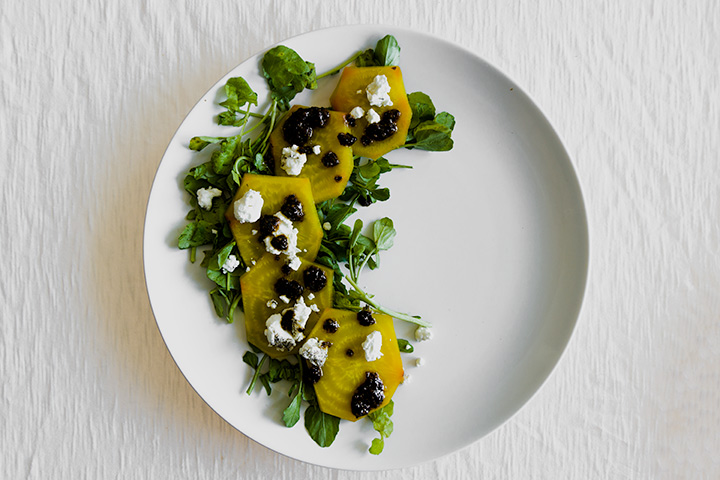 Love this Smoked Golden Beet Carpaccio?
Try another of my favorite fall dishes!
Yield: 2 servings
Smoked Golden Beet Carpaccio
Smoked Golden Beet Carpaccio, a simple salad of roasted golden beets, soft goat cheese and fresh frisée with a smoked salt dressing.
Ingredients
4 golden beets
1 teaspoon olive oil
1 teaspoon smoked salt
2 cups frisee
1 oz goat cheese
2 teaspoons olive oil
1 teaspoon honey, maple or agave
Instructions
Preheat oven to 350 degrees.
Drizzle shallow oven-safe pan with 1 teaspoon olive oil and 1 teaspoon smoked salt. Place beets on top a few inches apart and cover with aluminum foil. Baked for about 30 minutes, or until soft and a fork easily spears.
Remove beets from oven and let cool about ten minutes (don't clean the smoked salt from the pan!). When cool enough to handle, use a vegetable peeler (or a spoon) and remove beet peel. Slice beets into 1/4 inch thick slices and set aside.
To build salad: Line plate with frisee, place beet slices on top, and sprinkle goat cheese. Drizzle with smoked salt dressing (see below).
Smoked salt dressing: Heat the same pan used to cook beets over very low heat on the stove top. Add more olive oil and sweetener and mix well. Remove smoked salt liquid and drizzle over Smoked Golden Beet Carpaccio salad.
Notes
Leftovers & Storage: Beets can be saved and used for up to six days after roasting. Smoked Salt Dressing should be used within 2-3 days.
Nutrition Information:
Yield:
2
Serving Size:
1 dinner salad serving
Amount Per Serving:
Calories:

169
Total Fat:

10g
Saturated Fat:

3g
Trans Fat:

0g
Unsaturated Fat:

7g
Cholesterol:

7mg
Sodium:

1213mg
Carbohydrates:

17g
Fiber:

3g
Sugar:

13g
Protein:

5g