Welcome to Notes from the Road, a weekly coffee talk series sharing tidbits on taking the "fork in the road" to live a life less traveled. This week's theme is self-care rituals and ceremonies, and why making them a priority will make everything else in life just a bit easier.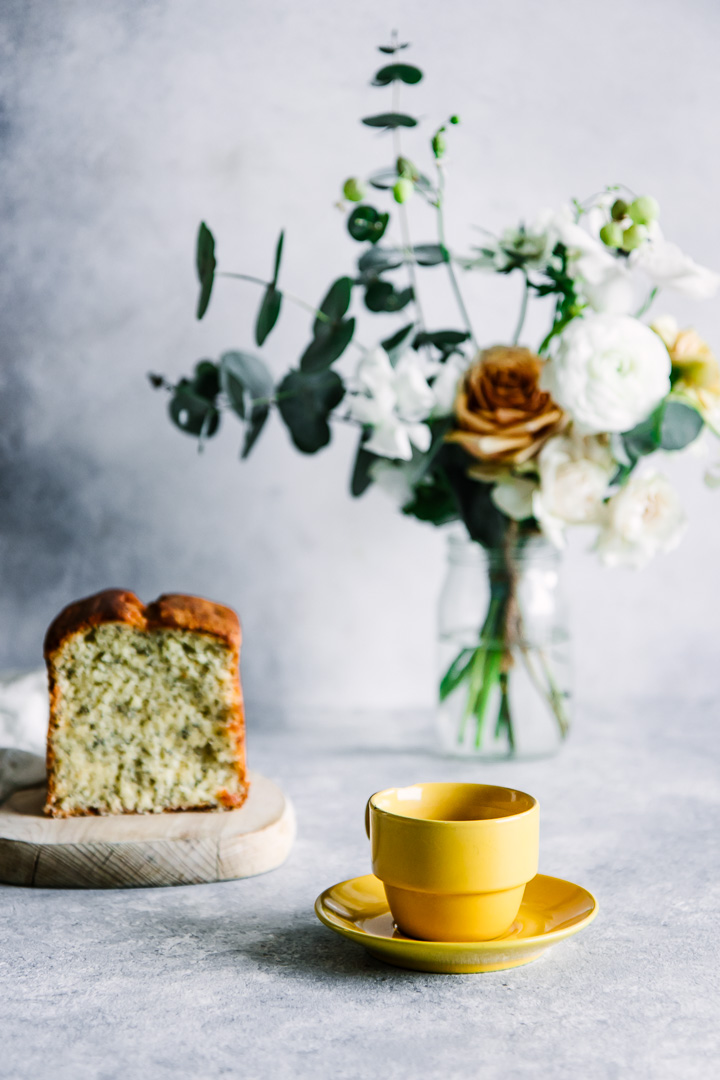 Welcome! If you've been a long time reader of Fork in the Road then you may remember that I used to do a blog series called Notes from the Road  in which I got a little more personal than the usual simple recipes, wellness advice, and foodie travel tips and instead shared what's happening in my life. Well, life got a little crazy and I was spotty at best in keeping it up but lately I've been feeling like it's time to revive this series and put a little spin on it.
Most of the posts here at Fork in the Road are informational and hopefully even educational, but even though I hope they are helpful I think a little bit of connection gets lost because I am not able to directly share with you. I realize that most people who visit the site are here for the recipe or the information and then are on their merry way in life, and that is great and I hope they find what they need. But there are a few of you who reach out by email or message me on Fork in the Road's Instagram and YOU are the people I'd love to share a weekly coffee chat with. You are the ones I'd love to connect with on a deeper level.
The format for these post may change a bit as we get into a groove, but for now I'm going to choose a few themes or topics I've been reading about, mulling over, or would like to get feedback on and present them in list-style (because I can't resist a good list). Or sometimes things may be completely random, we'll see. However, each week I'll choose seven topics because the number seven is both a feared and revered number in religion, mythology, and is fraught with superstition. Which means I love it.
And don't forget to sign up for the Fork in the Road newsletter, where I send a weekly recap email of what's happening on the blog, helpful resources, and tidbits of life behind the scenes.
Ok, let's get to this week's top 7!
1. Self-care rituals and ceremonies
Lately I've been thinking a lot about habits and rituals, specifically the little "ceremonies" we celebrate everyday that are truly for ourselves.
You may not consider some of the things you do for yourself daily to be a self-care ritual, but when you break it down and look at why you're doing certain things, you will see that you do them because it is making you either happier, healthier, or making your life easier in some way.
Take your morning routine. Are you a coffee drinker? Having a morning coffee, even if it's on the run, is a habit you make time for because it brings you a little bit of happiness. If you have a caffeine addiction, this ritual is allowing you to face the day prepared and in the right mindset than if you did not have your coffee (and helps those around you who would have to face you without it). Like everything else that is semi-good for us, there is a fine line between just enough and way too much coffee (or tea, or exercise, or whatever your ritual is), but you see the point that you are taking time out of your day everyday to feel just a little bit better.
Those of us with a coffee addiction can understand that this ritual is essential, it is a non-negotiable in our day. But what has been stewing around in my brain lately is why it is so easy for us to make time for a daily coffee habit but not for other things that make us feel just as good, such as five minutes of daily meditation, a short walk around the block outside, writing in a journal, and moving our bodies.
I don't have the answers to these questions, but what I have realized in my own life is that when I view these tiny habits as "rituals" or "ceremonies" I am far more likely to do them regularly. When I realize I "get" to do these things that bring me joy, and not think that I "should" do them, I am excited to take a few minutes out of my day to write, meditate, walk, or move.
What are your favorite self-care rituals and ceremonies, the small things that make your day exponentially better?
2. What I'm listening to
My husband (Francesco) has been in Italy visiting family for almost two weeks (I have severe FOMO, but that's a story for another Notes post) so me and the cats have been home alone. It's been a quiet couple of weeks because we both have very different television-watching habits (I could go without 90% of the time, he prefers to have it on all. the. time.), but in this time I've really gotten into some podcasts and new-to-me music that I'll share tidbits of here and in future Notes posts.
Music I've loving this week
I work from home so I like to have some light music on in the background, but nothing with lyrics or a lot of singing because it distracts me when I write.
So with this in mind, I've been really loving anything by DJ Drez lately–I do not have a way with words when it comes to music but I would describe it as funky, wordly, vibrational beats that make me feel like I'm in an Indian Bazaar or listening to a drum circle in Africa. I'm really into it.
Podcast I'm loving this week
I was introduced to DJ Drez by one of my favorite wellness leaders, Danielle Laporte. If you don't know the greatness that is Danielle, an excellent introduction is through her short 8-episode podcast called Light Work, which features DJ Drez's Light Me Up.
While I'm an Asana and Google Calendar organization freak, I am also a huge proponent of a written planner for personal thoughts and ideas. Writing in Danielle's Desire Map Planner has been one of my favorite morning rituals with my cup of coffee (not an affiliate link, I just truly love this planner).
3. What I'm watching
While I just complained above about Francesco having the television on above, I do have to say that I've been caught up in a few shows and movies in the last couple of weeks. It's been kind of nice to watch dramas and food documentaries instead of sports or the news 24/7, but I'm mentally preparing myself for the upcoming football season when my TV is taken over all day Sunday and Monday and Thursday evenings. The upside? More time for blogging!
Here's what I've been watching lately:
I finally finished Downtown Abbey, I've been loosely watching it over the course of the last few months when I can find time for an episode here and there. I never watched it when it first came out (I usually like to wait until there are at least a few seasons to binge) but overall it was a fun, light series to have on in the background while working on the blog
I streamed Killing Eve on Amazon Prime and blew through the entire first season in one evening (with takeout pizza and wine). It's really hard to define this show because it's really breaking new ground (two women as the lead and the villain) but the premise is a British investigator (Sandra Oh) is tracking a psychopathic female serial killer (Jodie Comer), and they both become enthralled and obsessed with one another. This show is excellent, Sandra Oh is amazing (she's always been amazing and definitely deserves an Emmy) and it's hard to take your eyes off Jodie Comer because you just have no idea what her character is going to do next. 10/10 highly recommend.
I've also succumbed to the pressure and watched Netflix's To All the Boys I've Loved Before and now I'm obsessed with Peter Kavinsky, just like the rest of the world. I am normally not into high school/young adult movies at all but this one is so well done and it's funny and so, so relatable. I may or may not have already watched it twice this week and will probably watch it again.
4. What I'm reading this week
I do a lot of writing and reading about nutrition, health, and wellness for work and I came across this really interesting New Yorker piece about the shady world of essential oil pyramid schemes. It's a deep, gossipy dive into the health claims and potential dangers around essential oils, but mostly it highlights the fascinatingly deceptive leader of one of the biggest essential companies out there.
It's a great long weekend read, so get yourself a cup of coffee or tea and enjoy.
5. What's happening on Fork in the Road
It's been a whirlwind week here on the blog! In the first Notes from the Road post back in July 2017 I shared a bit of background on the blog and where it started, but things have really evolved since then as well. I started this blog as a way to share travel tips with family and friends who were always asking for recommendations for places we've traveled, but in the last two years it has morphed into a full fledged food and recipe blog and I'm really happy with well it has been received.
However, I also struggle with being consistent as I do work full time and attempt at having a life. But in the last couple of months I've shifted my mindset a bit and I'm making a commitment to post more regularly and update old content (there are a lot of old posts that are in dire need of refreshing, it's both funny and embarrassing to go back and read them).
I have some plans in the works for what that looks like moving forward, but I hesitate to say "on Monday, Wednesday, Friday you'll see x, y, z" because I don't want to make promises I won't be able to keep 100% of the time. However, expect more simple recipes featuring superfoods, some nutrition and wellness advice, and tips for living a "life less traveled."
Here's what happened on the blog this week:
NEW SIMPLE SUPERFOOD RECIPES
I updated a few "oldie but goodie" recipes with fresh new photos
Gorgonzola-Lime Roasted Cauliflower, a simple 3-ingredient roasted cauliflower recipe.
Baked Brie with Figs and Maple, a great 3-ingredient (seeing a trend?) sweet and savory appetizer.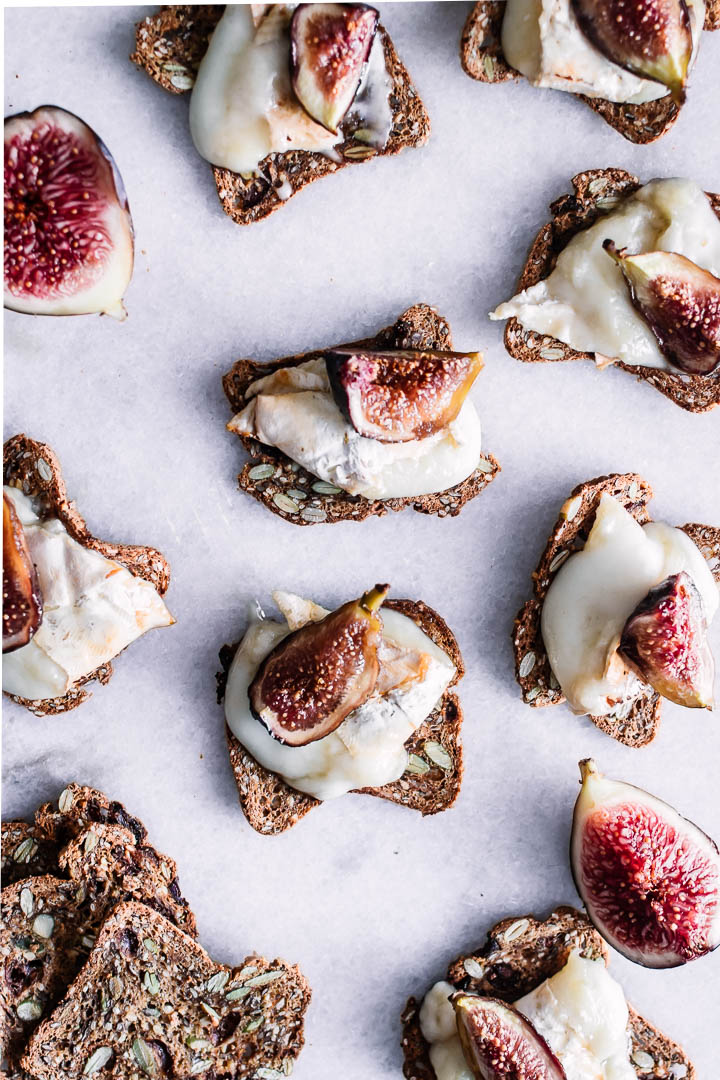 Warm Marinated Olives, an easy appetizer that is great on cheese boards paired with wine.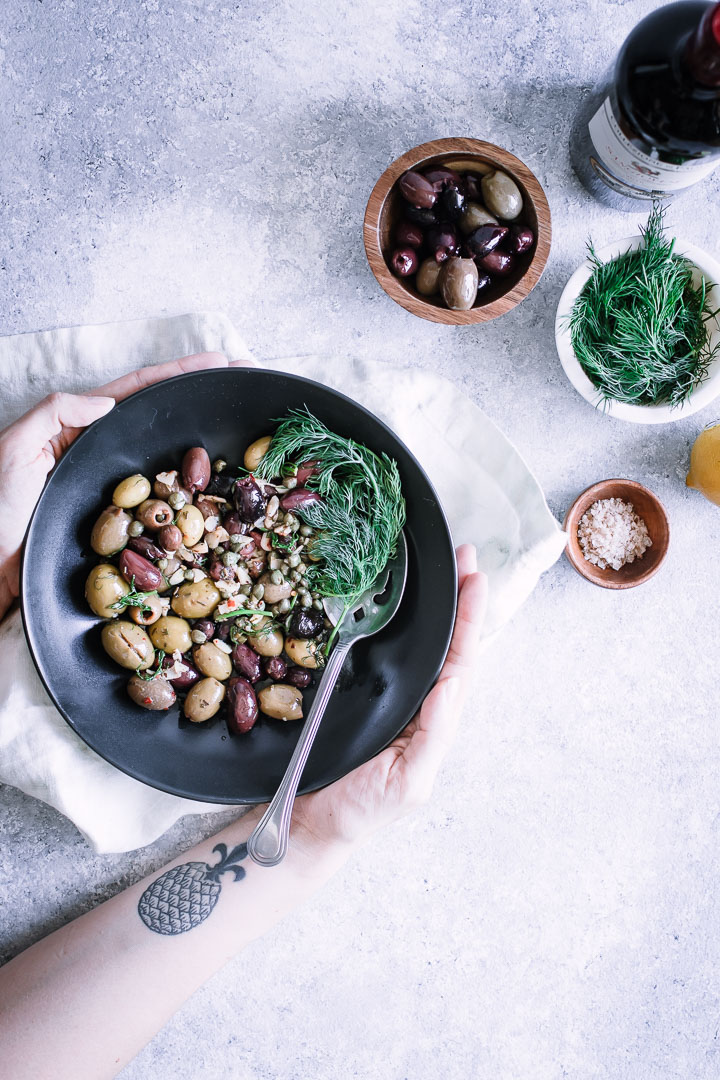 NEW WELLNESS ARTICLES
I started the first of a new article series called Superfood Spotlight diving deep into everything you ever wanted to know about one superfood, from its history to how it is grown to nutrition to recipes using it. The first in the series is grapes because they are abundant in the markets right now and I can't get enough of them, I'm literally snacking on them as I write this.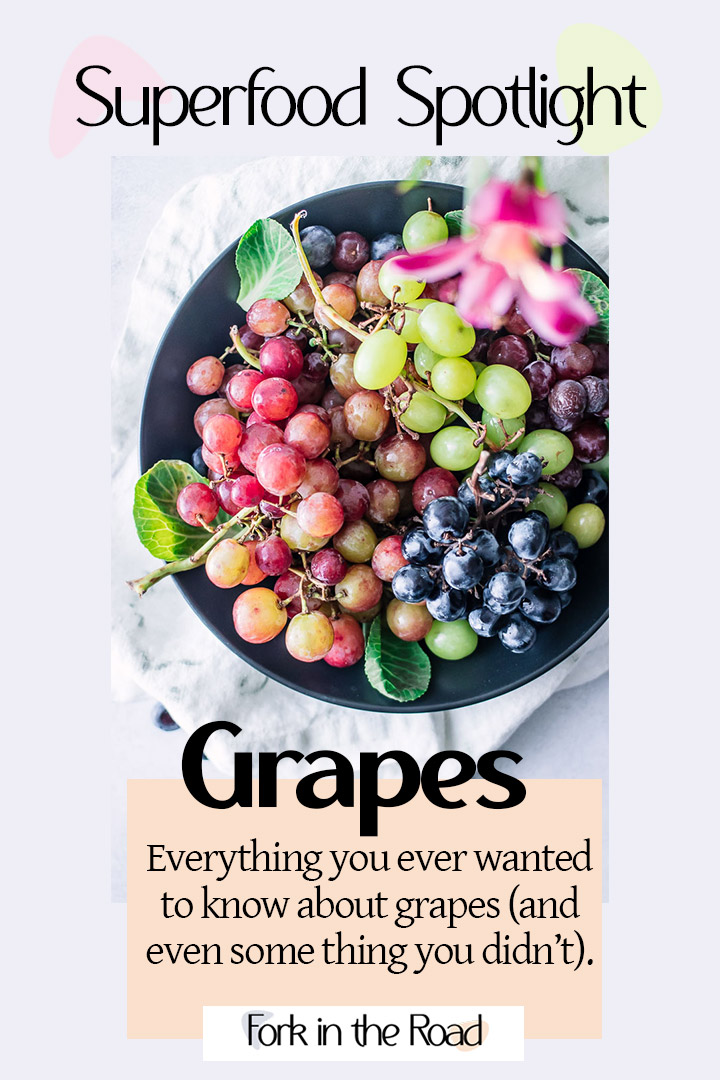 NEW RESOURCES
Did you know that Fork in the Road has an entire section of resources? Currently the Fork in the Road resources are all tips and advice for nutrition students looking to become registered dietitians, but in the future I'll be adding more for food blogging, food photography, and other topics that you all have written and asked me about.
This week I updated a few old resources with new photos, the super popular 4 Things to Do NOW as a Dietetics Student and The Lowdown on the Dietetic Internship Application.
Are there any topics you'd be interested in me writing about in future resources posts? Contact me and let me know!
6. What we're eating in the coming week
Francesco will be back from Italy on Tuesday but I'll be traveling for work through Thursday so we'll just miss one another. But to be a nice wife (ha!) I'll be grocery shopping before I go so we have some of his favorite meals on hand when he gets home.
Here's what we'll be munching on this week:
Mexican-Style Three Bean Salad, his favorite simple vegan bean salad.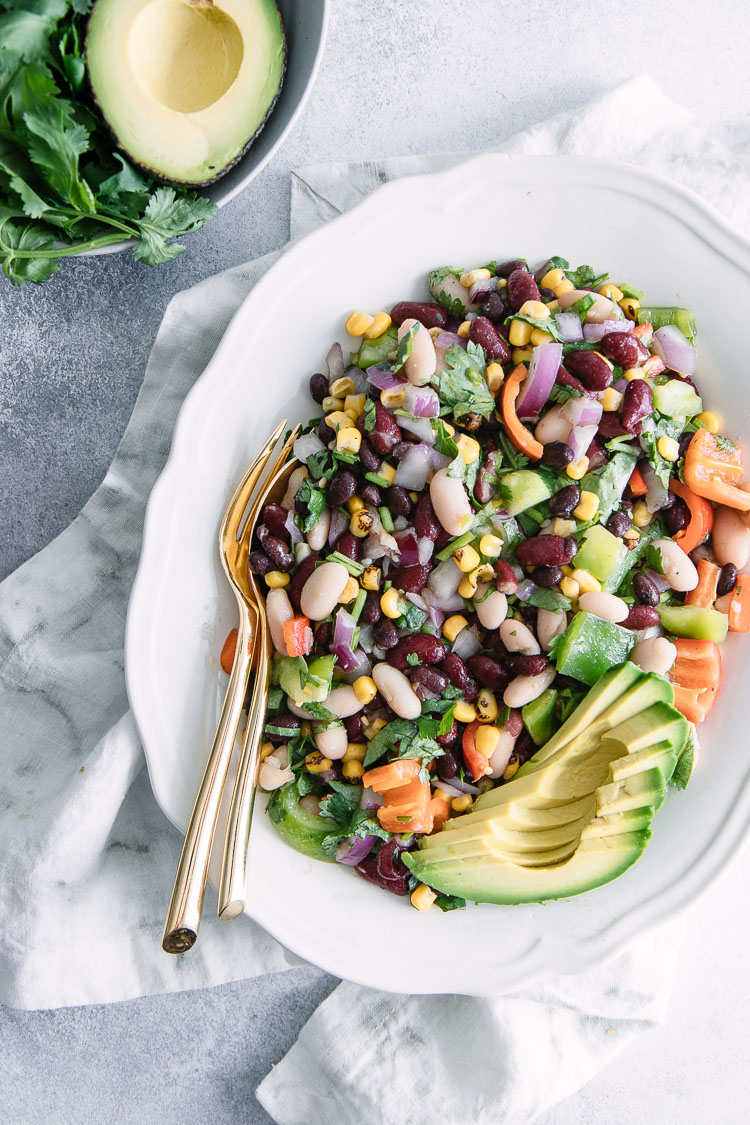 Black Bean, Corn, and Farro Salad, another favorite plant-based salad with beans and grains.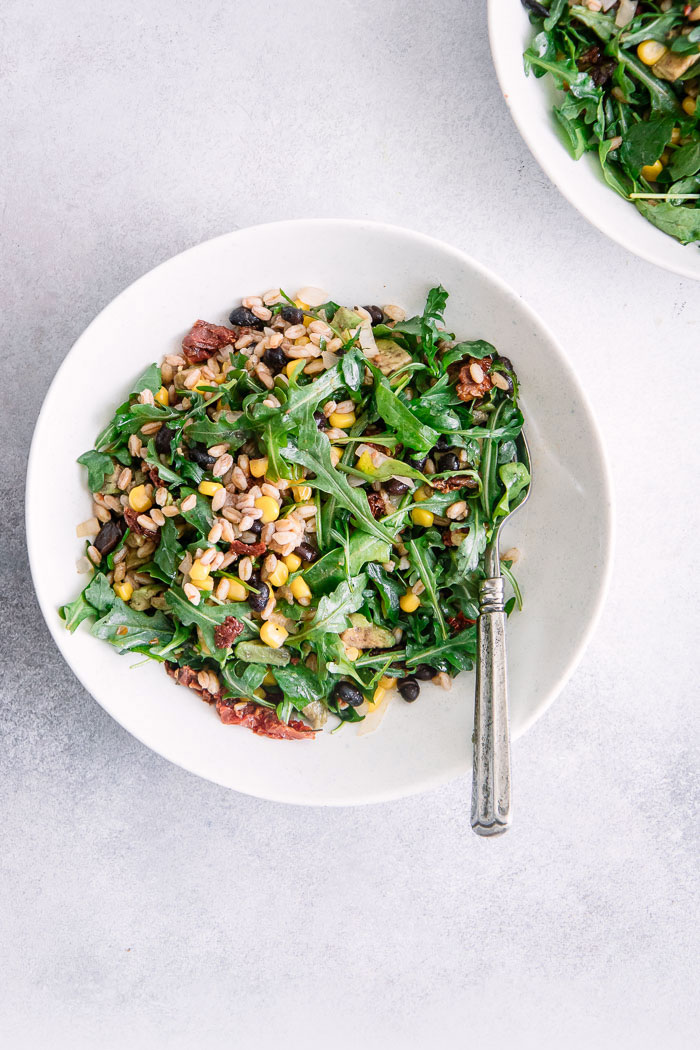 Easy Lentil Bowl with Sunny Egg and Spicy Harissa, can you tell he loves his legumes?
7. This week's favorite photos
While I love sharing the food I photograph, I also love taking my camera beyond the food to show life outside of the kitchen. This week I'm sharing three photos representing past, present, and future things that have been on my mind this week.
Past: Remembering Napa Workshop 2017
Last September I attended a 4-day photography workshop taught by Bella from Fulfilled and Sarah at Broma Bakery. It was a game changer as far as changing my mindset toward photographer and was the impetus to taking my skills to the next level. More on photography and food blogger in future resources posts, but these photos were of one of the beautiful tablescapes we styled.
Present: Flower power
I've been trying to get outdoors after work to break up my mindset from work to "not work" (vital when you work from home), and I've been finding a lot of joy from strolling past my neighbors' yards filled with big, beautiful flowers. I'll be sad to see some of these go as we slowly slip into fall weather.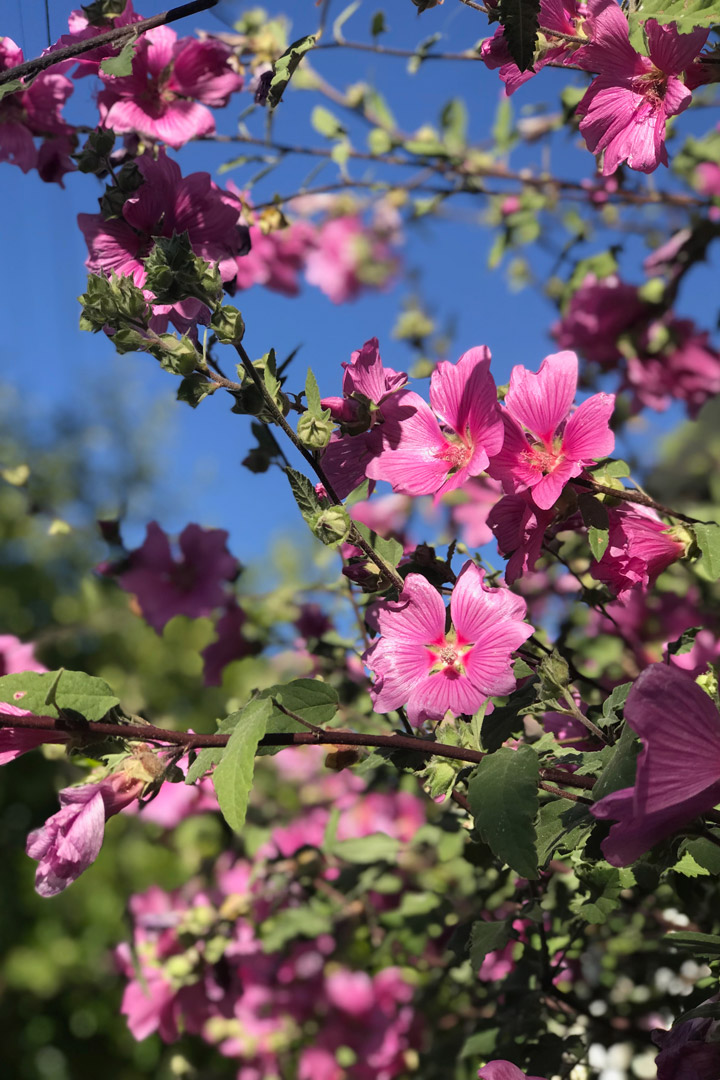 Future: It's time for travel
If you've followed along with me here on on Fork in the Road's Instagram, you'll know we have a serious case of wanderlust and love to explore the world as much as possible. Because of work and other responsibilities it has been hard to get away in 2018, but we're looking forward to an upcoming trip to the UK in October and this photo is getting me excited (taken in 2009, way before I knew what I was doing with my camera).
---
Final Thoughts for the Week
I have some fun recipes coming to the blog this week, including a simple toast featuring fresh figs (fig season!), and updated breakfast favorite that will also be incorporated to a simple snack bowl, and an updated cocktail that is getting some serious love on Fork in the Road's Pinterest lately. We'll also be diving deep into another superfood spotlight on a seasonal fruit and I hope to update another of FITR's existing resources so it's fresh and relevant. Let me know if there are any topics or recipes you'd like to see in future posts!
Thanks for joining me for this week's Notes from the Road! And let me know, what are YOU watching, listening to, and reading? What are YOU eating this week? And, most of all, I'd love to hear YOUR favorite self-care rituals and ceremonies for feeling happier and healthier.