Roasted Sweet Potatoes and Broccoli
Roasted Sweet Potatoes and Broccoli, a delicious and healthy roasted vegetable side dish. It's super quick and easy to make, requiring just 5 ingredients and 40 minutes!
Pair flavor-filled broccoli and sweet potatoes by roasting them together! This sheet pan recipe is foolproof and meal prep friendly, not to mention it's so simple to prepare. Enjoy it as a side dish or topping for salads and bowls!
👉 Here are 3 reasons why you should roast sweet potatoes and broccoli together:
It's meal prep-friendly. You can include this recipe in your weekly meal prep lineup, as it's so easy to make ahead and enjoy later. Plus, you only need five simple ingredients, which makes cleanup as easy as it gets!
It's versatile. The options are endless for how you can adjust this recipe to your preferences. You can add your own seasoning blends, or mix in other vegetables like asparagus, Brussels sprouts, or carrots.
It's delicious. These roasted vegetables are seasoned to perfection, not to mention the roasting process brings out their naturally sweet, earthy flavors.
Ready to learn how to make roasted sweet potatoes and broccoli? Let's do it!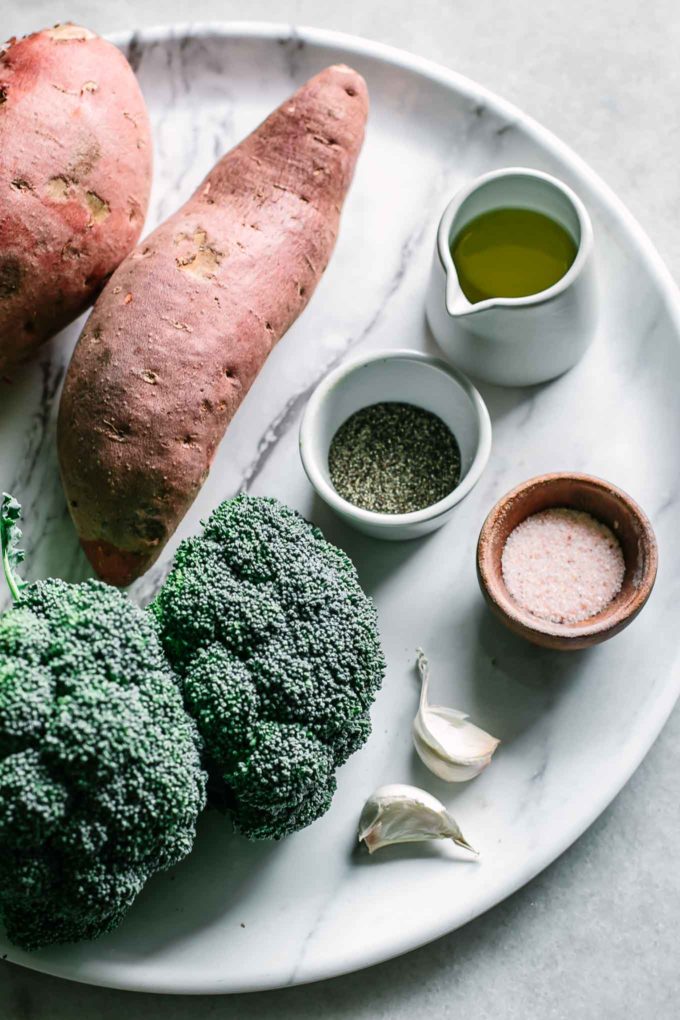 ---
🥣 How to make (step-by-step photos)
1️⃣ Step One: Preheat oven + cut vegetables
First, preheat your oven to 400 degrees F (200 C), then prep the vegetables with a quick wash before cutting them.
To cut broccoli: Cut off the stems and split up the florets into bite-size pieces. Set the stems aside and save to use in other recipes, like food scrap vegetable broth.
To cut sweet potatoes: Cut off the ends, then cut potatoes into small 1/2 inch cubes for roasting (you do not need to peel them before roasting).
👉 Pro tip! We like to cut the sweet potatoes and broccoli into similar sized pieces so they're easier to eat, have similar cooking times, and for extra crunch.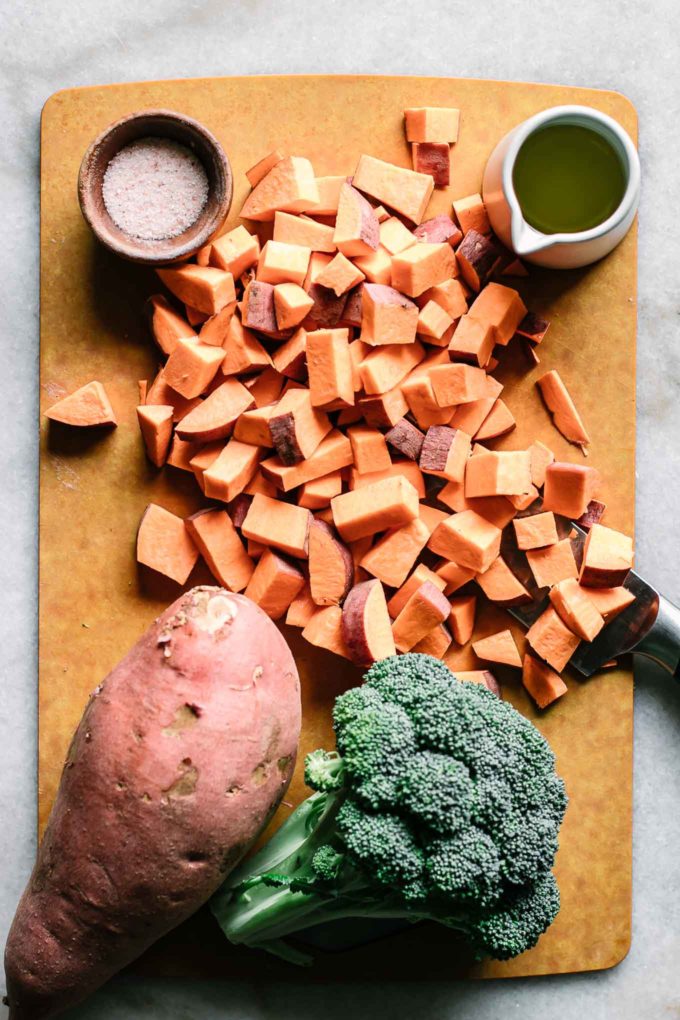 ---
2️⃣ Step Two: Spread veggies evenly on a roasting pan
Next, place the cut sweet potatoes and broccoli on a roasting or sheet pan.
👉 Tip! We like to keep the vegetables separated on the roasting pan. Sweet potatoes can take longer to bake and you can easily scoop the broccoli off the pan when it's done and keep cooking the potatoes.
Toss the veggies with olive oil until completely coated. Season with sliced garlic, as well as salt and pepper to taste.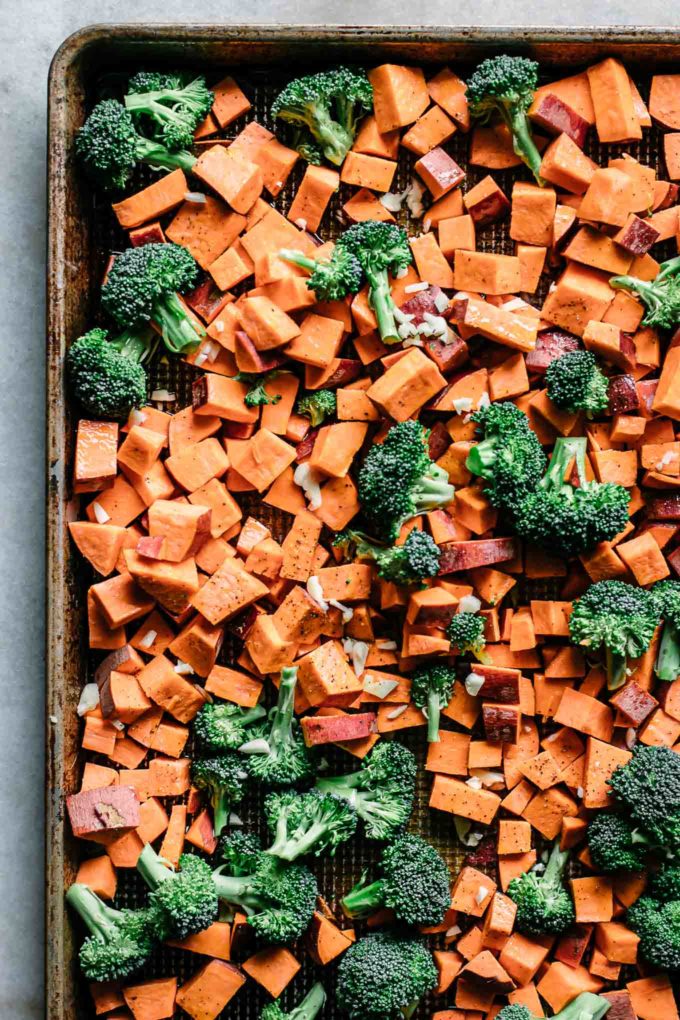 ---
3️⃣ Step Three: Roast vegetables in the oven
The last step is to bake the veggies in the oven until they are tender and brown around the edges. This will take about 35 minutes, more or less depending on your oven.
To make sure the broccoli and sweet potatoes cook evenly, give them a stir halfway into cooking. If the broccoli is cooking faster than the sweet potatoes, remove them to a plate and continue to cook the potatoes until they're done.
When the veggies are done cooking, take them out of the oven. If using as a side dish, serve them immediately. You can also let them cool and serve on top of salads or bowls.
---
❓ Recipe questions + quick tips
Do you leave the skin on sweet potatoes when roasting?
Yes, you can leave the skin on sweet potatoes when roasting. Sweet potato skins are safe to eat and very healthy. They're packed with fiber, vitamins, minerals, and antioxidants. We suggest leaving the skins on sweet potatoes for the health benefits!
Can you eat sweet potatoes that have sprouted?
As long as you cut off the sprouted part of sweet potatoes, you can prepare and eat them as usual. Avoid eating sweet potatoes that have spoiled or shriveled. You'll know if they've gone bad if they are mushy or have a brown/black color.
Should I parboil my sweet potatoes before roasting?
You can parboil sweet potatoes before roasting them, but it's not a required step in this recipe. Parboiling sweet potatoes leads to a chemical reaction that adds an extra note of flavor and sweetness. We kept this recipe simple and did not take the extra step to parboil the potatoes before roasting.
Is it better to roast or boil broccoli?
We suggest roasting broccoli instead of boiling it. When you boil vegetables, some of the nutrients can leach out into the cooking water, so you miss out on some vitamins and minerals. Boiling broccoli is also not as flavorful as roasting it. However, whether you roast or boil broccoli really comes down to your own preferences.
---
🌿 Herb + spice combination flavor ideas
Garlic, salt, and pepper are the seasonings we used for this recipe. You can make these roasted vegetables uniquely yours by adding your own seasoning combinations. Here are some ideas:
Lemon zest, salt, and pepper: sprinkle fresh lemon zest over sweet potatoes and broccoli when they are done cooking, then finish it off with some salt and pepper to taste.
Rosemary and minced garlic: roast vegetables with an extra savory flavor blend of rosemary and minced garlic.
Paprika, chili powder, and cayenne: add some spice to this dish by roasting the vegetables with paprika and chili powder, then sprinkling a little cayenne pepper on top.
Fresh thyme leaves and Italian seasoning: make the vegetables burst with flavor (and freshness) by roasting with thyme and Italian seasoning.
Mix with nuts and seeds: sliced almonds or pecans pair well with broccoli and sweet potatoes, and add a crunchy element to this recipe.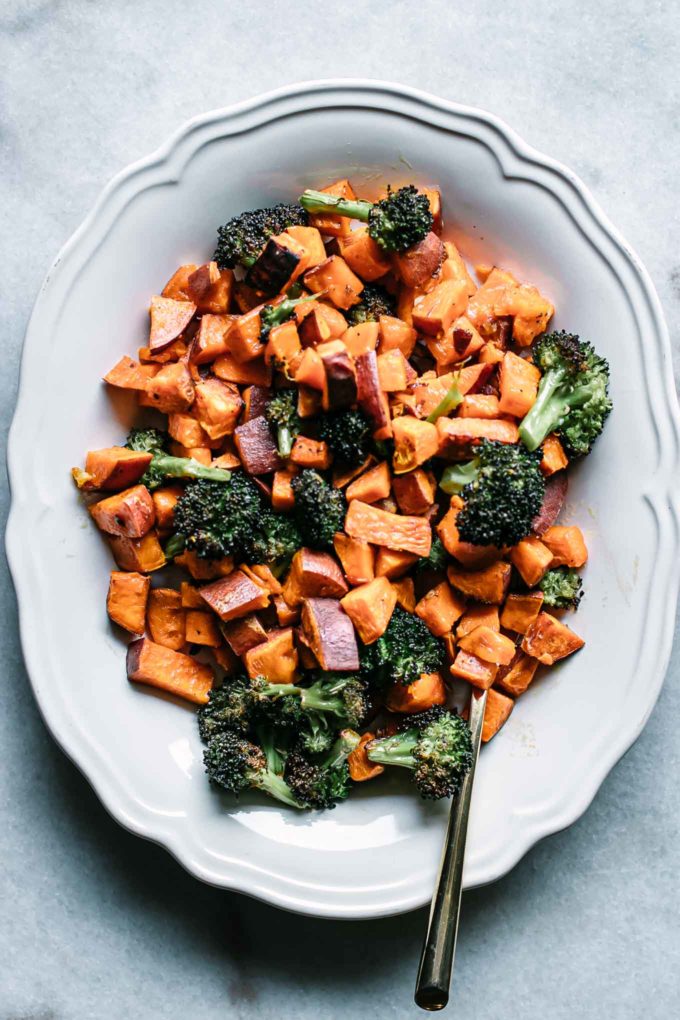 ---
♻️ Sustainable kitchen + cooking tips
We care about reducing food waste here at Fork in the Road, and we know you do too! Here are some ways that you can take your sustainable lifestyle to the next level with this recipe:
Take advantage of sweet potato and broccoli season! Eating with the seasons is one of the best things you can do for the environment (and your wallet!). Sweet potatoes are in season July through December in California, while broccoli is in season for most of the year. Click here to find out when they are in season in your area.
Keep the veggie scraps! Don't throw out the broccoli stems, the peels and ends from the potatoes, or any other scraps. Use them to make homemade food scrap broth, which you can use to flavor soups or as a cooking liquid.
Make pesto with broccoli stems. Make the most of your broccoli by making a delicious pesto sauce with the stems. Try our Broccoli Stem Pesto, one of our favorite food waste recovery recipes!
Toss sweet potato sprouts in compost. Avoid throwing sweet potato sprouts in the garbage, put them in your compost bin instead. The planet, and your soil, will thank you later!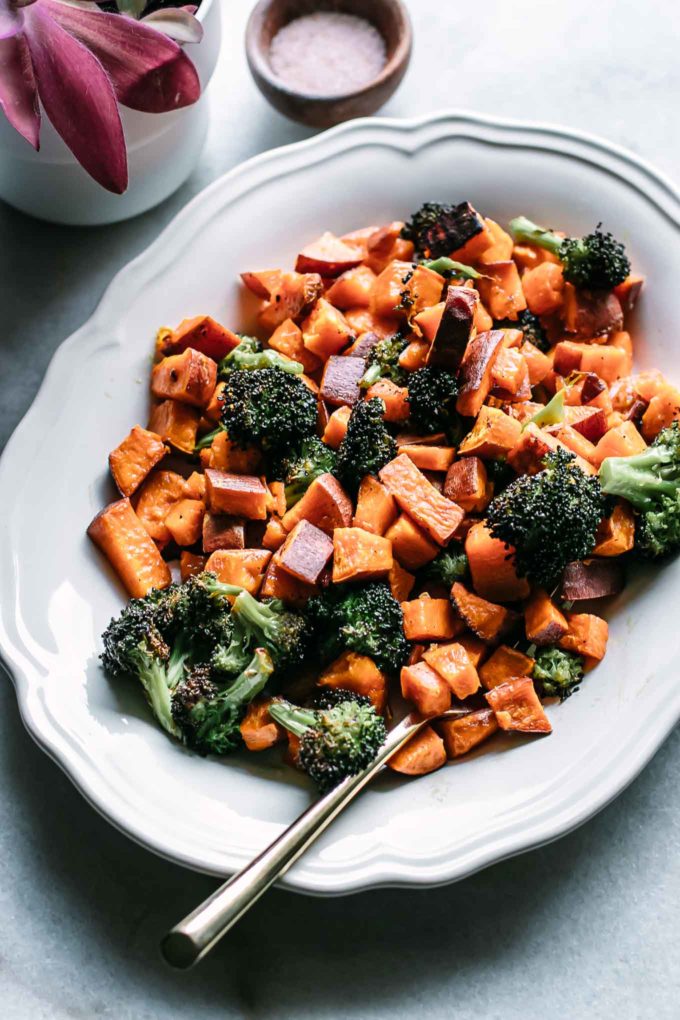 ---
🧡 More roasted sweet potato and broccoli recipes
Can't get enough sweet potatoes and broccoli? Try our other easy roasted vegetable recipes: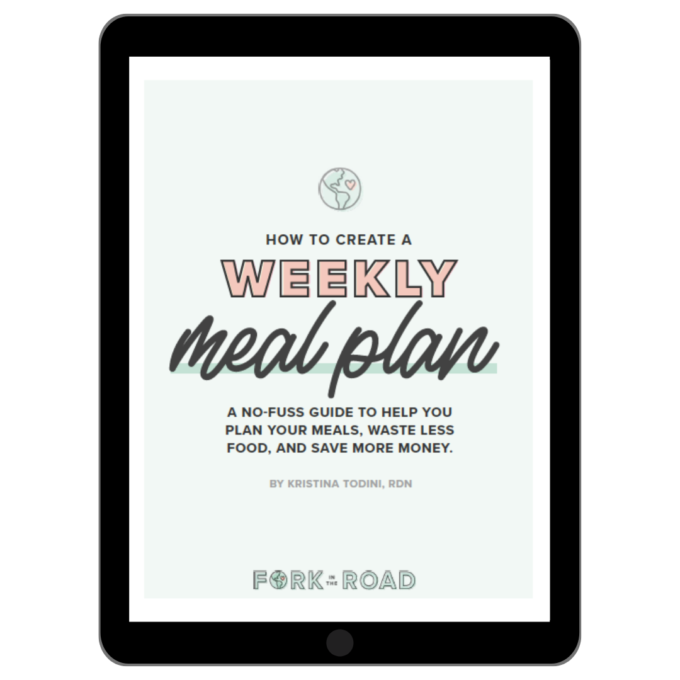 Roasted Sweet Potatoes and Broccoli
Roasted Sweet Potatoes and Broccoli, a quick and easy roasted vegetable side dish. Takes just 5 ingredients and 40 minutes!
Ingredients
2

heads

broccoli

2

medium

sweet potatoes

2

whole

garlic cloves

thinly sliced

2

tablespoons

olive oil

1

pinch

salt and pepper
Instructions
Prep oven: Preheat the oven to 400 degrees (200 C)

Prep vegetables: Wash broccoli and sweet potatoes. Cut stems from broccoli and split florets into bite-size pieces. Cut the ends from sweet potatoes, then cut them into small 1/2 inch cubes for roasting (you do not need to peel them before roasting).

Roast vegetables: Arrange the sweet potatoes and broccoli on a roasting pan and drizzle with olive oil, tossing the vegetables to completely cover with oil and sprinkle with sliced garlic, salt, and pepper. Place sheet pan in the oven and roast for 35 minutes, stirring partway through to brown on all sides.

Serve vegetables: Remove pan from oven, arrange vegetables on a plate and serve as a side dish or let cool and use as a salad topping.
Notes
Tools Needed: sheet pan, knife set, cutting board
Prep Ahead: Wash and cut vegetables ahead of time to reduce prep time before cooking. If serving cold on salads or bowls, you can make this recipe up to three days ahead of time.
Leftovers and Storage: Vegetables should be stored in an airtight container in the refrigerator for up to 3-4 days. For best taste and texture, do not freeze and reheat.
Nutrition notes: Nutrition information is estimated for only ingredients in the recipe, not the additional spice options given. This simple roasted vegetable recipe is a good source of fiber, vitamin A, vitamin C, and potassium.
Nutrition
Serving:
1
serving
Calories:
132
kcal
Carbohydrates:
22
g
Protein:
5
g
Fat:
4
g
Saturated Fat:
1
g
Polyunsaturated Fat:
1
g
Monounsaturated Fat:
3
g
Sodium:
86
mg
Potassium:
672
mg
Fiber:
6
g
Sugar:
5
g
Vitamin A:
8963
IU
Vitamin C:
137
mg
Calcium:
89
mg
Iron:
1
mg