Roasted Sweet Potatoes and Chickpeas
Roasted Sweet Potatoes and Chickpeas, an easy and flavorful roasted potatoes and beans recipe with only simple 5 ingredients and ready in 40 minutes!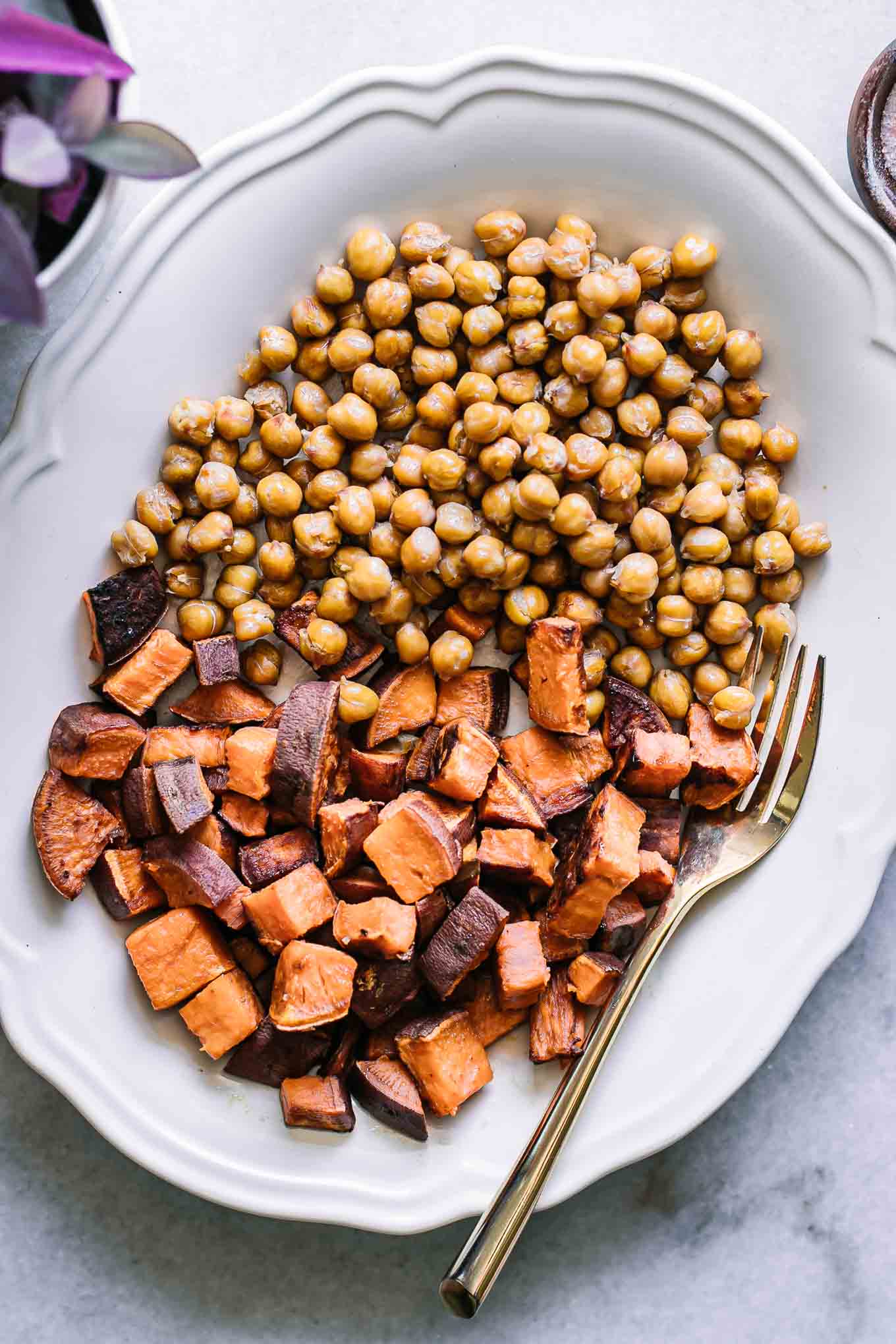 Love sweet potatoes? Love garbanzo beans? Roast them together! This easy baked veggie combo recipe pairs earthy sweet potatoes and crunchy chickpeas for a versatile side dish that's great for meal prep. Enjoy it as a side dish or as a topping for salads and bowls!
👉 Ready to learn how to make roasted chickpeas and sweet potatoes together? Let's do it!
---
🍠 Ingredients + tools
Sweet potatoes: Any type of sweet potatoes or yams will do, and the sweet flavor comes out more with roasting
Chickpeas: We're using a 15-ounce can of chickpeas, but you can also hydrate dried chickpeas (you'll need about 1 cup)
Olive oil: To grease the pan and coat the vegetables for a deeper flavor when baked
Seasonings: We're keeping it simple with garlic, salt, and pepper, but we have a suggested seasoning section below with ideas
Equipment needed: knife, cutting board, colander, baking sheet, spatula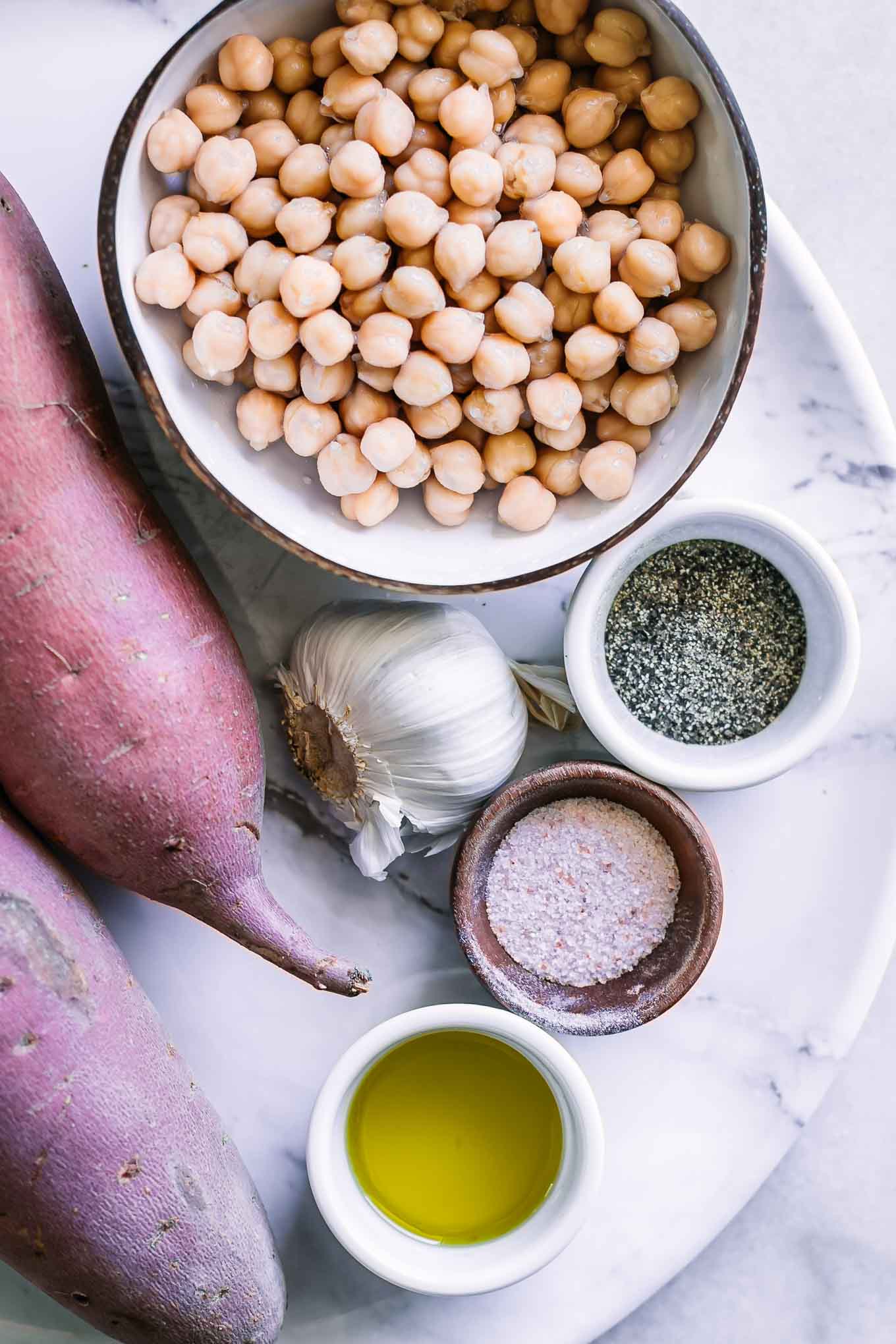 ---
🥣 How to make (step-by-step photos)
1️⃣ Step One: Preheat oven and prep ingredients
First, preheat your oven to 400 degrees F (200 C), then prep the potatoes and chickpeas.
To prep chickpeas: Open a can of chickpeas and drain the chickpea water (see tip below for saving this and using in other recipes). Then rinse the chickpeas and set aside.
To cut sweet potatoes: Cut off the ends, then cut potatoes into small 1/2 inch cubes for roasting (you do not need to peel them before roasting).
👉 Save your chickpea water! The water in the can of chickpeas, also known as "aquafaba," is a versatile ingredients you can use to thicken things like soup or smoothies, or add to desserts. Try our favorite plant-based Aquafaba Avocado Chocolate Mousse if you've never used aquafaba before!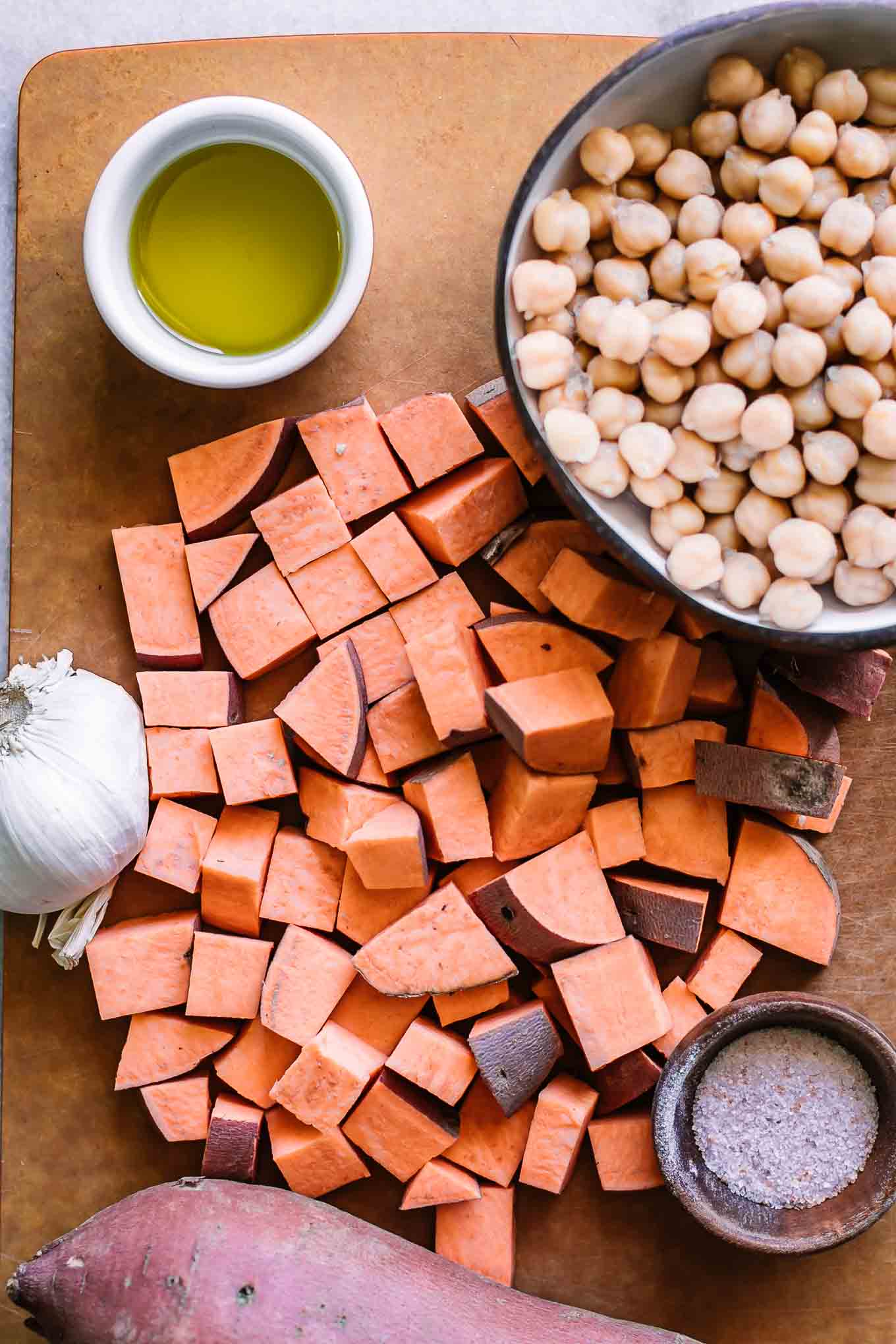 ---
2️⃣ Step Two: Spread potatoes and chickpeas evenly on a baking sheet
Next, place the cut sweet potatoes and chickpeas on a roasting or sheet pan.
Toss the veggies with olive oil until completely coated. Season with sliced garlic, as well as salt and pepper to taste. You can also add other spices like cumin, cinnamon, paprika, or even a drizzle of maple syrup for a fun flavor twist.
👉 Tip! We like to keep the garbanzo beans and potatoes separated on the roasting pan. Sweet potatoes can a bit take longer to bake and you can easily scoop the chickpeas from the pan when it's done and keep cooking the potatoes.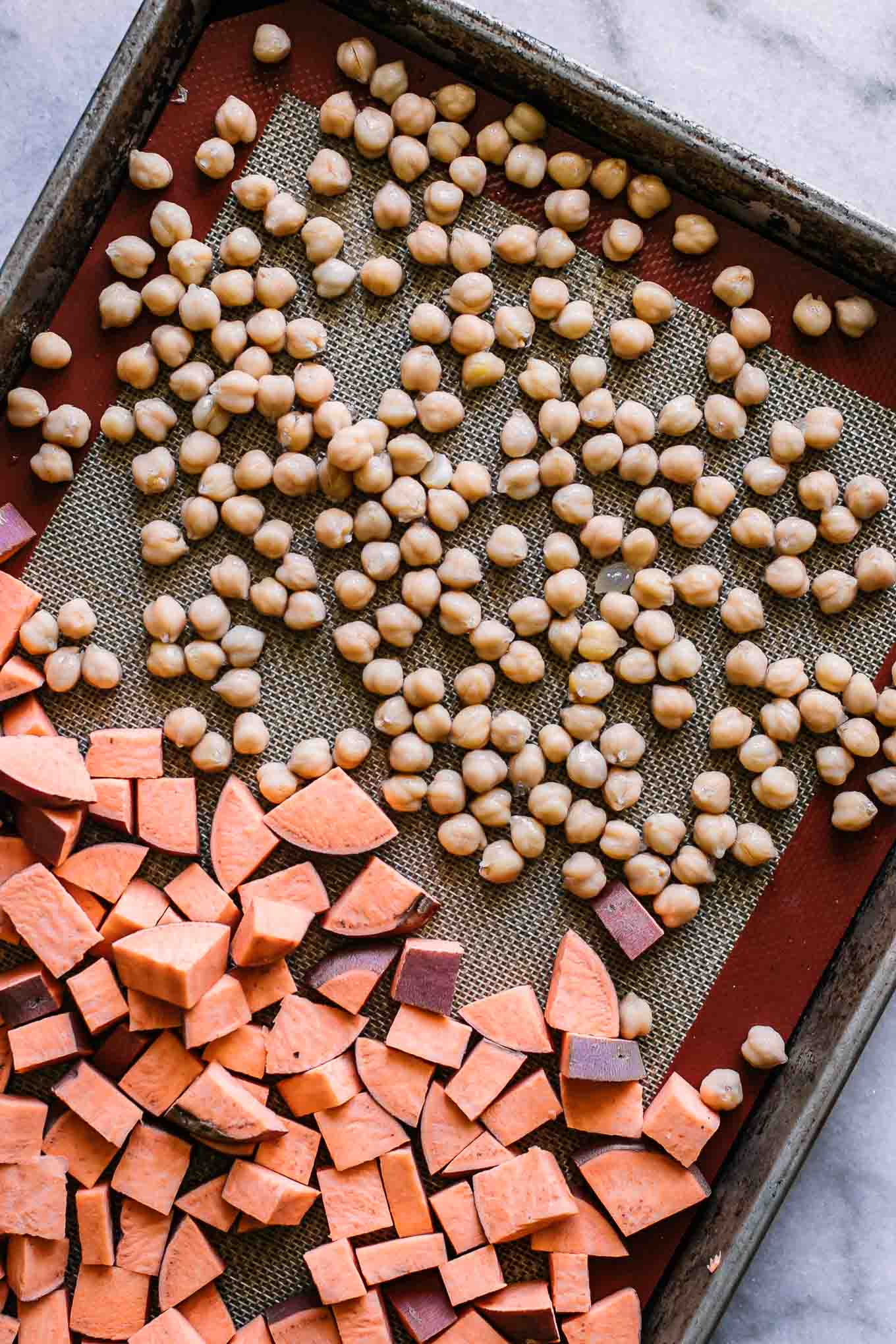 ---
3️⃣ Step Three: Roast in the oven
The last step is to roast in the oven until the potatoes and chickpeas are tender and brown around the edges. This will take about 35 minutes, more or less depending on your oven.
To make sure the ingredients cook evenly, give them a stir halfway into cooking. If the chickpeas are cooking faster than the sweet potatoes, remove them to a plate and continue to cook the potatoes until they're done.
When everything is done cooking, take the baking sheet out of the oven. If eating as a side dish, serve the potatoes and chickpeas immediately. You can also let them cool and serve on top of salads or bowls.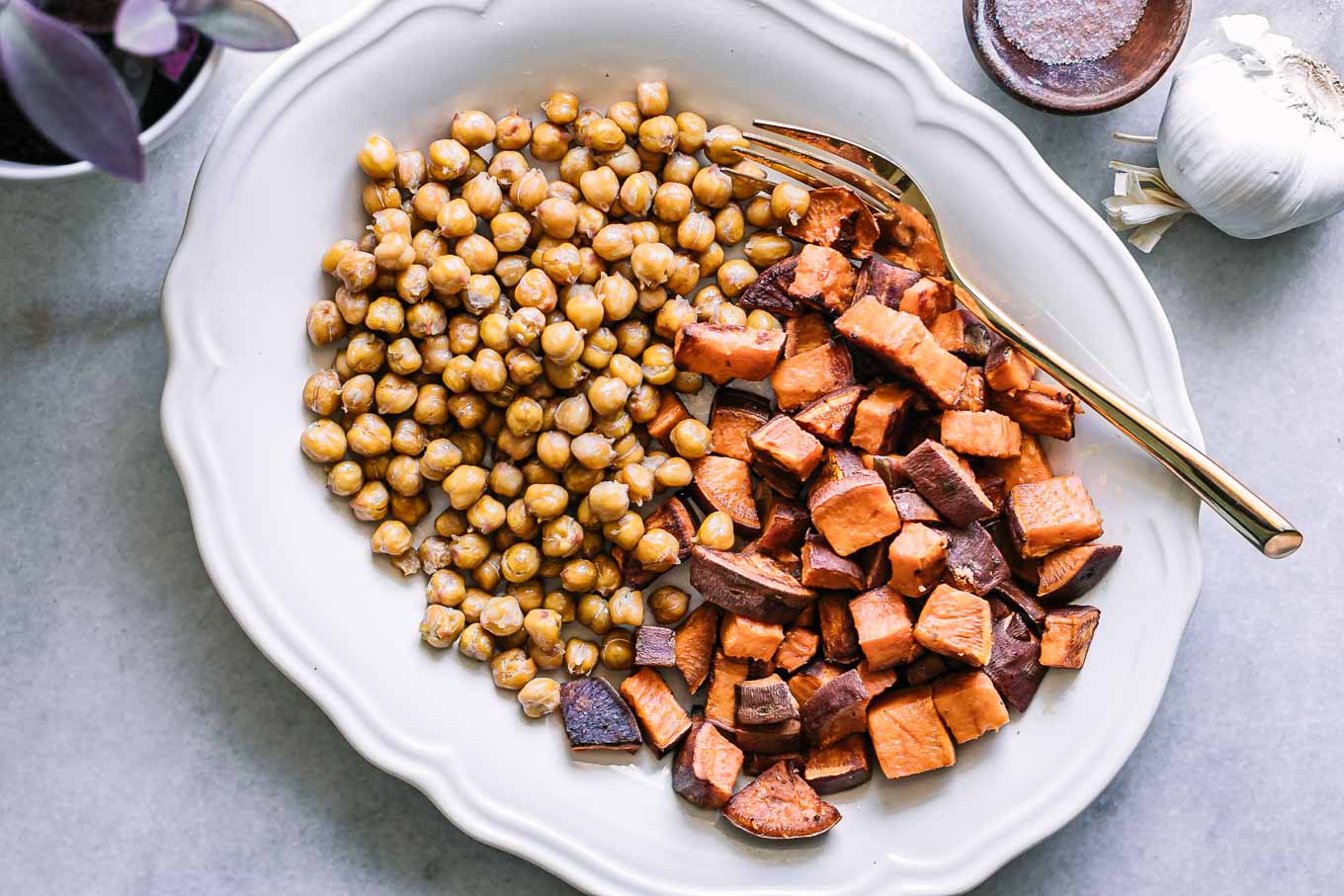 ---
💡 Seasoning ideas
Garlic, salt, and pepper are the simple seasonings we used for this recipe, but get creative with your favorite spices. Here are some ideas:
Cumin, paprika, and maple syrup: add a touch of warming cumin and paprika with a drizzle of maple syrup
Sweet maple and cinnamon: make this a sweeter side dish by adding cinnamon and maple syrup
Paprika, chili powder, and cayenne: add some spice to this dish by roasting the vegetables with paprika and chili powder, then sprinkling a little cayenne pepper on top
---
♻️ Sustainable kitchen + cooking tips
We care about reducing food waste here at Fork in the Road, and we know you do too! Here are tips for making this recipe sustainably:
Take advantage of sweet potato season! Eating with the seasons is one of the best things you can do for the environment (and your wallet!). Sweet potatoes are in season September through December in California, while canned chickpeas are available year round. Click here to find out when they are in season in your area.
Use the aquafaba! Drain and save the aquafaba to use in desserts, soups, smoothies, and more.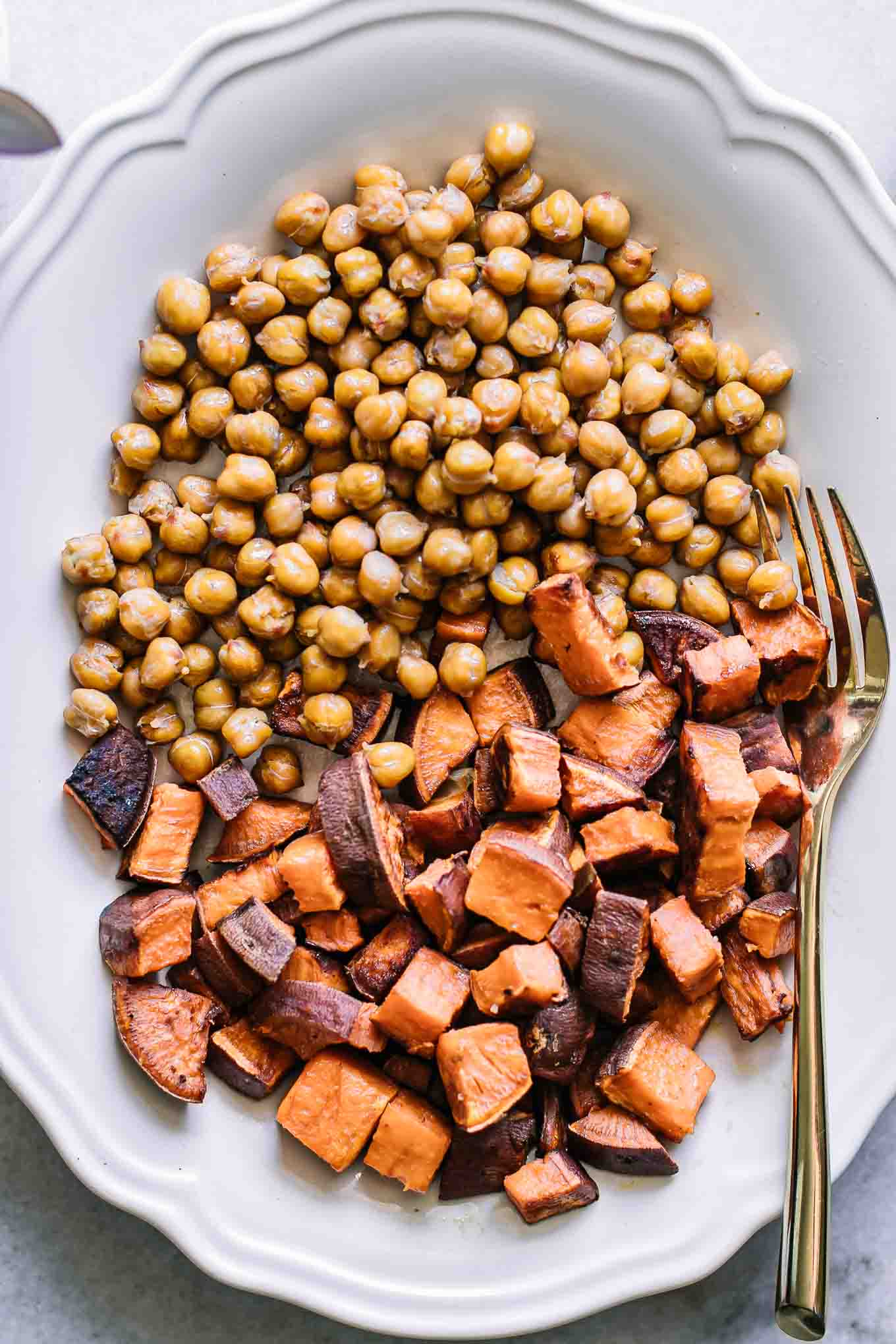 ---
👉 More roasted sweet potato and chickpea recipes
Can't get enough sweet potatoes and chickpeas? Try the recipes:
Roasted Sweet Potatoes and Chickpeas
Roasted Sweet Potatoes and Chickpeas, an easy and flavorful roasted potatoes and beans recipe with only simple 5 ingredients and ready in 40 minutes!
Ingredients
1

15-ounce can

chickpeas

or 1 cup from dried

2

medium

sweet potatoes

2

whole

garlic cloves

thinly sliced

2

tablespoons

olive oil

1

pinch

salt and pepper

Optional:

cumin, paprika, cinnamon, maple syrup, etc.
Instructions
Prep oven: Preheat the oven to 400 degrees (200 C)

Prep vegetables: Wash sweet potatoes. Cut the ends from sweet potatoes, then cut them into small 1/2 inch cubes for roasting (you do not need to peel them before roasting). Open and drain can of chickpeas (reserve the chickpea water for other uses, see notes).

Roast vegetables: Arrange the cut sweet potatoes and the drained chickpeas on a roasting pan and drizzle with olive oil, tossing the vegetables to completely cover with oil and sprinkle with sliced garlic, salt, and pepper (and other spices, if desired). Place sheet pan in the oven and roast for 35 minutes, stirring partway through to brown on all sides. Check on chickpeas at about the 20 minute mark; if they seem done, remove them from the baking sheet and continue to cook the sweet potatoes until they're brown and beginning to crisp.

Serve vegetables: Remove pan from oven, arrange vegetables on a plate and serve as a side dish or let cool and use as a salad topping.
Notes
Tools Needed: sheet pan, knife set, cutting board
Prep Ahead: Wash and cut potatoes ahead of time to reduce prep time before cooking. If serving cold on salads or bowls, you can make this recipe up to three days ahead of time.
Leftovers and Storage: Vegetables should be stored in an airtight container in the refrigerator for up to 3-4 days. For best taste and texture, do not freeze and reheat.
Reuse chickpea water: Save the reserved chickpea water (or aquafaba) to make desserts, thicken soups, or to add to smoothies.
Nutrition notes: Nutrition information is estimated for only ingredients in the recipe, not the additional spice options given. This simple roasted vegetable recipe is a good source of fiber, vitamin A, vitamin C, and potassium.
Nutrition
Serving:
1
serving
Calories:
160
kcal
Carbohydrates:
23
g
Protein:
2
g
Fat:
7
g
Saturated Fat:
1
g
Polyunsaturated Fat:
1
g
Monounsaturated Fat:
5
g
Sodium:
72
mg
Potassium:
384
mg
Fiber:
3
g
Sugar:
5
g
Vitamin A:
16031
IU
Vitamin C:
3
mg
Calcium:
35
mg
Iron:
1
mg