Roasted & Stuffed Artichokes
Roasted artichokes stuffed with parmesan bread crumbs and drizzles with olive oil. All you needed to know for your next wine and move night at home.
If you've been reading this space for long you'll know I advocate for exploring, trying new things, stepping outside the box and adventuring in the kitchen whenever possible. Like anytime you do something new, cooking a new dish with ingredients you're not used to is a challenge. However the experience of searching for, making new recipes and handling new produce will make you a more accomplished home cook and give you another tool in your delicious kitchen toolbox.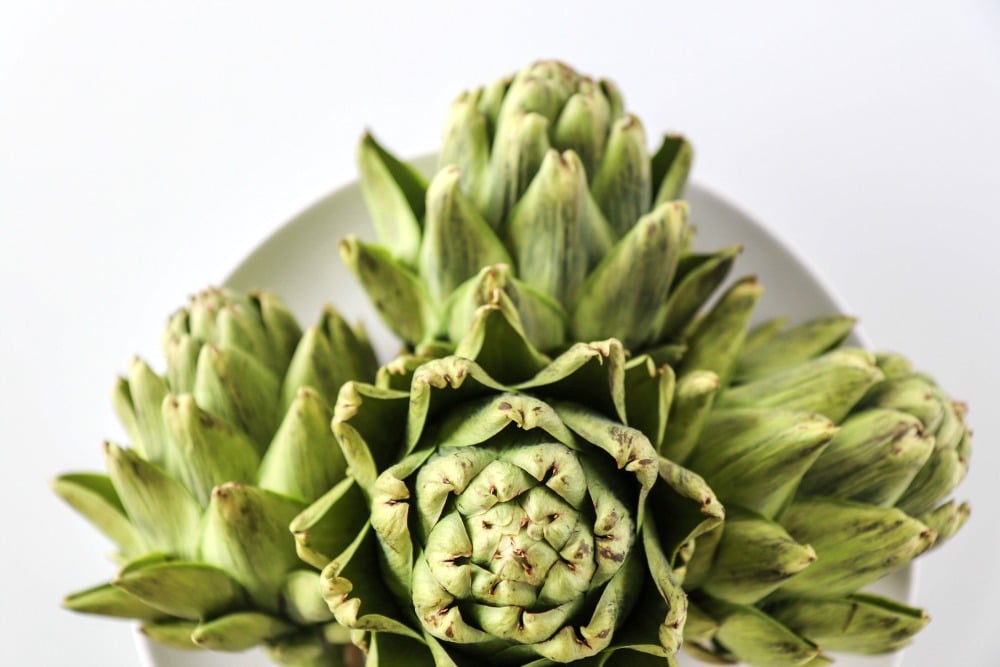 Artichokes are something I love when they're made for me, but had never made myself. If I'm at a restaurant and see a dish with artichokes on the menu, I'm sold (see also: capers, leeks, fennel, and taleggio). However, though I have a strong love for 'chokes in the past I avoided making them because I was intimidated – and that's just a silly reason to not eat one of your favorite foods.
So when these artichokes were deposited on my desk by a coworker, I couldn't let them go to waste. And after a bit of recipe searching and learning how to cut and handle an artichoke without spearing myself with its thorns (see below on how to cut), I created a simple recipe to enjoy artichokes that doesn't involve dousing them in garlic butter. Because vegetables shouldn't have to be smothered in animal fat to be delicious.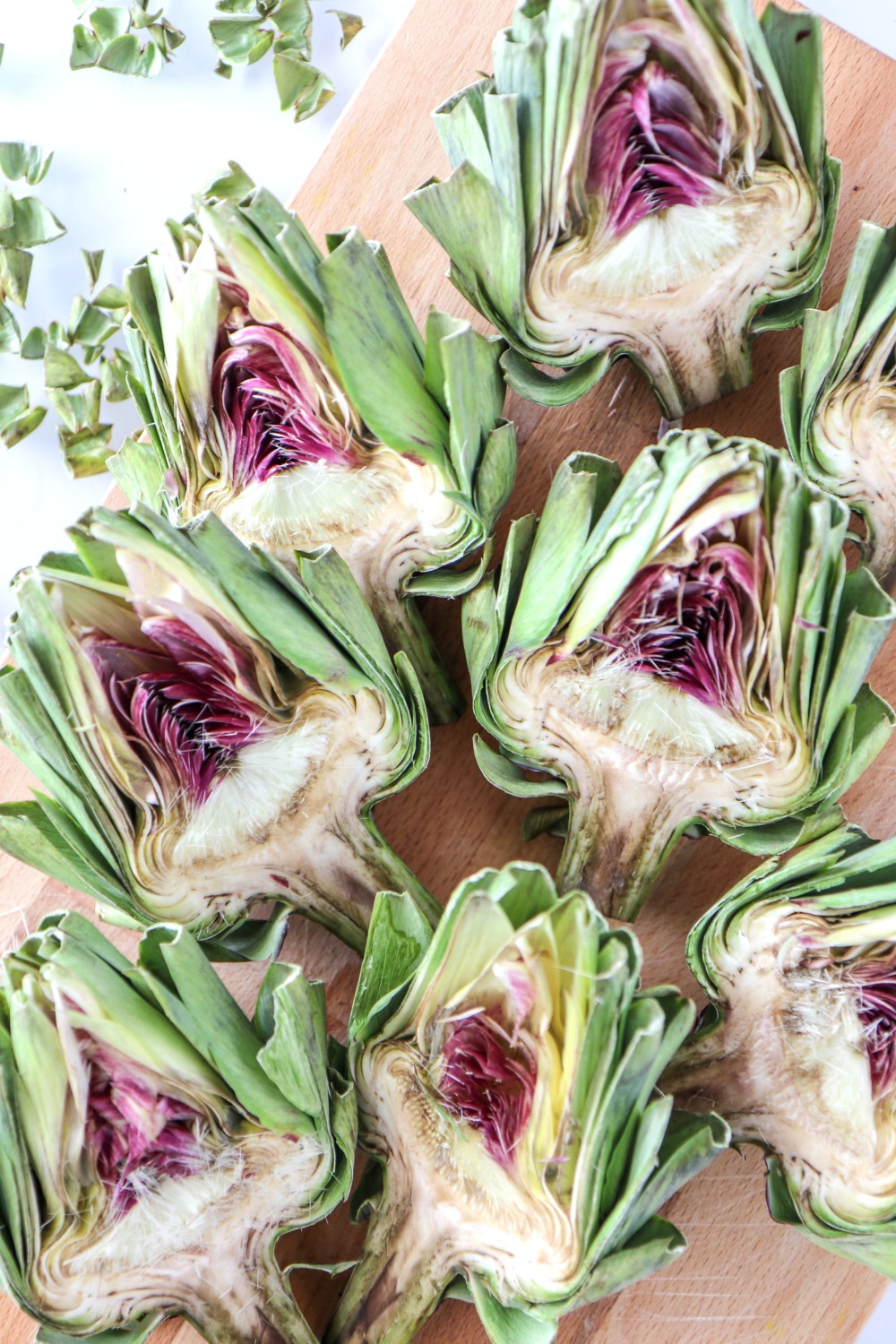 How to cut an artichoke
Snip ends of all leaves to remove thorns. Cut bottom dry ends off stem, but save stem closer to base of artichoke bulb (that's the delicious heart!). Fan out petals and cut in half, then remove fuzzy center choke.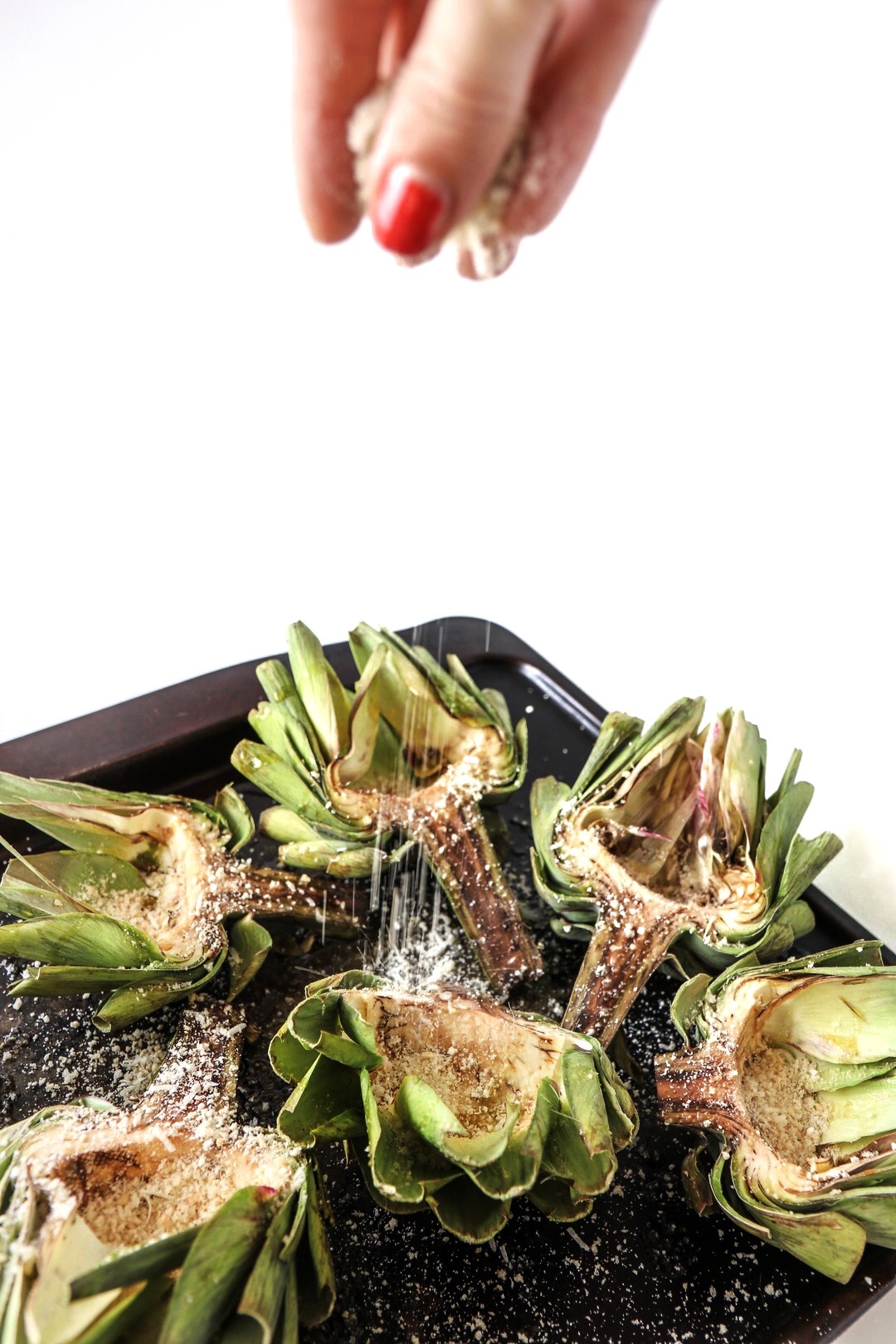 A funny story about these artichokes
A great part about being a dietitian working with the agriculture industry is the access to free vegetables! After a client meeting these artichokes were brought to the office and of course I put as many as I could into my purse (four fit in my purse, by the way). After work my coworkers and I had happy hour, dinner and then I commuted home. In the process of the night I collected odd looks from one door man, one food server, one bartender and one bus driver as I emptied the four artichokes to retrieve my wallet.
For a moment I thought about explaining the random purse artichokes but then decided no – let them wonder why a woman was walking around downtown San Francisco with 4 large artichokes stuffed in her purse. Hopefully it inspires them to fill their own bags with vegetables.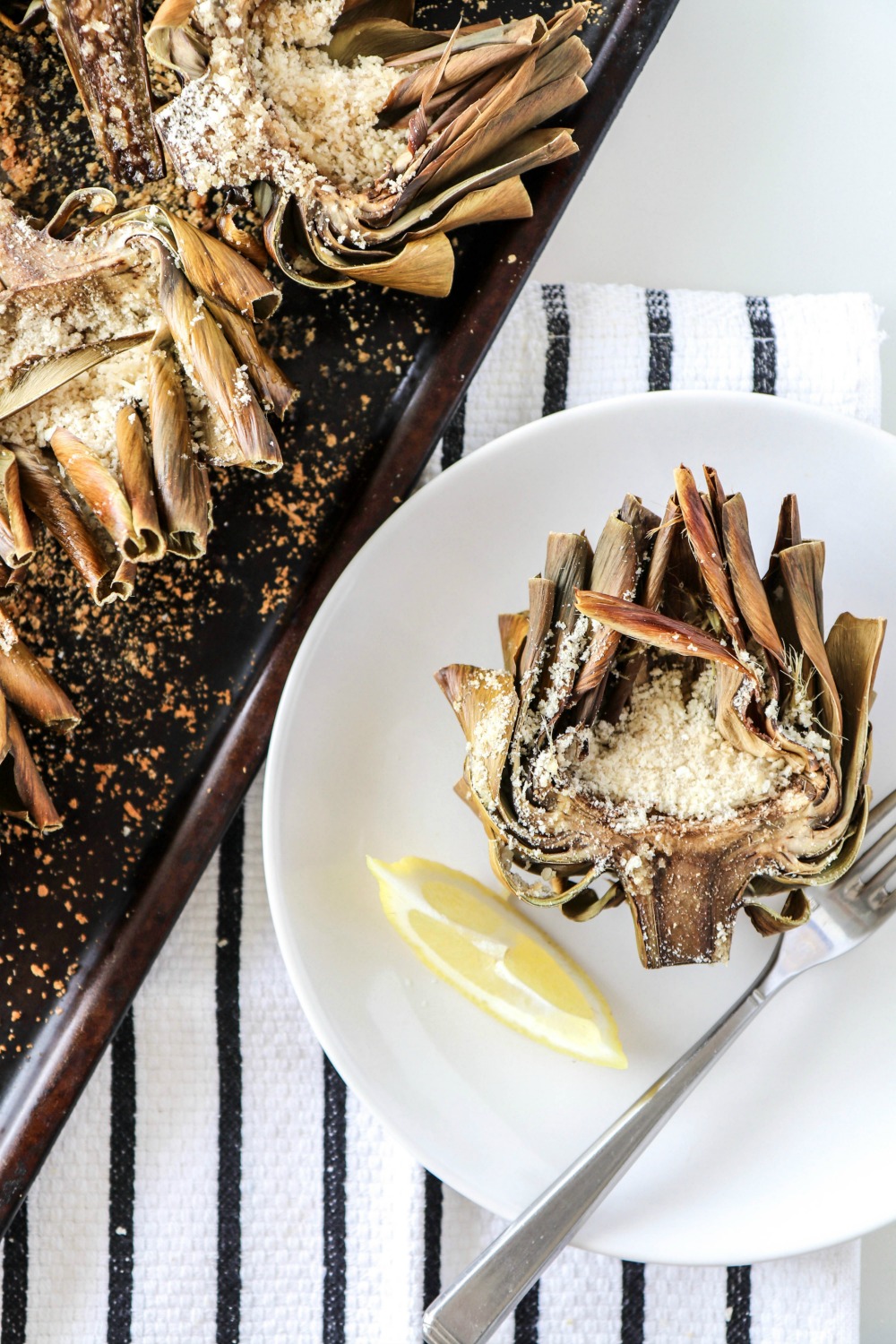 ---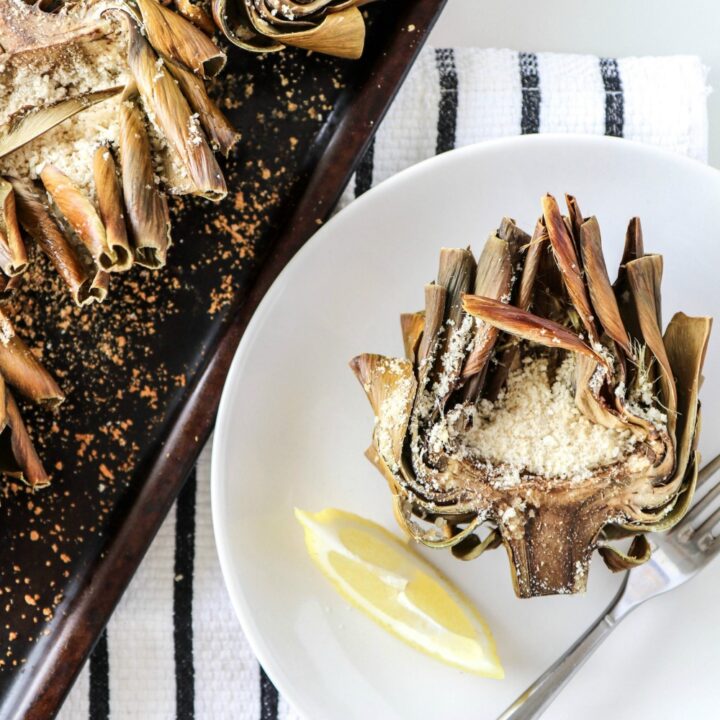 Roasted Stuffed Artichokes
Roasted whole artichokes with parmesan breadcrumbs and olive oil.
Ingredients
4

whole

artichokes

trimmed

1 ½

cups

plain bread crumbs

⅛

cup

shaved parmiggiano romano cheese

½

teaspoon

garlic powder

⅛

teaspoon

salt

⅛

teaspoon

black cracked pepper

2

tablespoons

olive oil

1

tablespoon

lemon juice
Instructions
Preheat oven to 375 degrees.

Cut artichokes in half, then scooping out fuzzy center, or center choke.

Place artichoke halves on large baking sheet and drizzle with olive oil.

Mix together bread crumbs, cheese, garlic, salt and pepper. Sprinkle over artichokes.

Cover sheet pan with foil and bake for 35-45 minutes or until hearts are soft.

Serve with a drizzle more of olive oil and a squeeze of lemon.
Nutrition
Serving:
1
g
Calories:
237
kcal
Carbohydrates:
30
g
Protein:
7
g
Fat:
10
g
Saturated Fat:
2
g
Polyunsaturated Fat:
2
g
Monounsaturated Fat:
6
g
Cholesterol:
3
mg
Sodium:
408
mg
Potassium:
95
mg
Fiber:
2
g
Sugar:
3
g
Vitamin A:
14
IU
Vitamin C:
2
mg
Calcium:
109
mg
Iron:
2
mg