Roasted Rainbow Cauliflower
Roasted Rainbow Cauliflower, a super easy sheet pan roasted white, purple, and green cauliflower recipe with only 5 ingredients and ready in under 30 minutes. Your new favorite easy side dish or salad topper!
Love to roast vegetables? So do we! There's nothing like roasting vegetables on a sheet pan with simple seasonings to remind you that you don't need a lot of ingredients to make vegetables delicious.
One of our go-to roasted vegetables is cauliflower. And while we like roasted cauliflower any way we can get it, we especially love a rainbow of different colored cauliflower for a fun and antioxidant-filled twist.
👉 Our favorite, super easy way to roast cauliflower is:
Wash and cut cauliflower florets from the head.
Toss them in a bit of olive oil and top with garlic, salt, and pepper.
Roast until brown in the oven.
Enjoy as a simple side dish or on top of salads or bowls.
It truly is that easy! Ready to learn our favorite way to bake rainbow cauliflower? Let's do it!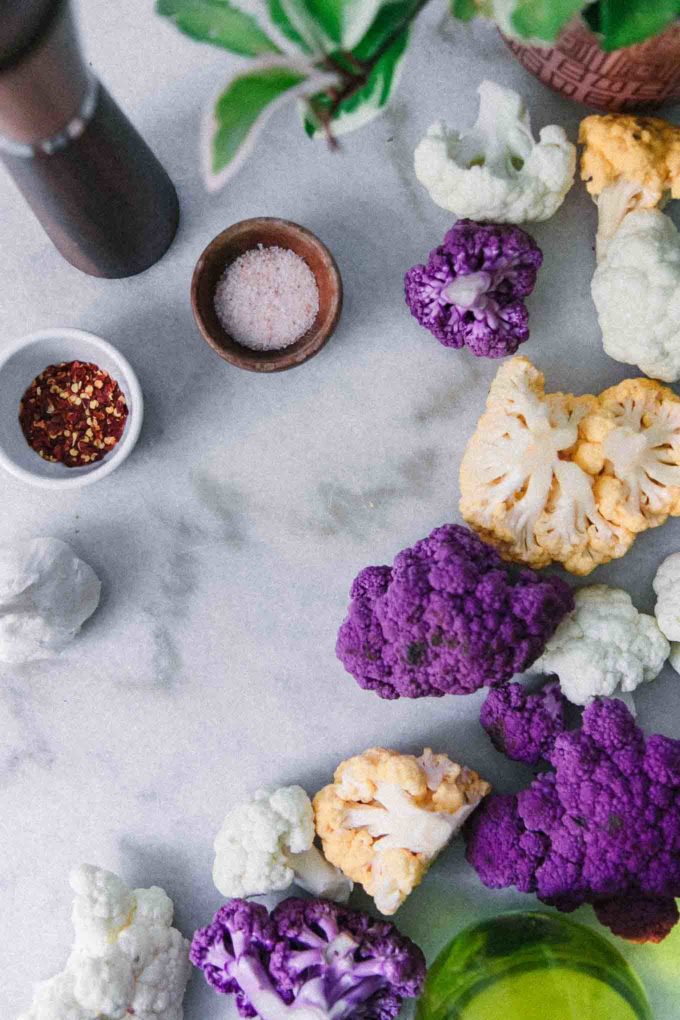 ---
🥦 How to roast cauliflower (step-by-step)
1️⃣ Step One: Preheat oven and wash vegetables
First, preheat the oven to 400 degrees F (200 C). While the oven is heating, wash the cauliflower and remove the florets from the stems.
♻️ Sustainable cooking tip: Don't waste those stems! Save your cauliflower stem scraps to use in food scrap vegetable broth. Close the loop on food waste!
---
2️⃣ Step Two: Add vegetables to the roasting pan
Next, add the cut cauliflower to a sheet pan. Drizzle with olive oil and, using your hands or a spatula, toss the vegetables until they're completely coated with oil. Sprinkle the vegetables with sliced fresh garlic, salt, and pepper.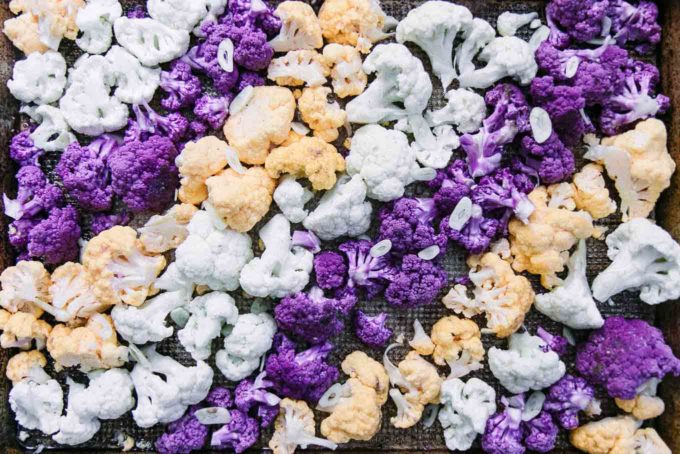 ---
3️⃣ Step Three: Roast vegetables until they soften and begin to brown
Finally, roast the cauliflower in the oven until it begins to soften and become brown around the edges. This takes about 30 minutes, depending on your oven.
About halfway through cooking, toss the vegetables so they brown on all sides, we did this when the cauliflower had been roasting for about 15 minutes.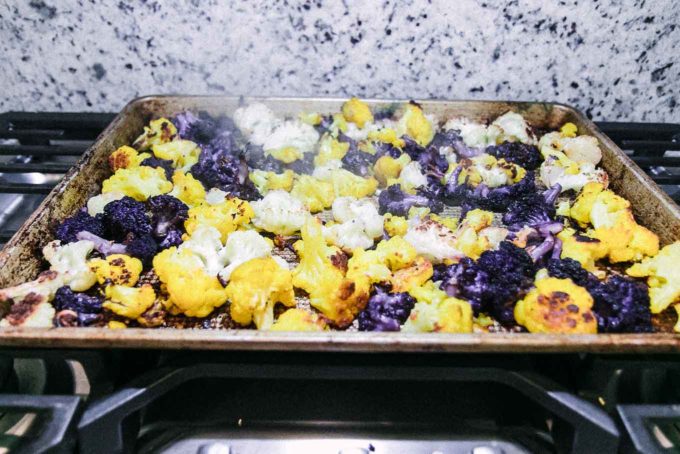 Remove the roasted vegetables from the oven and serve immediately as a side dish, or you can let the vegetables cool and use them to top salads and bowls.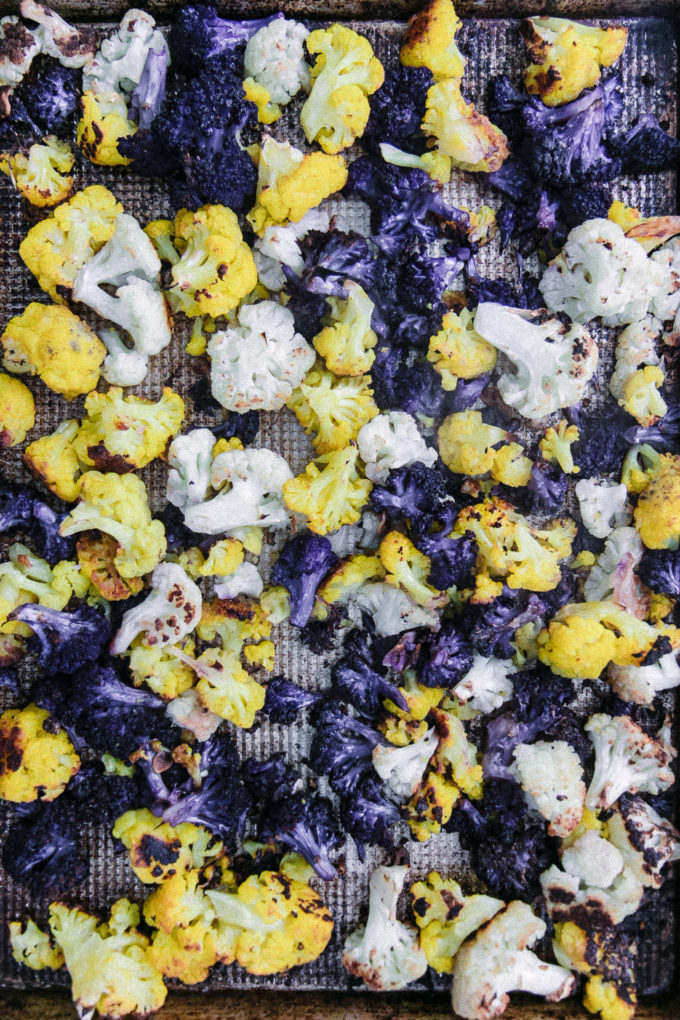 ---
❓ Recipe questions + quick tips
What type of cauliflower should I use?
Any type of cauliflower will be delicious roasted. White (attribute or cheddar hybrids), green (romanesco), purple (depurple hybrid), or orange (aptly named cheddar hybrid) — you name it, you can roast it.
How should I cut cauliflower before roasting?
Cauliflower can be roasted whole, cut longways into halves or quarters (like cauliflower "steaks"), or cut into small florets.
What is rainbow cauliflower?
Rainbow cauliflower refers to cauliflower that has been bred by scientists and farmers to have different colors than traditional white, such as orange, purple, and green. The color of cauliflower changes based on breeding different varieties with more color-producing antioxidants such as beta-carotene (orange), anthocyanin (purple), and chlorophyll (green).
What gives cauliflower its white color?
Cauliflower's traditional white color comes from a lack of contact with sunlight. If left to grow in the sun, cauliflower will have a dark yellow or light brown color. To keep the color white, farmers tie up cauliflower leaves above the head to prevent the sun from turning the white to a darker color.
What gives cauliflower its purple color?
Purple cauliflower gets its color from a high amount of the antioxidant anthocyanin, which is also found in grapes, beets, and blueberries. Scientists and farmers bred cauliflower plants with high amounts of anthocyanin to get purple cauliflower heads.
What gives cauliflower its orange color?
Orange cauliflower gets its color from a high amount of the antioxidant beta-carotene, which is also found in carrots and sweet potatoes. Scientists and farmers bred cauliflower plants with high amounts of beta-carotene to get orange cauliflower heads.
What color cauliflower is the healthiest?
All colors of cauliflower are healthy and have similar macronutrient profiles. However, orange, purple, and green cauliflower have higher amounts of certain antioxidants, which give them their bright colors.
Is colored cauliflower genetically modified?
Rainbow cauliflower is a result of plant breeding, and is not genetically modified.
---
🌿 Herb and spice combination flavor ideas
This recipe is simply prepared with just olive oil, garlic, salt, and pepper. However, the herb and spice flavor possibilities are endless! Here are a few to try out in your roasted vegetable recipe:
Rosemary, shallots, and garlic: roast cauliflower with sliced shallot and garlic, then sprinkle with fresh rosemary when finished
Garlic, red onion, and fresh herbs: roasted cauliflower with garlic and sliced red onion, then top with fresh herbs like oregano
Turmeric, paprika, and cayenne pepper: make it spicy by roasting cauliflower with a sprinkle of turmeric powder, paprika, and a dash of cayenne
Make it crunchy with nuts or seeds: add a bit of crunch by topping roasted cauliflower with sliced almonds, pine nuts, sunflower seeds, or sesame seeds
---
♻️ Sustainable kitchen + cooking tips
We're all about sustainability here at Fork in the Road, so here are some tips and tricks for getting the most out of your ingredients.
🥦 Take advantage of cauliflower season! The best time to make fast pickled cauliflower is during the height of cauliflower season. In California that's actually year round (except July and August), but check out Seasonal Food Guide's produce seasonality calendar to find when cauliflower are in season near you.
🍲 Use cauliflower stem scraps to reduce food waste! Don't toss those stems after cutting — add them to a food scrap vegetable broth to flavor stocks for soups and to use as a liquid for cooking grains.
♻️ Don't throw away cauliflower leaves! Did you buy cauliflower with its leaves? Great! Reuse them in sauces like pesto or chimichurri, or sauté the greens to eat on their own as a side dish (yes, they're edible!).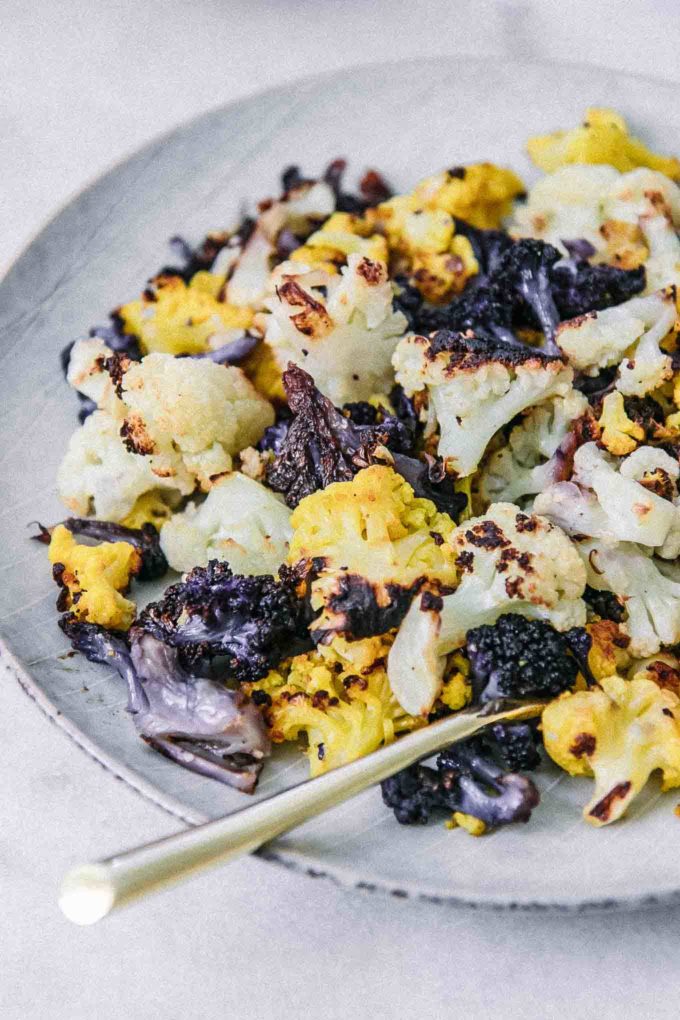 ---
🤍 More cauliflower recipes
Looking for more cauliflower recipes? We've got you covered:
Roasted Rainbow Cauliflower Recipe
Roasted Rainbow Cauliflower, a super easy sheet pan roasted white, purple, and green cauliflower recipe with only 5 ingredients and ready in under 30 minutes. Your new favorite easy side dish or salad topper!
Ingredients
1 lb carrots, washed and trimmed
2 garlic cloves, sliced thin
2 tablespoons olive oil
1 Pinch salt and pepper
Instructions
Prep oven: Preheat the oven to 400 degrees (200 C)

Prep vegetables: Wash cauliflower and remove stems. If using large carrots, cut in half lengthwise.

Roast vegetables: Arrange the carrots and green beans on a baking sheet and drizzle with olive oil, tossing the vegetables to completely cover with oil and sprinkle with sliced garlic, salt, and pepper. Place sheet pan in the oven and roast for 25 minutes, stirring halfway through to roast on all sides.
Notes
Tools Needed: sheet pan, knife set, cutting board
Prep Ahead: Wash and cut vegetables ahead of time to reduce prep time before cooking. If serving cold on salads or bowls, you can make this recipes up to three days ahead of time.
Leftovers and Storage: Vegetables should be stored in an airtight container in the refrigerator for up to 3-4 days. For best taste and texture, do not freeze and reheat cauliflower after baking.
Nutrition notes: Nutrition information is estimated for only ingredients in the recipe, not the additional spice options given. This simple roasted vegetable recipe is a good source of fiber, vitamin A, and vitamin C.
Nutrition Information
Serving: 1g, Calories: 111kcal, Carbohydrates: 11g, Protein: 1g, Fat: 7g, Saturated Fat: 1g, Polyunsaturated Fat: 1g, Monounsaturated Fat: 5g, Sodium: 88mg, Potassium: 369mg, Fiber: 3g, Sugar: 5g, Vitamin A: 18944IU, Vitamin C: 7mg, Calcium: 40mg, Iron: 1mg
We are participant in the Amazon Services LLC Associates Program, an affiliate advertising program designed to provide a means for us to earn fees by linking to Amazon.com and affiliated sites.