Roasted Cauliflower and Potatoes
Roasted Cauliflower and Potatoes, an easy baked veggie combination that's delicious as a side dish or a topping for salads and bowls. Just 5 ingredients and 35 minutes to cook!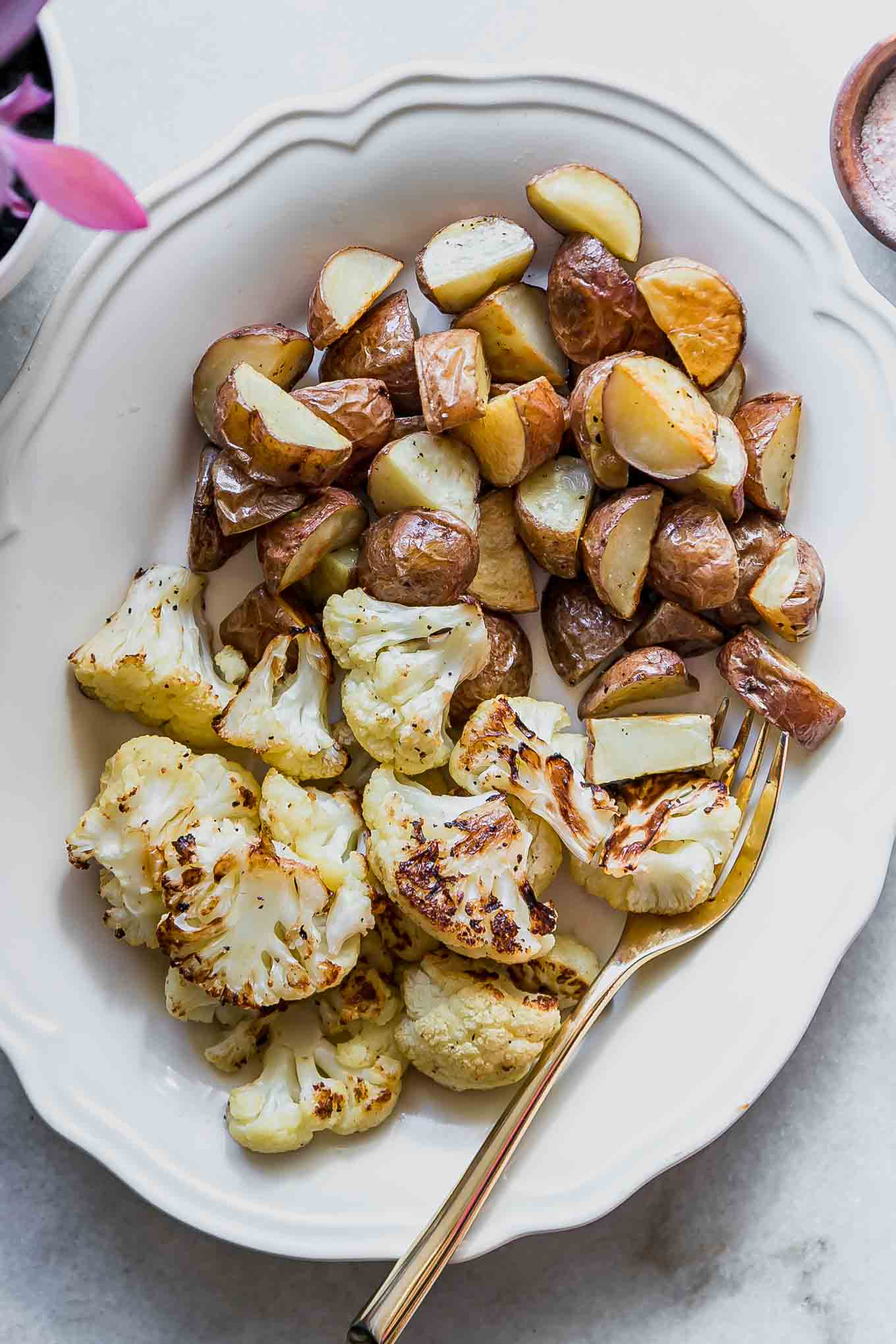 Love cauliflower? Love potatoes? Roast them together! These cooked veggies are versatile and ideal for meal prep. Enjoy them as a simple side dish, or as a topping for salads and bowls!
👉 Ready to learn how to bake potatoes and cauliflower? Let's do it!
---
🥣 Ingredients
Potatoes: one pound of potatoes, I like waxy red or new potatoes
Cauliflower: one large head of cauliflower
Garlic cloves: use fresh garlic cloves, cut into thin slices
Olive oil: adds flavor and helps your vegetable to brown in the oven
Salt and pepper: adds a touch of flavor
Recommended tools: sheet pan, knife set, cutting board
---
🥣 Recipe instructions (with step-by-step photos)
1️⃣ Step One: Prep vegetables
First, preheat your oven to 400 degrees F (200 C). Wash and dry your vegetables before cutting them.
To cut potatoes: Remove any spuds and cut into 1 inch pieces
To cut cauliflower: Cut the stem from the cauliflower head. Slice the head in half and then cut away the cauliflower florets.
👉 Prepping tip! Cut your potatoes and cauliflower into similarly sized pieces. This will help them roast evenly and give them extra crunch.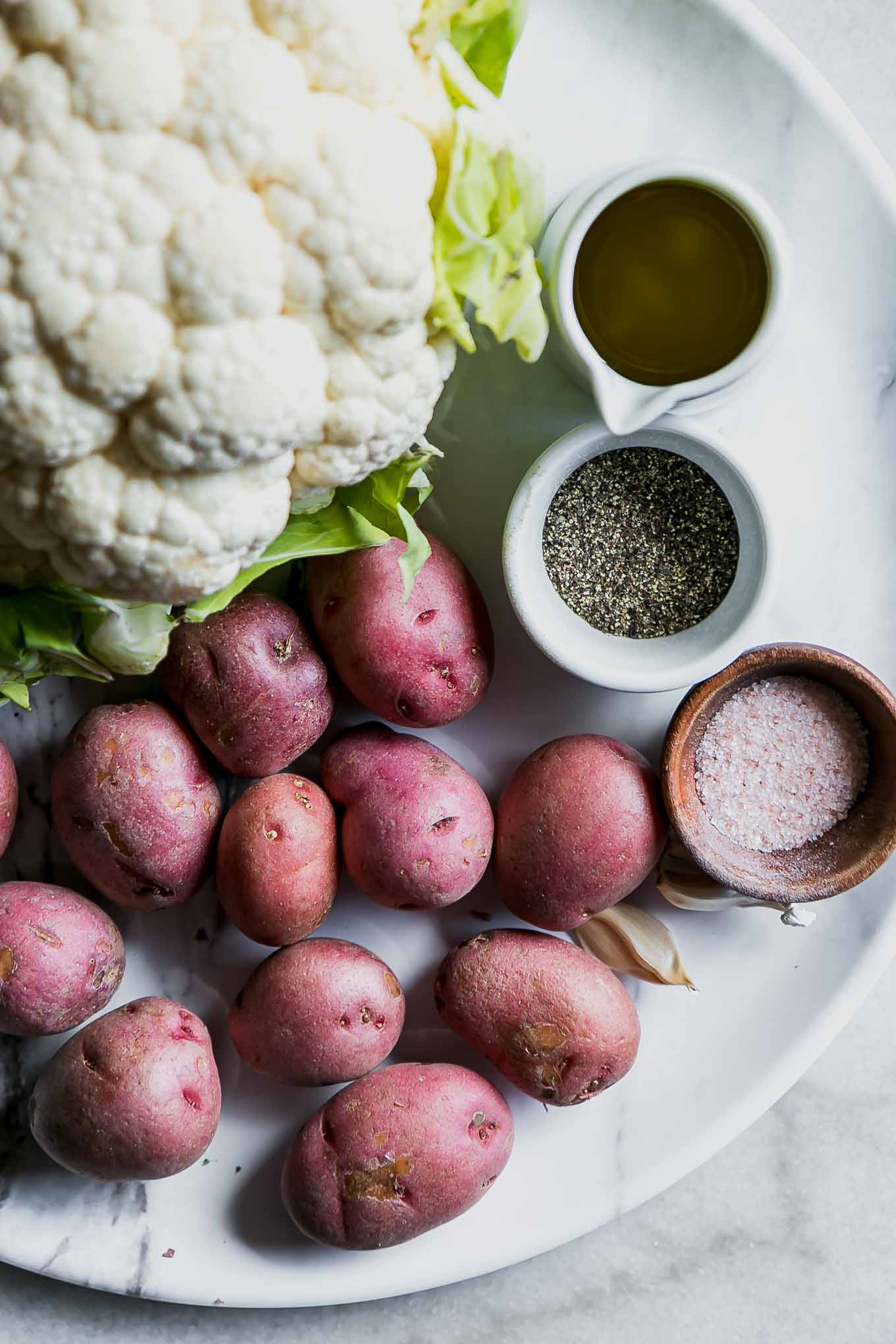 ---
2️⃣ Step Two: Season vegetables
Place prepared vegetables on a sheet pan or roasting pan.
Toss the cauliflower and potatoes with olive oil until evenly coated. Season with salt and pepper to taste, and add sliced garlic on top.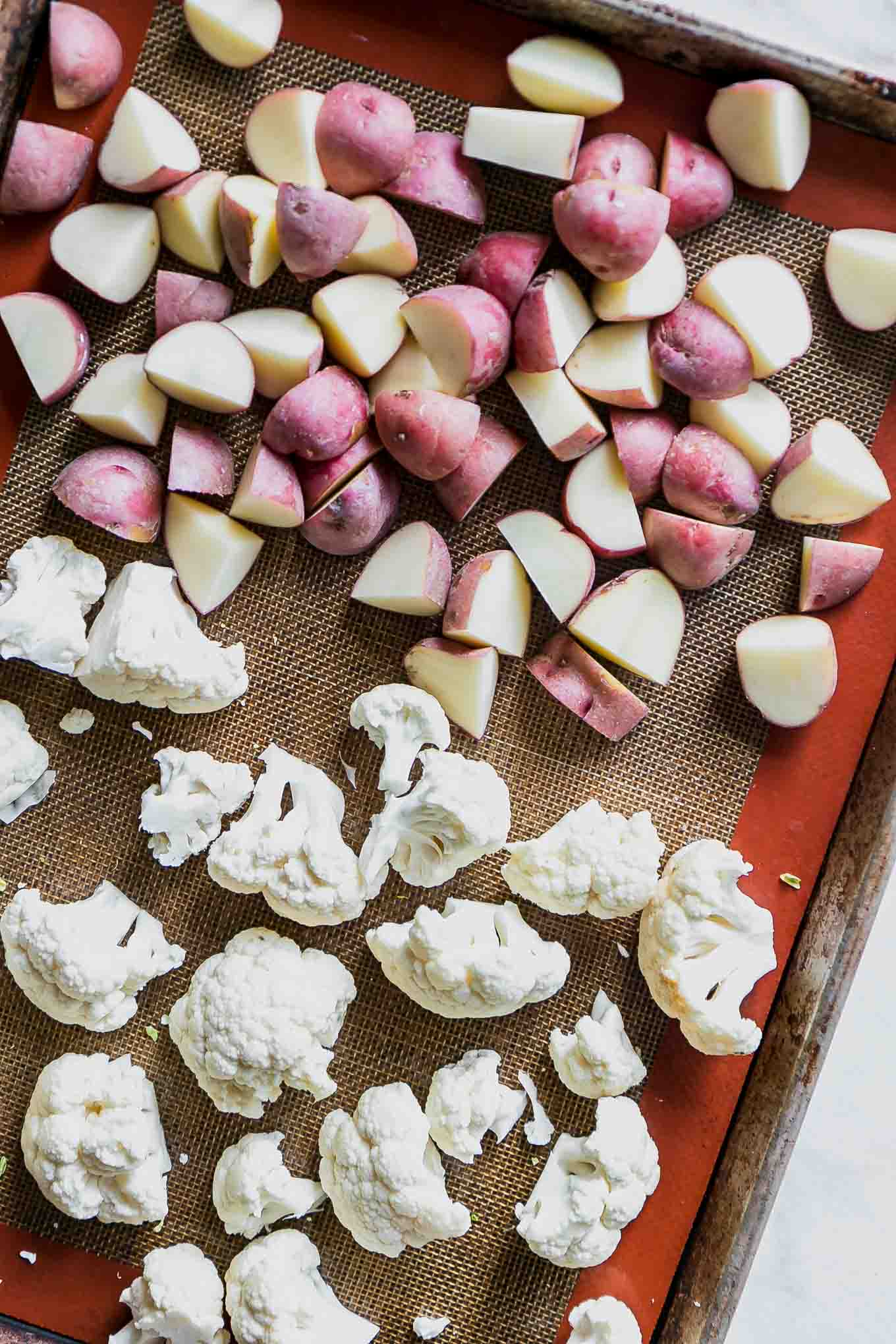 ---
3️⃣ Step Three: Roast vegetables
Bake the vegetables in the oven for about 25 minutes or until lightly browned.
To ensure even roasting, stir the potatoes and cauliflower halfway through cooking time. If the cauliflower is cooking faster than the potatoes, remove it and let the potatoes cook a bit longer.
Remove the pan from the oven. Serve your vegetables immediately if using as a side dish, or let them cool and then use as a topping for salads or bowls.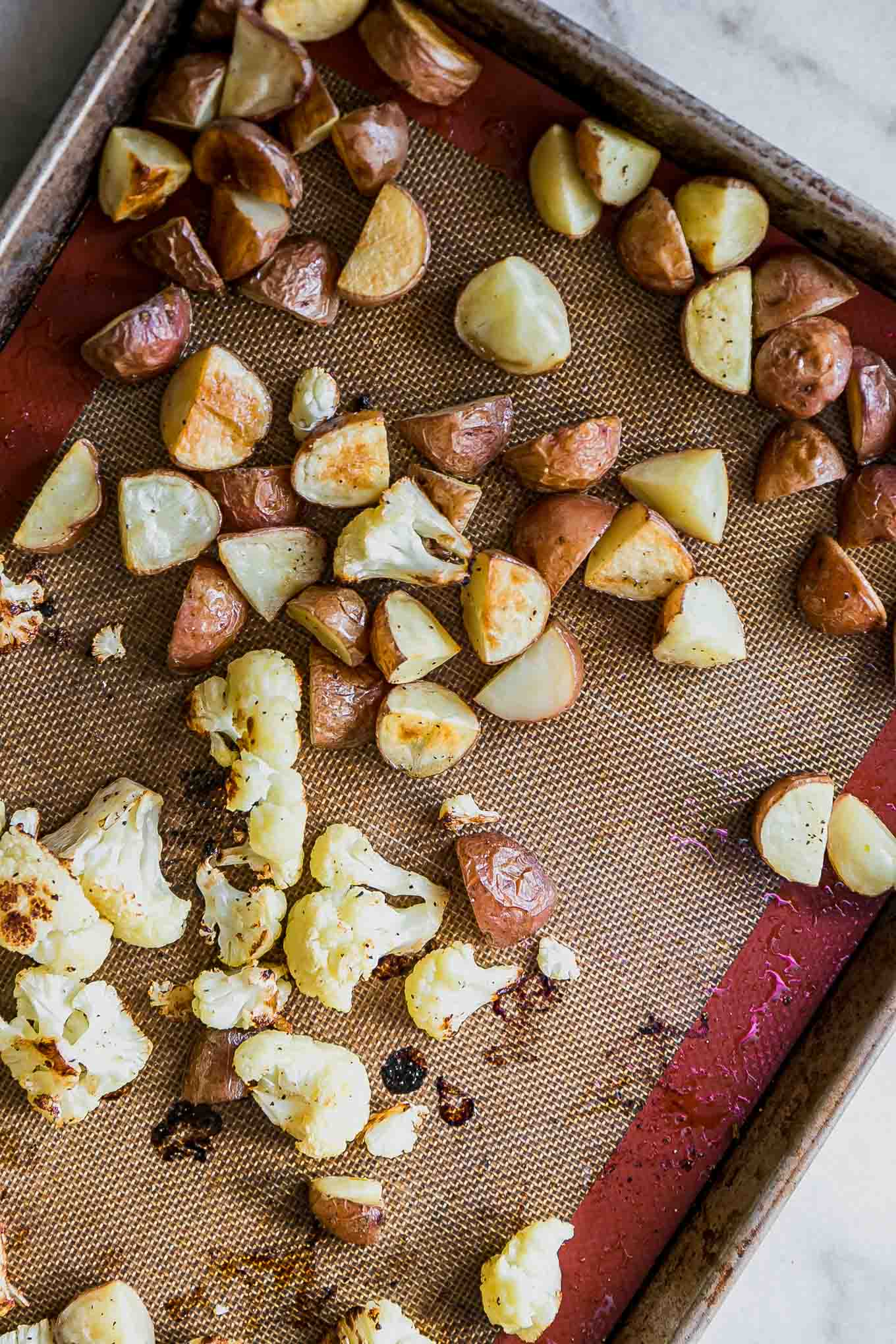 ---
💡 Ideas for seasoning
This simple roasted vegetables recipe is delicious using just garlic, salt, and pepper. To mix it up, here are some more seasoning ideas:
Give it some citrus flair: add a fresh twist to your veggies with citrus peel and lemon or lime juice
Use fresh herbs: top your veggies with seasonal herbs and/or toasted nuts
Add some spiciness: if you like it hot, toss your veggies with hot pepper sauce, or top with red pepper flakes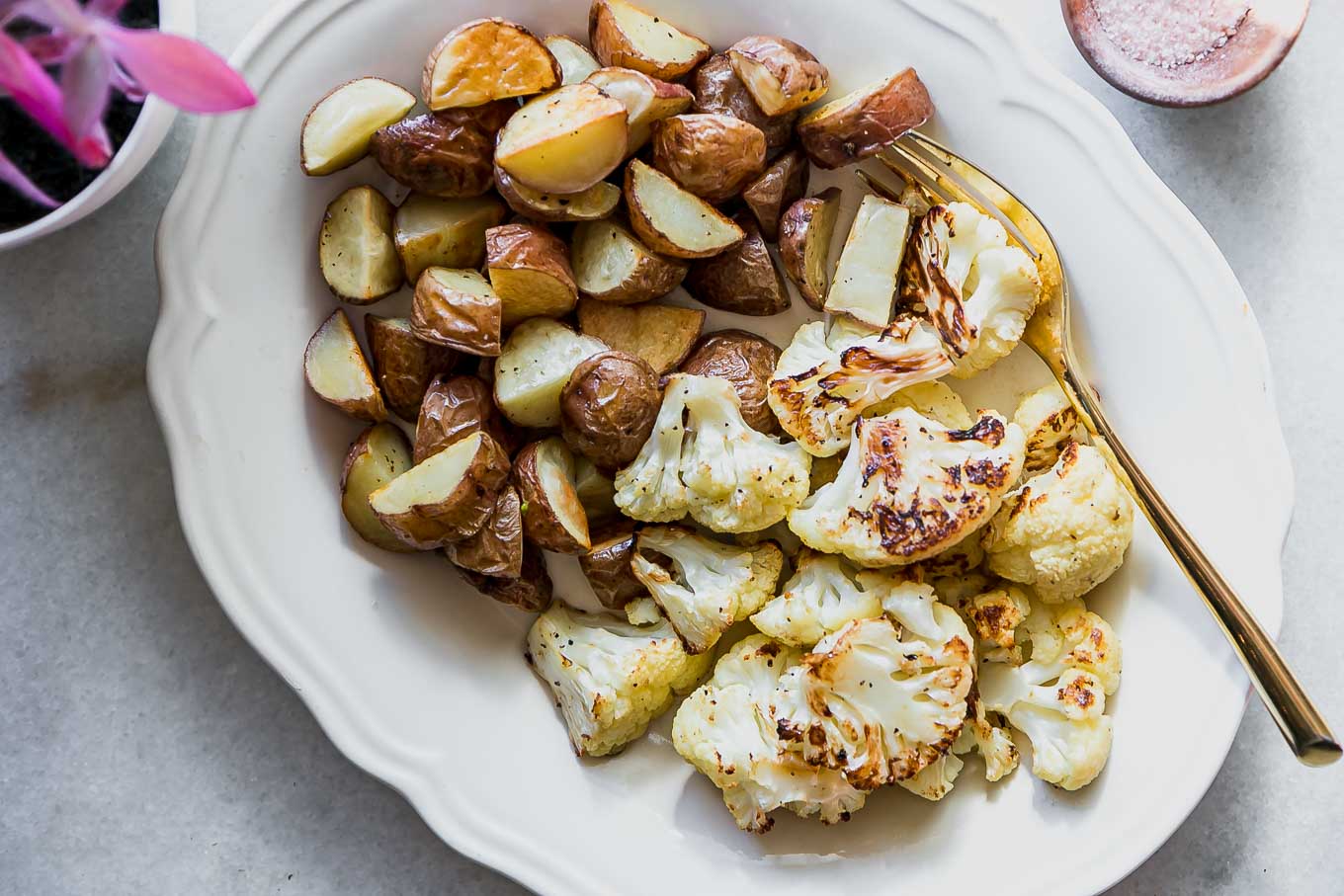 ---
🧊 How to store leftovers
Fridge storage: Store your leftover potatoes and cauliflower in an airtight container in the fridge for up to 3-4 days.
Freezer storage: To maintain the best flavor and texture, we recommend that you do not freeze and reheat this dish.
---
♻️ Sustainable kitchen + cooking tips
We love reducing food waste at Fork in the Road, and we know you do too! Here are some helpful sustainable kitchen tips for making this recipe:
Eat cauliflower and potatoes in season! The best time to make this recipe is when both vegetables are in season! In most areas of the U.S., cauliflower is available in late summer and early fall. Potatoes are available year round in most places. Click here to find out when produce is in season where you live.
Reduce waste by using your vegetable scraps! Did you know that cauliflower leaves are edible? Simply add them to soups or salads. The ends of your potatoes can also be eaten – just leave them on rather than trimming them off! If you prefer to cut off the ends, you can compost them or use them in a vegetable broth.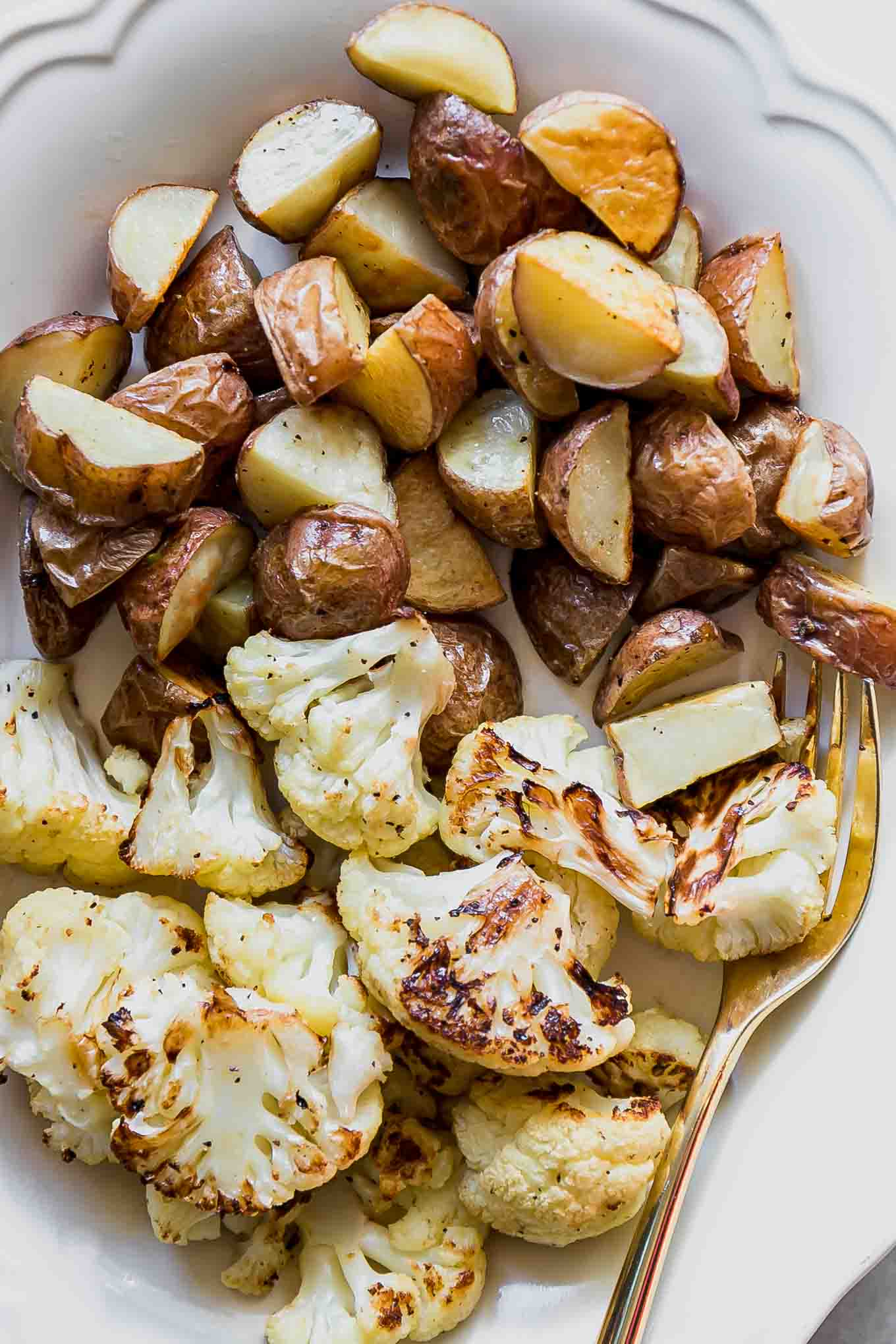 ---
👉 More cauliflower and potatoes recipes
Can't get enough roasted potatoes and cauliflower? We have more recipes for you:
Roasted Cauliflower and Potatoes
Roasted Cauliflower and Potatoes, an easy baked veggie combination that's delicious as a side dish or a topping for salads and bowls. Just 5 ingredients and 35 minutes to cook!
Ingredients
1 pound potatoes
1 head cauliflower
2 cloves garlic, thinly sliced
2 tablespoons olive oil
1 pinch salt and pepper
Instructions
Prep vegetables: Preheat oven to 400 degrees (200 C). Wash the potatoes and trim any spuds, then chop into large bite sized pieces. Wash the cauliflower head and slice in half. Use a knife to cut the florets from the thick white center.

Roast vegetables: Arrange the cauliflower and potatoes on a roasting pan. Drizzle vegetables with olive oil, tossing them to evenly coat. Top with garlic slices, salt, and pepper. Place sheet pan in the oven. Bake for 15 minutes, then stir vegetables, and bake an additional 10 minutes.

Serve vegetables: Remove pan from oven. If preparing a side dish, serve vegetables immediately. If preparing as a salad or bowl topping, let vegetables cool first.
Notes
Tools needed: sheet pan, knife set, cutting board
Prep ahead: Wash, dry, and cut the potatoes and cauliflower in advance if you'd like to minimize prep time on cooking day. To use vegetables as a topping for salads or bowls, roast them up to three days ahead.
Storing leftovers: Your vegetables will stay fresh in an airtight container in the fridge for 3-4 days. For best flavor and texture, do not freeze and reheat.
Nutrition notes: Nutrition information is estimated for the ingredients in the recipe, and does not include additional spices or flavorings. This recipe a good source of fiber, vitamin A, vitamin C, and potassium.
Nutrition Information
Serving: 1serving, Calories: 187kcal, Carbohydrates: 27g, Protein: 5g, Fat: 8g, Saturated Fat: 1g, Polyunsaturated Fat: 1g, Monounsaturated Fat: 5g, Sodium: 55mg, Potassium: 913mg, Fiber: 5g, Sugar: 4g, Vitamin A: 2IU, Vitamin C: 92mg, Calcium: 48mg, Iron: 2mg
We are participant in the Amazon Services LLC Associates Program, an affiliate advertising program designed to provide a means for us to earn fees by linking to Amazon.com and affiliated sites.