Roasted Broccoli and Potatoes
Roasted Broccoli and Potatoes, an easy baked side dish or topping for salads or bowls. Only 5 ingredients and 40 minutes!
Love broccoli? Love potatoes? Roast them together! This easy baked potato and broccoli side dish recipe comes together in only 30 minutes and only has 5 simple ingredients.
👉 Ready to learn how to make roasted potatoes and broccoli in the oven? Let's do it!
---
🥦 Ingredients
Potatoes: any type of potatoes will do, but we chose red potatoes (new potatoes would be tasty as well)
Broccoli: you'll need 1 head of broccoli, which comes out to 2-3 cups
Garlic cloves: cut fresh cloves into thin slices
Olive oil: start with 2 tablespoons and add more if needed to coat the vegetables
Salt and pepper: adds a dash of flavor
Recommended tools: sheet pan, set of knives, and a cutting board
---
🥣 Recipe instructions (with step-by-step photos)
1️⃣ Step One: Prep oven and veggies
Preheat your oven to 400 degrees F (200 C). Wash and then dry the vegetables.
To cut potatoes: Remove any bruises or spuds with a small knife or potato peeler, then cut into 1 inch cubes (you do not need to peel potatoes)
To cut broccoli: Cut broccoli florets from the stalk (save broccoli stalk for a stalk salad!)
👉 Pro tip! When prepping broccoli and potatoes, cut the pieces into similar sizes. This helps make them cook evenly and also makes them easier to eat.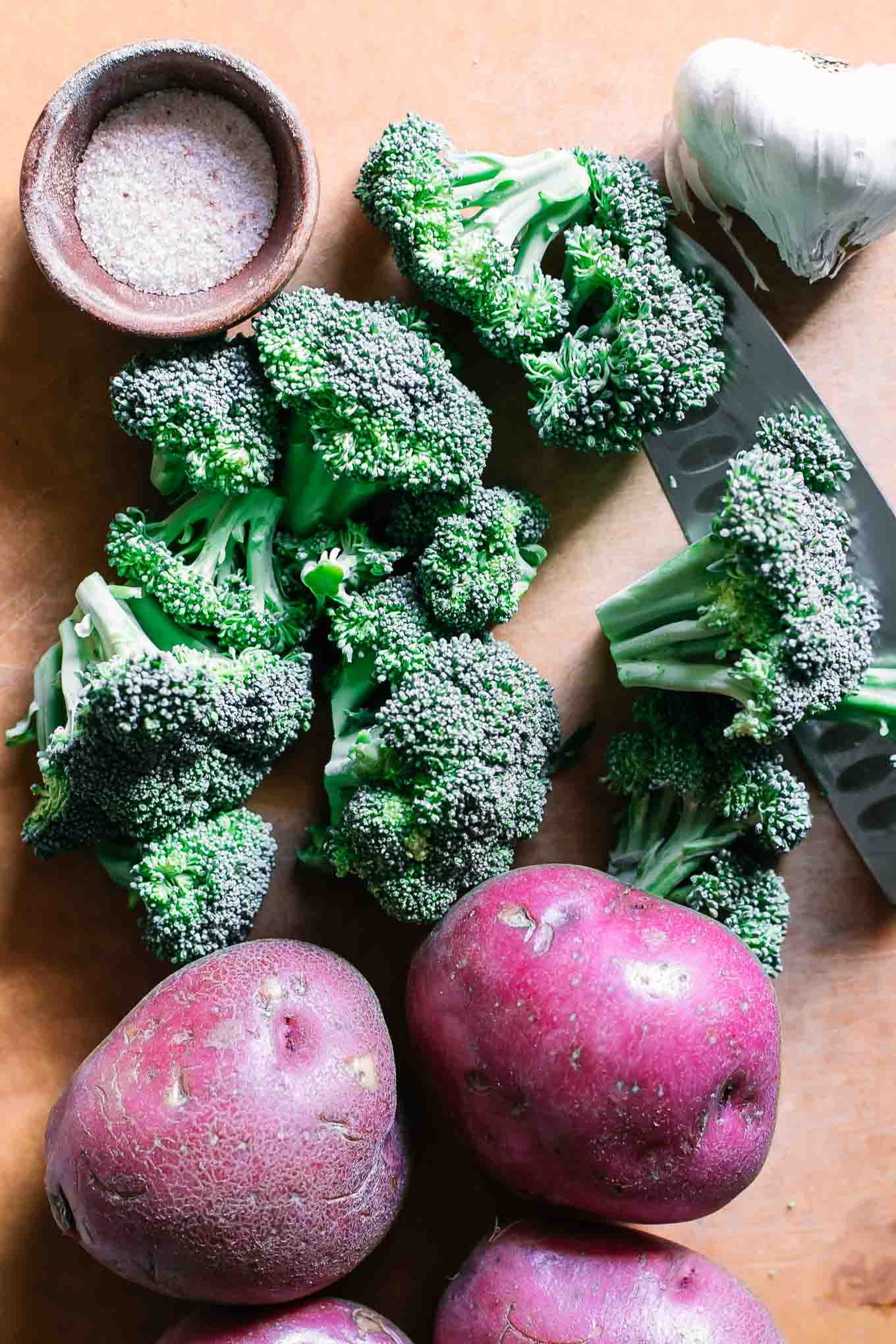 ---
2️⃣ Step Two: Season and add to baking sheet
Place the broccoli and potatoes on a baking sheet or roasting pan.
Toss the vegetables with olive oil until completely coated. Sprinkle garlic on top, then season with salt and pepper to taste.
👉 Tip for placing veggies on pan: Because potatoes can take longer to cook than broccoli, separate them on the roasting (like in the photo below). This way you can remove the broccoli first and let the potatoes continue to cook without burning the broccoli.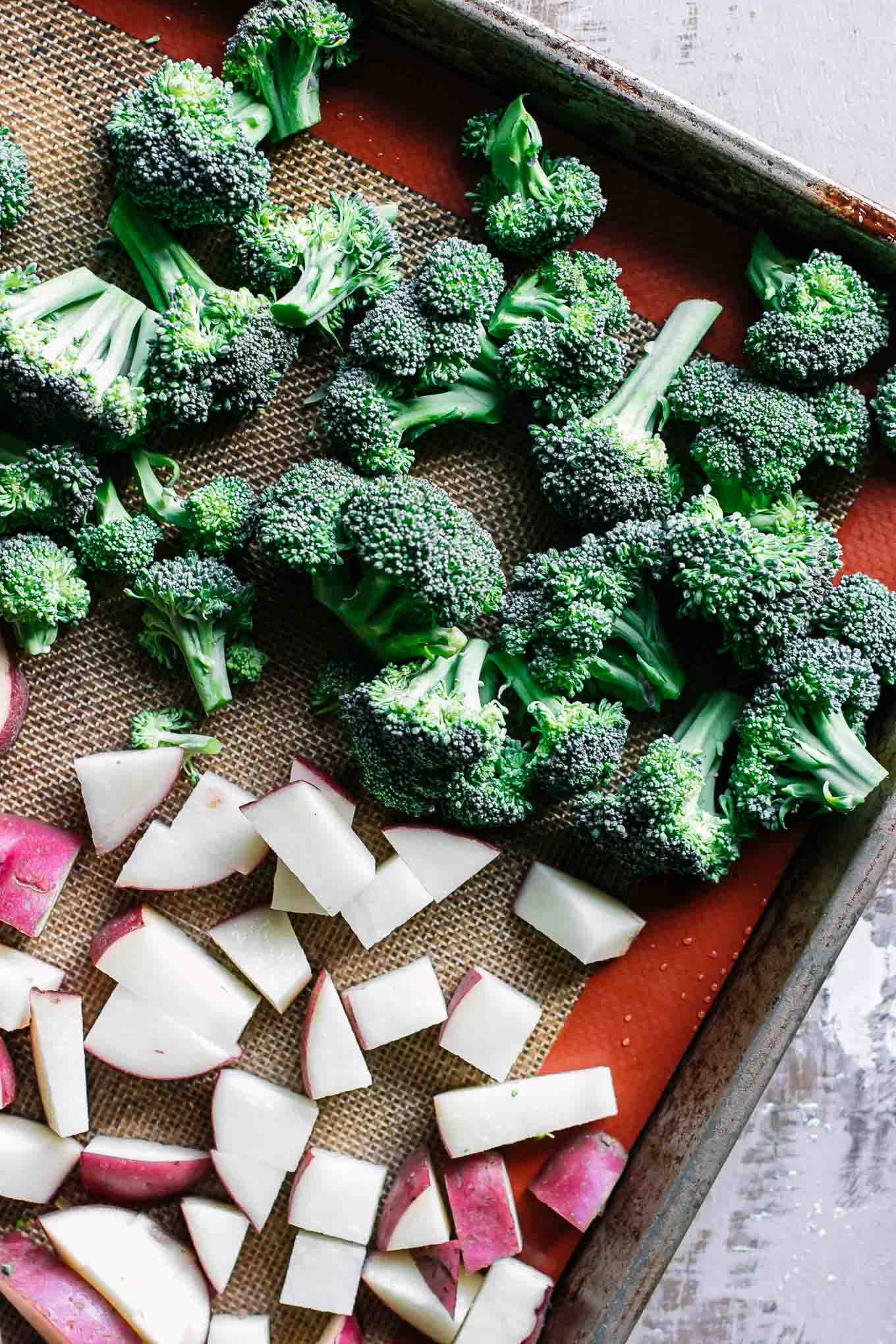 ---
3️⃣ Step Three: Bake broccoli and potatoes
Roast the vegetables for 35 minutes or until just browned, making sure to stir the vegetables halfway through cooking time.
If broccoli is cooking faster than the potatoes, simply remove it to a plate and continue to cook the potatoes until they are brown and crispy.
Serve immediately, or let cool and save for later as a topping for salads or bowls.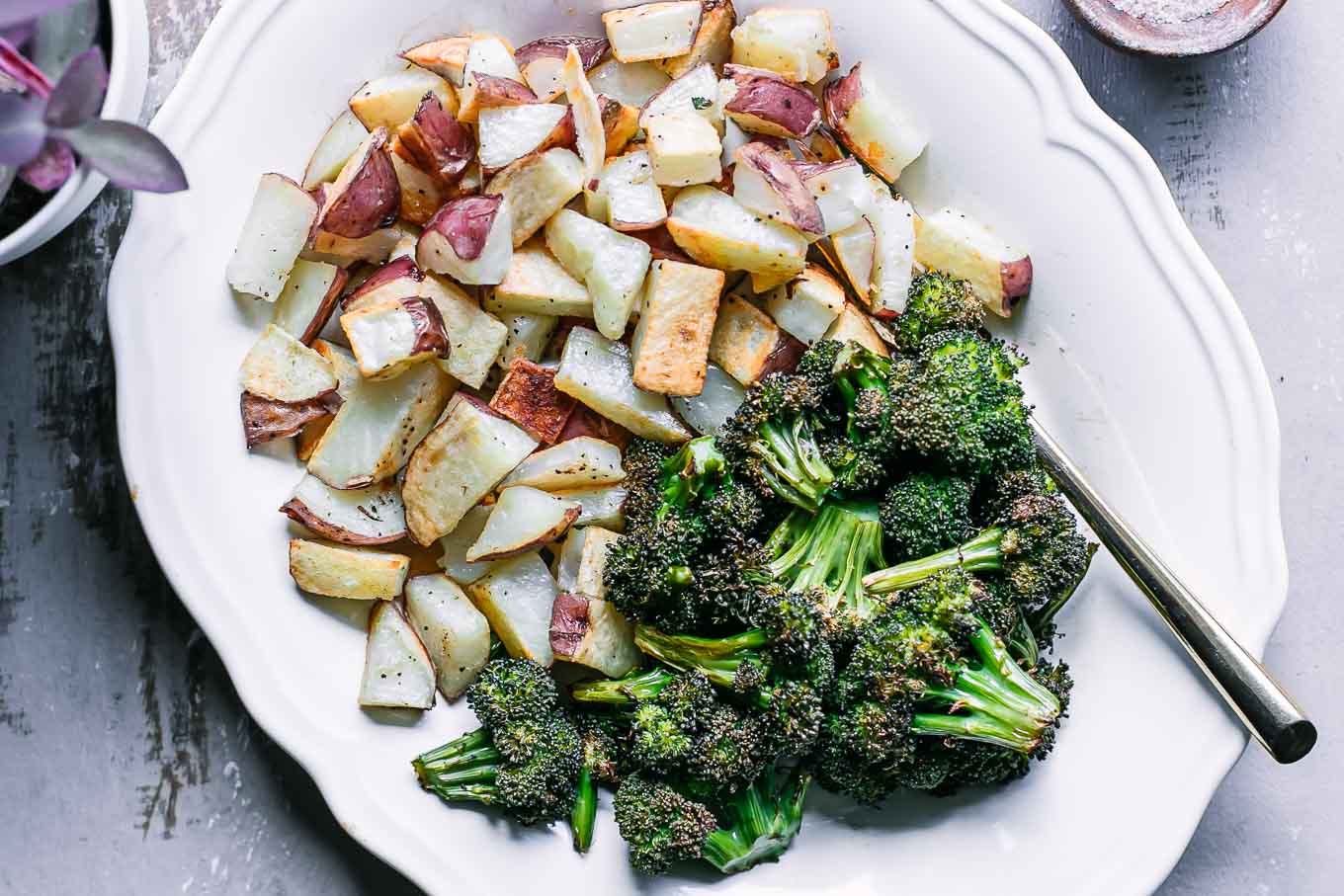 ---
❓Recipe questions + quick tips
How can I reduce prep time?
To minimize prep on cooking day, wash and cut the vegetables in advance. If you're using potatoes and broccoli as a topping for salads or bowls, bake the vegetables up to three days ahead of time.
How can I get my roasted vegetables to cook evenly?
Cut the broccoli and potatoes into same-sized pieces to help them roast evenly. Also, separate the vegetables on the pan rather than mixing them together. The broccoli may roast more quickly than the potatoes. If so, remove broccoli to a plate and continue to cook the potatoes.
---
💡 Ideas for seasoning
We kept this recipe simple by using just garlic, salt, and pepper. For more variety, try some of these ideas:
Fresh or dried herbs: Try basil or Italian seasoning on your veggies.
Ginger or turmeric: These spices offer maximum flavor and a punch of color.
A sprinkle of cheesy flavor: Freshly grated Parmesan cheese will complement the garlic and veggies in this recipe. For a non-dairy option, try nutritional yeast or vegan Parmesan .
---
🧊 How to store leftovers
Refrigerator storage: Store leftovers in an airtight container in the fridge. They will keep for up to 3-4 days. Reheat in the microwave or in a pan over medium heat on the stove.
Freezer storage: Store leftovers in an airtight container or freezer-friendly bag for up to one month. Place in refrigerator for 24 hours to thaw, then reheat in a pan or place in the oven for 10-15 minutes to recrisp the vegetables.
---
♻️ Sustainable kitchen + cooking tips
We're always thinking of ways to reduce food waste, and we know it's a priority for you too! Here are our top sustainable kitchen tips:
Use vegetables when they're in season! The best time to use potatoes and broccoli is when both vegetables are in season! Generally, potatoes are available year round, and broccoli is available starting late summer. Click here to find out when they are in season in your area.
Don't toss your vegetable scraps! Save your broccoli stems and leaves – yes, they're edible! Try our Broccoli Stem Pesto on top of this recipe for a no-waste flavor twist.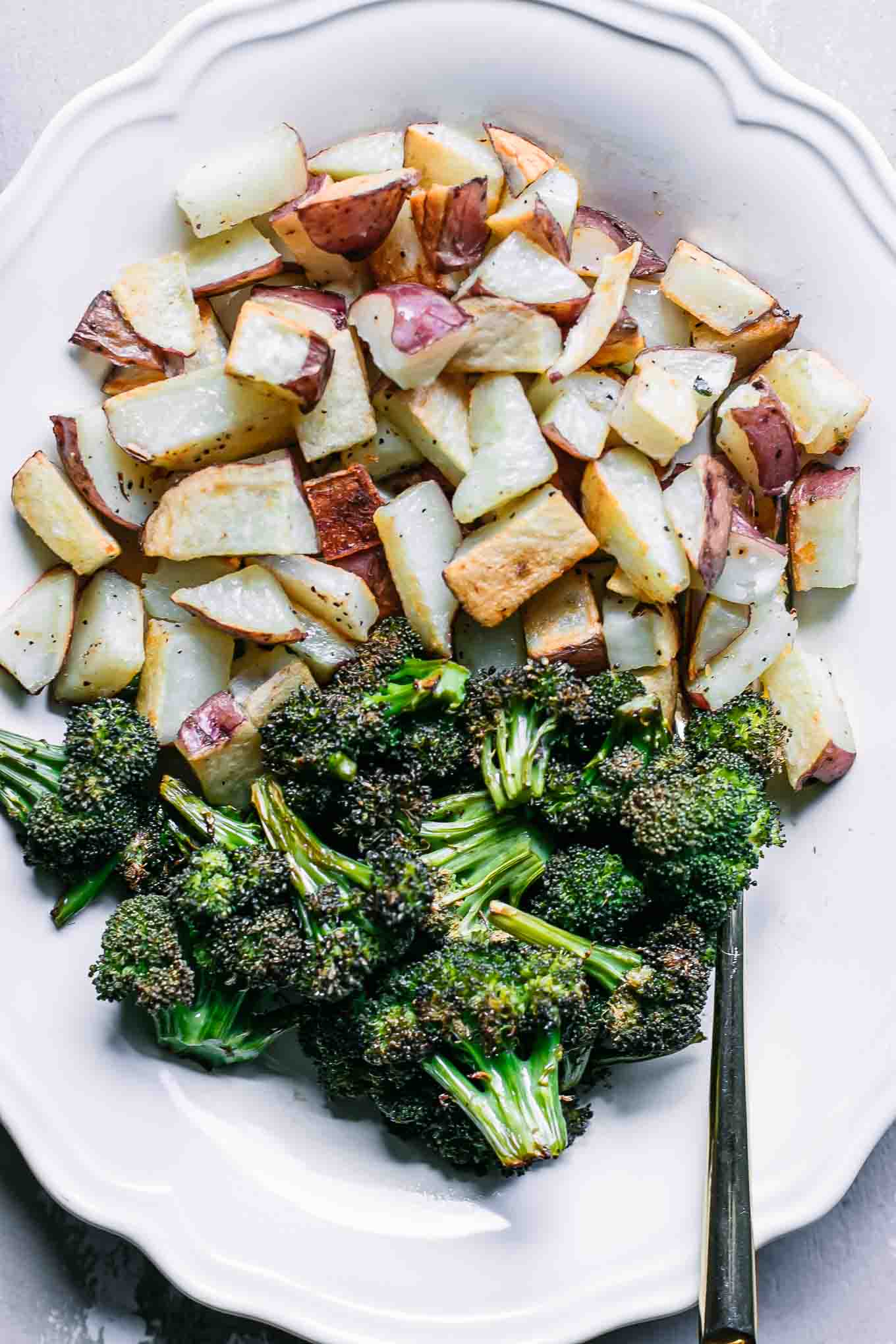 ---
👉 More broccoli and potato recipes
Do you need more potatoes and broccoli in your life? Try these delicious recipes:
Roasted Broccoli and Potatoes
Roasted Broccoli and Potatoes, an easy baked side dish or topping for salads or bowls. Only 5 ingredients and 35 minutes!
Ingredients
1

pound

potatoes

any type

1

large

broccoli stalk

2

cloves

garlic

thinly sliced

2

tablespoons

olive oil

1

pinch

salt and pepper
Instructions
Prep oven and vegetables: Preheat oven to 400 degrees (200 C). Wash broccoli, then cut the florets from the thick stems. Wash potatoes and remove any bruises or spuds. Then cut into 1 inch cubes.

Roast vegetables: Arrange the cut potatoes and broccoli florets on a roasting pan. Drizzle the with olive oil, then toss until evenly coated. Top with sliced garlic, salt, and pepper. Roast in preheated oven for 35 minutes, or until browned. Stir halfway through cooking time.

Serve: Remove pan from oven, arrange potatoes and broccoli on a plate and serve immediately as a side dish; or let cool and use as a topping for salads or bowls.
Notes
Tools needed: sheet pan, knife set, cutting board
Plan ahead: Wash and cut the broccoli and potatoes up to three days before cooking day. If using as a topping for salads or bowls, roast vegetables ahead of time and then store.
Storage: Store leftover vegetables in an airtight container in the refrigerator for 3-4 days. Freezing and reheating is not recommended.
Nutrition notes: Nutrition information is estimated for only ingredients in the recipe and does not include additional spices or flavorings. This dish is a good source of fiber, vitamin A, vitamin C, and potassium.
Nutrition
Serving:
1
serving
Calories:
203
kcal
Carbohydrates:
30
g
Protein:
7
g
Fat:
8
g
Saturated Fat:
1
g
Polyunsaturated Fat:
1
g
Monounsaturated Fat:
5
g
Sodium:
62
mg
Potassium:
964
mg
Fiber:
6
g
Sugar:
3
g
Vitamin A:
949
IU
Vitamin C:
158
mg
Calcium:
88
mg
Iron:
2
mg