Roasted Beets and Sweet Potatoes
Roasted Beets and Sweet Potatoes, a simple roasted vegetable side dish combining the sweetness of sweet potatoes with the earthy flavor of beets. A a delicious flavor pairing that's perfect as a side dish, salad topping, or even in a smoothie!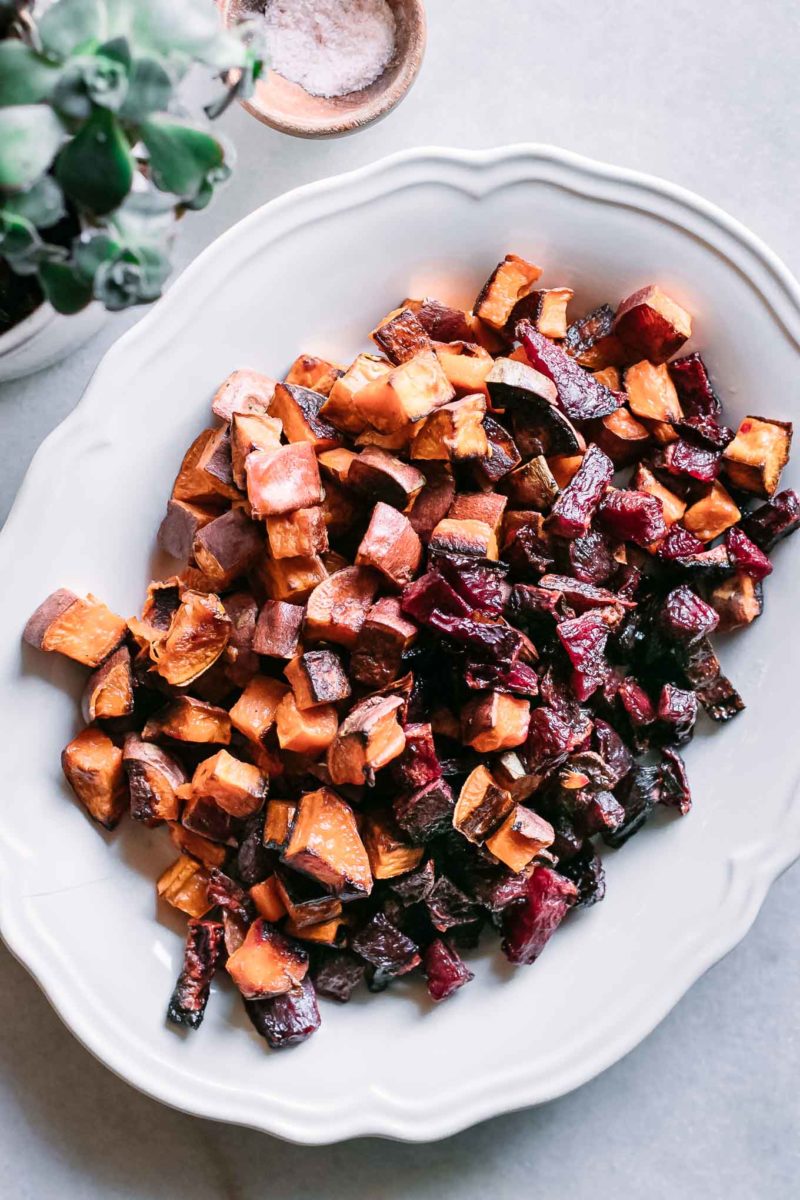 Love roasted sweet potatoes? Love roasted beets? Bake them together! This tasty recipes pairs the sweet flavor of oven-baked sweet potatoes with the earthy taste of roasted beets for a simple side dish that's packed with flavor (and nutrients!).
👉 Ready to learn how to make a simple roasted sweet potato and beets recipe? Let's do it!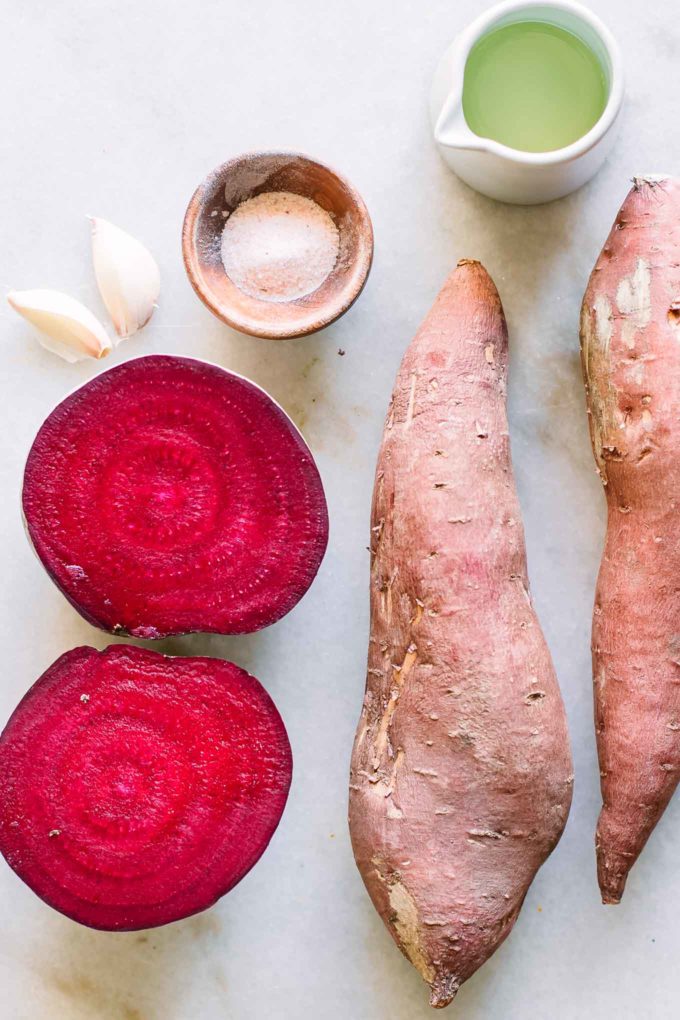 ---
🥣 How to make (step-by-step photos)
1️⃣ Step One: Prep sweet potatoes + beets
First, preheat your oven to 425 degrees F, or 200 degrees C.
To prep the sweet potatoes: simply wash them and then cut potatoes into small cubes about 1/2 inch (or about 1.25 centimeters) in size. You do not have to peel the sweet potatoes before cutting, sweet potato peels are edible and full of nutrients (and not to mention they're delicious).
To prep the beets: cut the stems from each end and then peel the outer skill with a vegetable peeler or a small paring knife, and then cut into 1/2 inch cubes. While beet skins are edible, they tend to be tougher once cooked so we peel them before baking. Check out our full guide on storing beets (pantry, counter, fridge, and freezer).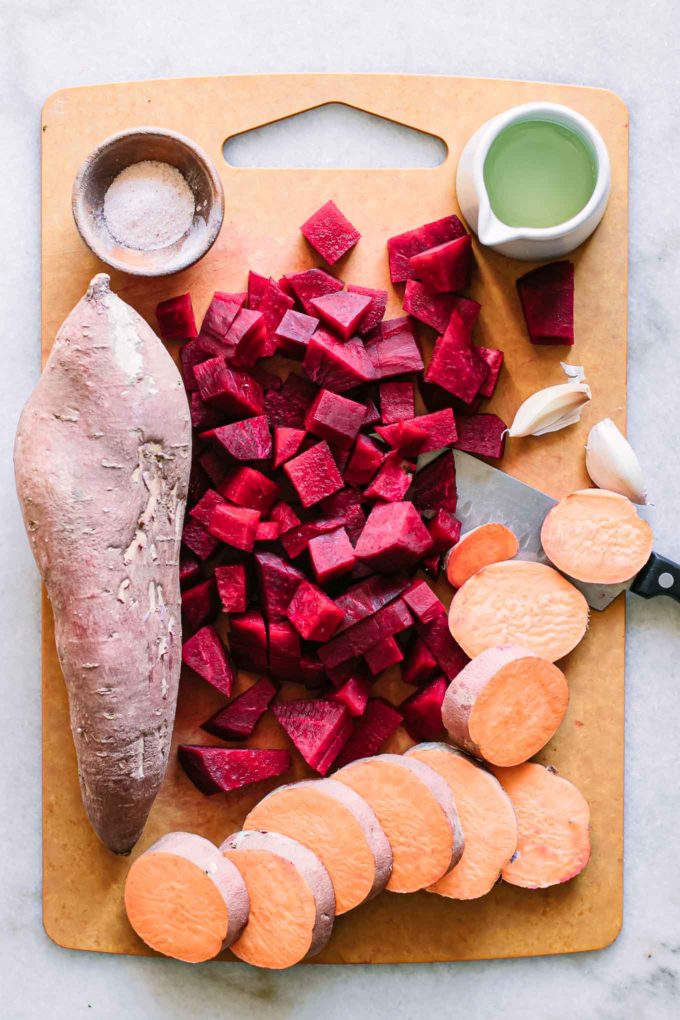 ---
2️⃣ Step Two: Season the vegetable + add to a baking sheet
Once the vegetables are cut, add olive oil to a baking sheet and pour the cubed sweet potatoes and beets on top, tossing with a spatula (or your hands!) to completely coat them in oil.
Then sprinkle the vegetables with salt, peppers, and sliced garlic.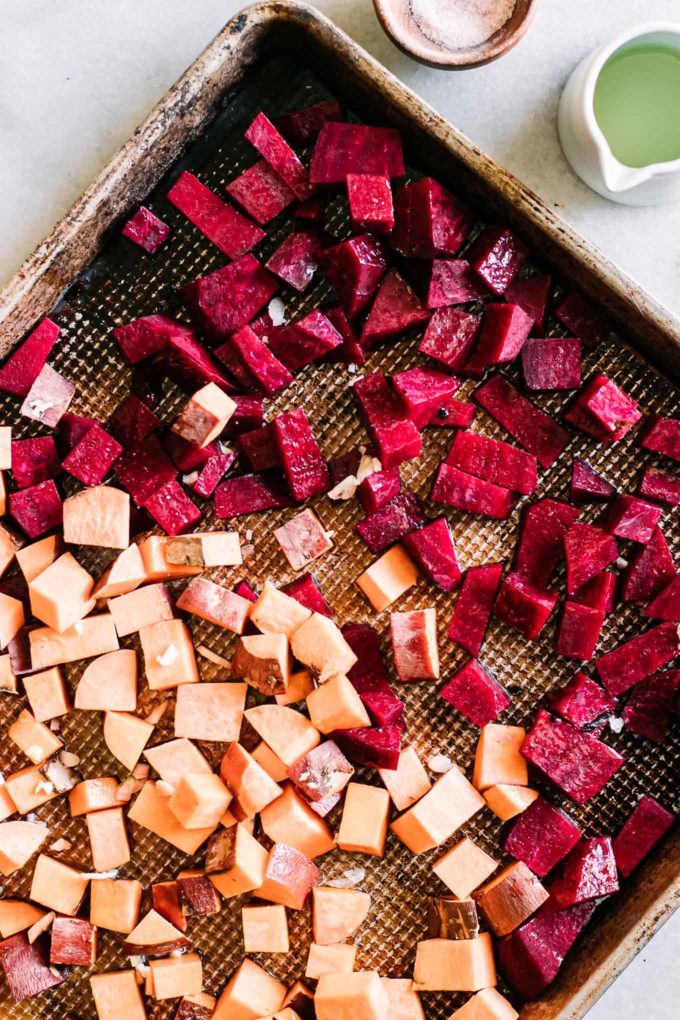 ---
3️⃣ Step Three: Roast until golden brown
Roast the baking sheet with the sweet potatoes and beets until they are golden brown, about 35 minutes. At about the 20 minutes mark toss the vegetables with a spatula to make sure they roast on all sides.
---
❓ Recipe questions + quick tips
Do beets need to be peeled before roasting?
Beets do not need to be peeled before roasting, but they should be washed thoroughly to remove excess dirt and any roots or leaves that may be still attached to the beetroot.
Can you leave the skin on sweet potatoes when roasting?
The skin of sweet potatoes is edible, so you do not need to peel them before roasting. In fact, the skin of sweet potatoes crisps when baked, making for a crispier texture after roasting. However, make sure to wash sweet potatoes to remove dirts and any spuds that may be on the outer surface.
Do beets and sweet potatoes go together?
Beets and sweet potatoes are a classic pairing, so you can definitely roast them together. The mild sweetness of the sweet potatoes pairs perfectly with the slight earthiness of the beets, making them a great flavor combination when served together.
---
🥗 How to serve
There are endless possibilities for serving roasted beets and sweet potatoes! Here are a few of our favorites:
Serve as a simple side dish: Simply roast beets and sweet potatoes together for a sweet and earthy vegetable side dish.
Use them as a salad or bowl topping: Chill the vegetables after roasting and then use them as topping on salads or grain bowls.
Toss them in smoothies: Yes, a sweet potato and beet smoothie is delicious! Add a little plant-based milk for an anti-oxidant punch.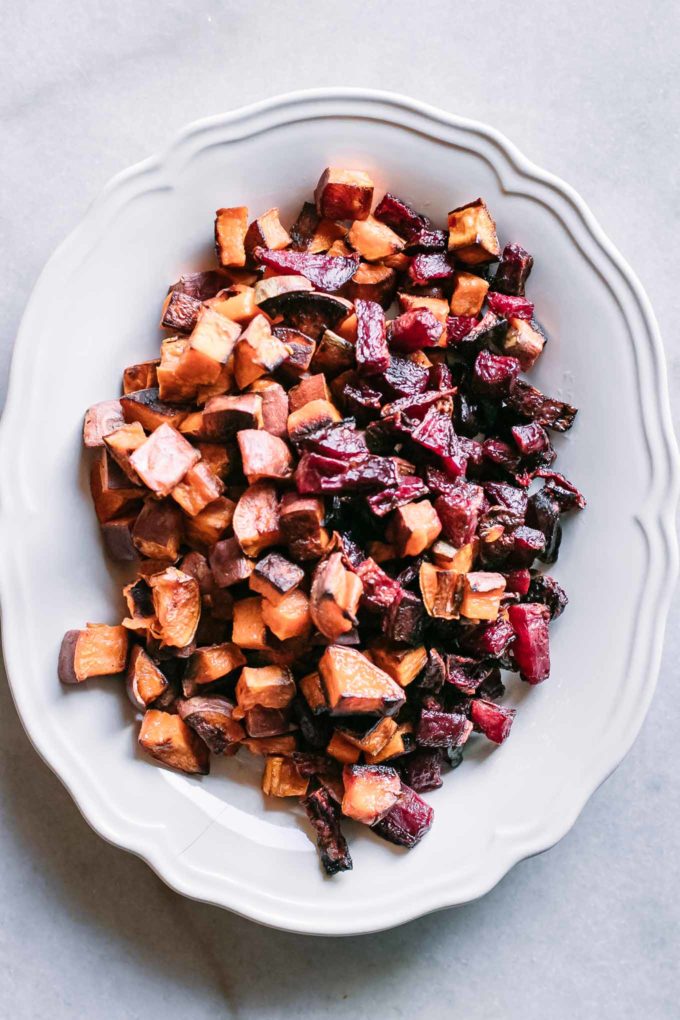 ---
🧊 How to store
Have leftovers? Here's how to store your veggies after roasting:
Refrigerator storage: Store in an airtight container for up to 4 days in the refrigerator.
Freezer storage: Store in a freezer-friendly bag or container for up to 2 months; note that the thawed vegetables may not have the same texture as before freezing, but both beets and sweet potatoes are sturdy vegetables that will not get watery after thawing from frozen.
---
🍠 More roasted sweet potato + beet recipes
Want more roasted sweet potato recipes? We've got you covered:
Looking for more recipes with baked beets? Try our favorite Baked Beet Fries, Roasted Onions and Beets, and Roasted Beets and Brussels Sprouts.
♻️ Want more inspiration for going green in the kitchen? Join the Green Living Community for plant-based recipes, sustainable kitchen hacks, and get our FREE guide to meal planning to reduce food waste!
Roasted Beets and Sweet Potatoes
Roasted Beets and Sweet Potatoes, a simple roasted vegetable side dish combining the sweetness of sweet potatoes with the earthy flavor of beets. A delicious flavor pairing that's perfect as a side dish, salad topping, or even in a smoothie!
Ingredients
2

medium

sweet potatoes

2

large

beets

2

whole

garlic cloves

1

tablespoon

olive oil

1

pinch

salt and pepper
Instructions
Preheat oven: Preheat the oven to 425 degrees (200 C).

Prep vegetables: Wash sweet potatoes and cut into 1/2 inch (1.25 cm) cubes. Cut stems from beets and then peel with a vegetable peeler or small knife, then cut into 1/2 inch cubes.

Roast vegetables: Toss the beets and sweet potatoes on a baking sheet and drizzle with olive oil, tossing the vegetables to completely cover with oil. Sprinkle with sliced garlic, salt, and pepper. Place sheet pan in the oven and roast for 35 minutes, stirring halfway through to roast on all sides.

Serve vegetables: Remove pan from oven, arrange vegetables on a plate and serve as a side dish or cool them and use as a salad or grain bowl topping.
Notes
Tools needed: sheet pan, knife set, cutting board
Prep ahead: Wash and cut sweet potatoes and beets ahead of time to reduce prep time before cooking. If serving cold on salads or bowls, you can make this recipe up to three days ahead of time.
Leftovers + storage: Vegetables should be stored in an airtight container in the refrigerator for up to 3-4 days. For best taste and texture, do not freeze and reheat.
Nutrition notes: Nutrition information is estimated for only ingredients in the recipe, not the additional spice options given. This recipe is a good source of fiber, vitamin A, and vitamin C.
Nutrition
Serving:
1
serving
Calories:
187
kcal
Carbohydrates:
36
g
Protein:
4
g
Fat:
4
g
Saturated Fat:
1
g
Polyunsaturated Fat:
1
g
Monounsaturated Fat:
3
g
Sodium:
178
mg
Potassium:
825
mg
Fiber:
7
g
Sugar:
14
g
Vitamin A:
16076
IU
Vitamin C:
10
mg
Calcium:
57
mg
Iron:
2
mg