Roasted Arugula Chips, a quick and easy way to utilize arugula for a new snack. Keep that almost-forgotten arugula from heading to the compost by turning it into crunchy, healthy chips!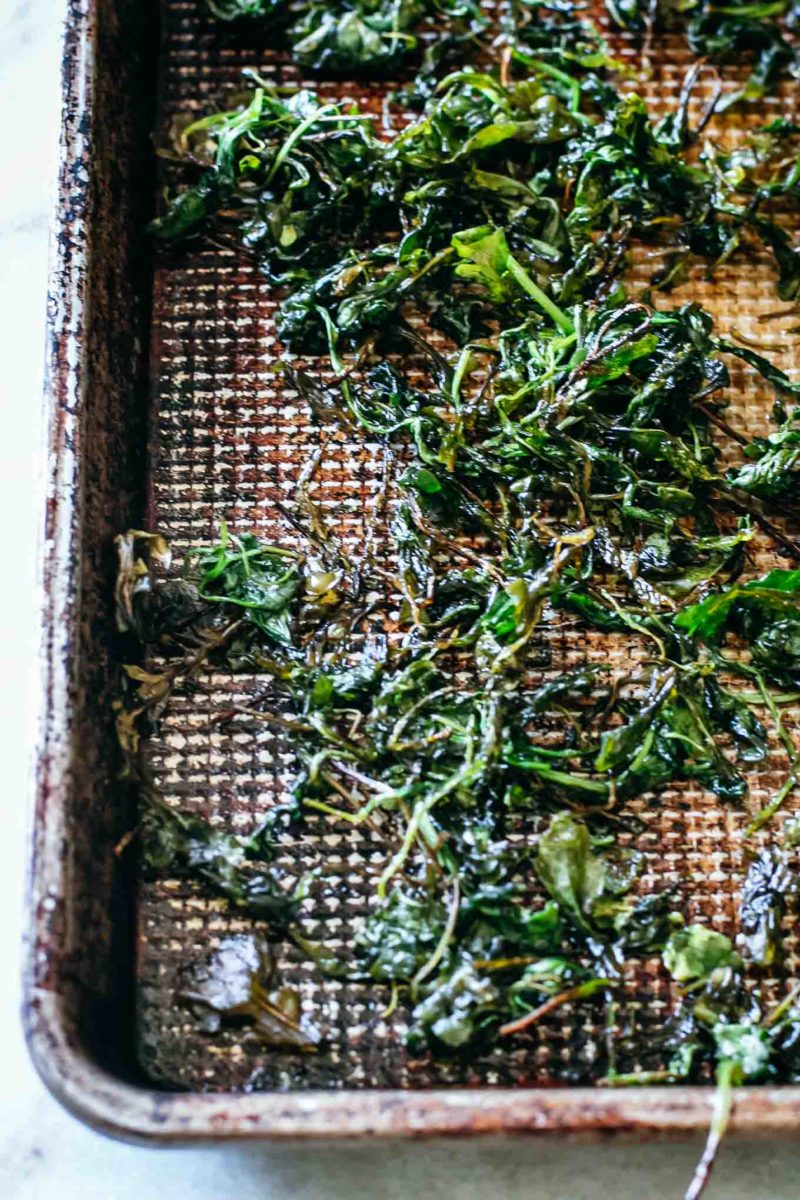 Move over kale chips, there's a new crunchy chip in town: arugula chips! Yes, baking arugula makes them crispy, turning this delicate leafy green into a crunchy topping for salad or even as a snack on its own.
👉 Here are three reasons why you should be roasting arugula into crispy chips:
They are incredibly easy to make. If you've never made your own chips from leafy greens at home, you're over paying for something you can easily make for a fraction of the cost. Just wash your greens, coat them in oil and the spices of your choice, then bake until crispy.
They're tasty. Arugula chips are crispy and light, making them a great topping for salads, soups, or even sprinkled over pizza.
It reduces food waste. Roasting arugula into chips is a perfect way to use up old arugula that no longer looks crisp enough for salad, but still has a little life left in it! Save it from the compost bin with this simple recipe.
Ready to learn how to make chips from arugula leaves? Let's do it!
---
🌿 Ingredients + Tools You'll Need
Arugula: Arugula has a peppery kick that makes for a delicious chip! All you have to do is wash and dry the arugula, then trim the leaves from the stem before roasting them into chips.
Oil: Oil is used to help the arugula crisp in the oven while roasting, giving you the crunch you're accustomed to with fried chips. We make our roasted arugula chips with olive oil, but any oil that has a high smoking point can be used, like canola or olive oil.
Spices: Salt and pepper is used sparingly before baking the greens. Other spices can be added such as garlic powder, nutritional yeast, smoked paprika, or wasabi powder — the possibilities are endless.
Tools you'll need: You need a few kitchen staples to make the leafy green chips including a baking sheet, mixing bowl, and spatula. If you prefer, you can cut your clean up time by tossing the arugula in oil directly on the baking sheet and skipping the bowl.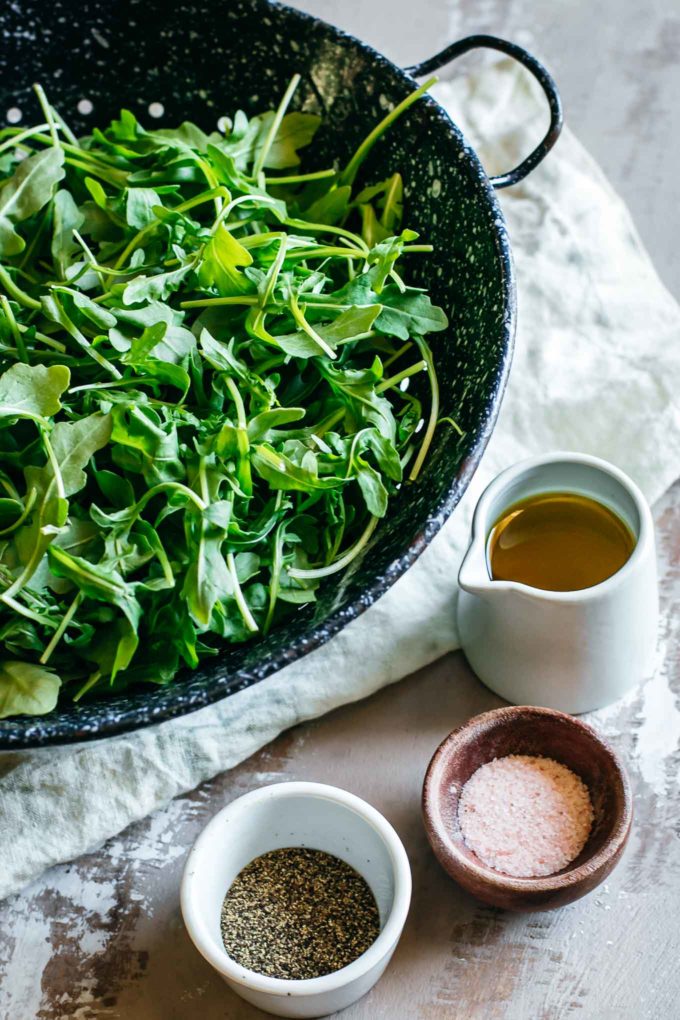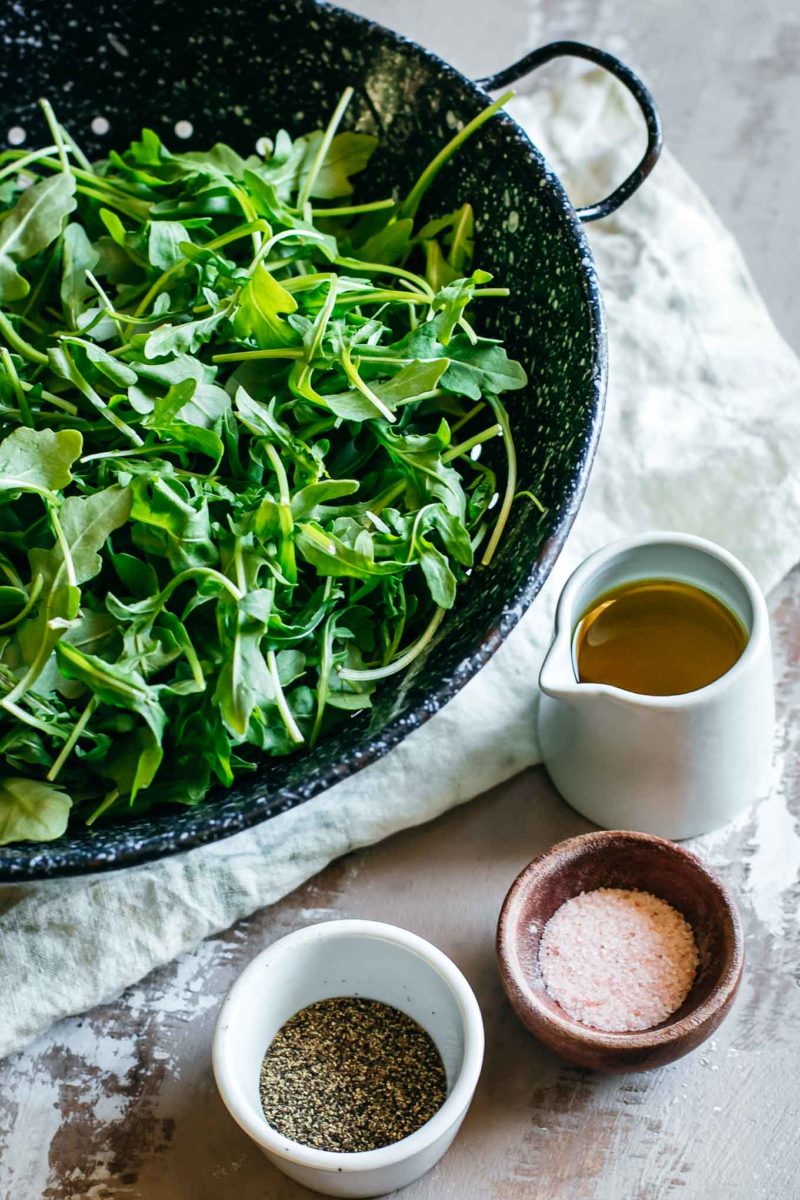 ---
🥣 How to make (step-by-step photos)
1️⃣ Step One: Wash and prep arugula
First, remove the arugula leaves from the stems. We find it best to just pluck them off then compost the stems.
Next, wash and dry your arugula by running under water or swishing in a bowl of water then laying flat to dry on a kitchen towel. Alternatively, you can spin them in a salad spinner. It's recommended that you always wash leafy greens to remove any dirt left from harvesting; then dry so the oil evenly coats your leaves.
If you purchased pre-washed arugula, you can skip this step. However we do recommend buying fresh arugula instead of bagged to reduce plastic waste.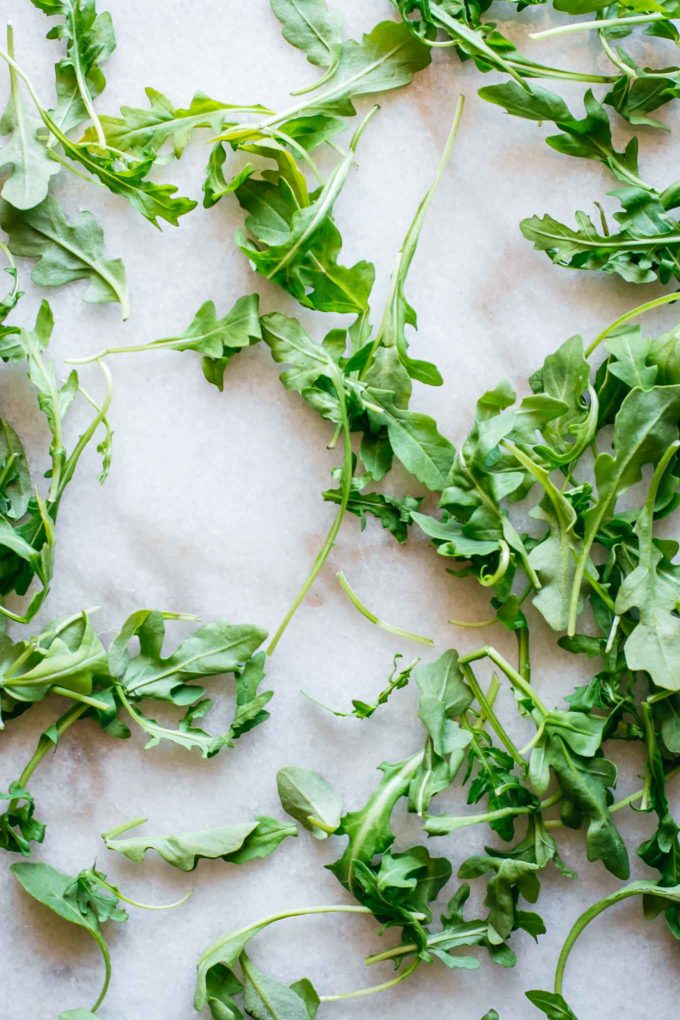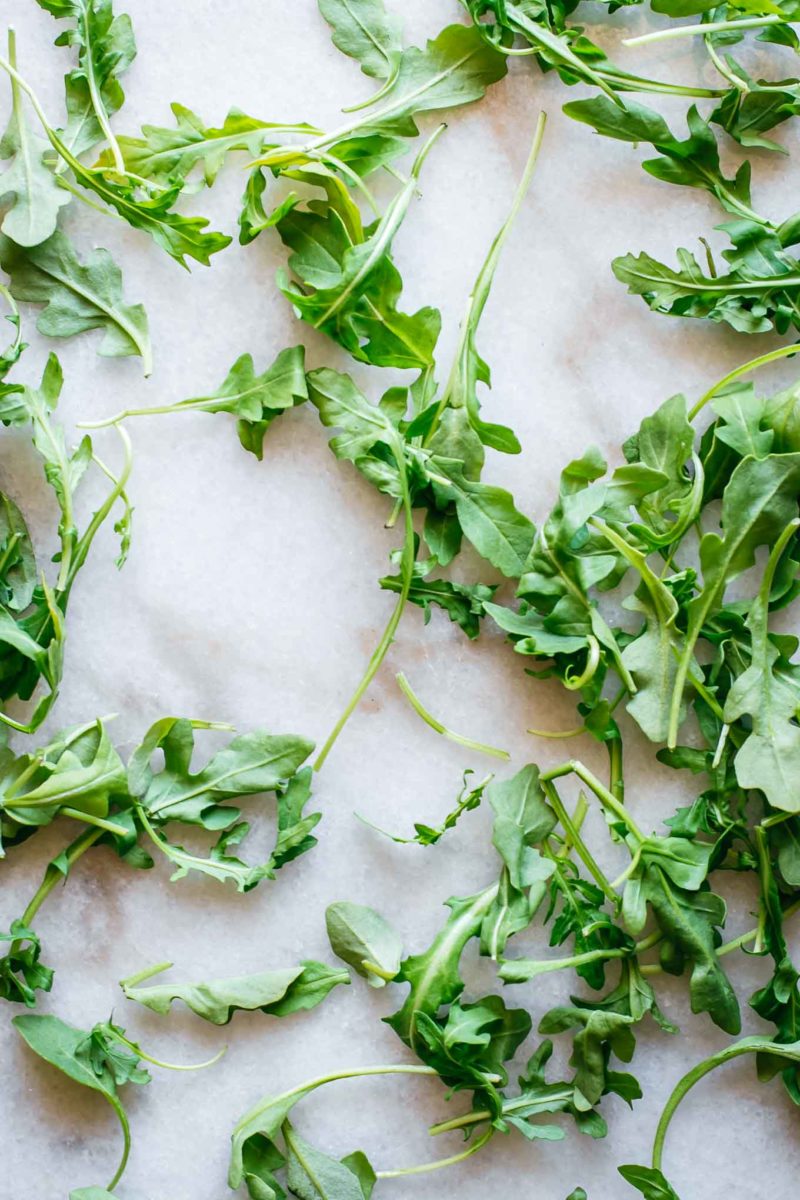 ---
2️⃣ Step Two: Preheat the oven + prep the greens
After your greens are completely dry, preheat your oven to 400° F (200° C).
In a large bowl, add the arugula then massage with olive oil. Massaging the greens ensures they are evenly coated for crispy chips.
Lightly coat your the baking sheet with oil and spread the oiled arugula leaves out. Do not over-crowd them or they will steam instead of roast. Finally, give them a light sprinkle of salt and add any other desired spices.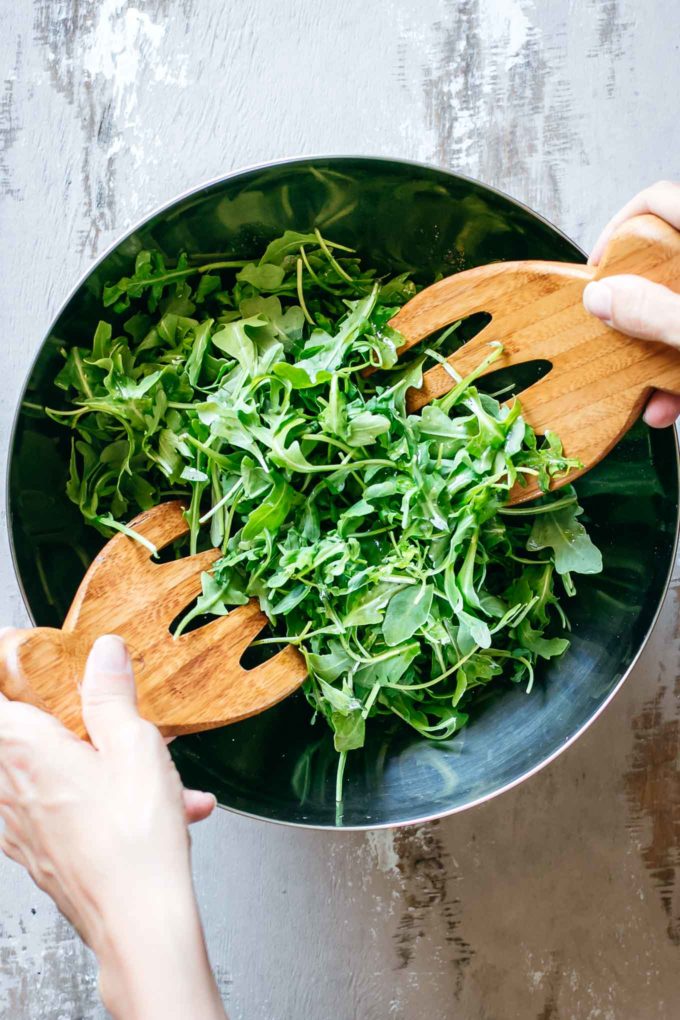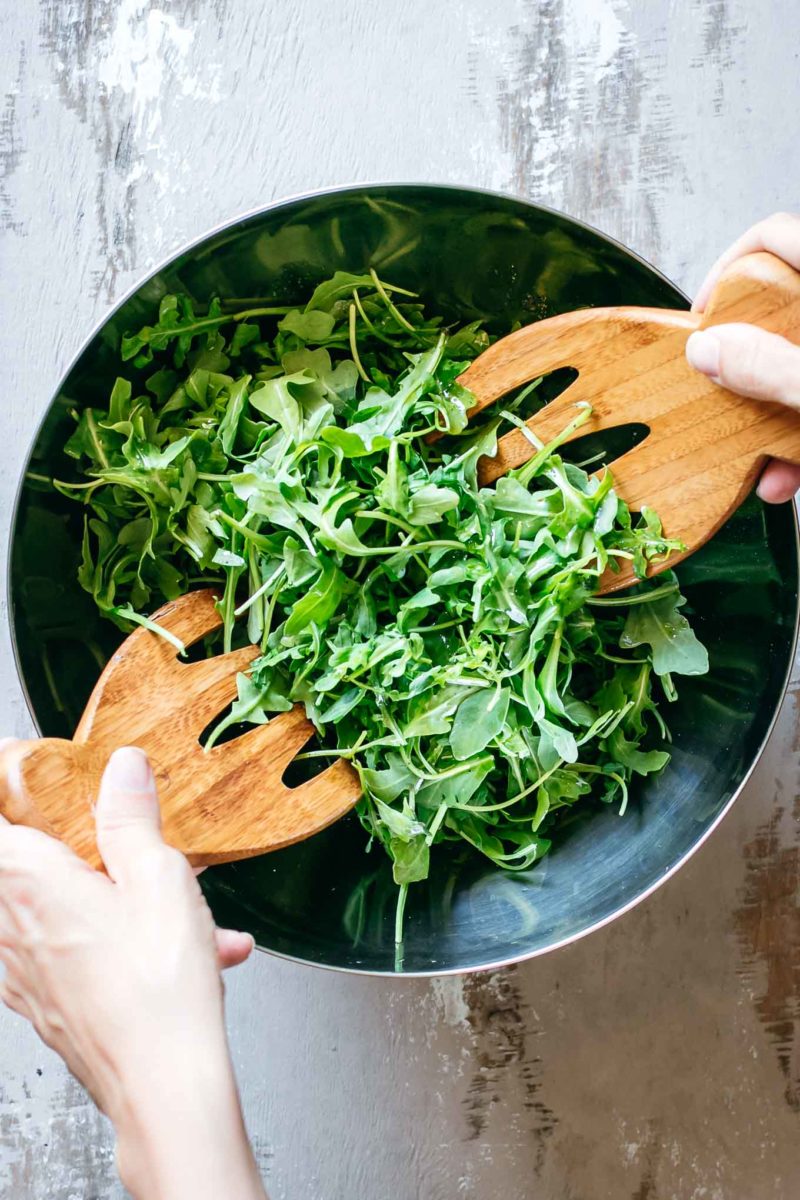 ---
3️⃣ Step Three: Roast arugula leaves until crispy
Place the greens in the oven and roast 8-10 minutes until crispy, ensuring not to burn. Flip them halfway through baking for an even roast.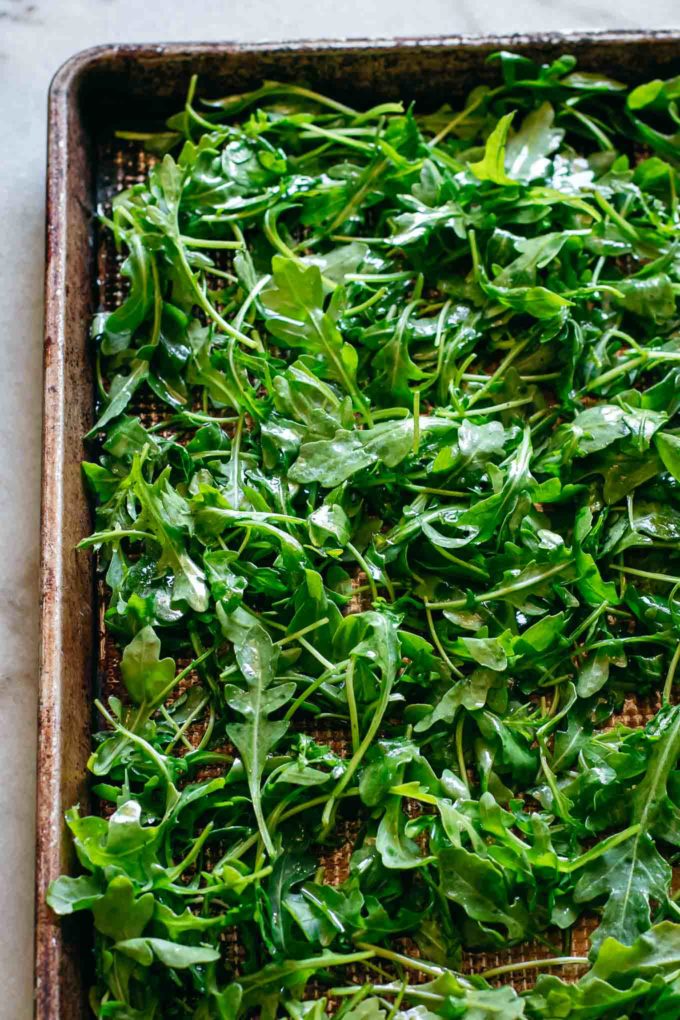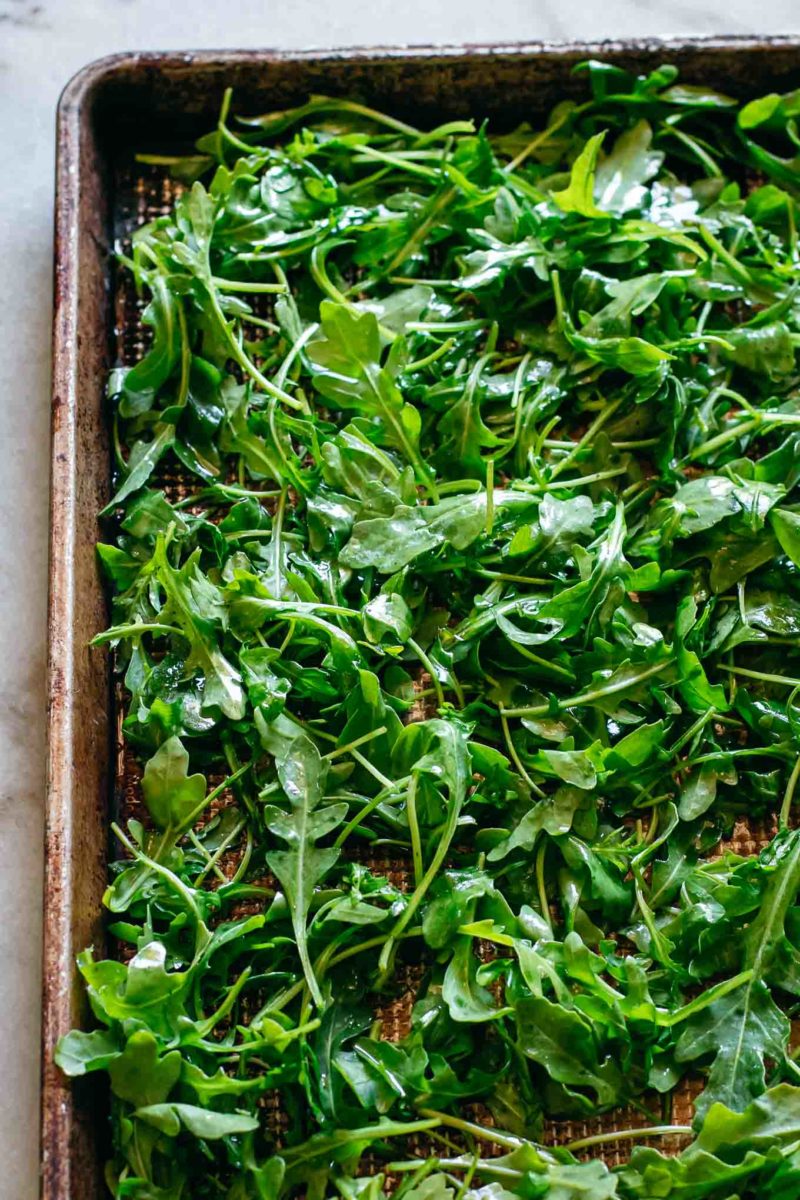 Once they reach your desired crispiness, remove them from the oven and start snacking! We think they taste best when they are still warm and crispy, but you can also store them once completely cooled to enjoy later.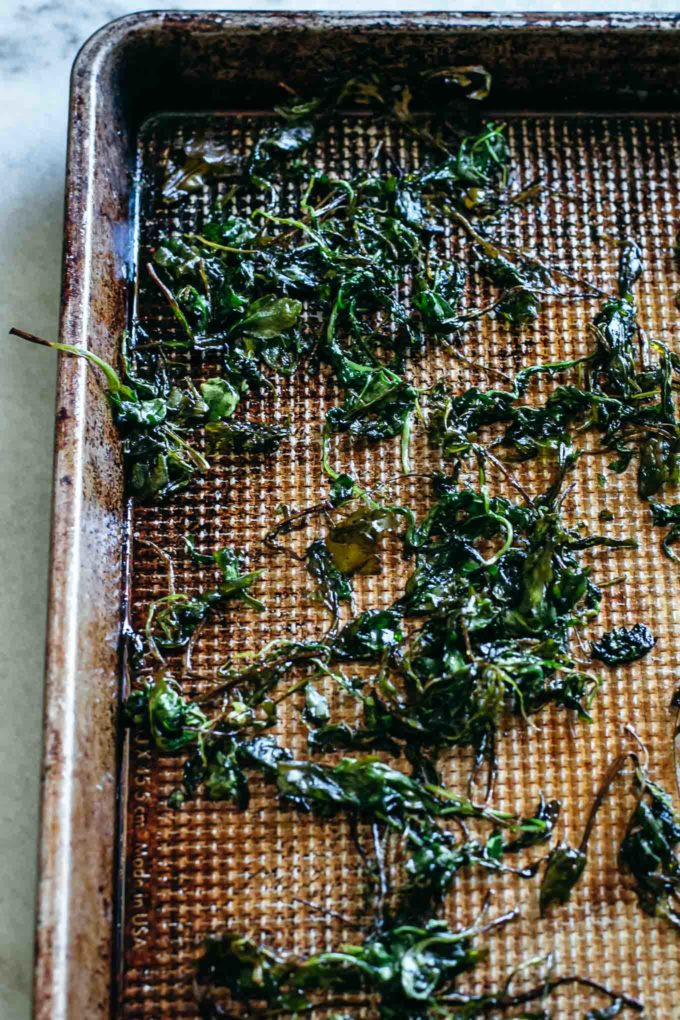 ---
❓ Recipe + arugula questions
Can arugula chips be prepared ahead of time?
While we think the roasted arugula chips are best fresh from the oven, you can wash and prep your leaves ahead of time. Once dry, store them in an airtight container in the refrigerator until you're ready to use them. If you do save some of your arugula chips and find they aren't as crisp, toss them in the oven at a low temperature for a few minutes to remove any excess moisture and re-crisp.
Is arugula good for you?
Arugula is a member of the cruciferous vegetable family — meaning it's related to other vegetables such as Brussels sprouts, broccoli, and cauliflower. One cup of arugula is an excellent source of folate, vitamin A and vitamin C, and is high in fiber and magnesium (USDA Food Nutrient Database).
What can you do with arugula?
Arugula has applications beyond the classic "rocket salad." Use it in salads, soups, and as a sandwich topper or turn it into pesto, wilt it on pasta, add it to pizza, or use it for these delicious roasted "chips."
---
♻️ Sustainable kitchen tips + tools
This recipe is inherently a food waste recovery recipe, but here are a few tips and tricks for making it even more sustainable:
Take advantage of produce in season! Arugula prefers cool climates, so it's peak season is early spring and fall, though you can typically find it year round.
Don't toss the scraps: You can always use scraps, so even if those arugula stems seem minute, toss them in your next stock — or at minimum in the compost.
Skip the pre-prepped: While we're all looking for a way to save ourselves time in the kitchen, purchasing packaged arugula (albeit containers or bags) contributes to the plastic waste. Purchase fresh arugula and wash and dry it yourself for the good of the planet.
---
🌱 More recipes using arugula
Looking for more savvy ways to use arugula? Try these out:
Want more crispy leafy green chip recipes? Try baking Swiss Chard Chips or even Crunchy Beet Leaves Chips. The crispy leaf chip possibilities are endless!
Roasted Arugula Chips Recipe
Roasted Arugula Chips, a quick and easy way to utilize arugula for a new snack. Keep that almost-forgotten arugula from heading to the compost by turning it into crunchy, healthy chips!
Ingredients
4

cups

arugula

4

teaspoons

olive oil

divided

1

pinch

salt and pepper

Optional:

garlic powder, nutritional yeast, lemon juice
Instructions
Wash and prep arugula: Fill a large mixing bowl with cold water and submerge arugula, stirring or moving the leaves around with your hands to make sure as much dirt is removed as possible. Next, remove the leaves from the water and use a salad spinner to remove water and put into a bowl or lay flat to dry (about 15 minutes).

Preheat oven and prep greens: Preheat the oven to 400° F (200° C). To a medium mixing bowl, add dry arugula leaves and 2 teaspoons olive and, using your hands, massage the greens to coat them completely in oil. Add the remaining 2 teaspoons of olive oil to grease a baking sheet, then add oiled greens and sprinkle with salt and pepper. Add any additional desired spices, like a sprinkle of garlic powder, nutritional yeast, or a sprinkle of lemon juice.

Roast arugula: Place the baking sheet into the oven and bake for 8-10 minutes, flipping the leaves with a spatula halfway through baking so they get crispy on all sides. Once they're completely crispy, remove from the oven and eat immediately for best flavor. Enjoy!
Notes
Recipe notes: Cooked arugula reduces to a very small amount when cooked. An entire bag (about 8 ounces) will end up being about 1/2 – 1 cup of baked arugula. Increase the amount cooked depending on how much you will need.
Tools needed: mixing bowl, baking sheet, spatula
Prep ahead: Wash and dry arugula up to three days ahead of time so they are ready to prep for baking when your snack craving hits.
Leftovers and storage: While the flavor and crispiness is best when eaten right after baking, you can store leftover roasted arugula in an airtight container on the counter for up to two days.
Nutrition notes: This recipe made as written is plant-based, gluten-free, nut-free, and is a healthier alternative to traditional chips and crisps.
Nutrition
Serving:
1
serving
Calories:
40
kcal
Carbohydrates:
1
g
Protein:
1
g
Fat:
4
g
Saturated Fat:
1
g
Polyunsaturated Fat:
1
g
Monounsaturated Fat:
3
g
Sodium:
15
mg
Potassium:
74
mg
Fiber:
1
g
Sugar:
1
g
Vitamin A:
475
IU
Vitamin C:
3
mg
Calcium:
32
mg
Iron:
1
mg