Creamy Vegan Roasted Butternut Squash Soup
Creamy Vegan Roasted Butternut Squash Soup, a simple squash soup recipe featuring sage, thyme, and turmeric. A comforting fall favorite that's ready in a pinch!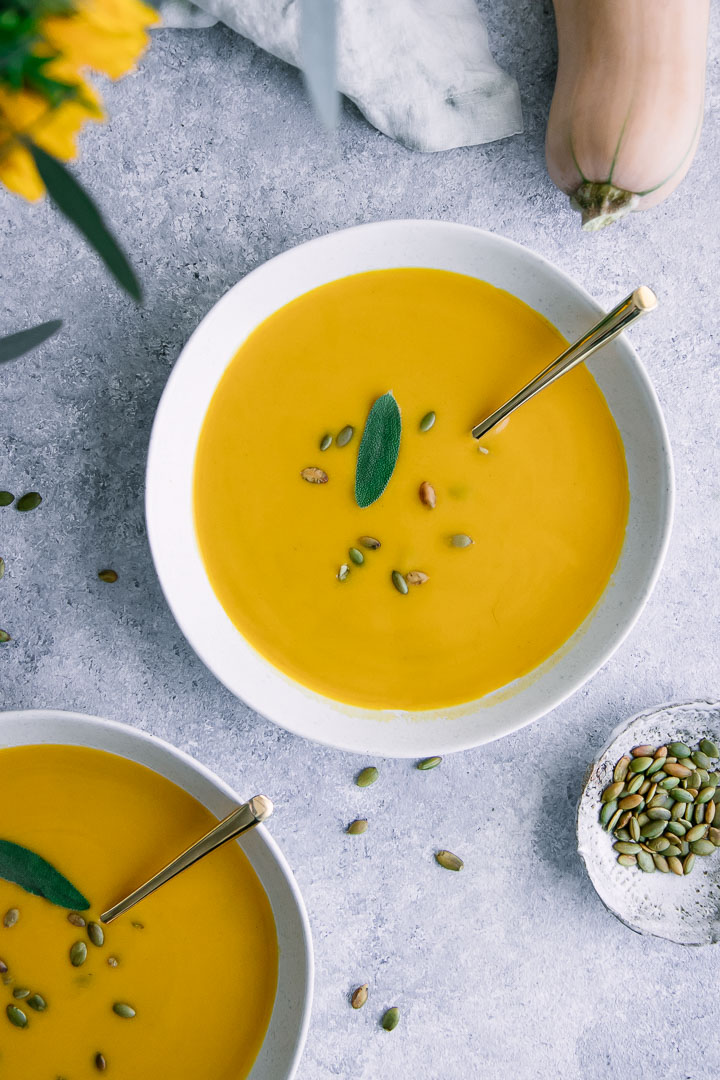 How much do you love butternut squash soup? We absolutely love making soup with flavorful butternut squash during the fall and winter months using this simple 3-step soup recipe that is delicious AND easy. Skip the complicated butternut squash soup recipes and make this one instead!
👉 Here are three reasons why you should make soup from butternut squash:
Ready to learn how to make a creamy plant-based butternut squash soup? Let's do it!
---
🌿 Ingredients you'll need
Veggies, seasonings, and broth are the key ingredients for butternut squash soup. Here's an overview of everything you need to make this recipe: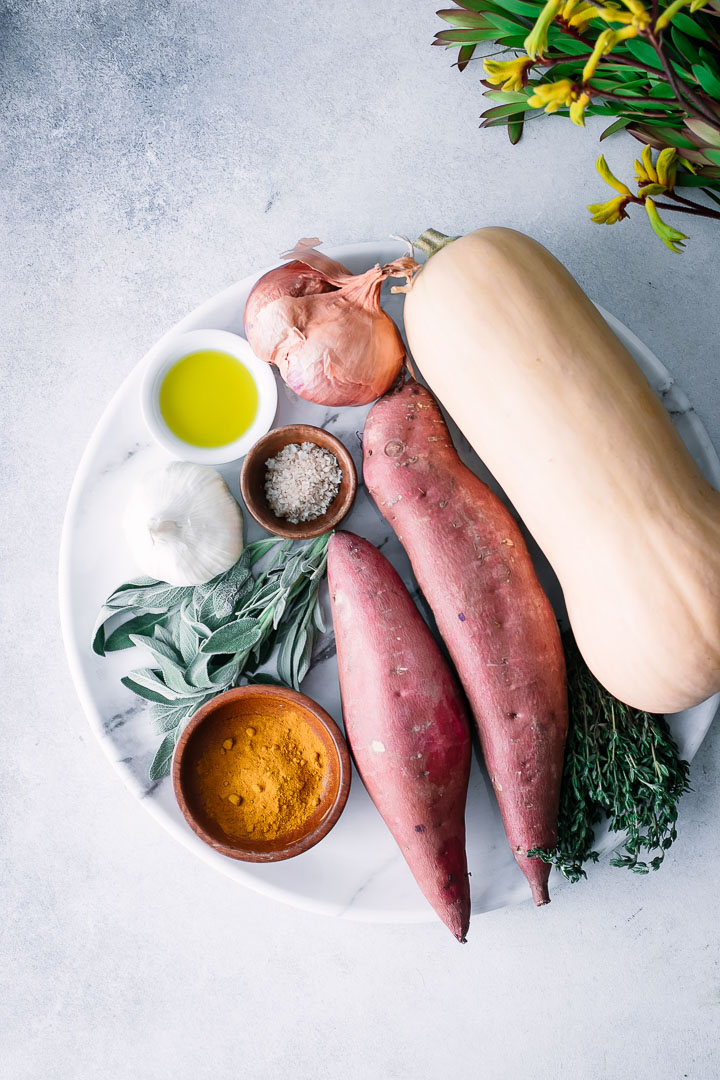 ---
🥣 How to make (step-by-step photos)
1️⃣ Step One: Roast vegetables
First, you need to prepare and roast your vegetables. One of the biggest obstacles to butternut squash soup is peeling and cutting the squash, but it truly is simple with these easy steps:
Using a good quality kitchen knife to cut off the ends of the squash.
Then, peel skin using a vegetable peeler or kitchen paring knife.
Cut squash in half and remove flesh and seeds. Then cut into small cubes.
Once the squash is cut, toss it with olive oil on a baking sheet and roast in the oven at 400 degrees F until golden brown, about 30-40 minutes. This will help cut down on the amount of time needed to boil vegetables until they're soft and will also release delicious deep flavors.
---
2️⃣ Step Two: Simmer the roasted squash with spices
Next, heat 1 tablespoon of olive oil over medium heat in a dutch oven or large soup pot. Add shallots and garlic, cooking until brown and fragrant. Mix in the cubed butternut squash, spices, and herbs and cook for 1-2 minutes to release flavors.
Add vegetable stock and bring the soup mix to a boil, then reduce to a low simmer and cook for about 15 minutes. When the vegetables are softened and soup is fragrant, remove from heat and remove thyme sprig.
Soup timing note: Many butternut squash soup recipes require much longer simmer times, but since you've already softened the vegetables, this step doesn't need to be as time-intensive and only serves to release flavors from herbs and spices.
---
3️⃣ Step Three: Blend soup + serve
Finally, blend the soup until smooth using an immersion blender. Add extra olive oil or liquid if needed for your desired consistency.
Top the soup with your favorite garnish. We love sprinkled fried sage and a drizzle of maple syrup, but you can also try topping with roasted squash seeds or red pepper flakes. If you like a bit of spice with the sweetness of the soup, you can add a bit of chili oil as well.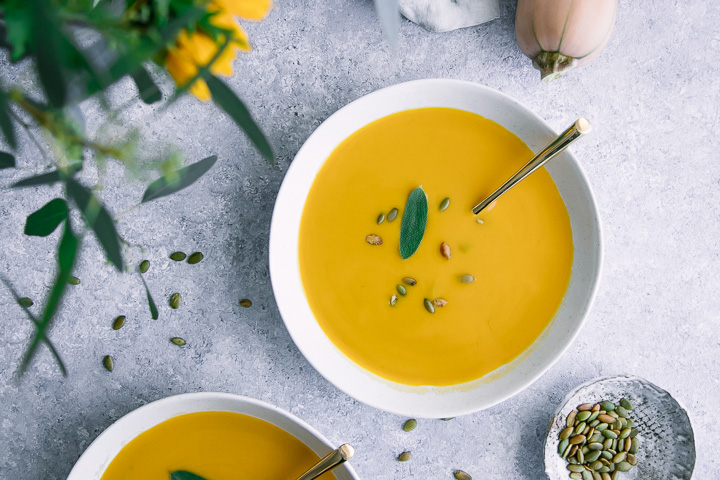 ---
❓ Recipe questions + quick tips
Is butternut squash soup healthy for you?
Yes, butternut squash soup is healthy. Butternut squash is a very nutritious vegetable, as it's packed with vitamins A and C, high in fiber, low in saturated fat, and provides some calcium. We recommend eating butternut squash soup for its health benefits!
What goes well with butternut squash soup?
Butternut squash soup tastes great on its own, but you can serve it along with many other foods. Try it with a light salad on the side, or a serving of roasted vegetables. You could also enjoy the soup along with a sandwich or slice of a baguette, or topped with Homemade Sourdough Croutons.
What can I use instead of cream in butternut soup?
You can simply make butternut squash without using cream! We made this recipe using vegetable broth for liquid, and the step of blending the ingredients together makes it creamy on its own. You can also replace the cream in butternut squash soup with coconut milk, almond milk, or soy milk, which are all plant-based alternatives.
---
🍲 How to serve
You'll never get sick of eating butternut squash soup, especially with the many different ways you can serve it! Here are some ideas to get you started:
---
🧊 How to store
This butternut squash soup is great to batch cook and eat all week, and it freezes and thaws well if you love to stock up on soups for all winter long. Here are our recommendations for how to store it for the best quality:
Refrigerator storage: Keep the soup in an airtight container in the fridge and enjoy within 5 days.
Freezer storage: Store in the freezer for 2-3 months, thawing and reheating to enjoy later.
---
♻️ Sustainable kitchen tips
Want to take your green lifestyle to the next level? Here are some ways to get the most out of your ingredients when making this butternut squash soup:
Make it with whole squash. It may seem easier to buy pre-cut butternut squash in plastic bags, but the wasted plastic isn't worth it. It's much cheaper to buy the whole squash and follow our easy instructions to make soup out of it. Better yet, make the soup while butternut squash is in season near you, which is during the fall months in most of the US.
Save butternut squash seeds for roasting. You need to seed the butternut squash before making soup, but make sure to set the seeds aside instead of tossing them out. You can roast them separately, and make them into a delicious and crunchy snack, or use them as a soup topping!
Add veggie peels to food scrap vegetable stock. Butternut squash peels can be tossed in a make-your-own vegetable broth for extra flavor. At the very least, the peels should be placed in your compost bin.
---
🍜 More simple soup recipes
Craving more autumn-themed soup recipes? Check out our other simple vegan soups using the season's freshest flavors:
Looking for more recipes with butternut squash? Try our Butternut Squash Cranberry Kale Salad or Winter Beet Butternut Squash Salad.
Creamy Vegan Roasted Butternut Squash Soup
Creamy Vegan Roasted Butternut Squash Soup, a simple creamy squash soup recipe featuring sage, thyme, and turmeric. A comforting fall favorite!
Ingredients
2 large butternut squash, peeled, seeded, and cubed
3 whole shallots, peeled and sliced
3 tablespoons olive oil, divided
3 garlic cloves, minced
1 teaspoon turmeric
6 sage leaves, plus more for garnish
4 sprigs thyme sprigs, plus more for garnish
½ teaspoon salt
⅛ teaspoon ground black pepper
1 quart vegetable broth
Optional: pumpkin seeds and maple syrup for garnish
Instructions
Roast butternut squash: Heat oven to 400 degrees. Toss squash with 1 tablespoon olive oil. Roast in oven for 30-40 minutes until soft and golden brown, stirring occasionally brown all sides. Remove and set aside.

Cook vegetables: In dutch oven or large soup pot, heat 1 tablespoon olive oil over medium heat. Add shallots and garlic, cooking until browned and fragrant, 1-2 minutes. Add roasted vegetables, turmeric, sage, thyme, salt, pepper and cook another 1-2 minutes to release flavors.

Simmer + blend soup: Add vegetable stock, bring to a boil, then reduce to a low simmer and cook for about 15 minutes. When all vegetable are soft and soup is fragrant, remove from heat and remove thyme sprig. Blend soup with a small immersion blender until smooth, adding remaining olive oil and additional water/broth if needed until desired smooth consistency.

Garnish + serve: Serve topped with sage, thyme, and optional pumpkin seeds and maple drizzle.
Notes
Leftovers + storage: This simple butternut squash soup is a great make-ahead soup that can be frozen and enjoyed all winter long. Store in refrigerator for up to five days and in the freezer for 2-3 months, thawing and reheating to enjoy later.
Nutrition notes: Nutrition information calculated without garnish. This butternut squash soup is low in saturated fat and sodium, and high in vitamin A and vitamin C. To make it a complete meal, pair with a protein and a fiber-filled side salad.
Nutrition Information
Serving: 1serving, Calories: 187kcal, Carbohydrates: 32g, Protein: 3g, Fat: 7g, Saturated Fat: 1g, Polyunsaturated Fat: 1g, Monounsaturated Fat: 5g, Sodium: 835mg, Potassium: 901mg, Fiber: 5g, Sugar: 7g, Vitamin A: 26943IU, Vitamin C: 54mg, Calcium: 127mg, Iron: 2mg
UPDATE: This recipe was originally posted in October 2018 and updated for clarity in September 2021.
We are participant in the Amazon Services LLC Associates Program, an affiliate advertising program designed to provide a means for us to earn fees by linking to Amazon.com and affiliated sites.