Creamy Vegan Roasted Butternut Squash Soup
Creamy Vegan Roasted Butternut Squash Soup, a simple creamy squash soup recipe featuring sage, thyme, and turmeric. A comforting fall favorite!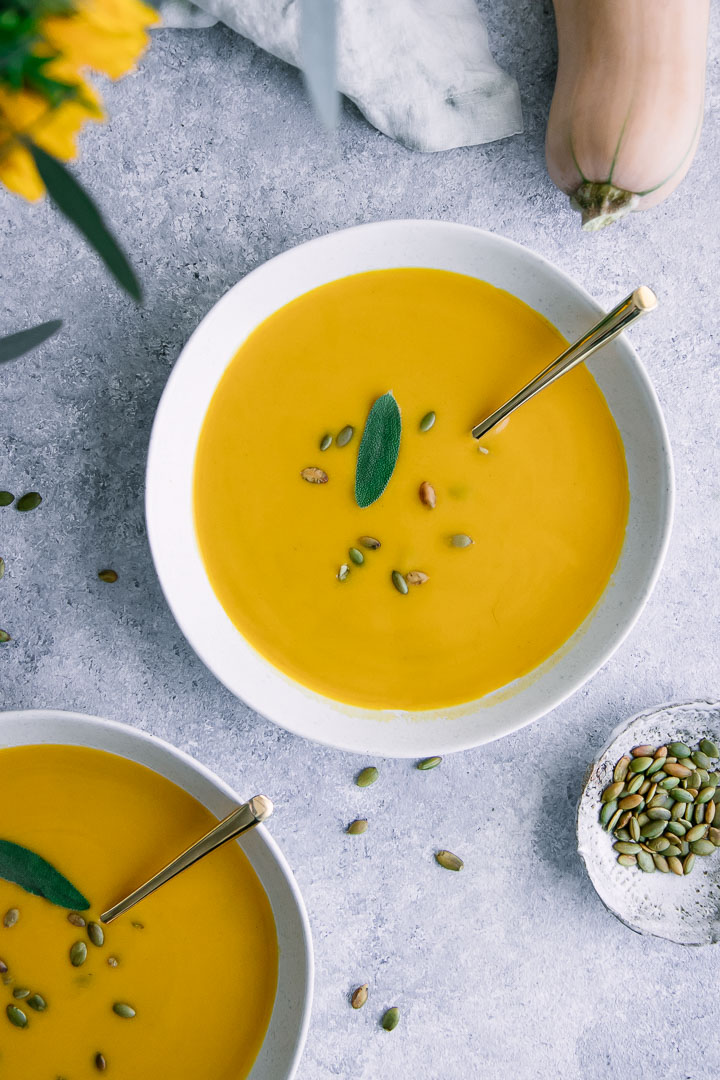 How much do you love butternut squash soup? But how much do you hate preparing complicated butternut squash soup recipes? I feel you, that's why I set out to make the simplest butternut squash soup possible.
We all fan over butternut and other squashes at this time of year, but let's be honest: they can be hard to cut and hard to cook. It may seem easier to buy pre-cut butternut squash in plastic bags, but your environmentally-friendly heart can't justify the wasted plastic, you know it's much cheaper to buy the whole squash, and you know there has to be a simpler way to make squash soup.
Well, I'm here to tell you there is. You don't have to spend an hour prepping vegetables and following complicated multi-step butternut squash soup recipes. Instead, I've created a simple 3-step soup recipe that is delicious AND easy.
Are you ready for the recipe for this easy Creamy Vegan Roasted Butternut Squash Soup? Let's do it!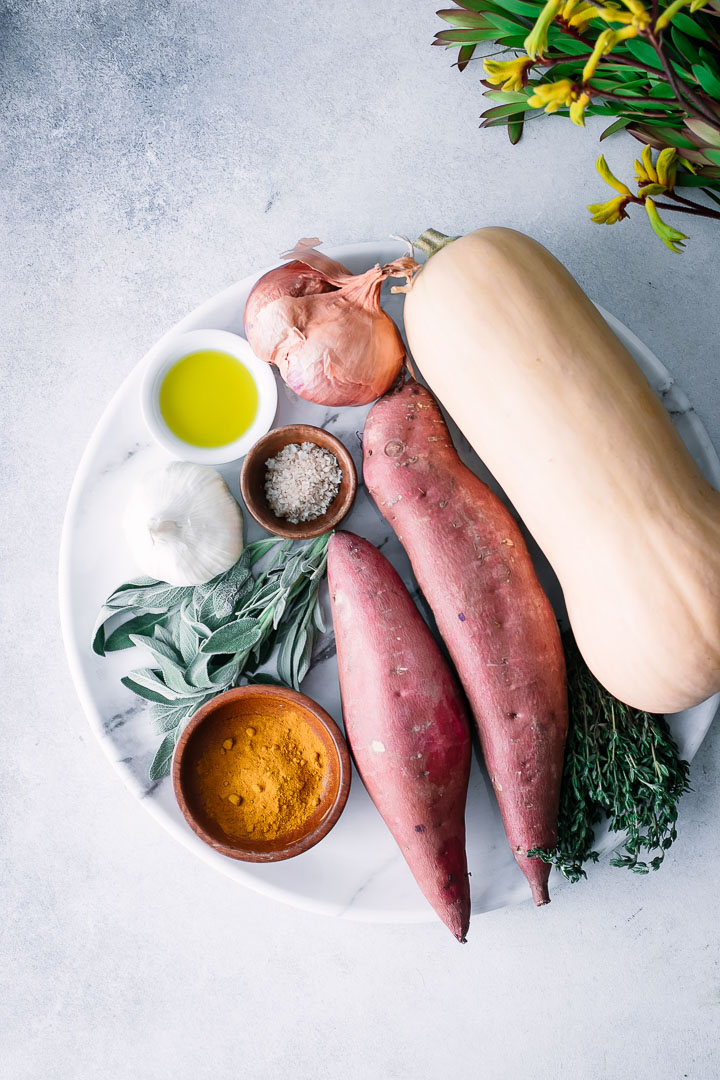 Creamy Vegan Roasted Butternut Squash Sage Soup, as easy as 1-2-3
This simple squash soup recipe involves three easy steps to the creamiest (vegan!) squash soup for the least amount of effort:
Roasting vegetables until golden brown (this softens squash and enhances flavor)
Simmering all ingredients (further softens soup and infuses herbs)
Blending and serving (adding the correct amount of water and oil to get a creamy texture without the dairy)
Each step requires about five minutes of actual active cooking and the rest of the time the soup is roasting or simmering on its own (my favorite kind of dinner recipe).
How to make Creamy Vegan Roasted Butternut Squash Soup
First, you need to prepare and roast your vegetables. One of the biggest obstacles to butternut squash soup is peeling and cutting the squash, but it truly is simple with these easy steps:
Using a good quality kitchen knife, cut off ends of squash.
Then, peel skin using a vegetable peeler or kitchen paring knife.
Cut squash in half and remove flesh and seeds. Then cut into small cubes.
Once your vegetables are cut, toss them with olive oil and roast until golden brown, about 30-40 minutes. This will help cut down on the amount of time needed to boil vegetables until they're soft and will also release delicious deep flavors.
Next, simmer roasted vegetables with garlic, spices, herbs, and broth for about 15 minutes. Many butternut squash soup recipes require much longer simmer times, but since you've already softened vegetables, this step doesn't need to be as time intensive and only serves to release flavors from herbs and spices.
And finally, blend the soup until smooth and top with your favorite garnish. I love sprinkled fried sage and a drizzle of maple syrup, but you can also try topping with roasted squash seeds or red pepper flakes. I love a bit of spice with the sweetness of the soup, so sometimes I add a bit of chili oil as well.
That's it! Making butternut squash doesn't have to be a chore, it's a simple recipe that is almost a "set it and forget it" meal while you go about your day. It's also a great soup to batch cook and eat all week, and it freezes and thaws well for those of you who love to stock up on soups for all winter long.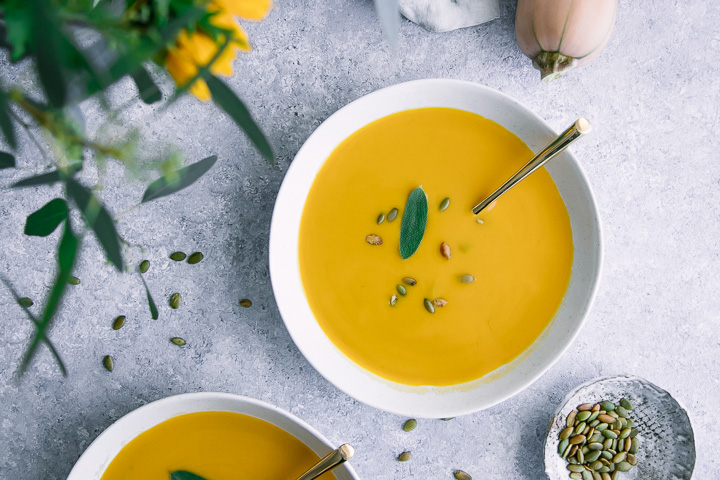 Creamy Vegan Roasted Butternut Squash Soup: Tips, tricks, and tools
This simple healthy winter squash recipe requires little equipment, but there are a few kitchen tools, ingredients, and easy recipe variations I recommend:
A good set of kitchen knives: a good quality kitchen knives set is essential for making prep easy (and safe)
Eco-friendly bakeware: choosing environmentally cookware is key to a building a green kitchen, that's why I love using my eco-friendly baking sheet and dutch oven
Responsible ingredients: in addition to using organic ingredients from farms I know and trust, I love using homemade vegetable scrap broth when possible
Recipe variations: get creative with this butternut squash recipe by adding pumpkin to the soup mix, and topping with pumpkin seeds, fresh herbs like rosemary, or a bit of sour cream and bacon if you're a meat eater
I hope you enjoy this simple gluten-free roasted butternut squash recipe as much as we do! It's the perfect comfort food soup for fall and can even be a great addition to your green Thanksgiving menu!
---
Craving more simple soup recipes? Check out our Roasted Tomato Leek Soup and Red Beet Apple Soup recipes, both simple vegan soups using the season's freshest flavors.
Did you make this Creamy Vegan Roasted Butternut Squash Soup recipe? Leave a comment below and rate the recipe to let us know how it turned out. Save this recipe for later by pinning to your favorite fall Pinterest board and make sure to tag me on Fork in the Road's Instagram to show me your soup creations!
Yield: 6 servings
Creamy Vegan Roasted Butternut Squash Soup
Creamy Vegan Roasted Butternut Squash Soup, a simple creamy squash soup recipe featuring sage, thyme, and turmeric. A comforting fall favorite!
Prep Time 10 minutes
Cook Time 1 hour
Total Time 1 hour 10 minutes
Ingredients
2 large butternut squash, peeled, seeded, and cubed
3 shallots, peeled and sliced
3 tablespoons olive oil, divided
3 garlic cloves, minced
1 teaspoon turmeric
6 sage leaves + more for garnish
4 thyme sprigs + more for garnish
1/2 teaspoon salt
1/8 teaspoon ground black pepper
1 quart vegetable broth
Optional: pumpkin seeds and maple syrup for garnish
Instructions
Heat oven to 400 degrees. Toss squash with 1 tablespoon olive oil. Roast in oven for 30-40 minutes until soft and golden brown, stirring occasionally brown all sides. Remove and set aside.
In dutch oven or large soup pot, heat 1 tablespoon olive oil over medium heat. Add shallots and garlic, cooking until browned and fragrant, 1-2 minutes. Add roasted vegetables, turmeric, sage, thyme, salt, pepper and cook another 1-2 minutes to release flavors.
Add vegetable stock, bring to a boil, then reduce to a low simmer and cook for about 15 minutes. When all vegetable are soft and soup is fragrant, remove from heat and remove thyme sprig. Blend soup with a small immersion blender until smooth, adding remaining olive oil and additional water/broth if needed until desired smooth consistency.
Serve topped with sage, thyme, and optional pumpkin seeds and maple drizzle.
Notes
Leftovers & Storage: This simple butternut squash soup is a great make-ahead soup that can be frozen and enjoyed all winter long. Store in refrigerator for up to five days and in the freezer for 2-3 months, thawing and reheating to enjoy later.
Nutrition: Nutrition information calculated without garnish. This butternut squash soup is low in saturated fat and sodium, and high in vitamin A and vitamin C. To make it a complete meal, pair with a protein and a fiber-filled side salad.
Nutrition Information:
Yield:
6
Serving Size:
1 serving (about 1.5 cups)
Amount Per Serving:
Calories: 172
Total Fat: 9g
Saturated Fat: 1g
Trans Fat: 0g
Unsaturated Fat: 7g
Cholesterol: 0mg
Sodium: 629mg
Carbohydrates: 21g
Fiber: 5g
Sugar: 6g
Protein: 4g
We are participant in the Amazon Services LLC Associates Program, an affiliate advertising program designed to provide a means for us to earn fees by linking to Amazon.com and affiliated sites.