How Primo's Refillable Water Dispenser Reduced Our Kitchen's Plastic Waste
Ditch the single-use plastic water bottles for Primo refillable bulk bottles and in-home water dispenser. Fresh, purified water without the waste!
This post is sponsored by Primo® however as always the opinions are my own.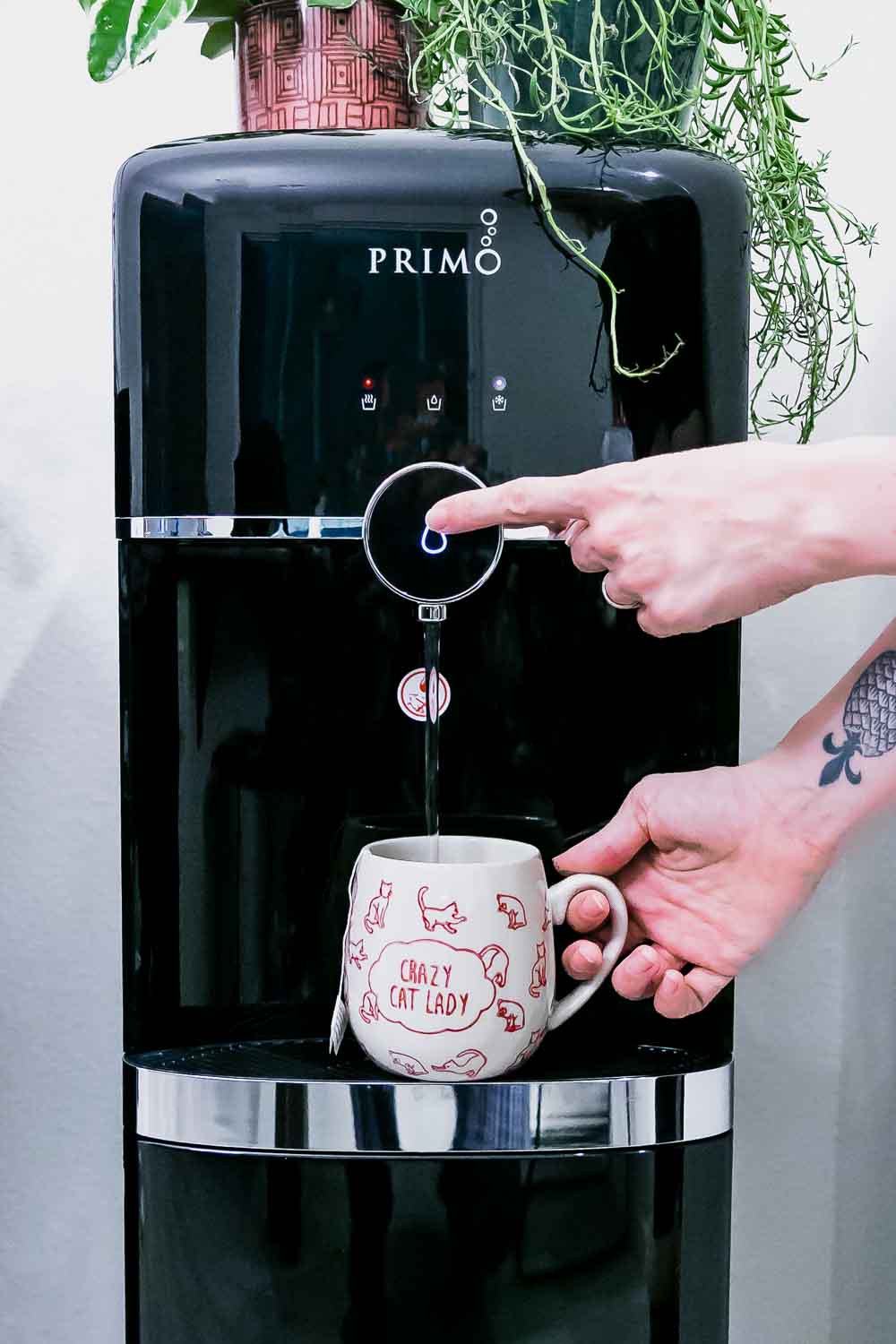 Do you drink water from the tap or do you purchase bottled drinking water for your home? While drinking tap water is the usual eco-friendly recommendation from sustainability experts, for some families — like my own — it's just not possible.
Something I haven't shared before on Fork in the Road is that I have a sensitivity to a compound found in most tap water, which results in extreme dry mouth, watery eyes, and itchy skin. This reaction started about five years ago and was very difficult to diagnose; I saw multiple doctors, and even after taking multiple food sensitivity tests and reaching out to many registered dietitian friends who specialize in allergies, it took me months before I figured out that tap water was causing my symptoms.
Since identifying my issues with tap water, I have only been able to drink bottled water…something that I grapple with internally as we try to reduce the amount of plastics in our home. My solution is that instead of buying jumbo packs of single-use bottles, each week I buy multiple 2.5-gallon water jugs and refill my reusable water bottle each day to minimize the amount of plastic waste.
However, I always knew I could do more and that there are better water systems that provide fresh, purified water in larger, refillable bulk bottles. So I jumped at the chance to partner with Primo Water to show how their 5-gallon refillable water bottles are the perfect solution to reducing waste in the kitchen. Each refillable bottle saves up to 1,100 single use bottles from the landfill — or worse, the oceans.
Reducing plastic waste while staying healthy with fresh, purified water? I'm in!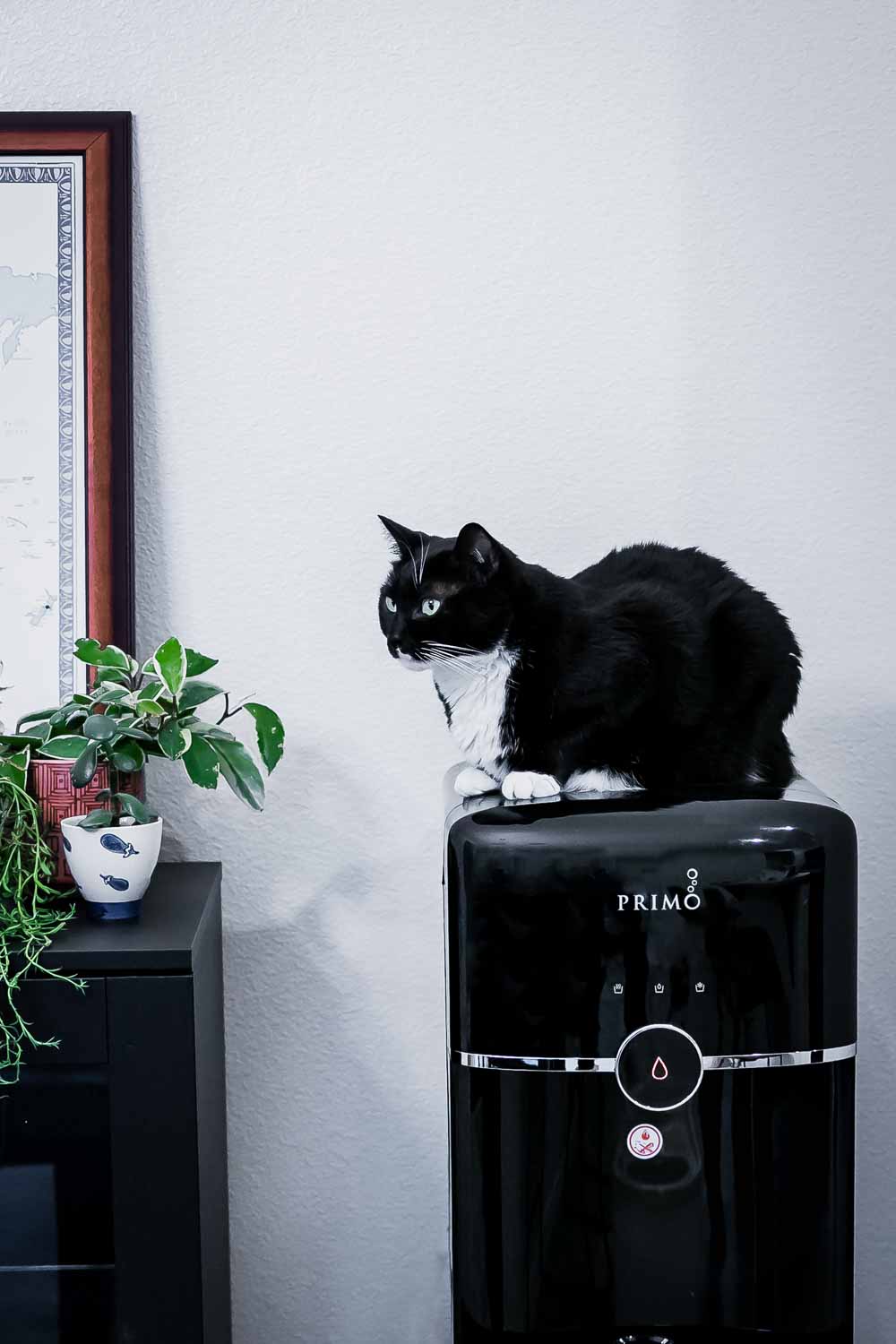 ---
Primo's Water Purification Process — What is Reverse Osmosis?
One important point I was interested in when working with Primo was their process for water purification. My sensitivity is to a compound used in the water treatment process, which means that I've always purchased spring water when possible and my symptoms are more or less severe depending on the local municipality's treatment plan.
Primo Water uses reverse osmosis, commonly referred to as RO, is a type of filtration process. Untreated water, like saltwater or tap water, flows through a semipermeable membrane and carbon filters. The membrane filtration technology enables the water to flow through the filter, but leaves behind salt, chemicals, minerals and other impurities—resulting in highly purified, healthier drinking water that's free from potentially harmful contaminants and also tastes great. The special membrane in reverse osmosis filters out many of the microscopic organisms and heavy metals that are present in drinking water.
Primo Water's Purification Process, removes or significantly reduces the presence of chlorine and chlorine by-products, bacteria and parasites, heavy metals (including lead and mercury), trace levels of pharmaceuticals and many more contaminants.
---
How Primo Water Dispensers Work: Drink Big. Drink Healthy.
The Primo water dispenser consists of a sleek and stylish in-home water dispenser that fits both 3 and 5-gallon refillable water bottles that can be refilled at indoor or outdoor refill stations located in grocery and big-box stores near you. We chose the Smart Touch Deluxe Bottom Loading Dispenser because we wanted the option for both cold and hot water at our fingertips, since we like to enjoy a cup of hot tea every evening before bed.
Once refilled, the bottles are loaded into the bottom loading in-home dispenser and you have both hot and cold purified water at your fingertips to enjoy a crisp, cool glass or a hot mug of water anytime.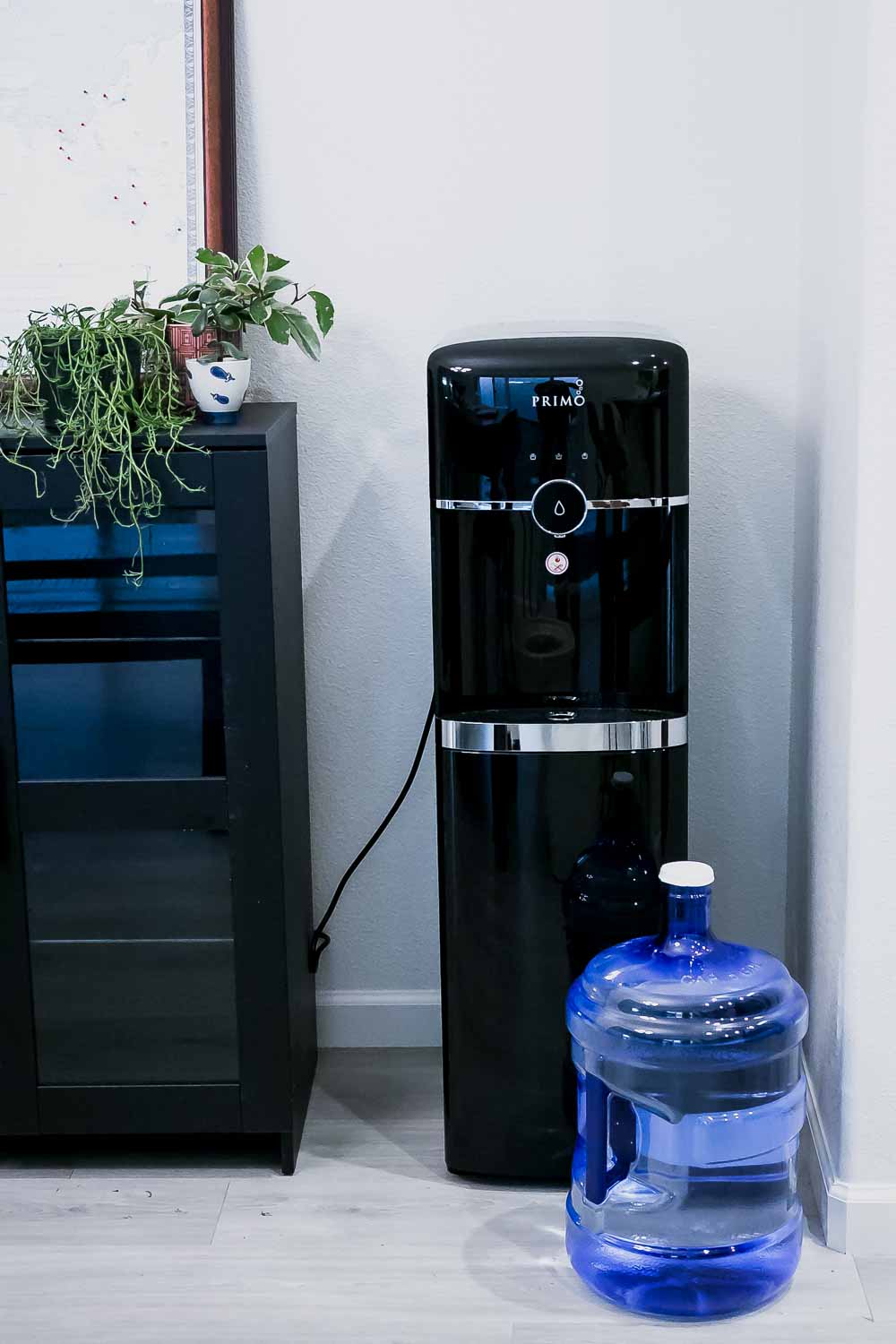 I was hesitant that taking the water bottles to the store to refill would be a hassle, but the refill process was actually surprisingly easy. I was able to locate my local refill station easily from Primo's website, which just so happens to be the Sprouts Farmer's Market that is located less than a mile from our home.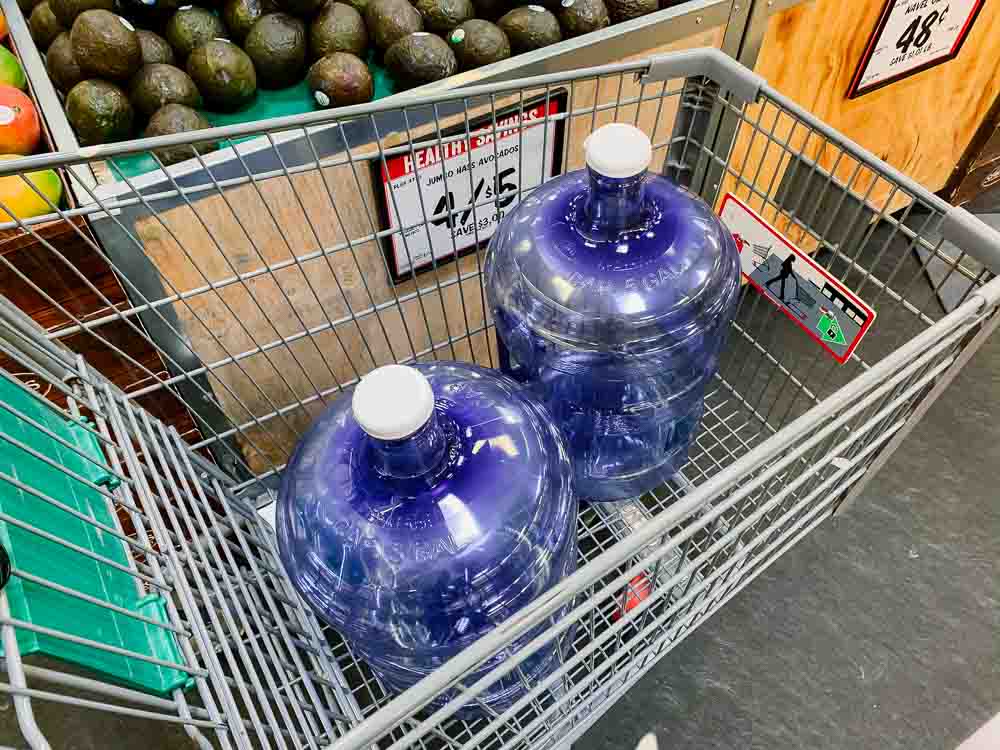 After receiving my empty 5-gallon bottles, I took them with me to the store during my usual weekly shopping trip. Once at the refill station I stuck the bottles inside the small door, chose my water bottle size, and refilled with purified water. I paid for the water right at the station — and the total amount to fill both 5-gallon water bottles was significantly less than buying the 2.5 gallon water jugs I usually buy each week.
When I returned home I loaded up the water bottle into the dispenser by inserting the small filter into place and shutting the dispenser door. After a few minutes of heating up the water, I was able to enjoy a hot cup of tea while putting away the rest of my groceries. It truly was that easy!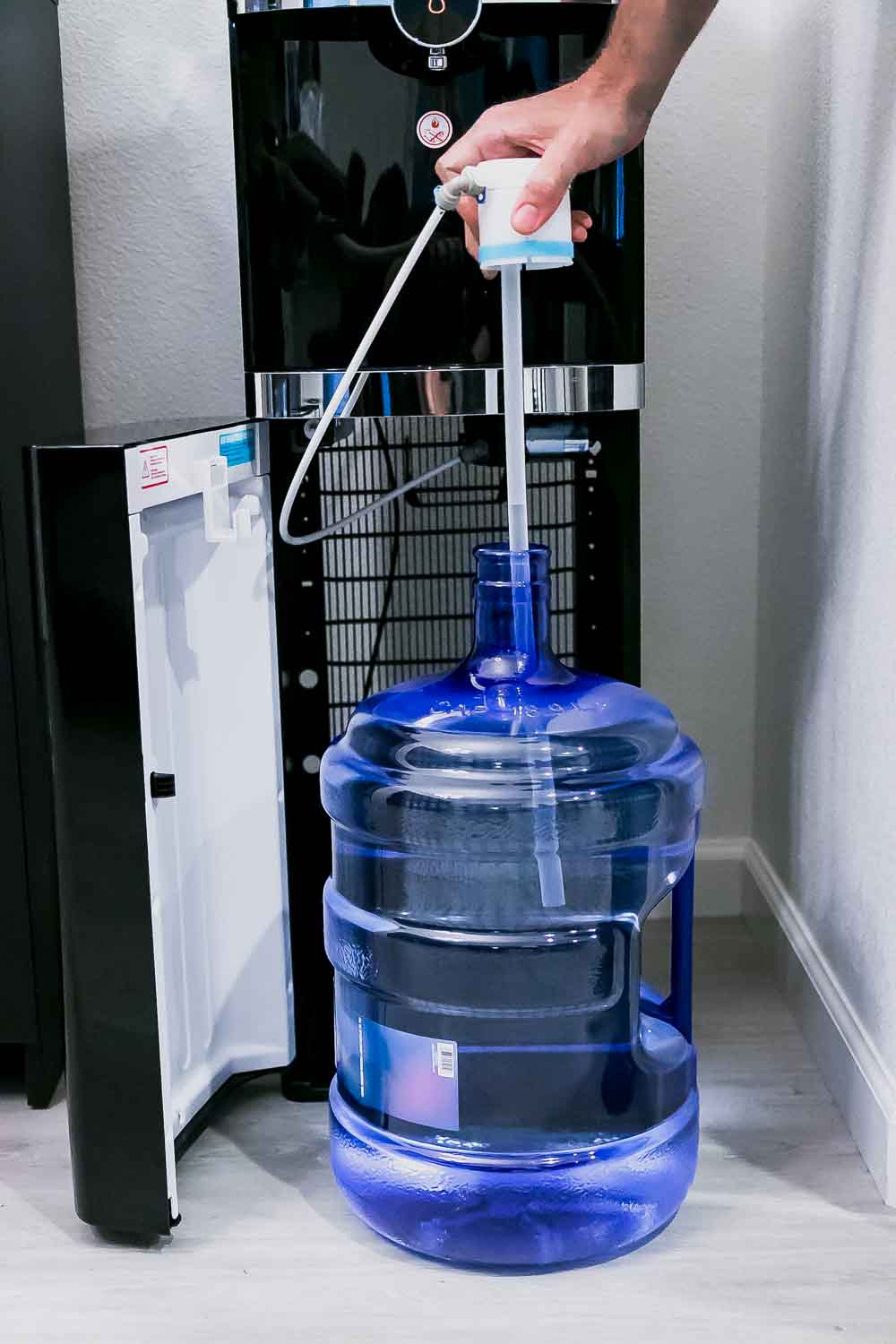 Now after using the dispenser for a few weeks it has completely replaced the disposable water bottles I purchased before and I only have to refill the 5-gallon bottles twice a month. We refill our personal reusable water bottles every day from the dispenser, which means we aren't out buying water last minute. And not only am I purchasing water less often and completely cutting out water bottle plastics, I'm spending significantly less money refilling the Primo water bottles than I was purchasing gallon jugs.
Overall the Primo water dispenser has been a great addition to our green kitchen routine and I feel good that I was able to resolve our water purchasing issues with a refillable option.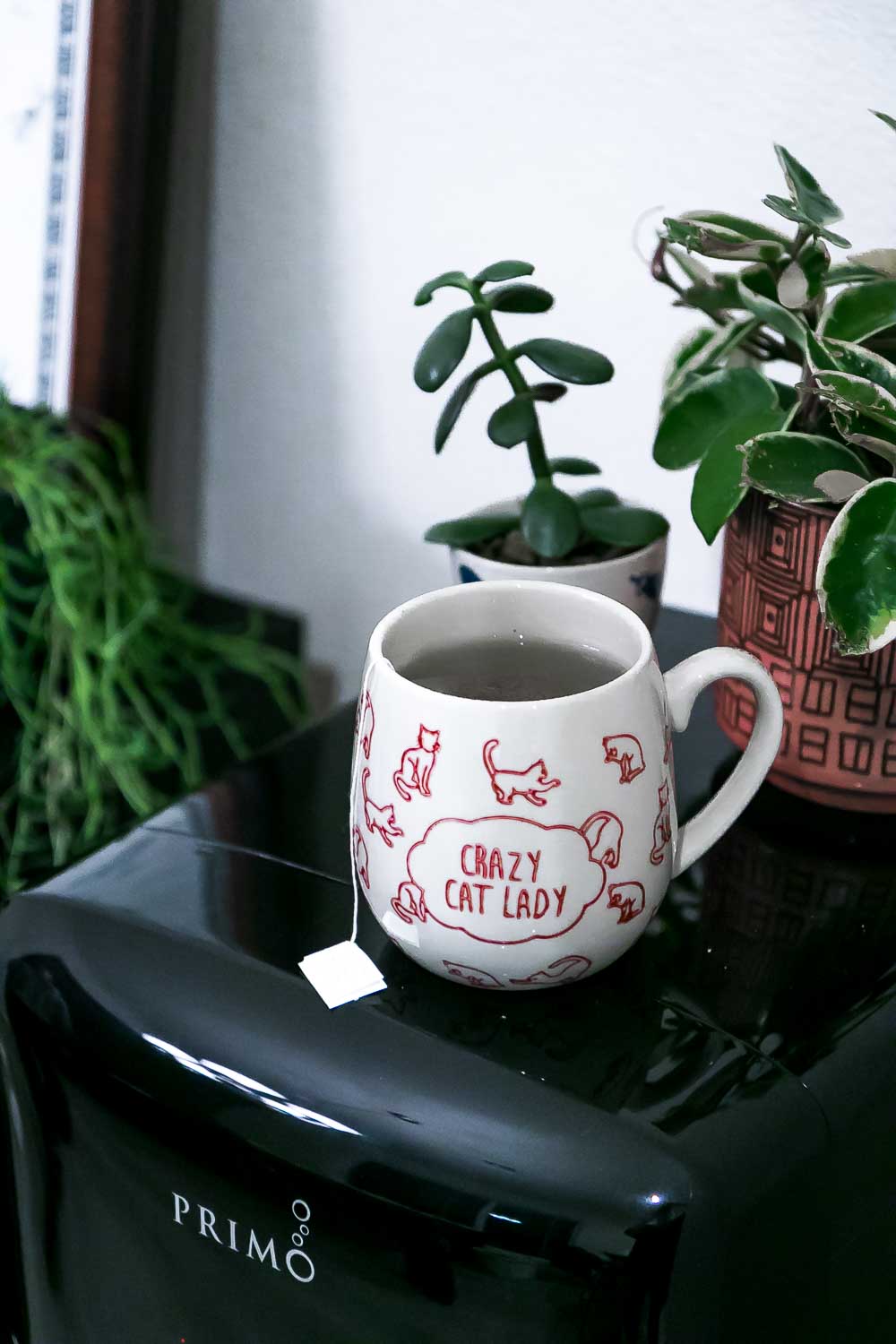 ---
Do you buy water for your home? If so, do you buy single-use or large bottles? If your family is attempting to go green, I highly recommend a refillable water dispenser like Primo to reduce your overall plastic waste.
Want to learn more about Primo Water Dispensers? Head over to the Primo website to receive a 20% off coupon code + free shipping when you sign up for text messaging, and shop dispensers, empty 5-gallon refillable bottles, and non-spill bottle caps. And don't forget to search the closest water refilling stations to you by going to the Find Water section on Primo's website.
---
This is a sponsored post on behalf of Primo.