Plum Apple Wheat Berry Salad
Plum Apple Wheat Berry Salad, a fresh and light summer grain salad with summer fruit, chewy wheat berries and a citrus dressing.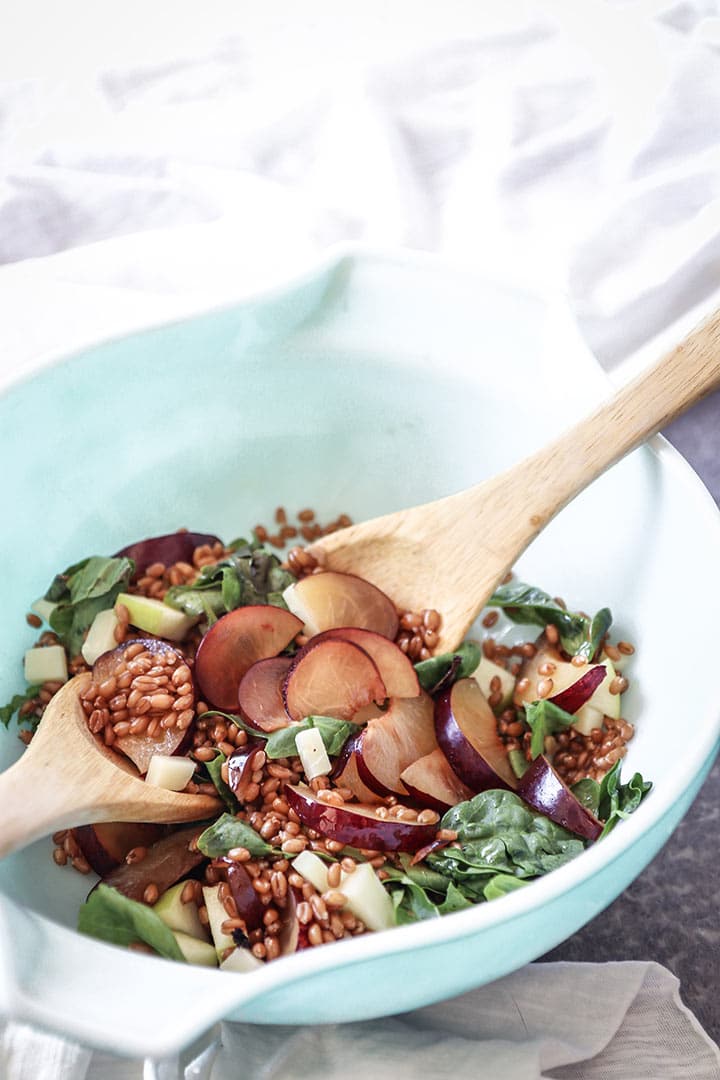 Have you had the pleasure of eating wheat berries? It was only within the last year that I discovered their wonderful chewy texture and grainy flavor, and now I'm hooked. Wheat berries in salads, wheat berries in soups…if there are wheat berries on the menu, you can bet I'm ordering them.
While I love a good grain bowl or salad, I tire easily of the same grains used in every dish (no offense quinoa, but you've had your moment). That is, until I found the grocery store bulk section.
The bulk section the grocery store is my happy place. For years I walked by it without a second thought and headed to the aisles with traditionally boxed staples of pasta, grains, rice, nuts and dried fruits. However, one day I saw a large pre-bagged pound of farro that was less than half the price of the boxed farro and I was hooked.
Leave it to a random good deal to make me realize I was overpaying for dried food staples…for years!
It was this new (to me) discovery of the bulk section that I began experimenting with non-traditional grains. I tried kamut, puffed wheat, amaranth, sorghum, pearled cous cous and many more. But right now wheat berries are having a moment in my kitchen.
Plum + Apple Wheat Berry Salad: Light, Fresh, Delicious
Plums are one of my favorite summer fruits, but you don't often see them used in recipes like you would with peaches and nectarines. While we're drowning in strawberry and cherry recipes (guilty!), plums are over there meekly waving and reminding us that they're here too. And that they're delicious.
With a light taste, I knew plums would pair well freshly boiled wheat berries and the crispy, tartness of green apples. Toss in a few mixed greens for measure (you can never have enough leafy greens, in my opinion) and my favorite homemade citrus honey dressing and you'd think your salad is done.
But no, the addition of the semi-soft and slightly salty Tuscan pecorino is what makes this dish. When the warm wheat berries are tossed with all ingredients the plums release a deeper and more complex flavor, which really takes this salad to a new level.
How to cook wheat berries
Wheat berries can be cooked like any other grain and follow my general rule of thumb for cooking grains:
1 part grain + 2 parts water
boil, reduce to simmer & cover with lid, cook until water is evaporated
Easy enough!
With wheat berries the only difference from other grains like farro, rice and quinoa is that because they are much thicker they require a longer cooking time. Start to finish will likely be around 20-25 and you will know wheat berries are done when they are still firm but chewy (not hard).
Wheat berries al dente!
Can't find wheat berries at your local store? I recommend Bob's Red Mill wheat berries or these organic Palouse wheat berries.
Like this Plum + Apple Wheat Berry Salad?
If you enjoy this Plum + Apple Wheat Berry Salad then try one of my other favorite salads and grain bowls:
Yield: 4 servings
Plum Apple Wheat Berry Salad
Plum Apple Wheat Berry Salad, a fresh and light summer grain salad with summer fruit, chewy wheat berries and a citrus dressing.
Prep Time 10 minutes
Cook Time 25 minutes
Total Time 35 minutes
Ingredients
Salad
1 cup wheat berries
1 cup leafy greens (I used mixed greens)
2 plums, sliced
1 apple, sliced
1 oz soft pecorino or other semi-soft cheese, sliced
Citrus Honey Mustard Dressing
Juice of one orange
Juice of one lemon
1 tablespoon stone ground mustard
1 tablespoon honey
1/8 cup olive oil
Pinch of salt and pepper
Instructions
Bring 1 cup wheat berries and 2 cups of water to a boil. Reduce heat and simmer for 20-25 minutes, or until wheat berries are soft but retain chewiness.
In a large bowl, toss mixed greens, plums, apple and cheese.
When wheatberries are fully cooked, add to salad bowl and toss ingredients with desired amount of dressing (see recipe below).
For Dressing: Add all ingredients to food processor and pulse until well blended.
Notes
Extra dressing can be refrigerated for up to a week.
Tossing the wheat berries in the salad while warm will bring out a nice flavor from the plums and a softness to the cheese than waiting for the wheatberries to cool. Highly recommend this as a warm or cold salad!
Nutrition Information:
Yield:
4
Serving Size:
1 salad
Amount Per Serving:
Calories: 304
Total Fat: 12g
Saturated Fat: 4g
Trans Fat: 0g
Unsaturated Fat: 8g
Cholesterol: 14mg
Sodium: 205mg
Carbohydrates: 44g
Fiber: 6g
Sugar: 23g
Protein: 9g
We are participant in the Amazon Services LLC Associates Program, an affiliate advertising program designed to provide a means for us to earn fees by linking to Amazon.com and affiliated sites.