Welcome to Notes from the Road, a weekly coffee talk series in sharing tidbits on taking the "fork in the road" to live a life less traveled. This week's theme is taking things one day a time when life gets hectic.
Welcome! We're in week three of consecutive Notes from the Road posts and I have to admit this one was hard to get out. I had a pretty busy week and spent the full day on Saturday driving to Sacramento to speak at a nutrition conference, so the last thing I wanted to do was spend more time in front of the computer.
But in the end I knew that writing this posts was a great way to connect with you, so I showed up to do the work and now that I started I wonder why I was avoiding it.
Do you find that you avoid simple things when life gets hectic? I will spend DAYS stressing about a task that will take only thirty minutes to complete and once I finally get it done I realize that I could have prevented myself from a lot of mental anguish if I would have just done the task outright. How many times will I have to make this mistake before I learn?
So that is the theme of this week's Notes from the Road, a little pep talk to get you out of your mind and into action. Let's do it!
1. The theory of 1% infinity
For those who are not in the food blogging world, there is a podcast called Food Blogger Pro that is run by the couple behind the blog Pinch of Yum. The podcast is a great listen for anyone who wants to learn the ins and outs of running a food blog (it's a lot more work than it seems!), but the host Bjork has a great theory for getting things done that I try to keep in mind when life gets crazy: 1% infinity.
[mks_pullquote align="right" width="300″ size="24″ bg_color="#000000″ txt_color="#ffffff"]if you improve 1 small thing, or 1%, every day that eventually you will make huge progress towards a big goal.[/mks_pullquote]The 1% infinity theory is that if you improve 1 small thing, or 1%, every day that eventually you will make huge progress towards a big goal. Whether this is building a business, running a marathon, or even just tackling a long to do list, you have to realize that it is not going to happen in one day. Accomplishing a big task takes time, and even if you just do 1% every day you WILL get there eventually.
This is something I try to remember when I have a million small tasks to do and I feel anxiety creeping in. I try to take a step back, list out everything that needs to get done, and then do one or two things each day. These small tasks may seems inconsequential at the time, but after a week or even a month they add up to something big.
Are you feeling overwhelm creep in? If so, make a list of everything weighing on your mind. Then cross off one or two items a day, no matter how big or small. You'll find the simple act of tackling your to do's will make you feel better overall.
2. What I'm listening to
This week I've been finding time to listen to a few podcasts when I'm picking up the house and doing dishes. One of my favorites lately is Dr. Mark Hyman's Doctor's Farmacy, which is hour long conversations with leading nutrition and health researchers, thought leaders, and journalists. It's a good listen for those who want to learn a little more about the state of American health, health economics, and nutrition research.
3. What I'm watching
With the husband back in town I've had the television stolen from me most nights, but we did make it through the entire first season of Amazon Prime's new series, Jack Ryan. I thought it was very well done, if not a little unbelievable at times (how the main characters are able to end up in the exact spot as the villian every time deserves a little side eye). However overall it was a really good series that is worth your time.
4. What I'm reading this week
I'm still reading the Red Queen series (about to finish book two) but after I finish I may actually move on to another book, as I have a few new novels saved. I did read some really interesting article this week that are great for your weekend morning read:
5. What's happening on Fork in the Road
This week on Fork in the Road we updated the photos on one of our most popular recipes, Roasted Tomato Leek soup…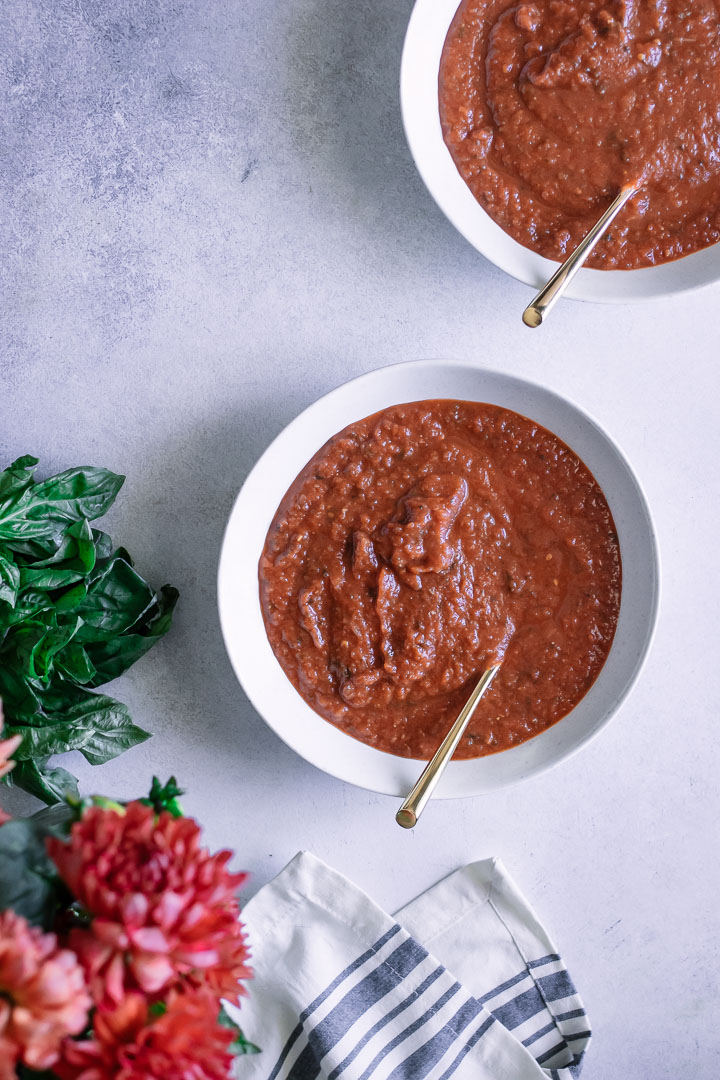 …we also posted of our favorite new recipes, Kimchi Glazed Brussels Sprouts (we've already had it twice this week)…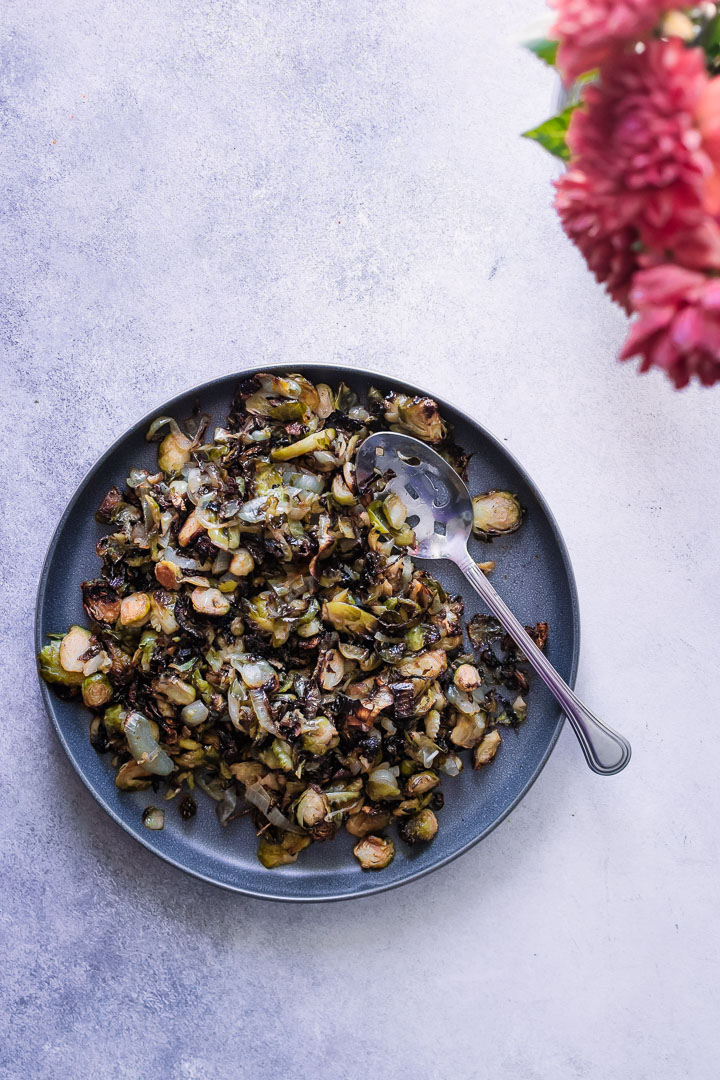 …and we posted a simple Pan Roasted Okra recipe with a paprika–cornmeal dust.
6. What we're eating in the coming week
This week we dug into the blog archives for a few recipes, including our Roasted Rhubarb Brie Sandwich for that last bit of rhubarb before the end of the season…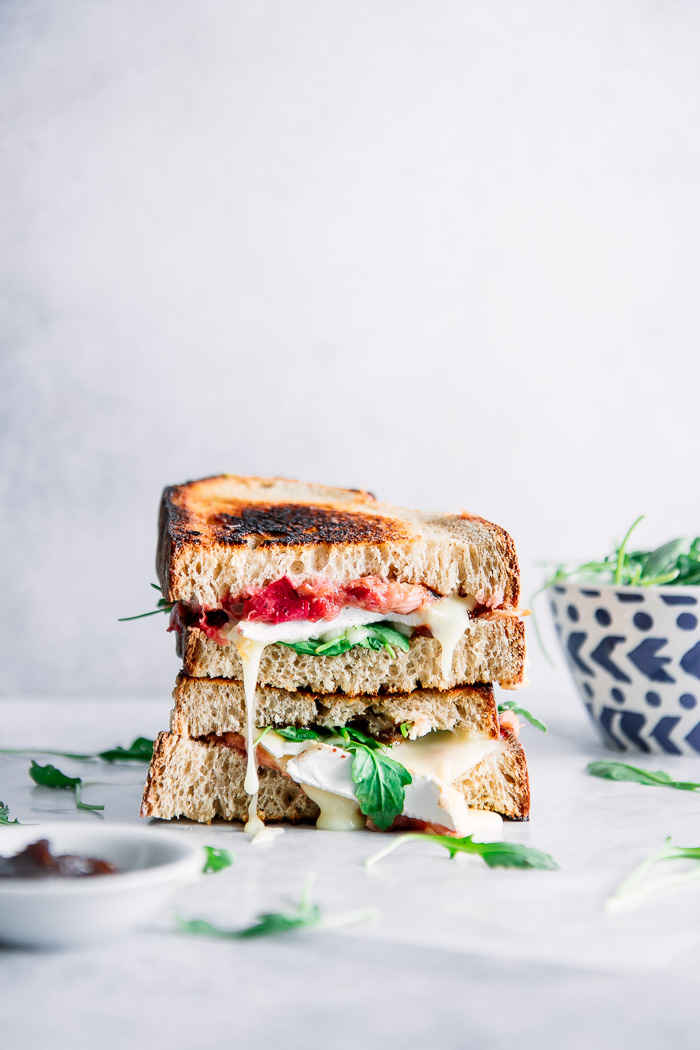 …the husband's favorite Black Bean Corn Farro Salad…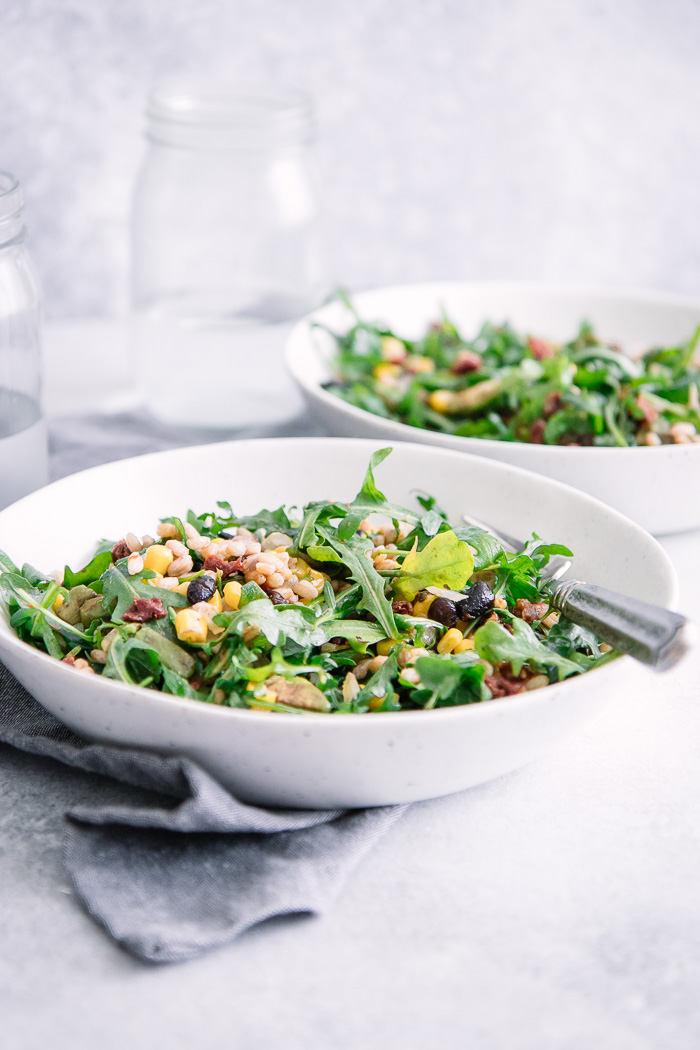 …and Za'atar Crispy Chickpea and Leek Salad, one of our favorite simple grain salads that is perfect for meal prep.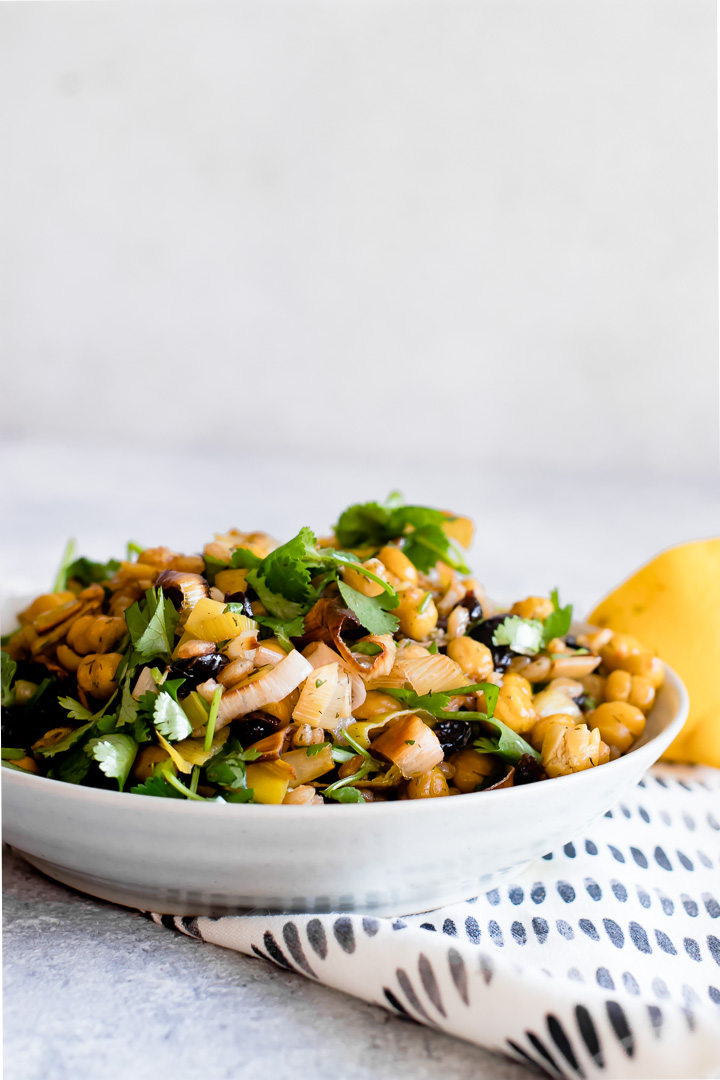 7. What to expect this week on Fork in the Road this coming week
This week may be a little slower on the blog as I'll be traveling for work and will have less time to post on weeknights. But if all goes according to plan, you'll see a simple and sustainable new sauce recipe, an updated carrot and squash dish, and a simple smoky beet dish because I can't get enough of beets lately.
---
Thanks for joining me for this week's Notes from the Road! And let me know, what are YOU watching, listening to, and reading? What are YOU eating this week? And, most of all, I'd love to hear YOUR favorite ways to beat overwhelm and never-ending to do list.