Mushroom Pea Risotto with White Truffle Oil
Intimidated by risotto? Don't be! This Mushroom Pea Risotto with White Truffle Oil is a fool-proof and delicious savory meal for your next pasta night.
Risotto, arguably the most feared of all pastas. I don't know how many times I've heard that risotto is a hard dish to get right, and for a long time I believed it because I've had my fair share of bad risotto.
Before attempting to make the dish on my own, I assumed it was beyond my skill scope. It was a dish I enjoyed only when dining out, a dish that I had to order if it was on the menu because cooking it at home was not an option. However, one thing led to another, I married a man from Italy and I found myself standing over a pot and crossing my fingers.
And you know what? The first version wasn't half bad, and the second attempt was actually pretty great. My lessons that day were:
Sometimes things aren't as complicated as others make them out to be, and…
the only requirements needed for good risotto are patience and strong shoulder muscles.
One thing I've learned from immersing myself in Italian culture is that the simplest ingredient combinations can yield the biggest results.
I tend to overcomplicate things and try to create bigger and bolder flavors, but there are times you don't mess with the classics and strictly adhere to the 'less is more' mantra. I will try to add garlic to any and everything but for a dish like this, with the strong umami of black truffles, mushrooms and pecorino and the tang of lemon juice, sometimes its best to just leave it alone and let the flavors speak for themselves.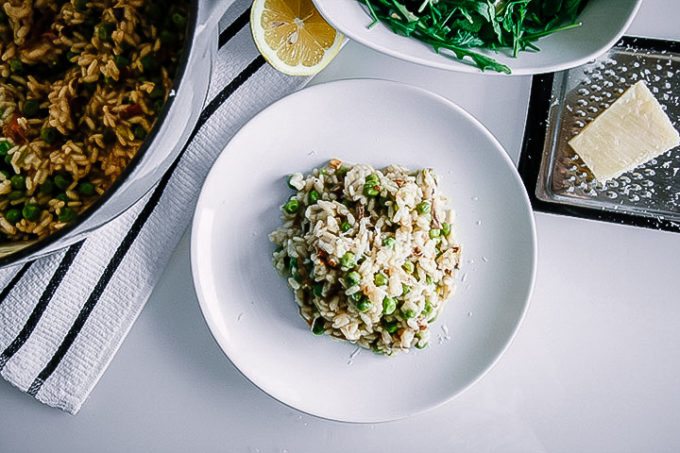 Let's take a moment and talk about truffles.
And not the chocolate kind.
Italians LOVE their truffles, in fact my husband has family members that are known truffle 'hunters' and have dogs trained to sniff out the fungi in the woods of central Italy around his childhood home.
Truffles are a member of the mushroom family and have a strong, distinctive earthy flavor that you either love or hate. There are no 'take them or leave them' opinions when it comes to truffles, and their rarity is what makes them so elusive (and expensive).
There are two types of truffles on the market, black (more common, harvested throughout fall and early winter) and white (very rare, very expensive, and only available in late October through early December). Or you can skip the seasons and cheat by buying an infused truffle oil, as I did for this risotto.
The secret to the perfect risotto.
The characteristics of bad risotto: soft, mushy, flavorless. The characteristics of good risotto: sticky, cooked 'al dente' with a slightly firm texture, packed with flavor.
To get the perfect risotto you must first understand the risotto cooking process.
Risotto rice is a starchy, pasta-like rice that retains its firmness if cooked slowly; it's important to choose the right rice, with carnaroli being the gold standard. The rice is stirred into a pot with other cooked ingredients and a small amount of liquid is added in 1/2 cup intervals and allowed to slowly soak into the rice.
The key is to continually stir and add small amounts of liquid as the rice dries, keeping it moist (hate that word) but not wet. As the rice cooks, it become larger and stickier, and at about the 20 minute mark (give or take a few minutes) you will have a perfectly cooked risotto.
So prepare your shoulder for 20 minutes of stirring; your arm will be sore the next day but it will be worth it.
The only requirements needed for good risotto are patience and strong should muscles.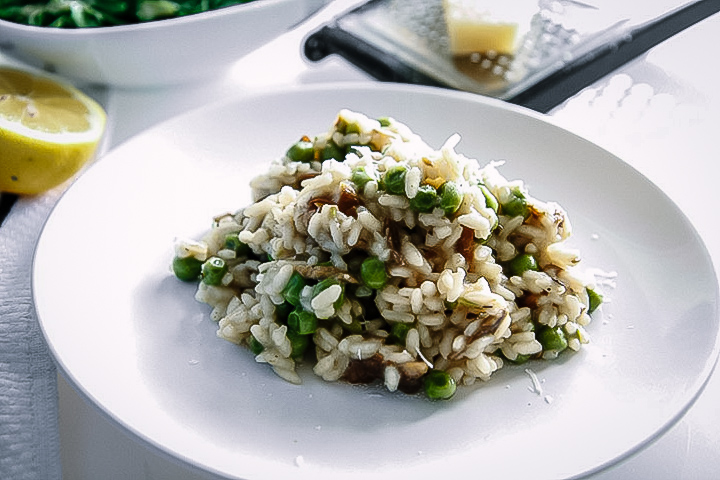 Mushroom Pea Risotto with White Truffle Oil: Tips & Tools
Risotto is a relatively low key dish in that it doesn't require many tools, however the quality of rice is crucial to making a great risotto. Below are a few of my favorite brands to make the best risotto every time:
Like this Mushroom Pea Risotto with White Truffle Oil recipe?
If you like this Mushroom Pea Risotto with White Truffle Oil recipe, try out one of my other pasta my Vegan Fusilli Pasta or Francesco's specialty Pasta con Aglio, Olio é Peperoncino.
Did you make this Mushroom Pea Risotto with White Truffle Oil? Make sure to post your photos to Instagramor with the hashtag #FITRfood. I can't wait to see your creations!
Yield: 6 servings
Mushroom Pea Risotto with White Truffle Oil
Risotto doesn't have to be hard! This mushroom and peas risotto with white truffle oil is as easy and stir, stir, stir.
Prep Time 10 minutes
Cook Time 25 minutes
Total Time 35 minutes
Ingredients
1-1.5 quarts broth (vegetable or chicken) stock
3-4 cups mushrooms (any variety), chopped
1-2 tsp olive oil
2-3 tsp truffle oil
2-3 cups peas
4 cups risotto
salt and pepper to taste
juice of 1 lemon
1/2 cup grated pecorino (or more, pecorino is delicious)
Instructions
1. Bring about 10-12 cups of broth to medium heat in a medium saucepan, with a 1/2 cup measuring cup at the ready.
2. In the meantime, heat olive oil in large pot or dutch oven to medium heat and add mushrooms and peas. Cook 2-4 minutes, or until mushrooms begin to soften and release liquid.
3. Add risotto to pot and stir to coat with vegetables, cooking about 1 minute until rice begins to dry. Then add truffle oil to pot and allow rice to soak up the truffle flavor, about 1 minute.
4. When rice begins to dry, slowly stir in 1/2-3/4 cup warm broth to rice. Continue stirring rice until well coated. The key is to soak but not over-wet rice, allowing rice to slowly absorb liquid.
5. When rice begins to dry again, add more liquid and slowly stir. Keep stirring in small amounts of liquid and stirring rice for about 15-17 minutes.
6. When rice is larger and beginning to get stickier, taste to ensure it is nearly al dente. The finished risotto should NOT be mushy, but have a firmness and slight crunch mouthfeel. When the rice is almost at desired doneness, add pinch of salt, crack of pepper and juice of one lemon. Then stir in pecorino to lightly coat in cheese. Take rice off heat, and serve immediately with a side of lemon and a small amount of grated cheese on top.
Notes
Leftovers, Storage, & Reheating: Mushroom Pea Risotto with White Truffle Oil can be refrigerated and stored for up to five days. When reheating add a bit of stock or water to ensure the pasta does not get dry.
Nutrition Information:
Yield:
6
Serving Size:
1 serving (about 1.5 cups)
Amount Per Serving:
Calories: 578
Total Fat: 18g
Saturated Fat: 7g
Trans Fat: 0g
Unsaturated Fat: 10g
Cholesterol: 31mg
Sodium: 1124mg
Carbohydrates: 78g
Fiber: 17g
Sugar: 20g
Protein: 27g
We are participant in the Amazon Services LLC Associates Program, an affiliate advertising program designed to provide a means for us to earn fees by linking to Amazon.com and affiliated sites.