Hands down the BEST Mexico City food tour! From fried crickets and worms to edible roses, this epic food tour through the historic center of Cuidad de Mexico cannot be missed.
Mexico City surprised me, to say the least.
We've been on a lot of food tours and I can say with 100% certainty that the Sabores Mexico City food tour was, hands down, the best tour I've ever been on.
Let me just preface by saying that I was not compensated in any way for this post, I truly just have to share how amazing the Sabores Mexico Historic Center Food Tour was because everyone should have food experiences like this when traveling.
Our host Sergio was passionate about Mexican food, passionate about Mexican culture and passionate about sharing it with visitors. From the first 10 minutes of the over 4 hour tour I knew I had met a kindred food spirit–he expertly weaved stories of Aztec, Mayan and colonial history into his explanations of each dish, while also making sure to point out the city's beautiful architecture and local jaunts, stores, and hangouts. A food and history buff's dream.
If you ever find yourself in Ciudad de Mexico you would be doing yourself a great disservice by not taking this Mexico City food tour. Seriously the highlight of our trip!
Mexico City Food Tour: Sabores Mexico
Stop 1: Oaxaca en Mexico
The day began at 11am, when we met Sergio at a small restaurant in a nondescript building along a residential street a few blocks from Plaza del la Consitucion Zocala, or the main square in the historic center.
Though in Mexico City, the restaurant serves food typical of the southern Oaxaca region, a place we can all celebrate because it is the home of mole. Mole is an intricate and complex sauce that varies by region, but the most famous version is mole negro. Mole negro is made from a mixture of spices, herbs, dried fruit and cocoa powder, which gives it its distinct black color (read this great article by Lucky Peach on the regional variations of mole).
We tried the restaurant's version over a soft chicken taco, topped with crumbly white cheese. The flavor was a deep, rich mixture of bitter chocolate and a slight sweetness from crushed dried fruit. A perfect first dish, as Sergio described mole's origins and that of the Aztec people.
Stop 2: Mercado de San Juan
After a short walk through a few neighborhoods we were led to another nondescript building that housed a huge indoor market–you would never have known from the outside that some of the city's best food was within. The Mercado de San Juan housed not only a huge seafood market but also many restaurants, coffee shops, produce stands and everything in between. We spent a good 1.5 hours within those four walls trying everything from boar, to rose petals, to cricket salsa. Yes, cricket salsa.
Don't trust us? Well, Bon Appetit Magazine agrees. So don't miss it!
Here are some highlights of our market stops:
BEEF TONGUE & MOZZARELLA TOAST AT DELICATESSAN LA JERSEY GOURMET
After touring the butcher shops and braving the yelling of fishmongers, we were met with a glass of wine and had our first foray into the untraditional. We smashed into a small seating area and were served two bruschetta-like pieces of toast-one with a Mexican take on mozzarella cheese and the other a cut of beef tongue.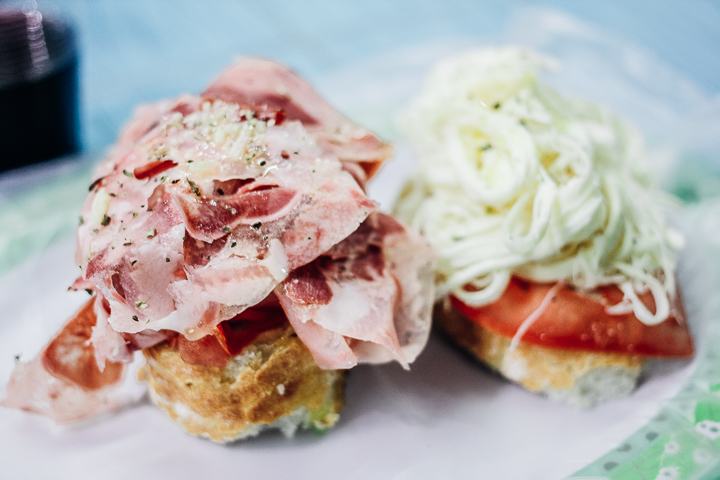 I went into the tour knowing there would be food I wasn't familiar with and likely food I wasn't so hot on trying, but I also knew that sometimes in life you must bite your tongue…I mean, eat beef tongue…and smile about it.
It was tasty, a bit fattier than my palette prefers but overall wasn't hard to get down.
WILD BOAR PARCHMENT POUCH WITH SALAD AND FRESH TORTILLAS AT EL GRAN CAZADOR
The next stop within the market was a small restaurant with one table and four chairs. We were promptly served a beer and a meal of braised wild boar, a salad and fresh tortillas. There was a smoky rub on the boar that was outstanding, the meat was very tender and the tortillas were so fresh they nearly melted in your hand.
We were also given a lesson the many different varieties of chilies used in Mexican cuisine and walked by a small cafe serving snake and tarantulas, which were live and ready for you.
FRIED CRICKETS AND MEAL WORMS
When we entered the market one of the first things that caught my eye was a scorpion plated with colorful sauces and fresh vegetables. I had a feeling that our tour may have included a dish of insects and I was not mistaken. After our plate of relatively tame wild pig, we found a small shop displaying large platters of fried crickets and worms of all sizes.
I was a bit apprehensive (Francesco flat out refused at first) but also knew that if I didn't try them now, then how could I call myself an adventurous traveler? When in Rome…you eat fried bugs, apparently. So as Sergio explained that fried insects have been a staple in traditional Mexican diets for hundreds of years, I built up the courage to chew on the critters.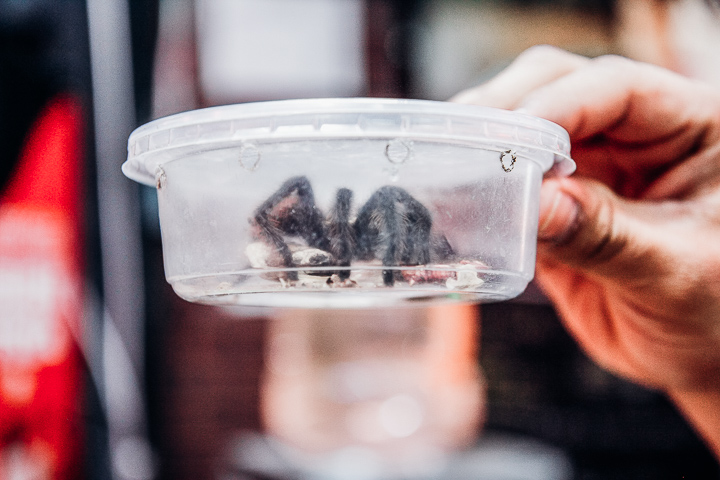 Eventually I decided to stop being a baby and tried one of the smaller varieties, which were pan fried in salt and lime juice. They were definitely crunch and salty, almost like a potato chip. After the initial weirdness wore off I decided to be very brave a attempted one of the larger insects that was fried without seasoning and the taste was very similar, with a natural salty flavor.
Sergio explained that fried insects are often crumbled on top of dishes or made into a salsa (which I tried!). We were also able to see a batch of worms cooked in the fryer and ate them right out of the pan. Crickets and other bugs eaten in Mexico are farmed, typical to the way fish are farmed within the United States, and international demand is growing so many traditional Mexican insect farmers are now seeing a boost in business as the rest of the world catches on to this alternative protein.
THE WORLD'S BEST COFFEE AND EDIBLE ROSE ICE CREAM AT ROSSE GOURMET
After our adventures with creepy crawlies we were ready for a little afternoon caffeine rush and were led to a small coffee bar packed with locals. The owner, pictured below, recently won an international award for best coffee beans so of course we had to try.
We were also given a lesson on edible flowers by one of the most knowledgeable produce shop owners I've ever met. Our hostess told us the history of each and every vegetable and fruit on her stand, showed us the differences in corn rows between different varieties of heirloom corn and finally made us a treat: an edible rose under rosewater ice cream topped with fresh mangoes and edible flowers.
We strolled to our next destination munching on marigolds and petunias.
Stop 3: El Caguamo Street Food
A trip to Mexico wouldn't be complete without a visit to a street cart, and a visit to a street cart isn't complete unless it involves fresh ceviche, in my opinion. I have a special place in my heart for ceviche served Mexican-style on a tostada with avocado after living in San Diego for four years, so I was thrilled to see that the west coast staple had moved inland to Mexico City.
We ate our raw seafood while Sergio told us the checklist for choosing safe seafood: full barstools and a clean sidewalk. Seemed like good cleanliness criteria to me.
Stops 4 & 5: La Mascota & Pasaguero Cantinas
After the street food I was definitely feeling like it probably wasn't a good idea to keep eating, but little then I learned we had three more stops to go so I rallied and pulled through. Our next stop took us through a busy part of town with a lot of families out shopping and past a cathedral closed for a wedding that Sergio snuck us into for a peek.
We reached our destination at a traditional cantina with small plates for sharing and enjoyed a few dishes that I wish I could describe, but suffice to say they had tortillas, cheese and were delicious. We also were served a cerveza in a handy holder and now I don't know why all tables don't have these.
Our next stop was another cantina that was a bit more modern and catered to a younger crowd and our tortilla-based dishes reflected that by using pickled vegetables and other trendy toppings.
Stop 6: Dulceria de Celaya
Our final stop took us to Dulceria de Celaya, a small dessert shop satisfying the sweet tooth of Mexico City's residents since 1874. Walking inside its doors is like walking back 150 years, with its cases are filled with small sweets in every flavor imaginable and its old scales and cash registers. I had a small taffy-like butter flavored treat that hit the spot.
Sadly this was our last stop and we bid farewell to Sergio, who was such a wonderful host for our food tour and a great person in general. We then promptly when back to our hotel and slept for a few hours before….waking up for more foodie, of course.
---
Have you taken a Mexico City food tour or another food tour that you absolutely LOVED? Tried eating insects?
Leave us a comment below and tell us what you think and check out our other foodie travel adventures to plan your next trip.