Homemade Maple Bourbon Cranberry Sauce
Maple Bourbon Cranberry Sauce, a simple homemade cranberry sauce topping made with fresh cranberries, bourbon, maple syrup, oranges, cinnamon, and fresh thyme. An easy twist on the Thanksgiving favorite!
Are you a fan of cranberry sauce at Thanksgiving dinner? I have to admit that as a child I was never a fan. Maybe it was that it usually came pre-made from a can, but I always passed when the wobbly cranberry sauce bowl was passed around the holiday table.
Until I fell in love with cranberry sauce made from scratch with fresh cranberries. The tart berries take on a different flavor when heated, and their strong flavor pairs well with sweet orange juice, a drizzle of maple syrup, and a splash of bourbon. All the fall American flavors!
This Maple Bourbon Cranberry Sauce is now our favorite homemade cranberry sauce recipe for Thanksgiving, and with only seven simple ingredients it comes together in less than twenty minutes (did I mention it's gluten-free and vegan?).
Ready to make your new favorite homemade cranberry sauce? Let's do it!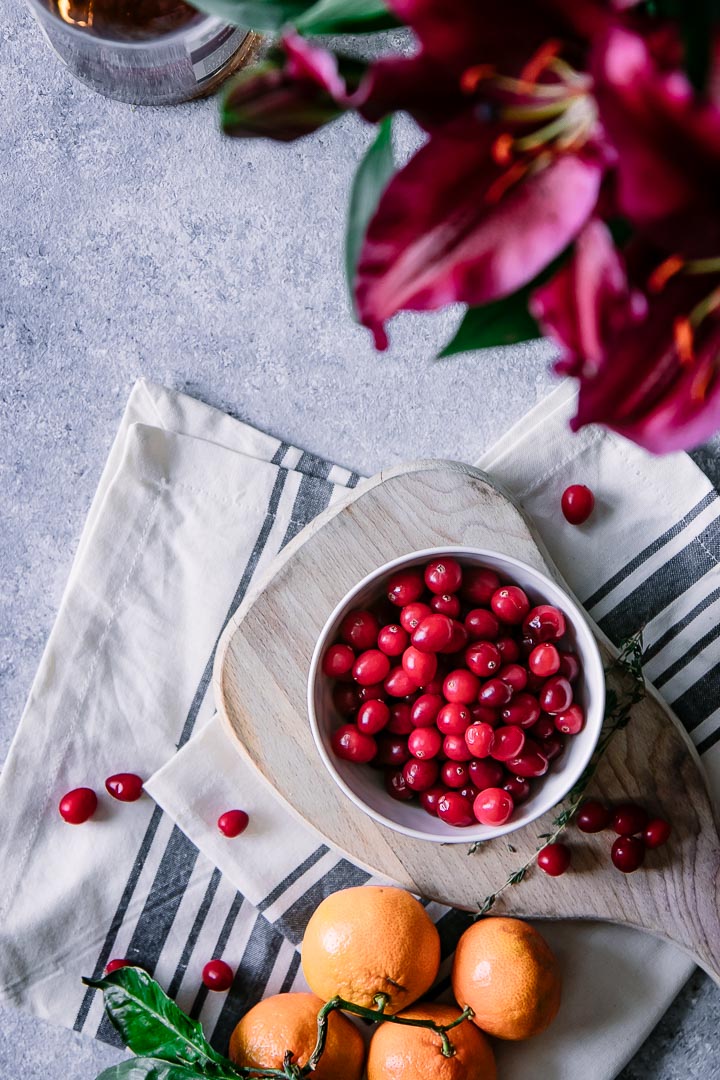 How to make homemade Maple Bourbon Cranberry Sauce
First, combine cranberries, orange juice, bourbon, maple syrup, cinnamon stick, and fresh thyme in a medium-sized saucepan over medium heat. Make sure that the cinnamon stick and fresh thyme are covered with liquid so they release their flavors when heated.
Cook slowly over medium heat until cranberries pop and cook into a liquid, about 15 minutes. When all cranberries have popped and the mixture is mostly soft, remove from heat and remove thyme sprig and cinnamon, and let sauce cool.
If you like a thicker cranberry sauce, serve as is, but if you like a thinner liquid transfer to a food processor or blender and pulse until sauce is well combined. Add more juice if needed to get to desired sauce consistency.
When ready to serve, top with more fresh thyme leaves and orange zest. Then enjoy over roasted turkey, chicken, on sandwiches, or even on toast. This simple cranberry sauce is a great make ahead recipe, and can be prepared up to three days before your dinner or event (Thanksgiving!) and reheated before serving.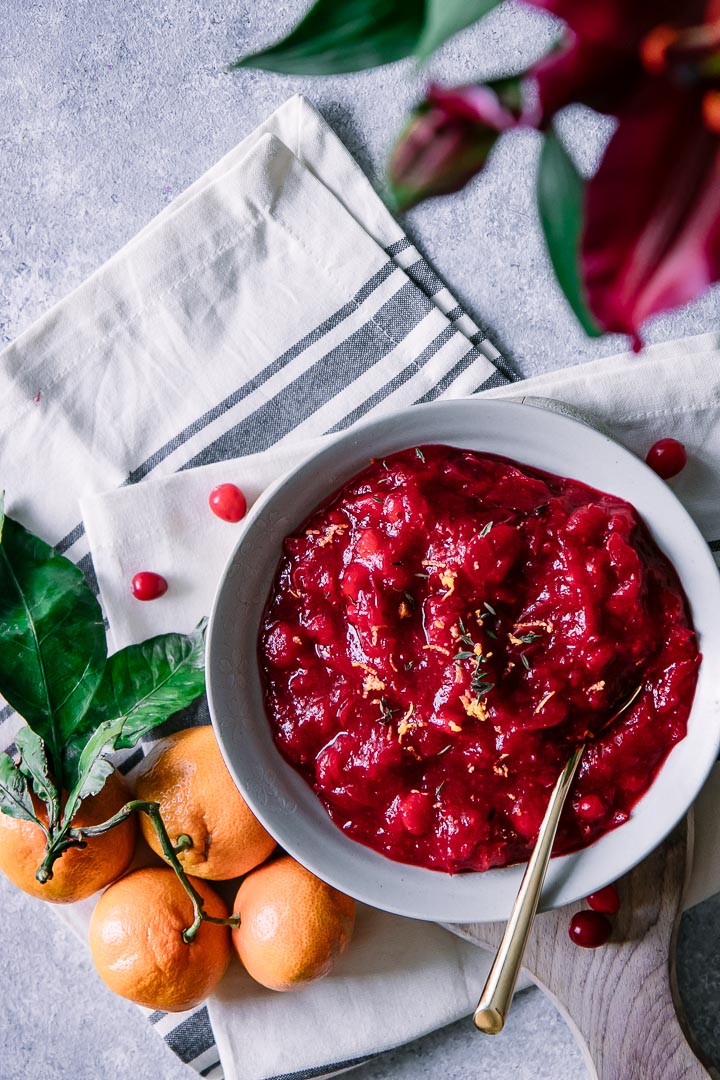 Maple Bourbon Cranberry Sauce: Tips, tricks and tools
This simple Maple Bourbon Cranberry Sauce is about as easy as it gets, but there are a few kitchen tools, ingredients, and easy recipe variations I recommend:
Eco-friendly cookware! Every green eater needs a set of green cookware; I love Greenpan's cookware because they are non-stick but toxin-free
Simple kitchen sauce tools: a food processor, handheld blender, or immersion blender work well to puree this cranberry sauce recipe
Responsible ingredients: I try to source local and organic ingredients when I can, and I use glass storage containers to store extra sauce in the freezer to eat all winter long
Maple Bourbon Cranberry Sauce recipe variations: While this cranberry sauce is perfect on its own, here are a few fun ways to get creative and make it your own:
Switch up the juice: Orange, apple, pear, and pomegranate juices would all be delicious in this cranberry sauce recipe
Spice it up! Add your favorite spices like vanilla, clove, or ground nutmeg
Get creative with herbs: While thyme is my favorite, other herbs like sage, rosemary, mint, and basil would all work well in cranberry sauce
I hope you love this easy Maple Bourbon Cranberry Sauce recipe as much as we do, it's a staple on our Thanksgiving holiday table!
---
Craving more easy Thanksgiving recipes? Check out our Maple Mustard Roasted Brussels Sprouts and Maple Brown Sugar Roasted Acorn Squash recipes, both easy seasonal side dishes that won't have you stuck in the kitchen on Thanksgiving Day.
Did you make this Maple Bourbon Cranberry Sauce recipe? Leave a comment below and rate the recipe to let us know how it turned out. Save this recipe for later by pinning to your favorite fall Pinterest board and make sure to tag me on Fork in the Road's Instagram to show me your salad creations!
Yield: 8 servings
Maple Bourbon Cranberry Sauce
Maple Bourbon Cranberry Sauce, a simple homemade cranberry sauce topping made with fresh cranberries, bourbon, maple syrup, oranges, cinnamon, and fresh thyme.
Prep Time 5 minutes
Cook Time 15 minutes
Total Time 20 minutes
Ingredients
12 ounces (340mg) fresh cranberries
1 cup (235ml) orange juice
2 ounces (60ml) bourbon whiskey
2 tablespoons maple syrup
1 cinnamon stick
2 fresh thyme sprigs
1 teaspoon orange zest
Instructions
Add cranberries, orange juice, bourbon, maple syrup, cinnamon stick, and fresh thyme sprigs to medium saucepan, making sure cinnamon stick and herbs are covered by liquid.
Cook on medium-low heat for 15 minutes, or until cranberries burst. Remove cinnamon stick and herbs, and allow to cool.
For a thicker sauce, serve as is. For a thinner sauce, combine sauce with a small amount of juice in a blender or food processor and puree until desired consistency.
Notes
Tools needed: medium saucepan, food processor or handheld immersion blender
Notes: get creative with juice and herbs for a different flavor profile
Leftovers and Storage: allow sauce to completely cool and then store in an airtight container in refrigerator for up to one week. Freeze for up to two months.
Nutrition: This homemade cranberry sauce is a low in calories and sugar compared to traditional pre-made cranberry sauces.
Nutrition Information:
Yield:
8
Serving Size:
1/3 cup
Amount Per Serving:
Calories: 130
Total Fat: 0g
Saturated Fat: 0g
Trans Fat: 0g
Unsaturated Fat: 0g
Cholesterol: 0mg
Sodium: 22mg
Carbohydrates: 27g
Fiber: 6g
Sugar: 14g
Protein: 1g
We are participant in the Amazon Services LLC Associates Program, an affiliate advertising program designed to provide a means for us to earn fees by linking to Amazon.com and affiliated sites.