Homemade Maple Bourbon Cranberry Sauce
Maple Bourbon Cranberry Sauce, a simple homemade cranberry sauce topping made with fresh cranberries, bourbon whiskey, maple syrup, oranges, and fresh herbs. An easy twist on this Thanksgiving favorite!
Are you a fan of cranberry sauce at Thanksgiving dinner? This Maple Bourbon Cranberry Sauce is now our favorite homemade cranberry sauce recipe for Thanksgiving. The tart berries take on a different flavor when heated, and their strong flavor pairs well with sweet orange juice, a drizzle of maple syrup, and a splash of bourbon. All the fall American flavors!
👉 Here are four reasons why this will be your new favorite homemade cranberry sauce recipe:
It's simple. With only seven easy ingredients, this holiday sauce comes together in less than 20 minutes. It doesn't get much better than that!
You can make it in advance. This cranberry topping can be prepared up to three days before your dinner or event (Thanksgiving!) and reheated before serving.
It's flavor-filled. You'll never opt for the store-bought version again after making homemade cranberry sauce. It's so much tastier than canned varieties, not to mention the mouthwatering maple and bourbon flavors we've mixed into this recipe.
It's eco-friendly. Reduce waste by skipping the cans that store store-bought cranberry sauce.
Ready to make homemade cranberry sauce with bourbon and maple syrup? Let's do it!
---
🥃 Ingredients you'll need
The ingredient list for this DIY cranberry sauce is super simple. Here's what you need to make it:
Cranberries: there's nothing better than making cranberry sauce with whole, fresh cranberries!
Orange juice: brings flavor to cranberry sauce, and its sweetness helps balance out the tartness of cranberries.
Bourbon whiskey: a barrel-aged distilled liquor; has a sweeter flavor than other styles of whiskey, with notes of vanilla, oak, and caramel.
Maple syrup: a staple fall flavor, and it even helps balance out the bitterness of the cranberries in this recipe.
Herbs and spices: you'll add some warm spice to the cranberry sauce with a cinnamon stick and thyme sprigs.
Orange zest: The best garnish that adds a pop of color to cranberry sauce!
Recommended tools: medium saucepan, food processor or handheld immersion blender.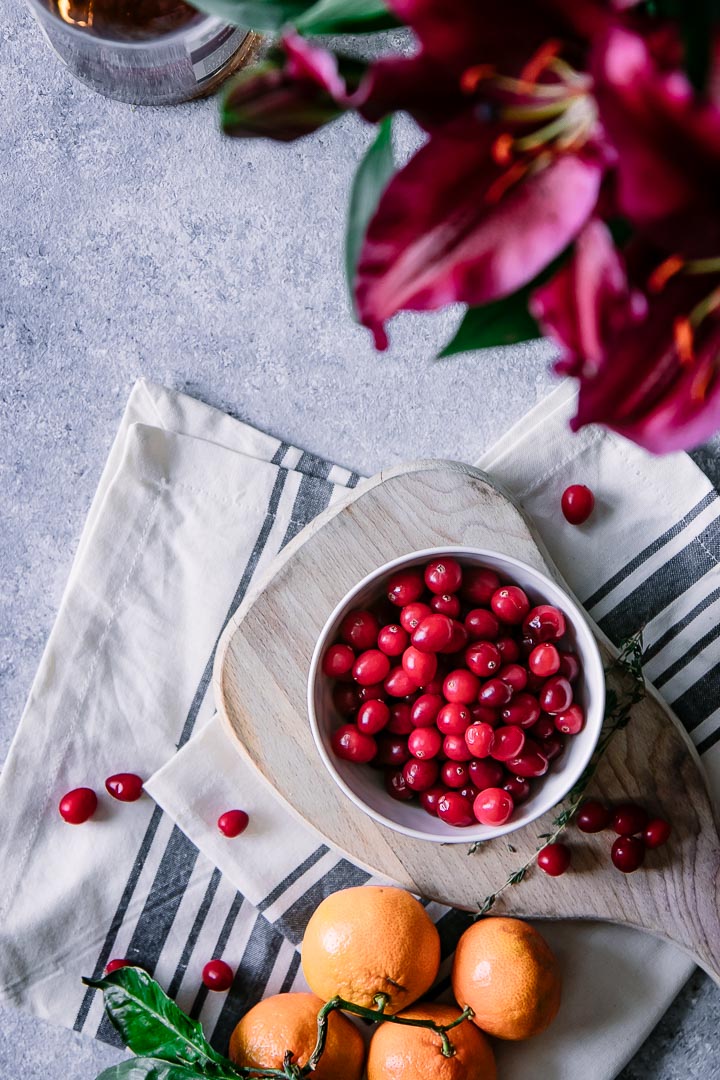 ---
🥣 How to make (step-by-step photos)
1️⃣ Step One: Heat ingredients in a pan
First, combine cranberries, orange juice, bourbon, maple syrup, cinnamon stick, and fresh thyme in a medium-sized saucepan over medium heat.
Make sure that the cinnamon stick and fresh thyme are covered with liquid so they release their flavors when heated.
---
2️⃣ Step Two: Cook sauce until cranberries pop
Cook the sauce slowly over medium heat until cranberries pop and cook into a liquid, about 15 minutes.
When all cranberries have popped and the mixture is mostly soft, remove from heat. Take the thyme sprig and cinnamon stick out of the sauce, and let it cool.
---
3️⃣ Step Three: Serve cranberry sauce
Finally, it's time to serve the cranberry sauce!
If you like a thicker cranberry sauce, serve as is, but if you like a thinner liquid transfer to a food processor or blender and pulse until sauce is well combined. Add more juice if needed to get to desired sauce consistency.
When ready to serve, top with more fresh thyme leaves and orange zest. Then enjoy over roasted turkey, chicken, on sandwiches, or even on toast.
---
❓ Recipe questions + quick tips
How do you make cranberry sauce better?
One way to make cranberry sauce better is to make it from scratch! You only need a few simple ingredients, including fresh cranberries and juice, and can make it your own with spices, herbs, and your other favorite seasonings. We love making cranberry sauce with bourbon whiskey and maple syrup, which add depth to its flavor.
How do you get the bitterness out of cranberry sauce?
You can get the bitterness out of cranberry sauce by including maple syrup and juice in the recipe. We used orange juice, but you can use any kind of juice that you like. Adding a pinch of salt to the sauce can also help remove the bitter taste.
What can I do with leftover cranberry sauce?
The possibilities are endless for what you can do with leftover cranberry sauce. Its delicious and sweet flavor pairs well with just about anything. You can use it as a spread for sandwiches or toast, add it as a topping to yogurt and oatmeal, or cook into dishes like meatballs. If you made it for Thanksgiving, use it with your other leftovers like roasted turkey and vegetables.
How long is cranberry sauce good for?
If you store homemade cranberry sauce in the refrigerator, it will stay good for about a week. When stored in the freezer, it retains its quality for up to two months. Opened canned cranberry sauce can be kept in the refrigerator for up to 2 weeks.
Can I make this recipe without whiskey?
Yes, the whiskey can be left out of the recipe if you prefer. We suggest adding a little water to make up for the lost liquid, but the cranberry sauce will taste just as delicious without the whiskey.
---
🥪 How to serve
Cranberry sauce is a holiday favorite! However, there are many fun ways to use it (beyond Thanksgiving). Here are some ideas:
Over roasted turkey: This is one of the most popular ways to eat cranberry sauce, whether its with Thanksgiving dinner or just a regular weeknight meal.
On sandwiches or toast: Spread a tablespoon or two on your favorite sandwich or morning toast.
With breakfast: There are so many breakfast classics that cranberry sauce pairs well with. Yogurt parfaits, muffins, oatmeal, pancakes, French toast, and waffles are just a few options.
In baked goods: Cook cranberry sauce into baked goods, like breads, muffins, and cookies!
---
💡 Cranberry sauce recipe variations
While this cranberry sauce is perfect on its own, here are a few fun ways to get creative and make it your own:
Switch up the juice: Orange, apple, pear, and pomegranate juices would all be delicious in this cranberry sauce recipe
Spice it up! Add your favorite spices like vanilla, clove, or ground nutmeg.
Get creative with herbs: While thyme is our favorite, other herbs like sage, rosemary, mint, and basil would all work well in cranberry sauce
---
🧊 How to store
Allow sauce to completely cool before storing in the refrigerator or freezer.
Refrigerator storage: Store in an airtight container in the refrigerator for up to one week.
Freezer storage: Place in a freezer-safe storage container and enjoy within two months for best quality.
---
♻️ Sustainable kitchen tips
Here at Fork in the Road, the environment is our top priority! Take your sustainable kitchen to the next level with these simple tips:
Use eco-friendly cookware and responsible ingredients. Every green eater needs a set of green cookware; we love Greenpan's cookware because they are non-stick but toxin-free. try to source local and organic ingredients when I can, and I use glass storage containers to store extra sauce in the freezer to eat all winter long
Make a big batch and freeze. To prevent extra trips to the store, buy cranberry sauce ingredients in bulk and make a batch of it 1-2 months before the holidays. That way, you'll have some ready to use when Thanksgiving rolls around and even some extra to add to meals throughout the winter.
Reuse and recycle. Whether you have bottles, cans, or boxes leftover from the orange juice, whiskey, or maple syrup: make sure to dispose of them properly (or reuse them, if you can!).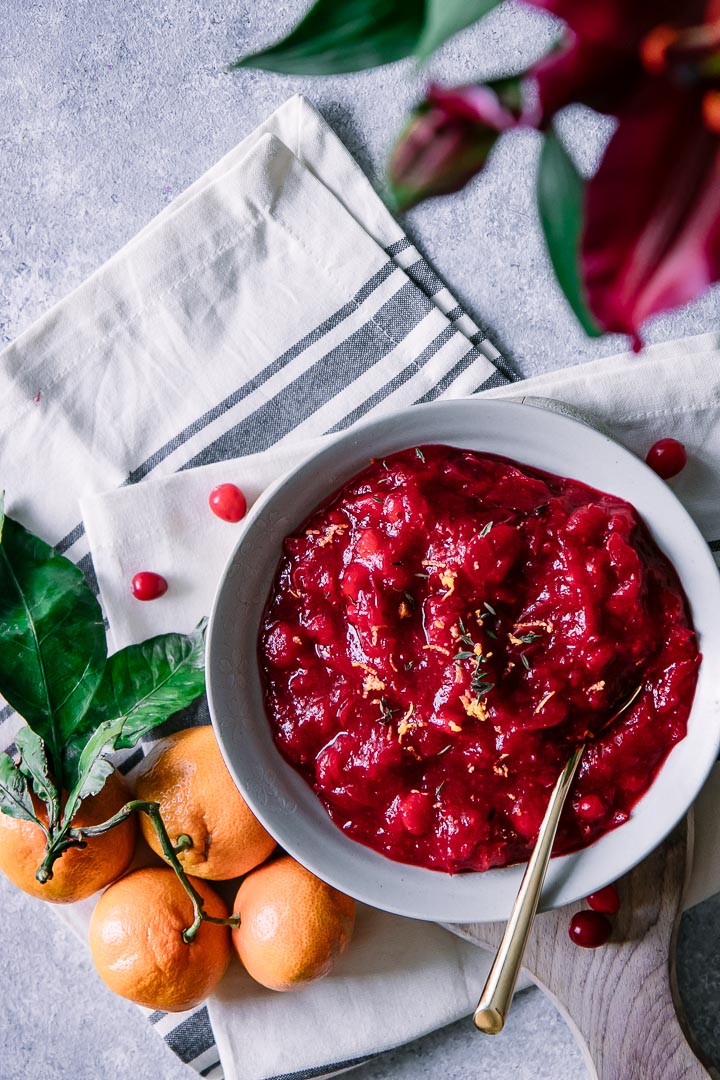 ---
🦃 More Thanksgiving recipes
Craving more easy Thanksgiving recipes? Here are some delicious options: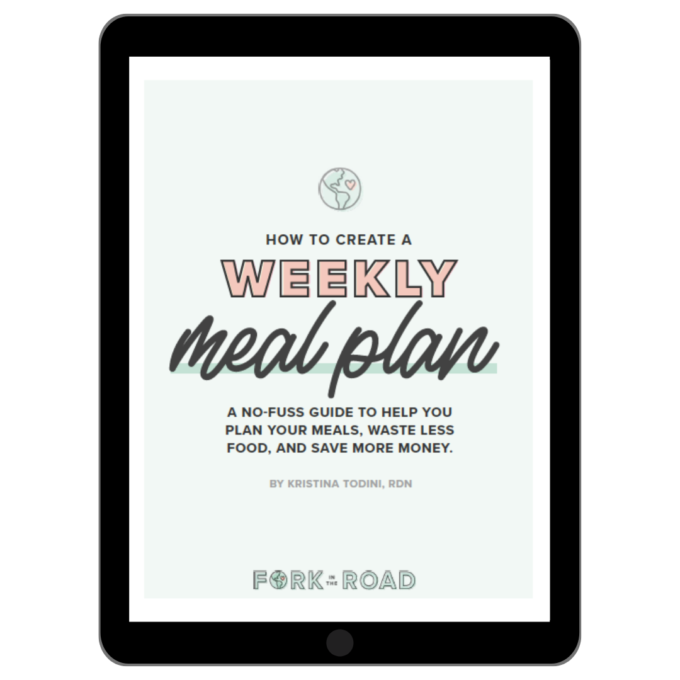 Maple Bourbon Cranberry Sauce
Maple Bourbon Cranberry Sauce, a simple homemade cranberry sauce topping made with fresh cranberries, bourbon, maple syrup, oranges, cinnamon, and fresh thyme.
Ingredients
12

ounces

fresh cranberries

8

ounces

orange juice

2

ounces

bourbon whiskey

2

tablespoons

maple syrup

1

whole

cinnamon stick

2

fresh thyme sprigs

1

teaspoon

orange zest
Instructions
Add ingredients to pan: Add cranberries, orange juice, bourbon, maple syrup, cinnamon stick, and fresh thyme sprigs to medium saucepan, making sure cinnamon stick and herbs are covered by liquid.

Cook sauce: Cook on medium-low heat for 15 minutes, or until cranberries burst. Remove cinnamon stick and herbs, and allow to cool.

To make sauce thicker or thinner: For a thicker sauce, serve as is. For a thinner sauce, combine sauce with a small amount of juice in a blender or food processor and puree until desired consistency.
Notes
Tools needed: medium saucepan, food processor or handheld immersion blender
Recipe notes: get creative with juice and herbs for a different flavor profile
Leftovers + storage: allow sauce to completely cool and then store in an airtight container in refrigerator for up to one week. Freeze for up to two months.
Nutrition notes: This homemade cranberry sauce is a low in calories and sugar compared to traditional pre-made cranberry sauces.
Nutrition
Serving:
1
serving
Calories:
63
kcal
Carbohydrates:
12
g
Protein:
1
g
Fat:
1
g
Saturated Fat:
1
g
Polyunsaturated Fat:
1
g
Monounsaturated Fat:
1
g
Sodium:
2
mg
Potassium:
107
mg
Fiber:
2
g
Sugar:
7
g
Vitamin A:
96
IU
Vitamin C:
21
mg
Calcium:
15
mg
Iron:
1
mg
UPDATE: This recipe was originally posted in November 2018 and was updated for clarity in September 2021.