Kimchi Glazed Brussels Sprouts
Kimchi Glazed Brussels Sprouts, a simple 30 minute roasted brussels sprouts recipe with a homemade spicy kimchi sauce. A perfect easy dish that's great as a side or main event!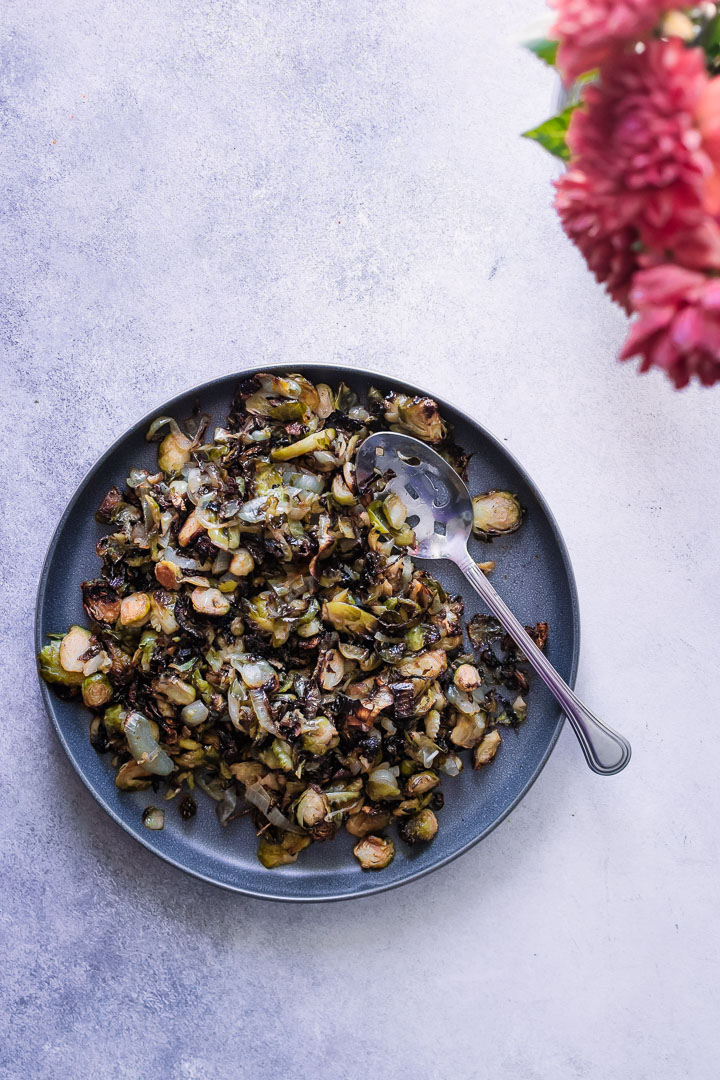 Love kimchi? Love roasted brussels sprouts? Combine them together into a simple 30-minute Kimchi Glazed Brussels Sprouts recipe! Made with sesame oil, soy, a bit of fish sauce, ginger, and a touch of sugar, this spicy and sweet sauce really shines with the crunchy depth of roasted brussels leaves.
👉 Ready to learn how to make roasted brussels sprouts with a kimchi glaze? Let's do it!
---
🥬 Ingredients
Brussels sprouts: The base of this recipe, the brussel sprouts are roasted until crispy and the small leaves hold onto the zingy kimchi glaze for a tasty finish.
Shallots: Sliced thin and roasted with the sprouts, shallots add a delicious depth of flavor when baked and pair well with the brussels.
Kimchi base sauce: A prepared kimchi base sauce made from vegetables, garlic, red pepper, and fish sauce that can be used to make traditional kimchi (fermented cabbage), or made into a sauce for vegetables. There are vegan kimchi bases available without fish sauce.
Soy and fish sauces: Add a slight tang to the kimchi glaze. Go for low sodium soy sauce to reduce excessive saltiness. Fish sauce is a fish-flavored sauce made from squid that adds a nice of depth of flavor (omit if plant-based)>
Minced ginger: Use either pre-minced in a jar or mince fresh ginger for the sauce.
Sugar (optional, but recommended): Optional, but the small amount of sugar used in the sauce helps to round out the salty flavors of the kimchi base and soy and fish sauces.
Sesame oil: The oil used to make the kimchi glaze.
Recommended tools: large glass mixing bowl, baking sheet
---
🥣 How to make (step-by-step photos)
1️⃣ Step One: Prep oven + brussels sprouts
First, preheat your oven to 400 degrees F and add a small amount of oil to a large baking sheet.
Then prepare the brussels sprouts by cutting off the hard stems, then either cutting the sprouts into halves (softer taste after roasting) or quarters (crispier than halves, but still whole), or thinly slicing them for a crispier and flakier finish.
---
2️⃣ Step Two: Make kimchi glaze
To make the kimchi glaze, add sesame oil, kimchi sauce, soy sauce, fish sauce (or omit, if vegan), minced ginger, and a small amount of sugar to a medium bowl and whisk until well combined.
---
3️⃣ Step Three: Toss sprouts in glaze
Next, combine the sliced brussels sprouts and the sliced shallots with the kimchi glaze in a large mixing bowl. Mix to combine until the vegetables are well coated in the sauce.
If the glaze is too thick and is not coating the vegetables well, add a drizzle of sesame oil at a time and mix the vegetables until they are coated in the sauce.
---
4️⃣ Step Four: Roast the brussels sprouts
To roast the vegetables, spread the glazed brussels sprouts and shallots mixture onto the oiled sheet pan.
Then place the sheet pan in the preheated oven and roast until they are golden brown, about 30 minutes, making sure to stir the sprouts every 10 minutes so they brown evenly.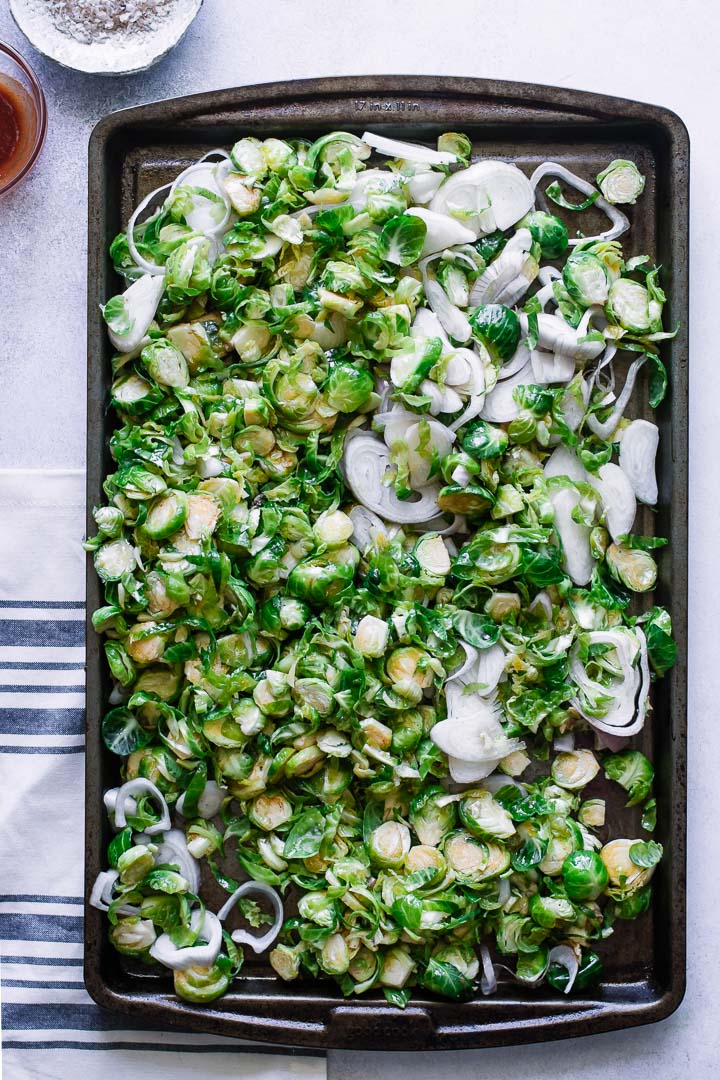 ---
🧊 How to store
Roasted brussels sprouts are a great make-ahead recipe to enjoy later. Here's how to store them:
Refrigerator storage: Store in an airtight food storage container in the refrigerator for up to four days. To reheat, simply microwave, heat in a pan, or for maximum crispiness pop them back into the oven for 10-15 minutes at 425 degrees F.
Freezer storage: Store in an airtight container or freezer-friendly storage bag for up to two months. To thaw, place in the refrigerator for 24 hours or on the counter for 1 hour. For best texture after freezing we recommend placing them back in the oven for 10-15 minutes at 425 degrees F.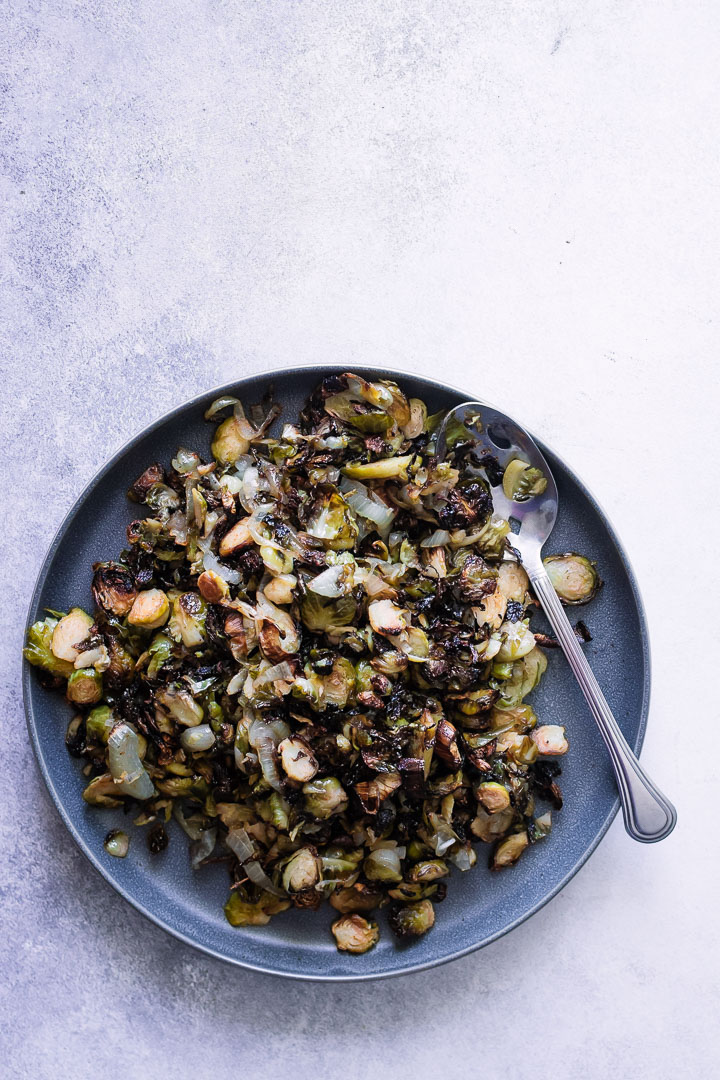 ---
👉 Recipes tips and tools
While this roasted brussels sprouts recipe is easy and ready in under 30 minutes, there are a few tips and tools that make preparing it much easier.
Tools: A set of quality glass mixing bowls, a good quality cookie sheet, and a good quality knife set make prepping this Kimchi Glazed Brussels Sprouts easier
Ingredients: I recommend this Kimchi base recipe (a chef's classic), this fish sauce, and this sesame oil as all are made by companies trusted by chefs and that I've used before
Special diet considerations: To make this recipe vegan, use a vegan fish sauce substitute and vegan kimchi base. To make it gluten-free, use Tamari and make sure your kimchi base is free of sneaky gluten ingredients
---
💚 More roasted brussels sprouts recipes
Want more baked brussels sprouts recipes? We've got you covered:
Kimchi Glazed Brussels Sprouts
Kimchi Glazed Brussels Sprouts, a simple 30 minute roasted brussels sprouts recipe with a homemade spicy kimchi sauce. A perfect easy dish that's great as a side or main event!
Ingredients
3 tablespoons sesame oil, plus ½ teaspoon for oiling pan
2 pounds brussels sprouts, stems removed and sliced
2 tablespoons kimchi base sauce
1 teaspoon soy sauce
½ teaspoon fish sauce, omit if vegan
1 teaspoon ginger, minced
1 teaspoon sugar
2 medium shallots, peeled and sliced
Instructions
Preheat oven: Preheat oven to 450 degrees F (230 degrees C).

Make kimchi glaze: To make kimchi glaze, whisk together sesame oil, kimchi sauce, soy sauce, fish sauce, minced ginger, and sugar until well combined.

Mix ingredients: In a large mixing bowl, combine brussels sprouts and sliced shallots with kimchi glaze until well combined. If the glaze is not enough to lightly cover all sprouts, add a bit more oil and mix well.

Roast brussels sprouts: Spread kimchi glazed brussels sprouts mixture on a lightly oiled sheet pan and roast in oven for 30 minutes, stirring every 10 minutes to ensure brussels brown evenly.
Notes
Recipe notes: *Make it vegan by omitting fish sauce and adding a bit more soy sauce. Often kimchi base sauces have anchovies in them, but there are vegan kimchi base sauces available. *If you're gluten-free, replace soy sauce with Tamari. *Any type of sugar will do in sauce (white, brown, etc.), the sugar is meant to cut the saltiness and create a smoother taste
Leftovers and storage: Let brussels cool down after cooking and then store in an airtight glass container in the refrigerator for up to five days. Reheat in microwave, in oven, or on the stoptop by sautéing over medium heat.
Nutrition notes: The soy sauce, kimchi sauce, and fish sauces all are high in sodium but their amounts are low relative to the amount of brussels sprouts in the recipe.
Nutrition Information
Serving: 1serving, Calories: 213kcal, Carbohydrates: 26g, Protein: 8g, Fat: 11g, Saturated Fat: 2g, Polyunsaturated Fat: 5g, Monounsaturated Fat: 4g, Sodium: 203mg, Potassium: 961mg, Fiber: 9g, Sugar: 8g, Vitamin A: 1727IU, Vitamin C: 195mg, Calcium: 102mg, Iron: 3mg
UPDATE: This recipe was originally published in September 2018 and updated for clarity in April 2022
We are participant in the Amazon Services LLC Associates Program, an affiliate advertising program designed to provide a means for us to earn fees by linking to Amazon.com and affiliated sites.