Kale Persimmon Salad with Pecan Yogurt Dressing
Kale Persimmon Salad with Pecan Yogurt Dressing, a simple salad of red kale with persimmons and pomegranates topped with a pecan and maple yogurt dressing. A delicious partnership with Imperfect Produce!
I consider myself to be somewhat of a food waste warrior. I buy my pantry staples in the bulk section, hit the produce clearance rack at the local market, and practice "root to tip" cooking as much as I can. I make sauces from carrots tops and compost food scraps. I though I had this food waste thing down.
But then Imperfect Produce approached me to partner in bringing a recipe to life with foods rejected from grocery stores, and I realized I was missing a perfect opportunity to make a difference. Imperfect Produce is an organization that sources rejected "ugly" fruits and vegetables that are not able to pass grocery store beauty standards, a forgotten and under utilized source of foods that never sees the light of a market or store.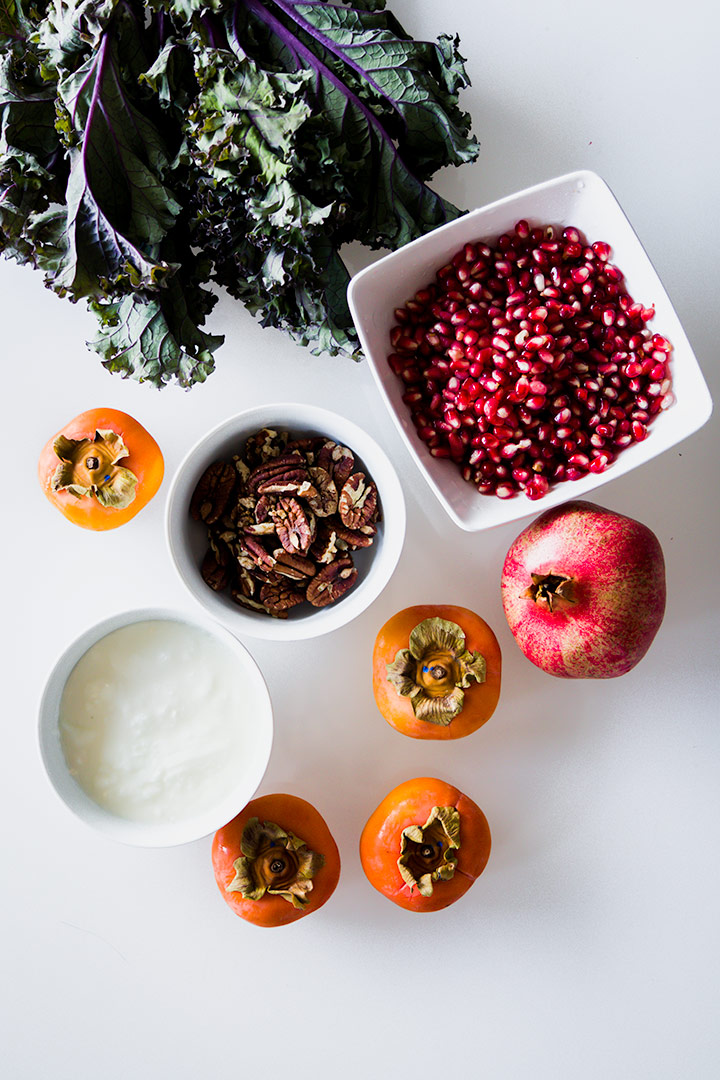 When farms harvest and sell their goods, misshapen and ugly produce are not accepted and often these fruits and vegetables are not sold. Not only does this mean no income for farmers, but these fruits and vegetables are often discarded and wasted.
Per Imperfect's research, as much as 20% of a farm's harvest never make it off the farm because they do not meet store standards. An oddly shaped apple, a squat looking pear – while perfectly nutritious and tasty, they're wasted because stores don't think they will sell.
At the core, an apple is still an apple – no matter what it looks like on the outside.
So after learning this I set out to show that even discarded and "ugly" fruit and vegetables can be beautiful. Imperfect Produce sent me a box filled with fall harvest vegetables – some where old favorites (hello sweet potatoes and pomegranates) and some where new to me (rutabagas?). But no matter their shape and size, they all were beautiful and delicious in the dishes I created.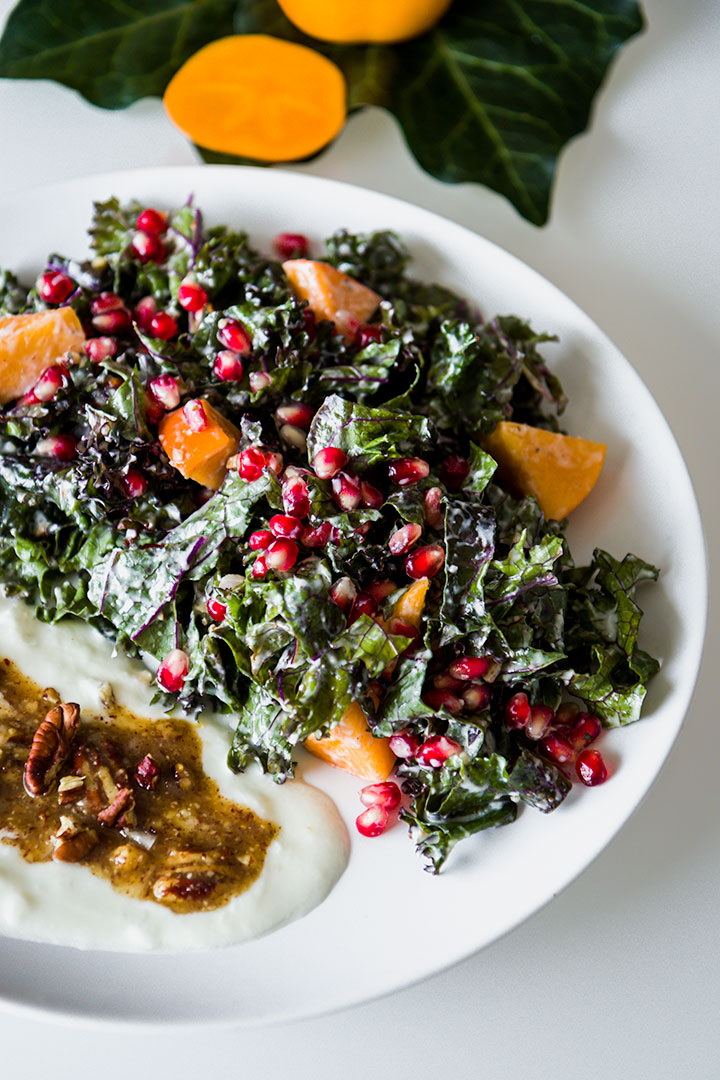 Kale Persimmon salad with pecan yogurt dressing
When I opened the produce box and found an oddly shaped bunch of kale and two large but lopsided persimmons, I knew they would be married into a delicious winter fruit salad. Add a sprinkle of pomegranate seeds and a slightly sweet pecan and maple yogurt dressing and it is now officially my new favorite cold weather salad.
This Kale Persimmon Salad was super simple to make and held up well for leftovers, which is a characteristic most salads unfortunately cannot boast. Because the dressing is thicker and kale is such a sturdy green, I suggest getting your hands in there and massaging the dressing on the salad for the best dressing-salad ingredient integration.
Yes, I just said "ingredient integration" when describing a salad. And I also recommended you massage your kale. We're very serious about salad around here.
Do you live in the San Francisco Bay Area, Portland, or Seattle? Do your part to be a food waste warrior and check out Imperfect Produce in your area.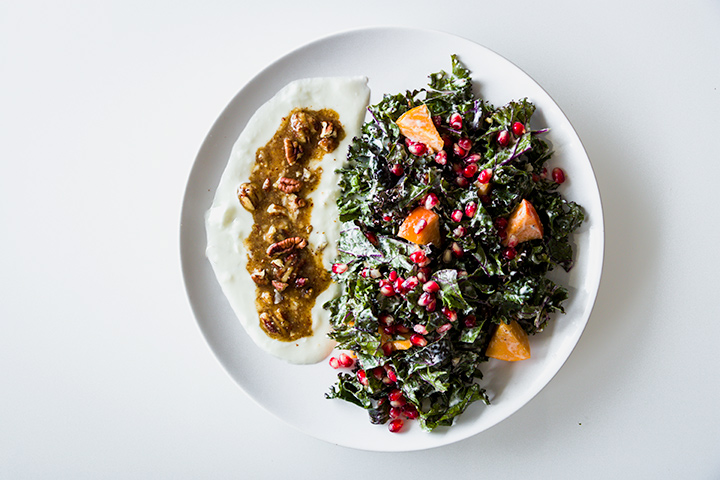 Loving this kale persimmon salad?
Try another of my favorite cold weather salads:
How do you combat food waste? Do you compost, buy ugly produce or hit the produce clearance section? I'd love to hear your tips!
Yield: 4 servings
Kale Persimmon Salad with Pecan Yogurt Dressing
Kale Persimmon Salad with Pecan Yogurt Dressing, a simple salad of red kale with persimmons and pomegranates topped with a pecan and maple yogurt dressing.
Prep Time 5 minutes
Total Time 5 minutes
Ingredients
1 bunch red kale, cleaned and shredded
2 fuyu persimmons, sliced
1 pomegranate, seeded
1/4 cup pecans
1 tablespoon maple syrup
1 tablespoon olive oil
Pinch of salt
1/2 cup yogurt
Instructions
Toss shredded red kale, sliced persimmons, and pomegranate seeds in a large bowl.
For dressing: Pulse pecans in a food processor until crumbled, or crush with a mortar and pestle. Add maple syrup, olive oil and salt and pulse until blended. Mix with yogurt.
Massage dressing into kale and persimmon and enjoy!
Notes
Leftovers & Storage: Because kale is a hearty green, salad can be stored for up to two days after it's prepared.
Nutrition Information:
Yield:
4
Serving Size:
1 salad
Amount Per Serving:
Calories: 237
Total Fat: 10g
Saturated Fat: 1g
Trans Fat: 0g
Unsaturated Fat: 7g
Cholesterol: 2mg
Sodium: 69mg
Carbohydrates: 38g
Fiber: 8g
Sugar: 26g
Protein: 5g
We are participant in the Amazon Services LLC Associates Program, an affiliate advertising program designed to provide a means for us to earn fees by linking to Amazon.com and affiliated sites.