June 2021 Food Blog Side Hustle Income Report: $3,379.05
How my part-time food blog side hustle made $3,379.05 in June 2021! I share my strategies for taking your blog side hustle from hobby to business one post, and one month, at a time.
Welcome to the June 2021 Fork in the Road income report! If this is your first time reading one of our monthly traffic and income reports, my name is Kristina and I am a registered dietitian and the face behind this plant-based recipe and sustainable kitchen blog. Find out more about the and the content shared on Fork in the Road here.
If you're new to my income reports, make sure to check out my last update — May 2021 food blog income report — to get caught up.
Ready to learn how Fork in the Road grew in June? Read on for my income and traffic report, my analysis of what worked (and what didn't) and the goals I'm working toward in months to come.
---
If this is not your first time reading a Fork in the Road income report, you can skip this section and head right to the income and traffic report below.
You might be wondering why I am sharing how much money I make from my food blog with the world. Why would I want to put myself out there and share the nitty gritty details of the money this blog is bringing in?
The main reason for sharing this information is to inspire you to start taking your own blog seriously. I found other food blog income reports very inspirational in my own food blogging journey, and reading about other bloggers' successes (and failures) has been invaluable over when I was low on motivation and needed a push to keep going.
I especially want to share because so many blog income reports are from established bloggers who are raking in tens of thousands of dollars, and I want to show what realistic growth (and the inevitable plateaus) look like when you're also working a full time job. No one starts out bringing in the big bucks, it happens with time and consistency (the latter of which I sometimes lack!).
The other reason for sharing is a bit more selfish: while I've done well creating new content and mastering food photography, I haven't been great at tracking my own progress and setting attainable monetary and business growth goals.
I have a ton of ideas for the blog, but sometimes not a lot of follow-through due to time restraints and not knowing where to start on everything I want to accomplish. Sharing my monthly food blog side hustle reports with you is a way for me to stay accountable.
In these reports I share a month-by-month analysis of what I'm working on, how the blog has grown, what's working and what isn't, and my goals for the future. I share this to stay accountable and so that you can learn and be inspired to keep going with your food blog journey as well.
---
💰 June 2021 Income Report
| Month | #Posts | #Views | $Ads | $Affiliate | $Other | $Total |
| --- | --- | --- | --- | --- | --- | --- |
| Aug-20 | 3 | 49,495 | $917.18 | $46.20 | $300 | $1,263.38 |
| Sep-20 | 5 | 42,190 | $959.19 | $49.46 | $250 | $1,258.65 |
| Oct-20 | 6 | 43,508 | $1,340.78 | $49.46 | $250 | $1,640.24 |
| Nov-20 | 4 | 45,683 | $2,024.79 | $79.85 | $150 | $2,254.64 |
| Dec-20 | 4 | 53,027 | $2,605.78 | $98.94 | $250 | $2,954.72 |
| Jan-21 | 19 | 61,107 | $1,737.18 | $315.99 | $0 | $2,078.17 |
| Feb-21 | 4 | 54,754 | $1,694.57 | $89.03 | $0 | $1,783.60 |
| Mar-21 | 1 | 70,851 | $2,308.82 | $23.97 | $0 | $2,332.79 |
| Apr-21 | 8 | 70,013 | $2,293.14 | $73.92 | $0 | $2,367.06 |
| May-21 | 14 | 80,015 | $2,912.53 | $50.89 | $0 | $2,963.42 |
| June-21 | 13 | 71,971 | $3,177.92 | $201.13 | $0 | $3,379.05 |
Table of past months' posts and earnings
TOTAL INCOME: $3,379.05
Display Ads: $3,177.92 (Mediavine)
Affiliate Marketing: $201.13
TOTAL EXPENSES: $971.14
Website Upkeep Total: $72

Website hosting: $11 (Cloudways)
Website tech/development: $47 (iMarkCreative)
Tasty Links: $4* (automatic linking plugin)

Photography + Video Total: $42.94

Adobe Creative Cloud: $29.99
Canva: $12.95

SEO + Keyword Research Tools Total: $37

SEMrush: $25 (shared account with other bloggers)
Keysearch: $12

Email service provider: $79* (Kartra)
Content + social media management: $14.95
Learning (courses, ebooks, memberships, etc.): $375.25

HashtagJeff SEO membership: $8.25*

Creative Course Collective: $300*
Pinteresting Strategies: $67+

Virtual Assistants: $350.00
+Expenses with a plus sign are new for the month and explained in the expense review below.
*Expenses listed with an asterisk are paid annually to take advantage of annual discounts, but I include the monthly amount here to show how much the blog costs to run each month.
**Expenses crossed out are those that I paid for last month but decided not to pay for going forward. I leave these here for the first month I don't pay for them to show how expenses change month-to-month.
NET PROFIT: $2,407.91*
*Note that the numbers here are an estimate and are not reflective of actual money in and out for the month. I report money earned, not received, for the current month as my ad company pays two months after money is earned. I am also showing a breakdown of expenses to give you an idea of how much it costs to run a blog every month, however many of these are paid annually and not monthly.
---
Income + Expense Review
Let's talk about income…
The blog finally pass the $3000 mark for total income, and earned over that amount in display ad income alone!

Display ad RPMs were phenomenal this month, on par with November and December numbers (usually the highest numbers of the year). Even though traffic was down (see the traffic report below for explanation), income increased because ads were paying more in June because it was the end of quarter two and companies were spending their ad budgets for the quarter.
The site also saw an increase in affiliate sales, which was interesting. I've mentioned many times in previous reports that affiliate income is an area I'd like to explore more, but I haven't yet dug in and created a plan of attack. I think June's increase was due to Father's Day (I have a green gift guide for fathers that gets decent search traffic) and a few lucky sales that added up to over $200 for the month.
---
Expenses Takeaway
June's expenses were pretty normal. I had one virtual assistant onboarded for the month and was in the process of onboarding another, so that category will be higher in future months. I also purchased a Pinterest strategy mini-course that I went through in just one day and learned some interesting things from. I can't say I will implement most of them, but I don't consider it a wasted expense because I added to my knowledge bank.
My thoughts on spending money on courses
If you've followed for awhile you know that I don't shy away from spending money on education and learning new skills. In fact, in the past I've spend a majority of my side hustle's income to invest back into learning more. However, I'm being more intentional about the blog's expenses and overloading myself with information because I still have a lot of implementing to do from prior courses I've purchases.
My overall thoughts on courses is that I view them as an investment into the business. You wouldn't expect to start a brick and mortar business with no initial investment, and blogging itself is a business you can literally start for pennies a month. It can take years to see a return on your time and work in blogging, so any way that I can learn from others and speed up the process is a sound investment.
---
📈 June 2021 Traffic Report
June 2021 traffic: 71,971 pageviews
This is -10% from May 2021 last month and +127% from June 2020 last year.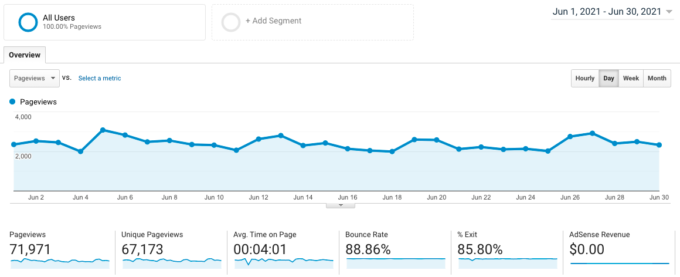 Top ten traffic sources for June 2021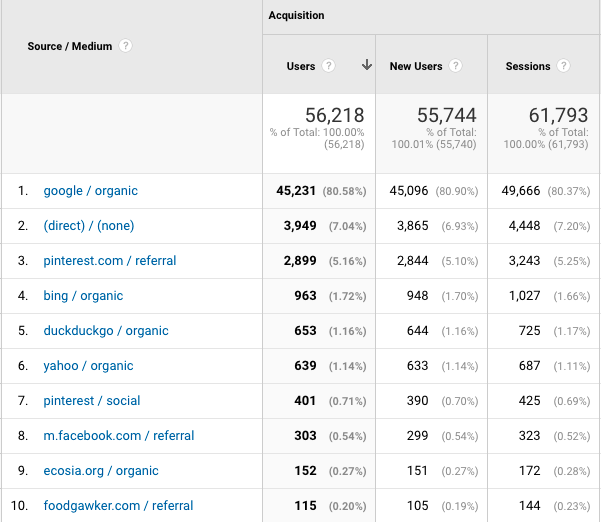 New content in June 2021: 13 total posts
New recipe posts: 9 new recipes, 2 updated older recipes (new photos, complete rewrites)
New green guides: 1 updated older green gift guide (minor updates for 2021)
New resources posts: 1 new blogging resource (income report)
New videos: 0
Traffic takeaway
June was an interesting month in the blogosphere. In addition to it historically being the lowest month of the year for the site, we also kicked off the month with a Google core algorithm update just to keep things interesting.
It's hard to say if Fork in the Road was a winner or loser in this update because it's always the lowest traffic month of the year, but I do think that the site was negatively affected. I lost some keyword rankings and saw about a 10-20% drop in traffic and visibility in the search results.
So what did I do? Kept on pressing publish.
I know I'm doing the work and putting out good content, so I'm not too concerned that the site will be wiped out by an update. If you've been around the blogging block for long enough then you will eventually get dinged by an update, that's just the way this industry works.
I will give a little future update here and say that a second Google update was released in early July (at the time of this writing) and I'm seeing about a 20% increase over average June numbers – but it's too early to say if this increase will stick around. Stay tuned for next month!
---
💌 Email List Growth
~1150 subscribers (+50ish new subscribers in June 2021)
I gained about 50 or so new email subscribers in June, for a total of about 1200 total subscribers. However, this is a VERY COLD list. I have not communicated with them for months (years?) and I suspect many would unsubscribe when I send out a new email.
I do have some plans brewing in my mind to restart content for this email group, but right now I want to focus on updating older content before tackling a project this big.
---
💸 June 2021 RPM: $37.04
What is RPM? RPM is Revenue per Mille, or the amount of revenue per 1,000 pageviews. The formula for RPM is:
RPM = (estimated earnings / number of pageviews) * 1000
($3,379.05/ 71,971) * 1000 = $46.95
In June 2021 the blog earned $3,379.05 and had 71,971 pageviews, which means the RPM was $46.95. This means that for every 1000 pageviews the blog received, it generated $46.95 (note that this number is actually lower than my ad company RPM totals because my ad company takes a percentage of my earnings).
---
📌 June 2021 Summary + Goals
June was a GREAT month in many ways, but here are the big highlights:
Had the highest earning month EVER
Onboarded two virtual assistants
Set up a workflow system in ClickUp (no easy feat)
OFFICIALLY LAUNCHED A SECOND BLOG!
June was a GREAT month on the site. While traffic was down a bit, numbers were the highest they've ever been and I worked on laying the foundation for systems that will help me to scale in the future.
I mentioned in last month's report, but I now officially have two virtual assistants on board with me and I spend the first half of the month getting us set up in Clickup, a project management system.
It was a lot of work to get everything set up, but now we are able to produce our entire content workflow in one program that everyone has access to and can comment on. I also recorded over 6 hours of videos of my workflow process so that future team members can immediately jump in when we decide to add more people to the team.
In addition to getting the systems set up, I OFFICIALLY LAUNCHED A SECOND BLOG! Yes, you read that right…as if I didn't have enough on my plate, I started a second blog to keep myself on my toes.
This second site is actually a joint venture with Valerie from Thyme and Joy, who is a friend and accountability partner for all things blogging. We've spent so much time talking shop for months that we decided to put our money (and our time) where our mouths are and put the skills we've learned growing our sites to work by starting a second site.
It's still in its infancy (in fact, it's just an empty site right now with no content), but I'm very excited to see how it grows knowing everything I know now after years of building Fork in the Road. I don't plan to share the name of the site anytime soon because we want to use this site as a case study and don't want to send traffic to it to inflate the growth numbers, but I will share insights in future reports as we add content and watch it grow.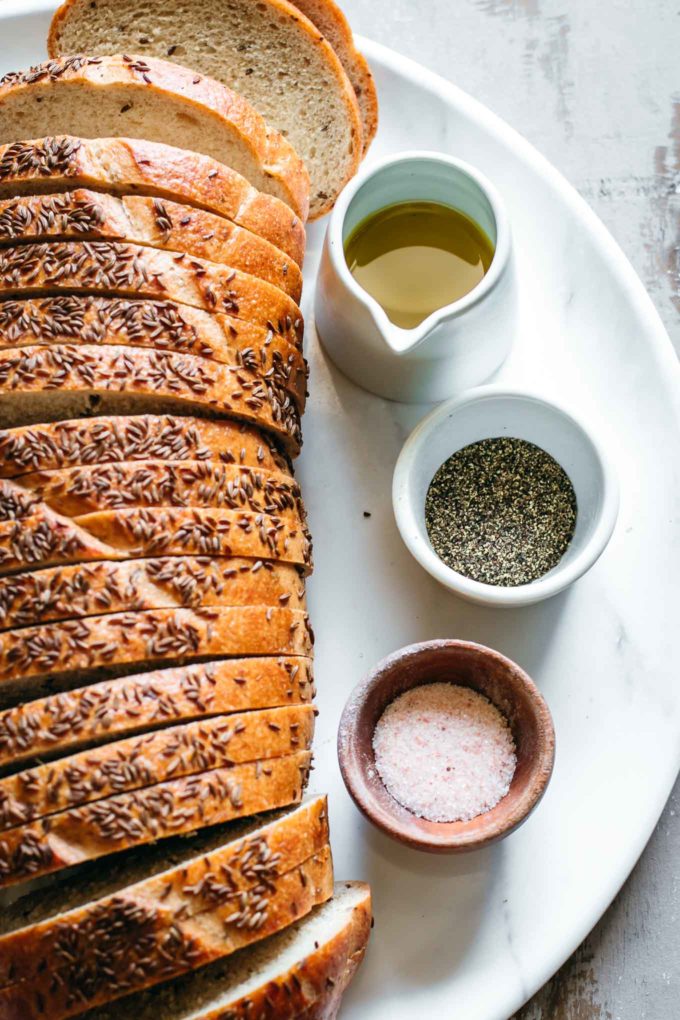 ---
Goals update
June's blogging goals were:
Post 3 times a week ✅
Update at least 5 older posts ❌
Finally finish the e-book I've had on my list for…4 months now (ugh) ❌
July's blogging goals are to:
Post every other day
Get at least one week ahead on content
FINALLY FINISH THIS E-BOOK
I'm going to keep it simple for July because my goal is to get ahead so I don't feel like I'm always behind. I'm realizing with the VAs that I may end up being the bottleneck to getting things done, so if I don't get and stay ahead then content will stall. So keeping it simple to stay on track.
If you'd like to follow along on my journey, sign up below for email updates!
---
Thanks for sticking it out and reading Fork in the Road's journey!
Make sure to check out the Food Blogging Resources page for past income reports and blogging tips, and sign up below to receive emails when new reports and blogging resources are live.
Do you have a food blogging question you want answered in a future report? Want to commiserate on your own blog traffic or income? Leave a comment below or contact me!