June 2020 Food Blog Side Hustle Income Report: $937.53
How my part-time food blog side hustle made $937.53 in June 2020! I share my strategies for taking your blog side hustle from hobby to business one post, and one month, at a time.
Welcome to the June 2020 Fork in the Road income report! If this is your first time reading one of our monthly traffic and income reports, my name is Kristina and I am a registered dietitian and the face behind this plant-forward recipe and sustainable living blog. Find out more about what we do at Fork in the Road here.
Last month I shared my May 2020 income and traffic report, after not posting any reports since April 2019. A lot happened in one year (new house, new city, new BABY!) so check out that post to get caught up.
My goals for June 2020 were simple: content, content, content. June is typically a slow month for food blogs, and with the global pandemic ad rates were abysmal. But in June I changed how I worked on the blog, which I hope will set the tone for future growth moving forward.
Ready to learn how Fork in the Road grew in June 2020? Read on for my income and traffic report, my analysis of what worked (and what didn't) and the goals I'm working toward for July.
[mailerlite_form form_id=4]
---
If this is not your first time reading a Fork in the Road income report, you can skip this section and head right to the income and traffic report below.
You might be wondering why I am sharing how much money I made from my food blog with the world. Why would I want to put myself out there and share the nitty gritty details of the money this blog is bringing in?
The main reason for sharing this information is to inspire you to start taking your own blog seriously. I found other food blog income reports from bloggers like Pinch of Yum, Making Sense of Cents, and Kate Kordsmeier of Root + Revel very inspirational in my own food blogging journey. Their posts have been invaluable over the last year when I was low on inspiration and needed a push to keep going.
I especially wanted to share because so many blog income reports are from established bloggers who are raking in tens of thousands of dollars, and I want to show what realistic growth (and the inevitable plateaus) look like when you're also working a full time job. No one starts out bringing in the big bucks, it happens with time and consistency.
The other reason for sharing is a bit more selfish: while I've done well creating new content and mastering food photography, I haven't been great at tracking my own progress and setting attainable monetary and business growth goals. I have a ton of ideas for the blog, but sometimes not a lot of follow-through due to time restraints and not knowing where to start on everything I want to accomplish. Sharing my monthly food blog side hustle reports with you is a way for me to stay accountable.
In these reports I share a month-by-month analysis of what I'm working on, how the blog has grown, what's working and what isn't, and my goals for the future. I share this to stay accountable and so that you can learn and be inspired to keep going with your food blog journey as well.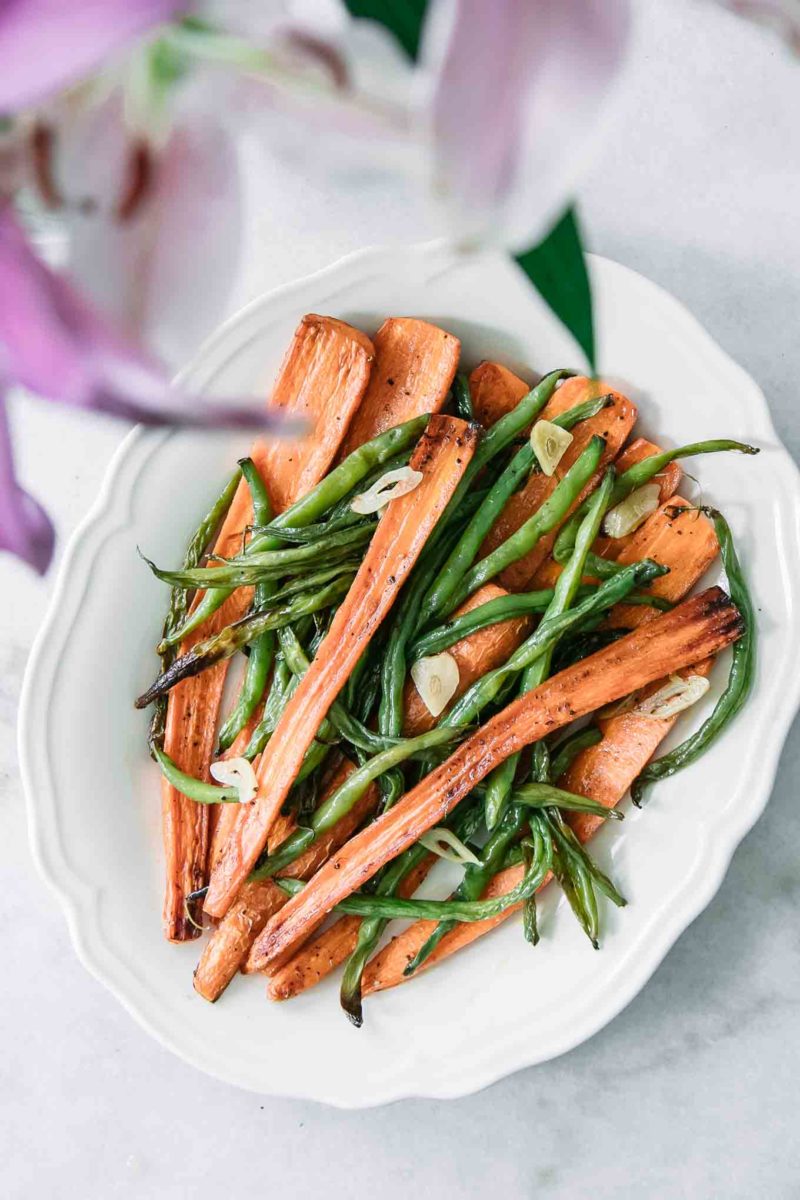 ---
💰 June 2020 Income Report
TOTAL INCOME: $937.53
Display ads: $454.29 (Mediavine)
Affiliate Marketing: $83.24
Sponsored Posts: $0
Freelance Writing, Photography, Design: $400
TOTAL EXPENSES: $149.03
Website Upkeep: $61.08

Website hosting: $10 (Cloudways)
Website tech/development: $47 (iMarkCreative)
Tasty Links: $4.08* (automatic linking plugin)

Photography + Video: $9.99 (Adobe Creative Cloud)
Email service provider: $29 (ConvertKit)
Content + social media management: $48.96
*Expenses listed with an asterisk are paid annually to take advantage of annual discounts, but I include the monthly amount here to show how much the blog costs to run each month.
NET PROFIT: $788.50
---
Income + Expense Review
Let's talk about income…
If you've been reading other food blog income reports, you'll know that no two blogs monetize in the same way. Some are high traffic with high display ad earnings, some are killing it at affiliate marketing, and some sell their own products and courses. And some are doing a little bit of everything.
Let's dive a bit deeper into the way Fork in the Road created income in June 2020.
Display Ads
Traffic is down for Fork in the Road (see traffic report below) and ad rates are down for everyone, so income is down overall. Hello summer slump!
June ad RPMs were pretty sad for most of the beginning of the month, in the $12-13 range. I had a little spike up to $24 around Father's Day and it stayed in the $18-22 range at the end of June, which was the end of the second quarter. Fork in the Road's average RPM was $16.83 for June 2020.
Ad rates are typically higher at the end of the business quarter as companies have marketing budgets to spend, which is always a good thing for website owners who run display ads.
Because of higher RPMs we ended the month with about $100 more in display ad income over March, even though our traffic was lower.
Affiliate Marketing
Affiliate marketing is when a blogger promotes another brand's product or service and receives a small commission if the reader purchases after clicking through an affiliate link. In June 2020 FITR made $83 in affiliate income from Amazon and Food Blogger Pro.
I include Amazon links in both recipes posts to suggest kitchen tools needed to make the recipe, and also in gift guides (like this eco-friendly holiday gift guide, which does well all year round).
I also was surprised by the amount of affiliate income from Food Blogger Pro (FBP), a membership site for food blogger's that I love and recommend in my 7 Mistakes You Shouldn't Make as a New Food Blogger post. This article went viral on Pinterest and I had a lot of incoming traffic, so I'm assuming that some of those readers purchased a membership through my affiliate link.
The benefit of this is that it is a recurring commission program, meaning that if they continue to become members of FBP then I continue to receive a percentage of their monthly membership fee month after month.
This has me dreaming up ways to get more commissions, which is a win-win considering I have been a member of FBP for years and I truly believe it is an awesome community to be a part of.
Sponsored Posts
I'm currently not pursuing sponsored post work. If I was approached by a company that aligned with the site, I would definitely work with them, but right now I'm not using my limited time to pitch sponsored work to brands. I have also heard in the blogging community that sponsorship opportunities are down as brands are reducing marketing spending.
Freelance Writing + Photography
Freelance writing and photography is any content I create for brands or other bloggers. Even though this type of work means the content never ends up on Fork in the Road itself, I still include it in these income reports because without the blog serving as my portfolio, I would never have secured the work.
In June 2020 I made $400 from freelance photography, which should be about the same amount in months going forward. It's an easy and fun project, as I get to shoot photos outside of my typical style, which I find builds my photography skills overall. I am grateful for this income stream at the moment, as it makes up the majority of the money I'm making on the blog.
---
Income Takeaway
June 2020 income is getting back to our average monthly income of around $1000, the amount the site has made without doing much work for the past year. I'm hoping that as I'm putting more time and effort and CONTENT into the site that this number will continue to grow.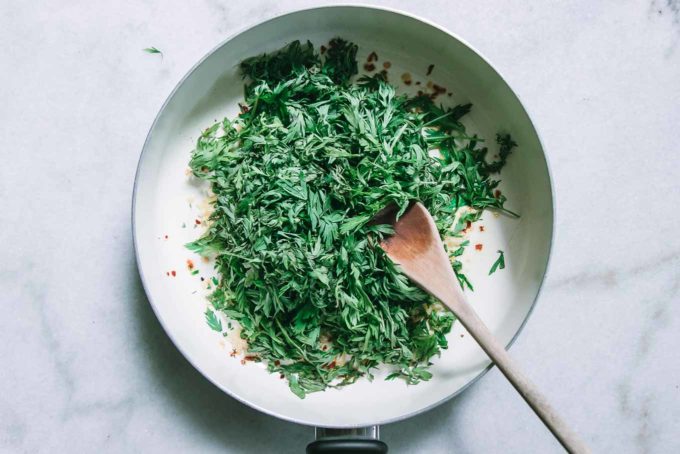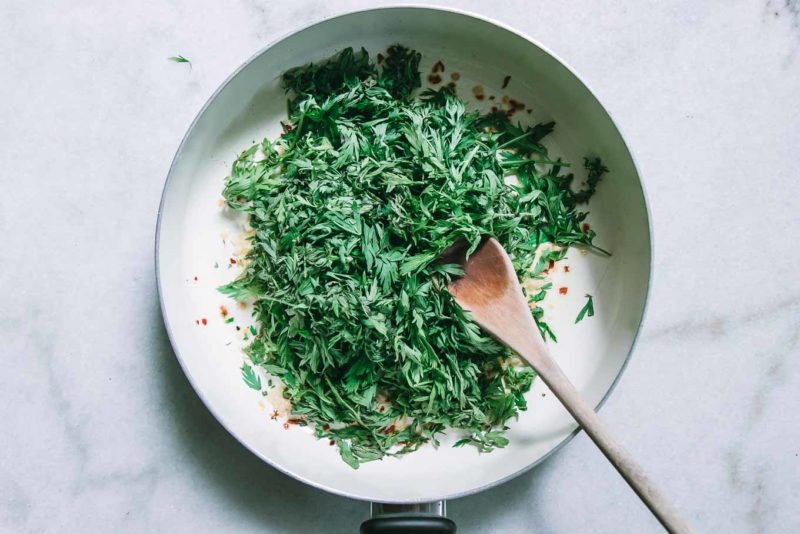 ---
Let's talk about expenses…
What you can see from my expense breakdown is that running a food blog means spending money to keep the blog running. I consider these costs of doing business, and because I worked full time for so long while also running the site, I outsource some things like tech management and use tools to automate tasks like social media and emails to my mailing list.
Also, many of the expenses you see listed in this expense report are things that I pay annually, so I have divided out the monthly cost to give an idea of what it costs to run the blog each month. Before doing this for these income report posts, I was spending upwards of $200+ on the website.
Over the last few months I have slowly cut away some things I have more time to do now to reduce monthly expenses. In June 2020 I decided not to continue paying for CoSchedule, a social media sharing service, and I also stopped paying for Tailwind's Tribes "power up" service.
I actually am considering completely stopping Tailwind altogether, but I'm testing a few Pinterest tactics that I'll discuss in my goals section below. Stay tuned!
Expenses Takeaway
The amount I spend monthly is probably pretty standard for most bloggers with a site my size. However, now that I'm flying solo with the site I've had to take a hard look at my expenses and decide if everything I'm paying for is truly worth it. This means in June 2020 my expenses were about $50 lower than in May 2020, a 25% decrease.
---
📈 June 2020 Traffic Report
June 2020 total traffic: 31,649 pageviews
This is -15% from May 2020 last month and +6% from June 2019 last year.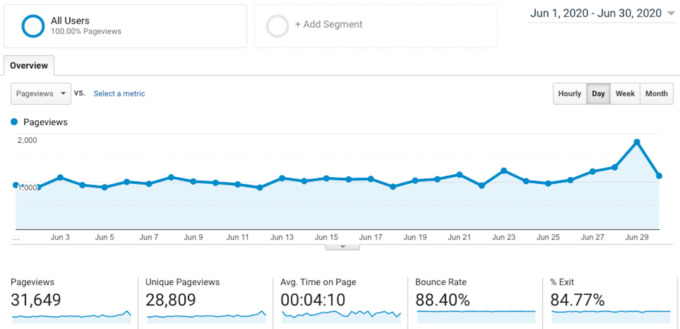 Top ten traffic sources for June 2020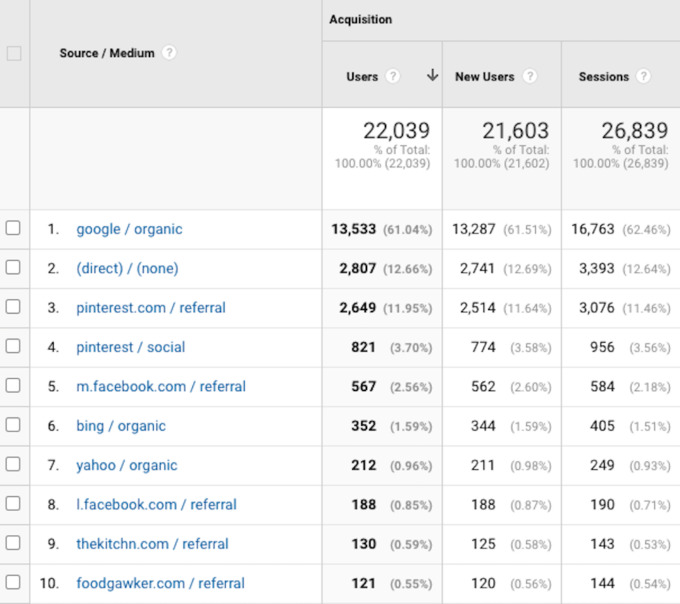 New content on Fork in the Road in June 2020
New recipe posts: 5 new + 2 updated recipe posts
New green guides: 1 updated green eating guides
New resources posts: 1 new + 1 updated food blogger resources
Traffic takeaway
Ugh, June traffic. It's typically always slow in June but this month was exacerbated by the pandemic and by global events. It's disheartening to see the site at the same numbers as it was in 2019, but there are a few learnings I'm taking forward into July.
One thing is that you have to just keep working through the down periods. There is no way to go up if you're not doing the work, and I sometimes get in a funk based on where my traffic is from day to day.
The other is that A LOT of content on the site needs to be updated. As I've continued learning about blogging I've realized what constitutes good content, and a lot of the older content on my site is definitely not as good as it could be.
For this reason, I'm going back through old posts and updating them to be more user-friendly, as well as optimizing for search engine optimization. I'll share more on the progress of this as time passes and I have more data, but what I can tell already from the two posts I've updated is that this is helping my older content move up in search rankings and thus bring in more traffic.
---
💌 Email List Growth
564 subscribers (+49 net new subscribers in June 2020, 10% growth)
Email Takeaway
My email list in kind of in limbo right now. I've been using ConvertKit for a few months after using ActiveCampaign for a year, and then I decided to try out MailerLite because it's free for the amount of subscribers I have.
But I'm not completely happy with any of them for the following reasons:
ActiveCampaign: Love the functionality and the emails design builder is great, but it doesn't include landing pages and the native embed forms are ugly and for some reason when I use them I get a ton of bot signups. This means I need to use another landing page builder ($25/month) and another forms building ($10+/month). User experience is ok, it probably has more bells and whistles than I need but also this means I have room to grow if I decide to sell products or other services in the future. $17/month for the Lite plan with my current subscribers.
ConvertKit: A favorite of many bloggers, it is super simple to use and I like the integrated landing pages. But their schtick is plain-text emails, which is fine but I like to be able to design my emails a bit better as a food blogger (because people eat with their eyes). Their embed forms look ok but for some reason I always have trouble putting them into my posts and they don't work with my current Table of Contents plugin. The bigger issue is cost. $29/month for my current number of subscribers. Ouch.
MailerLite: Another popular service among food bloggers. I like the email builder because I can create beautiful emails with drag-and-drop functionality. Their forms are basic but pretty easy to use. And they have integrated landing pages, so no paying for extra services. My gripes are the automations aren't as easy to tag people based on the links they click and…maybe that's it, so it's not that big of a deal. Especially when the price is right: FREE up to 1000 subscribers.
So what's the hesitation? When I had my site designed I switched to ConvertKit so all of my built-in optin forms already are with ConvertKit. So that will require me to tell my designer to change them, which isn't really a big deal but I have a habit of switching so often that I want to make sure I'm sticking with a service before doing that.
I'll continue to test out MailerLite in July and then make my decision. I think my issue (with everything blog related!) is that I'm thinking about what I'd like to do in the future (lots of emails!) and not what I'm doing now (almost nothing). Free is better than paying for doing the bare minimum.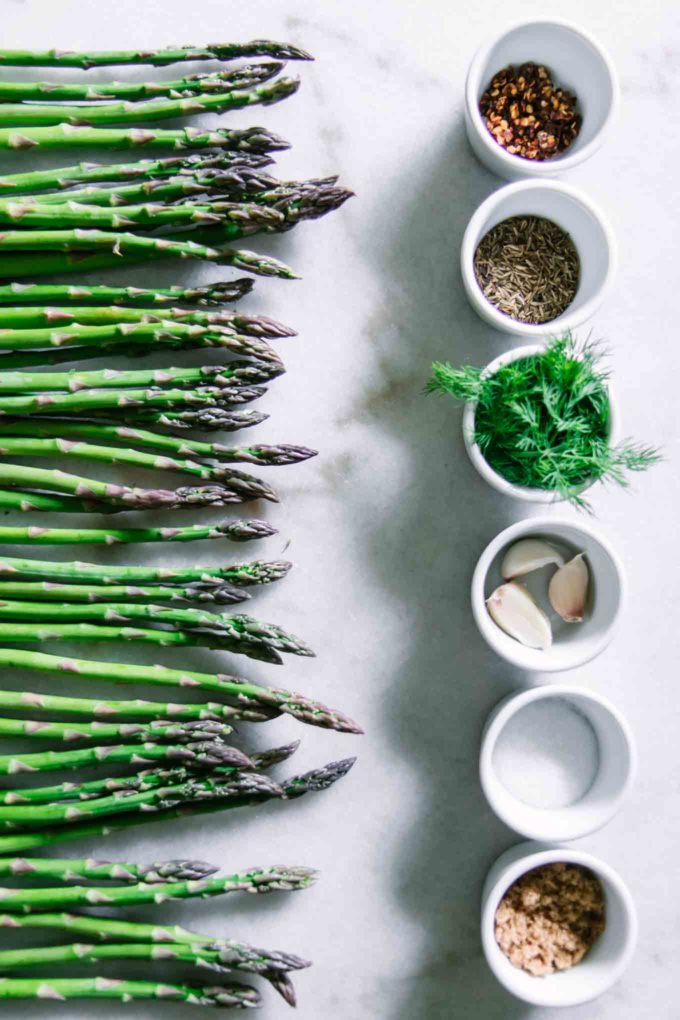 ---
💸 June 2020 RPM: $29.62
What is RPM? RPM is Revenue per Mille, or the amount of revenue per 1,000 pageviews. The formula for RPM is: (estimated earnings / number of pageviews) * 1000. In June 2019 I earned $937.53 and had 31,649 pageviews, which means my RPM was $29.62.
This means that for every 1000 pageviews I received, I made $29.62. This is +$5.91 from May 2020, which is a 24% increase over last month. This is why I made more money in June 2020 than in May 2020, even in my traffic was lower.
---
📌 June 2020 Summary + Goals
My goal for this month was to buckle down and create more content, instead of setting specific monetary or traffic goals. I liked focusing more on an action I can take every day instead of an outcome, which is sometimes out of my control.
In June I either created or updated 10 new pieces of content, which is half of the total posts I created in the entire year before. I plan to increase this even more to 15 posts in July 2020.
I'm also being more strategic about the type of content I create. In the past I would come up with a recipe idea, do a bit of keyword research to see if there was a lot of competition, and then create the post. I didn't think of how that content fit in my great content strategy…because I had no strategy.
Now I'm trying to go back through older posts and create clusters of similar content or what I'm referring to as "collections". For instance, one of my top posts in June was my Carrot Top Pesto, so I updated a similar post (Carrot Top Chimichurri) and created a new post using carrot tops (Sautéed Carrot Greens). I interlinked them all together and they are now some of the biggest posts on the blog, bringing in a combined $77 in ads income. From just three posts.
My goal is to clean up the entire site (all 191 posts at the time of this writing!) so that everything is the best post it can be, as well as interlinked to similar posts. This is a huge project that will probably take upwards of a year, but once that is done I can move forward strategically instead of just throwing things against the wall to see what works. Stay tuned.
Looking forward to July 2020
I will continue to focus on what I can do every day to grow the site, and that's create more content strategically.
Content, content, content. I will create and/or update 15 pieces of content around my niche topics, green eating and sustainable living, in addition to plant-based recipes.
Consistency. Writing is my roadblock, so I will continue to write for 1 hour a day to keep the writing muscle going.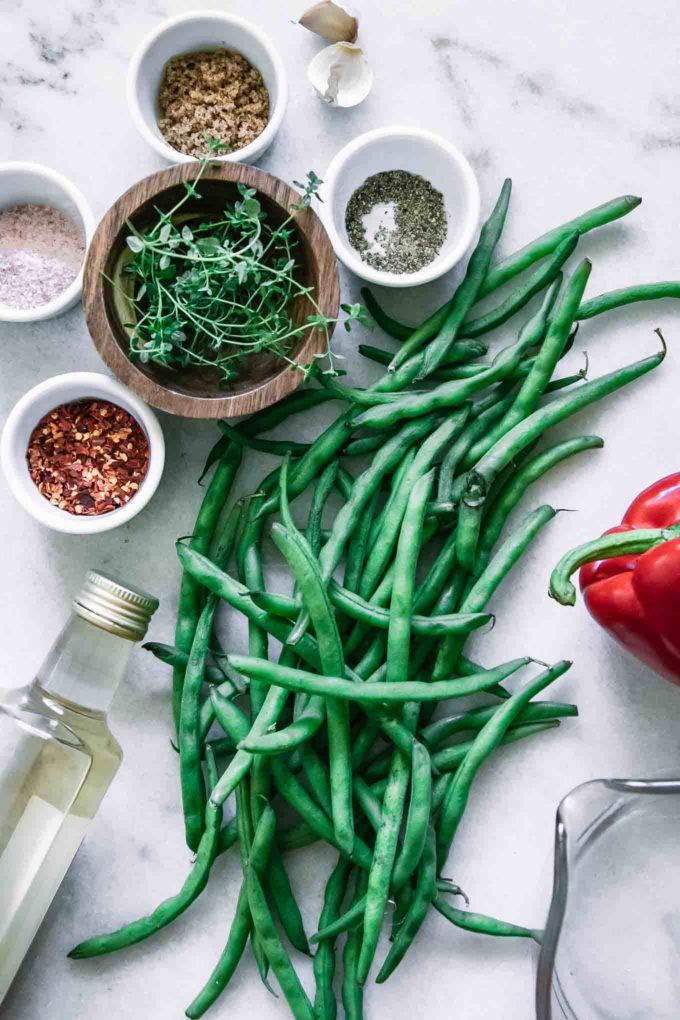 ---
Thanks for sticking it out and reading Fork in the Road's June 2020 journey!
Make sure to check out the Food Blogging Resources page for past income reports and blogging tips, and sign up below to receive emails when new reports and blogging resources are live.
[mailerlite_form form_id=4]
Do you have a food blogging question you want answered in a future report? Want to commiserate on your own blog traffic or income? Leave a comment below or contact me!