January 2022 Food Blog Side Hustle Income Report: $3,148.45
How my part-time food blog side hustle made $3,148.45 in January 2022! I share my strategies for taking your blog side hustle from hobby to business one post, and one month, at a time.
Welcome to the January 2022 Fork in the Road income report! If this is your first time reading one of our monthly traffic and income reports, my name is Kristina and I am a registered dietitian and the face behind this plant-based recipe and sustainable kitchen blog. Find out more about the site and the content shared on Fork in the Road here.
If you're new to my income reports, make sure to check out my last update — December 2021 food blog income report — to get caught up.
Ready to learn how Fork in the Road grew in January Read on for my income and traffic report, my analysis of what worked (and what didn't) and the goals I'm working toward in months to come.
---
If this is not your first time reading a Fork in the Road income report, you can skip this section and head right to the income and traffic report below.
You might be wondering why I am sharing how much money I make from my food blog with the world. Why would I want to put myself out there and share the nitty gritty details of the money this blog is bringing in?
The main reason for sharing this information is to inspire you to start taking your own blog seriously. I found other food blog income reports very inspirational in my own food blogging journey, and reading about other bloggers' successes (and failures) has been invaluable over when I was low on motivation and needed a push to keep going.
I especially want to share because so many blog income reports are from established bloggers who are raking in tens of thousands of dollars, and I want to show what realistic growth (and the inevitable plateaus) look like when you're also working a full time job. No one starts out bringing in the big bucks, it happens with time and consistency (the latter of which I sometimes lack!).
The other reason for sharing is a bit more selfish: while I've done well creating new content and mastering food photography, I haven't been great at tracking my own progress and setting attainable monetary and business growth goals.
I have a ton of ideas for the blog, but sometimes not a lot of follow-through due to time restraints and not knowing where to start on everything I want to accomplish. Sharing my monthly food blog side hustle reports with you is a way for me to stay accountable.
In these reports I share a month-by-month analysis of what I'm working on, how the blog has grown, what's working and what isn't, and my goals for the future. I share this to stay accountable and so that you can learn and be inspired to keep going with your food blog journey as well.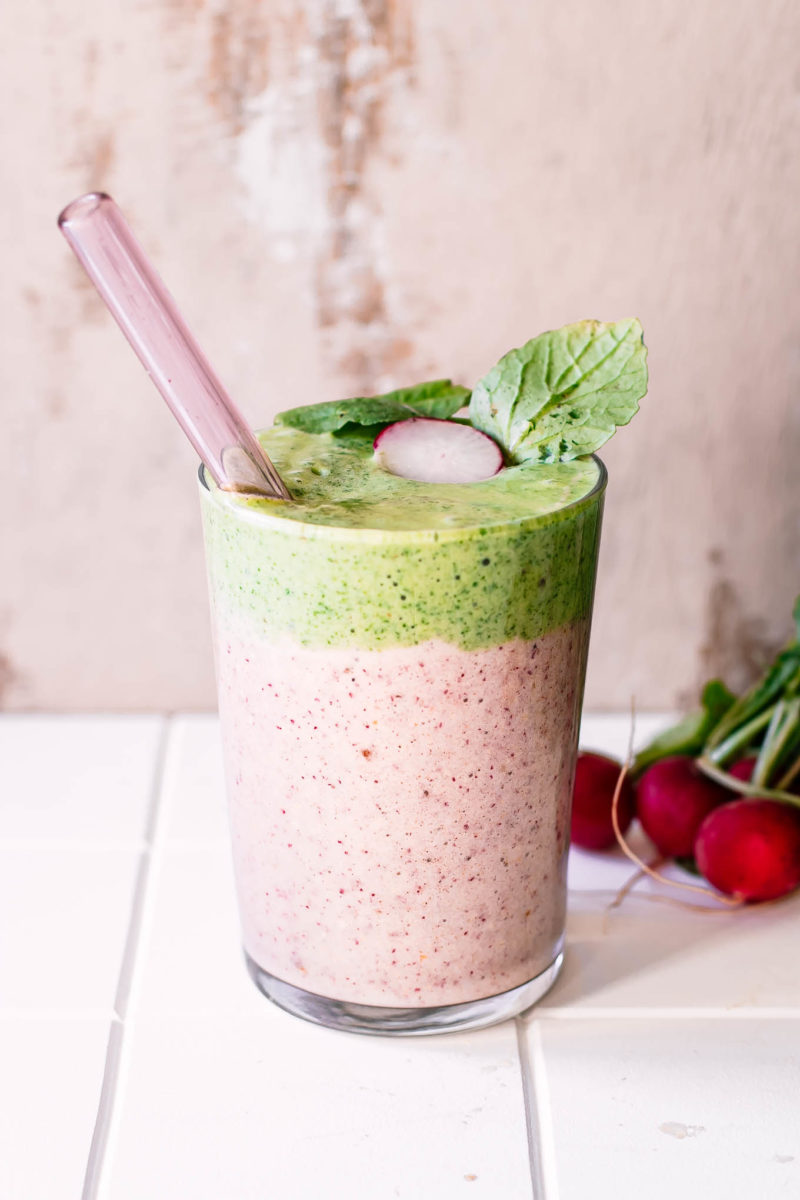 ---
💰 January 2022 Income Report
Below is a table showing revenue, pageviews, and content posted for each month of the last year. I keep this table updated to show incremental traffic and income increases (and setbacks) over the course of a year.
| Month | #Posts | #Views | $Ads | $Affiliate | $Other | $Total |
| --- | --- | --- | --- | --- | --- | --- |
| Jan-21 | 19 | 61,107 | $1,737.18 | $315.99 | $0 | $2,078.17 |
| Feb-21 | 4 | 54,754 | $1,694.57 | $89.03 | $0 | $1,783.60 |
| Mar-21 | 1 | 70,851 | $2,308.82 | $23.97 | $0 | $2,332.79 |
| Apr-21 | 8 | 70,013 | $2,293.14 | $73.92 | $0 | $2,367.06 |
| May-21 | 14 | 80,015 | $2,912.53 | $50.89 | $0 | $2,963.42 |
| June-21 | 13 | 71,971 | $3,177.92 | $201.13 | $0 | $3,379.05 |
| July-21 | 16 | 82,509 | $3,374.50 | $5.33 | $0 | $3,379.83 |
| Aug-21 | 16 | 78,190 | $3,224.28 | $12.45 | $0 | $3,263.73 |
| Sep-21 | 16 | 73,528 | $3,830.60 | $87.37 | $0 | $3,917.97 |
| Oct-21 | 21 | 76,619 | $3,734.12 | $18.53 | $0 | $3,752.65 |
| Nov-21 | 20 | 78,812 | $4,373.21 | $115.01 | $500 | $4,988.22 |
| Dec-21 | 10 | 68,131 | $3,254.26 | $136.81 | $0 | $3,391.07 |
| Jan-22 | 14 | 74,967 | $2,162.29 | $986.16 | $0 | $3,148.45 |
TOTAL INCOME: $3,148.45
Display Ads: $2,162.29 (Mediavine)
Affiliate Marketing: $986.16

Amazon Associates: $37.96
All Access Internships course: $149.50
Six Figure Blogger course: $798.50
TOTAL EXPENSES: $628.94
Website Upkeep Total: $72

Website hosting: $11 (Cloudways)
Website tech/development: $47 (iMarkCreative)
Tasty Links: $4* (automatic linking plugin)

Photography + Video Total: $65.94

Adobe Creative Cloud: $52.99
Canva: $12.95

SEO + Keyword Research Tools Total: $12
Email service provider: $79* (Kartra)
Learning (courses, ebooks, memberships, etc.): $0
Writer + Virtual Assistant: $400
+Expenses with a plus sign are new for the month and explained in the expense review below.
*Expenses listed with an asterisk are paid annually to take advantage of annual discounts, but I include the monthly amount here to show how much the blog costs to run each month.
**Expenses crossed out are those that I paid for last month but decided not to pay for going forward. I leave these here for the first month I don't pay for them to show how expenses change month-to-month.
NET PROFIT: $2,519.51*
*Note that the numbers here are an estimate and are not reflective of actual money in and out for the month. I report money earned, not received, for the current month as my ad company pays two months after money is earned. I am also showing a breakdown of expenses to give you an idea of how much it costs to run a blog every month, however many of these are paid annually and not monthly.
---
Income + Expense Review
Let's talk about income…
After a lackluster December for traffic and income, I wasn't surprised to have a lower January. The beginning of the year is when display ad RPMs are at their lowest, which means it's typically one of the lowest months of the year.

However, I will say that I can't be mad about a $32 average RPM for January. I remember when $32 was an AMAZING quarter four RPM, so I want to remind myself how much more money I'm making now per 1000 pageviews than even a year ago.
I received a few comments on old reports from new readers (hi friends!) who asked how my RPMs have been so high. I mentioned this in past reports, but I think it's a combination of:
Long posts with lots of shorter paragraphs, headers, lists, tables, photos, etc. to break up the reading experience (which also means more ads are served)
I've followed Mediavine's RPM challenge and also turned on their Universal Player video ad, which shot my RPM through the roof
I've also been with Mediavine for three years now so I get paid a higher percentage (78%, I believe).
Affiliate income was also through the roof this month because I randomly received affiliate commissions from two separate courses that I'm an affiliate for. One is a course that helps dietitians with their internship applications and I only have a few links on this sprinkled throughout the site.
The other commission was HUGE (almost $800) and came because a blogger emailed me about a course I took in the past that I mentioned once in a report. I sent her my affiliate link and was paid $800, which is pretty wild (I'm not sharing what course because it actually closed down completely and is not offered anymore…don't want to get your hopes up).
That's why I love blogging – you can literally write about something and then get paid from it for years in the future.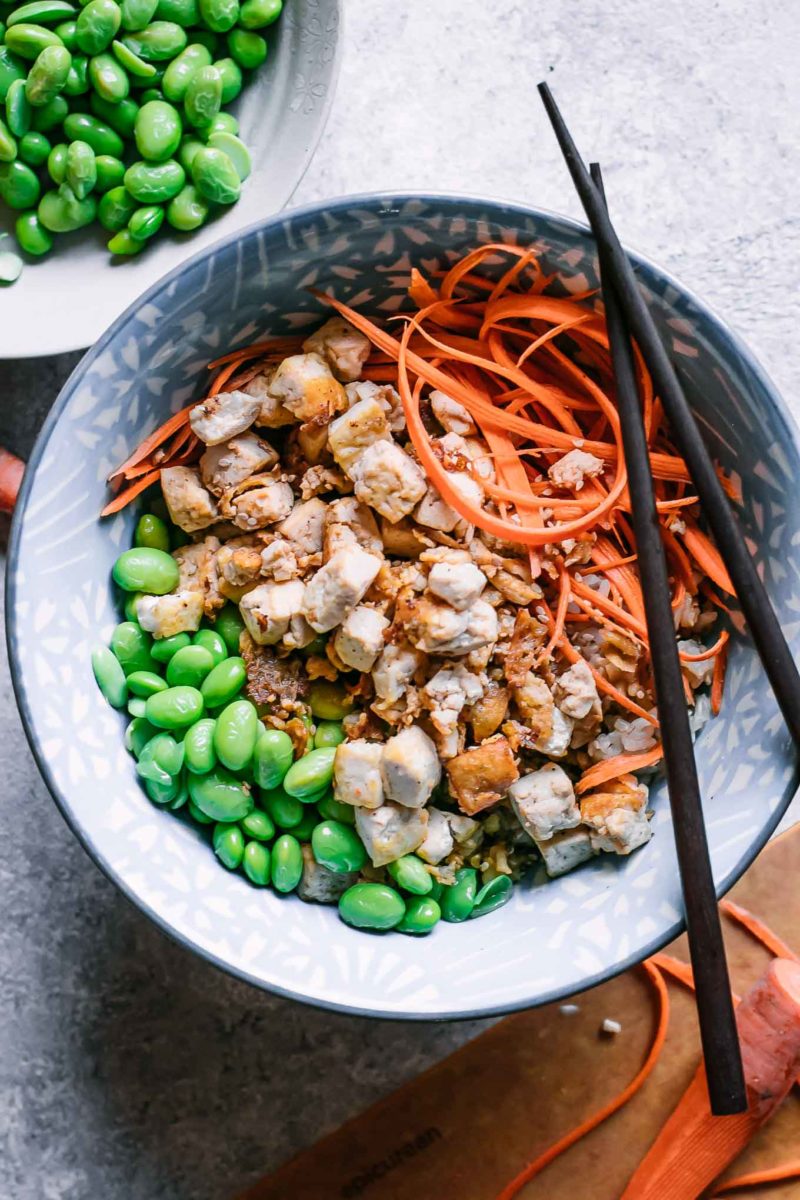 ---
📈 January 2022 Traffic Report
January 2022 traffic: 74,967 68,131
This is +10% from December 2021 last month and +14% from January 2021 last year.

Top ten traffic sources for January 2022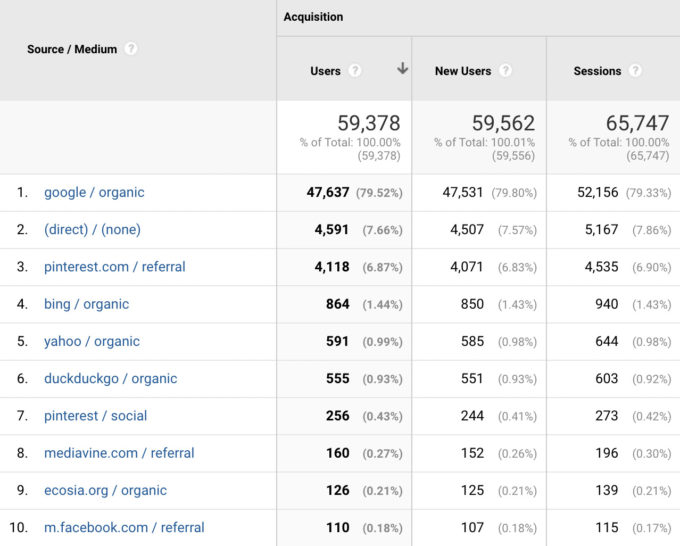 New content in January 2022: 14 total posts
New recipe posts: 4 new recipes + 7 updated older recipes (complete rewrites)
New green guides: 2 new green guides (kitchen resource posts)
New resources posts: 1 new blogging resource (income report)
New videos: 0
Traffic takeaway
Traffic was up to about 75,000 pageviews in January, a 15% increase from December (which is still wild to me). I think this means that the site is recovering a bit from the algorithm update that brought pageviews down in November and December.
Fingers crossed it keeps going up! If you look at the income and traffic table for the last year you'll see the site has hovered around 70,000-80,000 pageviews for the last year, which is frustrating considering the amount of work done on the site in that time.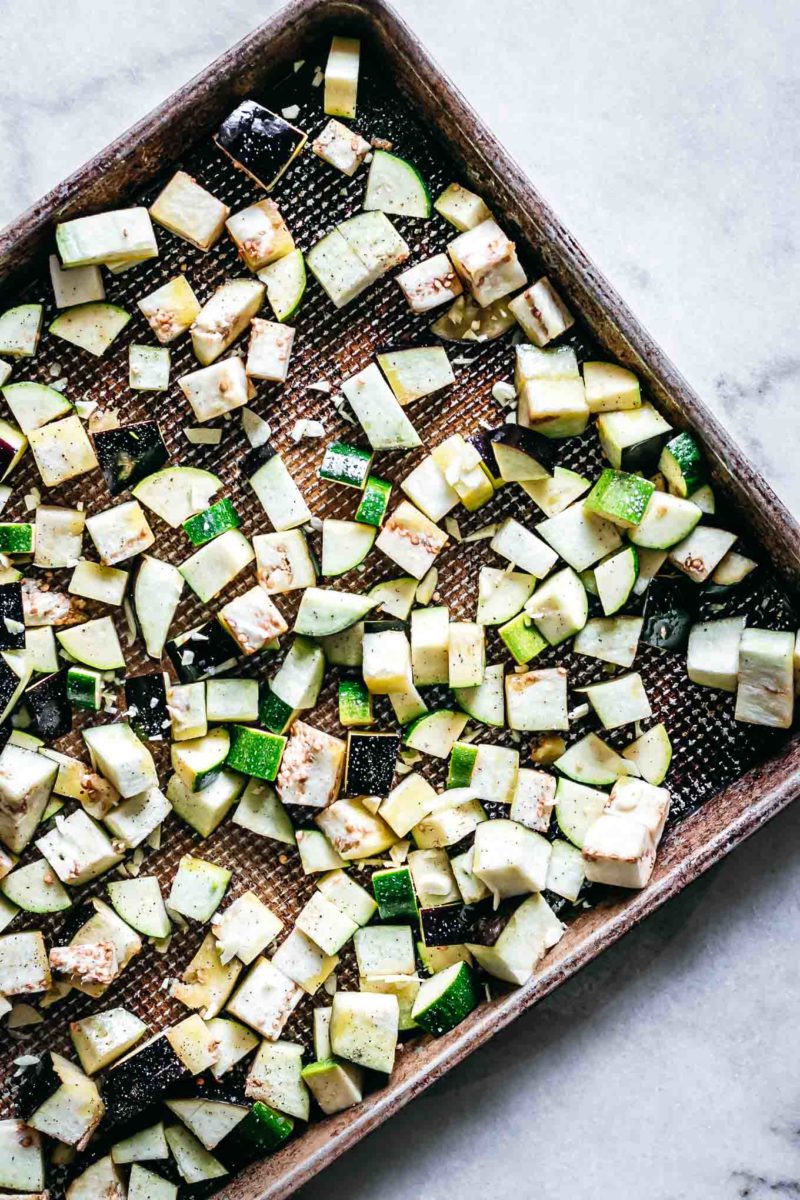 ---
💌 Email List Growth
~2300 subscribers (+100ish new subscribers in January 2022)
Again, nothing major to report here. I have a project in the works that will take a couple of months to finish and then I'll be implementing some email marketing techniques but until then email list building is on the backburner.
---
💸 January 2022 RPM: $41.99
What is RPM? RPM is Revenue per Mille, or the amount of revenue per 1,000 pageviews. The formula for RPM is:
RPM = (estimated earnings / number of pageviews) * 1000
($3,148.45/ 74,967) * 1000 = $41.99
In January 2022 the blog earned $3,148.45 and had 74.967 pageviews, which means the total RPM for all income sources was $41.99. This means that for every 1000 pageviews the blog received, it generated $41.99 (note that this number is actually lower than my ad company RPM totals because my ad company takes a percentage of my earnings).
👩‍💻 Other Sites
Though I absolutely LOVE Fork in the Road and it will always be my blogging baby, my goal is to have a portfolio of websites and I even want to test the waters with buying and flipping websites in the future.
Below is an update on other blogs I have started, and I hope to flush this section out more as I dive into more projects.
Site #2: Recipe Blog Partnership
January was the sixth month of running my second recipe blog, a partnership with Val from Thyme and Joy.
Though we've only posted maybe 30 recipes and the site is so bare bones that it doesn't even have a sidebar or about page, we actually ended the month of January with 4000 pageviews!
We're starting to get more serious about the site now and have a good posting cadence happening, with both of us posting one new post a week. We also have a dedicated writer for this site and we each do the keyword research and the photography.
It's been really interesting to start a site from scratch and see it grow much quicker than Fork in the Road ever did because now I actually know what I'm doing (somewhat). We decided to forego quick money and not put a lower tier ad company on the site, and instead to keep focusing on content and growth with the intention of getting on AdThrive or Mediavine once the site reaches the pageview threshold (which is lower is you already have a site with either of the higher tier ad companies, which we both do).
Sites #3 and #4
Wait, what? Site 3 and Site 4? Yup, you read that right – I now have 4 active websites (and a couple other ideas cooking).
I haven't mentioned this in past income reports because I wanted to focus most of the income reports on Fork in the Road because it's my main site. But last month I asked if you would be interested in hearing about the other websites and their growth in these reports.
I promise I will do that…very soon. I am actually considering moving these income reports off of Fork in the Road completely and making a separate website only about blogging so that I can do income reports for all of my sites. This will take some time (something I'm low on) but I'm hoping to get this done in the next couple of months.
So stay tuned! I will start doing case studies on these other sites as well and I hope you'll follow along with my entire portfolio of websites.
---
📌 January 2022 Summary + Goals
Overall January was a good month, traffic was slightly up and income stayed about the same after considering the drop in RPMs in the new year.
As mentioned in my last post, I was very bummed about the slow growth so I've decided to do something about it and get an SEO audit.
I absolutely LOVE learning about SEO and have grown the website considerably in the last few years, but I think it's at a point where it's time to get get an expert set of eyes on my site for a search optimization audit. The site has plateaued and I'm ready to take it to the next level so I want to make sure it's set up for success and that there aren't any issues going on that have me spinning my wheels.
I have an audit scheduled for March, so I'll keep you updated as I go through that process.
---
Goals update
January's blogging goals were:
Take a break from the site to refresh
Get back in the swing of things when I'm ready
Post more non-recipe content, because it takes less time…which means I can post more.
February's goals are:
Stay consistent with posting across all of my websites
Finally get started on a project I've been thinking, reading, and learning about for over a year
If you'd like to follow along on my journey, sign up below for email updates!
---
Thanks for sticking it out and reading Fork in the Road's journey!
Make sure to check out the Food Blogging Resources page for past income reports and blogging tips, and sign up below to receive emails when new reports and blogging resources are live.
Do you have a food blogging question you want answered in a future report? Want to commiserate on your own blog traffic or income? Leave a comment below or contact me!