February 2021 Food Blog Side Hustle Income Report: $1,783.60
How my part-time food blog side hustle made $1,783.60 in February 2021! I share my strategies for taking your blog side hustle from hobby to business one post, and one month, at a time.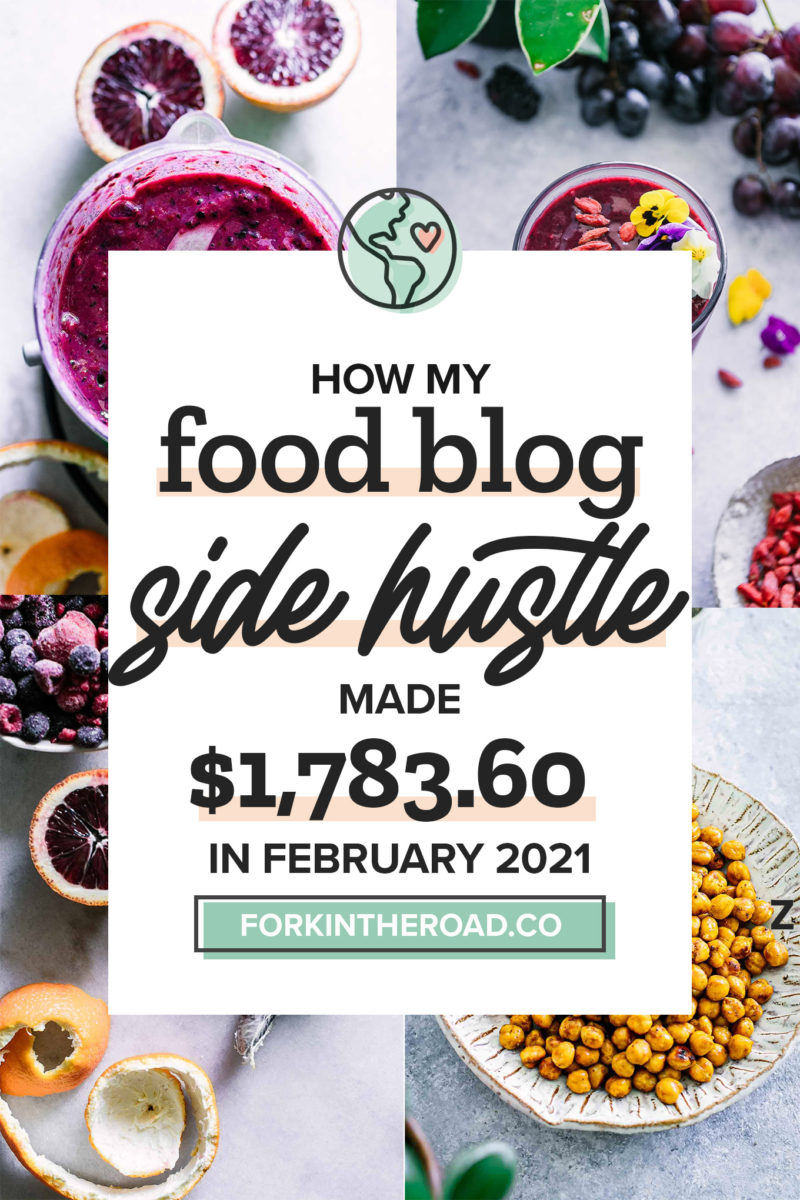 Welcome to the February 2021 Fork in the Road income report! If this is your first time reading one of our monthly traffic and income reports, my name is Kristina and I am a registered dietitian and the face behind this plant-based recipe and sustainable kitchen blog. Find out more about us and the content we share at Fork in the Road here.
If you're new to my income reports, make sure to check out my last update — January 2020 food blog income report — to get caught up.
Ready to learn how Fork in the Road grew in February? Read on for my income and traffic report, my analysis of what worked (and what didn't) and the goals I'm working toward in 2021.
---
If this is not your first time reading a Fork in the Road income report, you can skip this section and head right to the income and traffic report below.
You might be wondering why I am sharing how much money I make from my food blog with the world. Why would I want to put myself out there and share the nitty gritty details of the money this blog is bringing in?
The main reason for sharing this information is to inspire you to start taking your own blog seriously. I found other food blog income reports from bloggers like Pinch of Yum, Making Sense of Cents, Midwest Foodie Blog, and Kate Kordsmeier of Root + Revel very inspirational in my own food blogging journey. Their posts have been invaluable over the last year when I was low on motivation and needed a push to keep going.
I especially want to share because so many blog income reports are from established bloggers who are raking in tens of thousands of dollars, and I want to show what realistic growth (and the inevitable plateaus) look like when you're also working a full time job. No one starts out bringing in the big bucks, it happens with time and consistency (the latter of which I sometimes lack!).
The other reason for sharing is a bit more selfish: while I've done well creating new content and mastering food photography, I haven't been great at tracking my own progress and setting attainable monetary and business growth goals.
I have a ton of ideas for the blog, but sometimes not a lot of follow-through due to time restraints and not knowing where to start on everything I want to accomplish. Sharing my monthly food blog side hustle reports with you is a way for me to stay accountable.
In these reports I share a month-by-month analysis of what I'm working on, how the blog has grown, what's working and what isn't, and my goals for the future. I share this to stay accountable and so that you can learn and be inspired to keep going with your food blog journey as well.
---
💰 February 2021 Income Report
| Month | #Posts | #Views | $Ads | $Affiliate | $Other | $Total |
| --- | --- | --- | --- | --- | --- | --- |
| Aug-20 | 3 | 49,495 | $917.18 | $46.20 | $300 | $1,263.38 |
| Sep-20 | 5 | 42,190 | $959.19 | $49.46 | $250 | $1,258.65 |
| Oct-20 | 6 | 43,508 | $1,340.78 | $49.46 | $250 | $1,640.24 |
| Nov-20 | 4 | 45,683 | $2,024.79 | $79.85 | $150 | $2,254.64 |
| Dec-20 | 4 | 53,027 | $2,605.78 | $98.94 | $250 | $2,954.72 |
| Jan-21 | 19 | 61,107 | $1,737.18 | $315.99 | $0* | $2,078.17 |
| Feb-21 | 4 | 54,754 | $1,694.57 | $89.03 | $0* | $1,783.60 |
TOTAL INCOME: $1,783.60
Display Ads: $1,694.57 (Mediavine)
Affiliate Marketing: $89.03
TOTAL EXPENSES: $588.14
Website Upkeep Total: $72

Website hosting: $11 (Cloudways)
Website tech/development: $47 (iMarkCreative)
Tasty Links: $4* (automatic linking plugin)

Photography + Video Total: $42.94

Adobe Creative Cloud: $29.99
Canva: $12.95

SEO + Keyword Research Tools Total: $37

SEMrush: $25 (shared account with other bloggers)
Keysearch: $12

Email service provider: $79* (Kartra)
Content + social media management: $14.95
Learning (courses, ebooks, memberships, etc.): $342.25

HashtagJeff SEO membership: $8.25*
Eat Blog Talk Q1 Mastermind: $34*
Creative Course Collective: $300*
+Expenses with a plus sign are new for the month and explained in the expense review below.
*Expenses listed with an asterisk are paid annually to take advantage of annual discounts, but I include the monthly amount here to show how much the blog costs to run each month.
**Expenses crossed out are those that I paid for last month but decided not to pay for going forward. I leave these here for the first month I don't pay for them to show how expenses change month-to-month.
NET PROFIT: $1,195.46
---
Income + Expense Review
Let's talk about expenses…
Let's dive a bit deeper into the way Fork in the Road created income in February 2021.
Display Ads
Display ad RPMs continued to stay high for me in February, averaging out to $35.47 for the month.
I've mentioned in past income reports that my RPMs shot through the roof in the fall and have continued to stay high even in quarter 1, a time when ad spend goes down and website owners typically see much lower RPMs.
I've talked with other blogger friends who are with both Mediavine (my ad company) and AdThrive (another popular ad partner) and they are not seeing the high numbers that I am.
I have a few ideas about why I am getting such high display ad RPM numbers and think it's a combination of factors including:
Text and line height: My font size is large, as well as my paragraph line height. This means that the words are bigger on the screen, which means more ads are served as readers scroll my posts.
Longer posts with lots of photos: I started reformatting my recipe posts to include lots of headers, shorter paragraphs, more photos, etc. I do step-by-step photos for most recipes now as well. This means more ads are inserted between the longer elements on my articles.
Video ads: I only have 5 or 6 videos on my site, but they are automatically played with a video ad when users scroll. These short, simple videos bring in about 35% of my ad income.
If you're looking to implement any of these strategies, I highly suggest checking out Mediavine's RPM Challenge and updating your posts based on their tips — no matter who your ad network partner is.
Affiliate Marketing
Affiliate marketing is when a blogger promotes another brand's product or service and receives a small commission if the reader purchases after clicking through an affiliate link. In December 2020 and January 2021 FITR made over $300 in affiliate income from various affiliate programs.
However…that wasn't the case in February. Affiliate income dropped considerably to about $90, but I won't complain about that because there has been ZERO strategy implemented into growing this month. Yet another to-do list item that hasn't been checked!
Sponsored Posts
I'm currently not pursuing sponsored post work. If I was approached by a company that aligned with the site, I would definitely work with them, but right now I'm not using my limited time to pitch sponsored work to brands.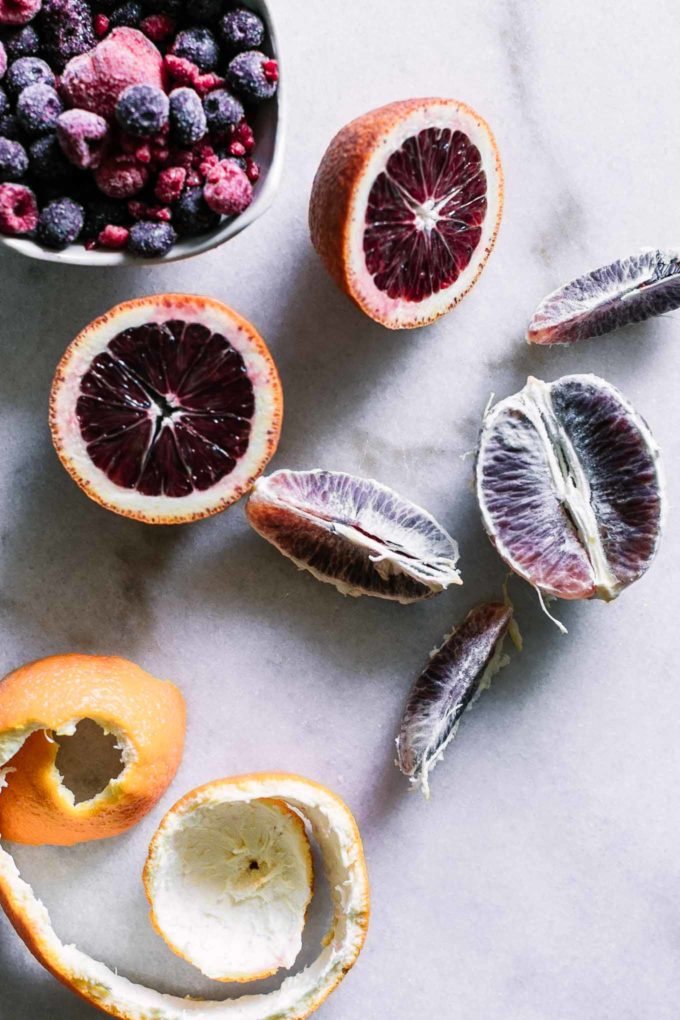 ---
Income Takeaway
Overall I'm happy with February's income, considering it was a shorter month. Traffic stayed consistent (see the traffic report below for details) and RPMs were high, so I won't complain.
UPDATE ON FREELANCE WORK: A few months ago I decided to stop including freelance photography and writing in these reports, as I wanted to keep money that was made on the blog separate from money that is made for projects that are not strictly blog related. However, I did want to mention that my freelance work EXPLODED in February. More on that in next month's report, stay tuned!
---
Expenses Takeaway
Expenses for February were normal, no outlandish spending or purchasing. I continued to participate in the masterminds I joined, which has been helpful and worth the expense.
I am considering purchasing a few things for the business, such as new photography backdrops, a desktop computer, and potentially even hiring a virtual assistant. Time to level up!
---
📈 February 2021 Traffic Report
February 2021 traffic: 54,754 pageviews
This is -11% from January 2021 last month and +72% from February 2020 last year.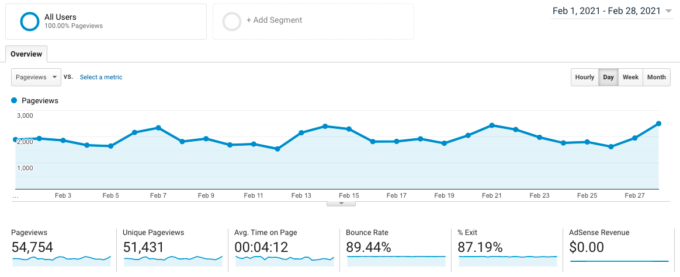 Top ten traffic sources for February 2021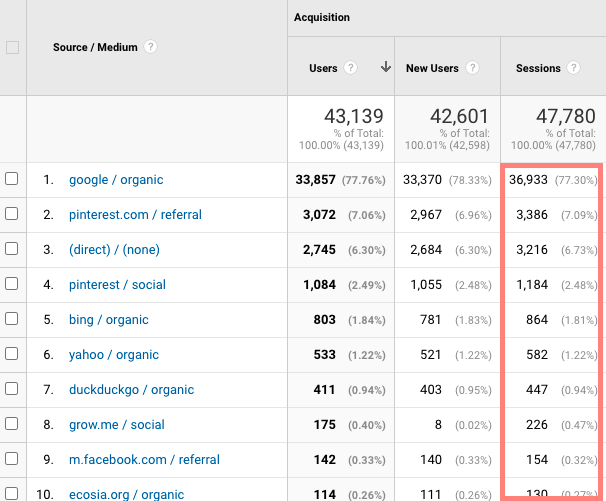 New content in February 2021
Because of the new freelance work I took on in February, content creation suffered and I was only able to post a few updates for the month.
I was able to create two new slideshow videos with process photographs instead of actual video footage. I'd like to create more of these for my top post moving forward, they were very easy to do!
New recipe posts: 3 (1 new, 2 updated)
New green guides: 0
New resources posts: 1 blogger resource
New videos: 2 new recipe videos
Traffic takeaway
Traffic held mostly steady throughout the month and being a shorter month, February is usually never a big winner. However, I was happy to see that traffic is 75% higher than one year ago!
As I've mentioned in many other posts, I was hit by multiple Google algorithm updates over the past 1.5 years so it's nice to see that I didn't completely plummet back down after the holiday season and traffic is holding pretty steady.
---
💌 Email List Growth
~800 subscribers (about +50 new subscribers in February 2021)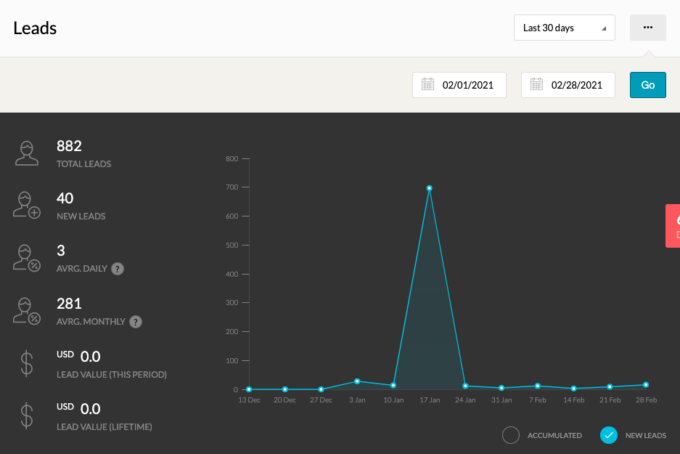 I mentioned in last month's report that I switched to Kartra, an all-in-one email service provider that also provides landing pages, forms, memberships, and about 10 other tools that I haven't dug into yet.
It's not cheap, but I have a few product ideas for the future (and maybe a course one day?!?) and I was tired of trying to piecemeal together email, landing pages, forms, and other software to do all the things that Kartra offers in one (less expensive) service.
My goal for February was to update my welcome series, but I ended up just implementing new forms throughout the site and setting up a few systems. I hope to have the welcome series and a newsletter template ready next month!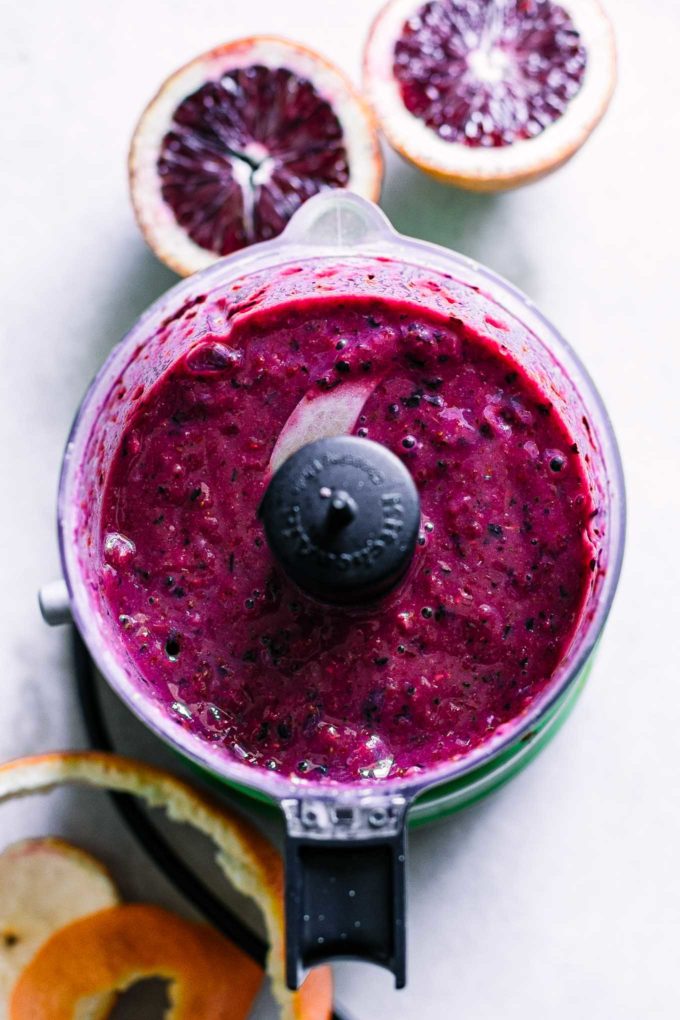 ---
💸 February 2021 RPM: $32.57
What is RPM? RPM is Revenue per Mille, or the amount of revenue per 1,000 pageviews. The formula for RPM is:
RPM = (estimated earnings / number of pageviews) * 1000
($1,783.60/ 54,754) * 1000 = $32.57
In February 2021 the blog earned $1,783.60 and had 54,754 pageviews, which means the RPM was $32.57. This means that for every 1000 pageviews the blog received, it generated $32.57, -4% less than the previous month (gotta love quarter 1).
---
📌 February 2021 Summary + Goals
There isn't much exciting to say about February except it was a steady month for income and traffic, considering it was a shorter month. Shiny object syndrome hit me hard this month with freelance work (not complaining!), so content creation suffered a bit but overall the blog is puttering along.
One thing I will mention is this is why I love blogging: you can literally step away for weeks or months at a time and it keeps running itself in the background. I hardly logged onto the site as other work ramped up, but it continued to bring in money every day via ads and affiliate income.
I love the freedom that blogging gives and it truly is the best side hustle for those working full time as you can walk away from it and come back when you're ready.
---
Goals for next month
I'm not setting any specific goals for next month because I know my freelancing work will be high.
Instead, I want to set a goal to think through something that has been on my mind for awhile now: bringing on someone to help with blog tasks, whether it be a writer, virtual assistant, or otherwise. It's time, I know it, but I'm not sure what that will look like day-to-day and which tasks to start outsourcing.
Do you have tips for hiring and building a team? Comment below, I'd love to hear them!
---
Thanks for sticking it out and reading Fork in the Road's journey!
Make sure to check out the Food Blogging Resources page for past income reports and blogging tips, and sign up below to receive emails when new reports and blogging resources are live.
Do you have a food blogging question you want answered in a future report? Want to commiserate on your own blog traffic or income? Leave a comment below or contact me!