April 2019 Food Blog Side Hustle Income Report: $643.75
How my part-time food blog side hustle made $643.75 in April 2019 — while still working my full-time job! I share my strategies for taking your blog side hustle from hobby to business one step, and one month, at a time.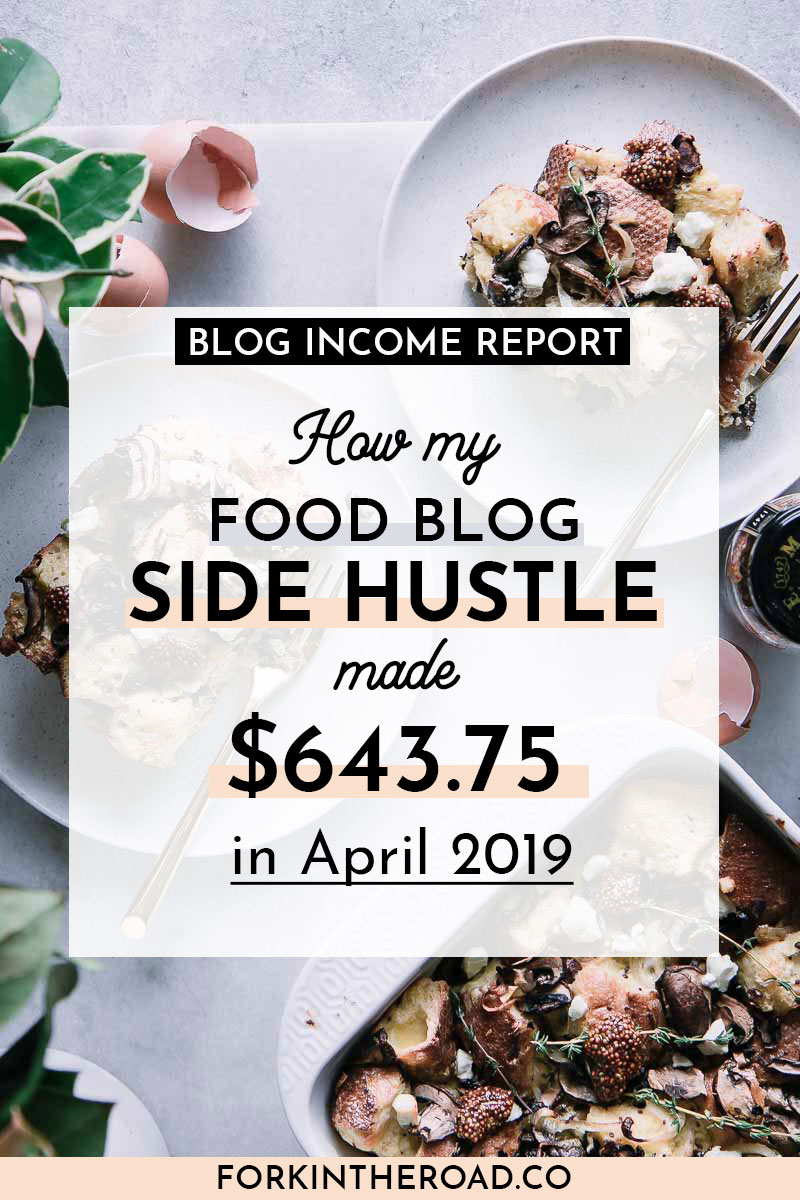 Welcome to the April 2019 Fork in the Road income report! If this is your first time reading one of our monthly traffic and income reports, my name is Kristina and I am a registered dietitian and the face behind this plant-forward recipe and sustainable living blog. Find out more about what we do at Fork in the Road here.
I recently shared how my food blog side hustle made $20,000 in 2018, which was the first year I took the blog seriously after running it as a (very expensive) hobby. And last month in March 2019 I made over $1000 with relatively low traffic and no display ads on the website (yet!).
Ready to learn how Fork in the Road grew in April 2019? Read on for my income and traffic report, and my analysis of what worked (and what didn't) and the goals I'm working toward in the coming month.
---
Why would you share how much money you're making from your food blog?*
*If this is not your first time reading a Fork in the Road income report, you can skip this section and head right to the income and traffic report below.
You might be wondering why I am sharing how much money I made from my food blog with the world. Why would I want to put myself out there and share the nitty gritty details of what I'm bringing in?
The main reason for sharing this information is to inspire you to start taking your own blog seriously. I found other food blog income reports from bloggers like Pinch of Yum, Making Sense of Cents, and Root + Revel very inspirational in my own food blogging journey. Their posts have been invaluable over the last year when I was low on inspiration and needed a push to keep going.
I especially wanted to share because so many blog income reports are from established bloggers who are raking in tens of thousands of dollars, and I want to show what realistic growth (and the inevitable plateaus) looks like when you're also working a full time job. No one starts out bringing in the big bucks, it happens with time and consistency.
The other reason for sharing is a bit more selfish: while I've done well creating new content and mastering food photography, I haven't been great at tracking my own progress and setting attainable monetary and business growth goals. I have a ton of ideas for the blog, but sometimes not a lot of follow-through due to time restraints and not knowing where to start on everything I want to accomplish. So sharing my monthly food blog side hustle reports with you is a way for me to stay accountable.
In these reports I share a month-by-month analysis of what I'm working on, how the blog has grown, what's working and what isn't, and my goals. So I can stay accountable and hopefully you can learn and be inspired to keep going with your food blog journey as well.
Ready to see how Fork in the Road fared in April 2019? Let's do it!
---
APRIL 2019 INCOME REPORT
TOTAL INCOME: $643.75
Affiliate Marketing: $24.05

Amazon Affiliates: $24.05

Sponsored Posts: $0
Freelance Writing, Photography, Design: $400
---
TOTAL EXPENSES: $212.70
Website Upkeep: $91.25

Website hosting: $36 (Siteground)
FacetWP: $8.25 (plugin that creates my recipe index)
Website tech/development: $47 (iMarkCreative)

Adobe Creative Cloud: $9.99 (photo editing)
Email service provider: $9 (ActiveCampaign)
Content + social media management: $73.46
Learning + Courses + Conferences: $29
NET PROFIT: $431.05
---
Income + Expense Review
Let's talk about income…
If you've been reading other food blog income reports, you'll know that no two blogs monetize in the same way. Some are high traffic with high display ad earnings, some are killing it at affiliate marketing, and some sell their own products and courses. And some are doing a little bit of everything.
Let's dive a bit deeper into the way Fork in the Road created income in March 2019.
Display Ads
My goal for the last year has been to grow my traffic to the amount necessary to apply to Mediavine (25,000 sessions). And as I mentioned last month, I applied and was accepted!
The ads were finally live on April 4th and over the course of the month I made a little over $200. This amount is low because as a new blogger with Mediavine my RPM (revenue per mille, or revenue per 1000 sessions) is smaller than bloggers who have been with the ad company for longer periods of time.
However, I'm thrilled because this was $200 of passive income that I made off of the traffic I was already receiving. As you'll see below, I had a slow month of posting content but I still made money because of the work I've done in the past to grow my site to where it is now. I look forward to seeing my ad income grow in the future!
Affiliate marketing
Affiliate marketing is when a blogger promotes another brand's product or service and receives a small commission if the reader purchases after clicking through an affiliate link.
As mentioned in detail in past income reports, at the end of 2018 I took the Making Sense of Affiliate Marketing course by Michelle from Making Sense of Cents, and started putting the lessons into action with minor success by creating targeted affiliate content (like an eco-friendly gift guide for my readers' interests.
In April 2019 I made about $25 in affiliate income from Amazon. This is still a small amount, but like I mentioned in the ads section above, it is completely passive and was made off of content I wrote months prior.
Sponsored Posts
I mentioned in last month's income report that I'm taking a break from pursuing sponsored post work right now, at least at the level I've been accepting it at. Because I work full time I need to protect my time and make sure that the work I'm doing for the blog is lucrative and also aligns with Fork in the Road's values.
While I think brand sponsored blog posts are fine occasionally, I would like to work on increasing more passive income streams, like ads and affiliate marketing. As you can see when comparing this month's revenue to the month's prior, this has meant a drop in income.
My hope is that a focus on more content to grow traffic and affiliate sales means more consistent increase in passive income later down the road. Stay tuned to see how this pans out throughout the year!
Freelance writing + photography
The biggest portion of my income in 2018 came from freelance writing and photography, but I decided to cut back significantly in 2019 and only kept one client month-to-month. Even though this type of work means that the content never ends up on Fork in the Road itself, I still include it in these income reports because without the blog serving as my portfolio, I would never have secured the work.
In April 2019 I made $400 from freelance photography, which should be about the same amount in months going forward. It's an easy and fun project, as I get to shoot photos outside of my typical style, which I find builds my photography skills overall.
INCOME TAKEAWAY: April 2019 was a lower than average month for blog income, because I did not take sponsored work and instead decided to pursue more passive income streams. I'm ok with this because it means I can focus my energy on building my site's content and optimizing it for search so I can continue to grow the website for long-term success.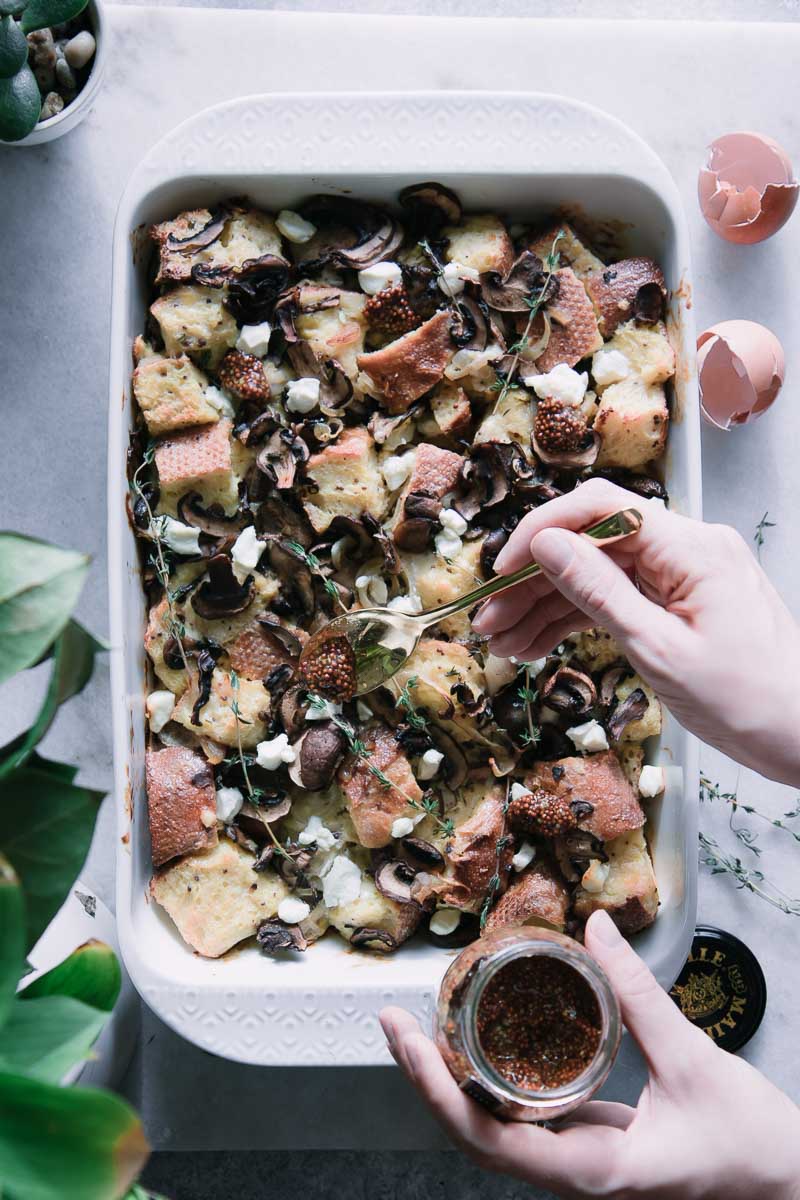 Let's talk about expenses…
What you can see from my expense breakdown is that running a food blog means spending money to keep the blog running. I consider these costs of doing business, and because I work full time I outsource some things like tech management and use tools to automate tasks like social media and emails to my mailing list.
Many of the expenses you see listed in this expense report are things that I pay annually, so I have divided out the monthly cost to give an idea of what it costs to run the blog each month. Before doing this for this income report posts, I actually had no idea that it costs me over $200 a month to keep the blog running, and have been able to reevaluate what expenses are important and which I can cut.
EXPENSES TAKEAWAY: The amount I spend monthly is probably pretty standard for most bloggers with a site my size, however after laying out the expenses here I realized there are some redundancies that I'm paying for. This month I decided to cut out my Adobe Premiere Pro video editing subscription because I am not focusing on making video right now (in fact, the last video I made was in November 2018!). If and when I'm ready to make videos in the future, I'll restart my subscription.
---
APRIL 2019 TRAFFIC REPORT
April 2019 total traffic: 26,322 pageviews for the month (-6% from February)
Top ten traffic sources for April 2019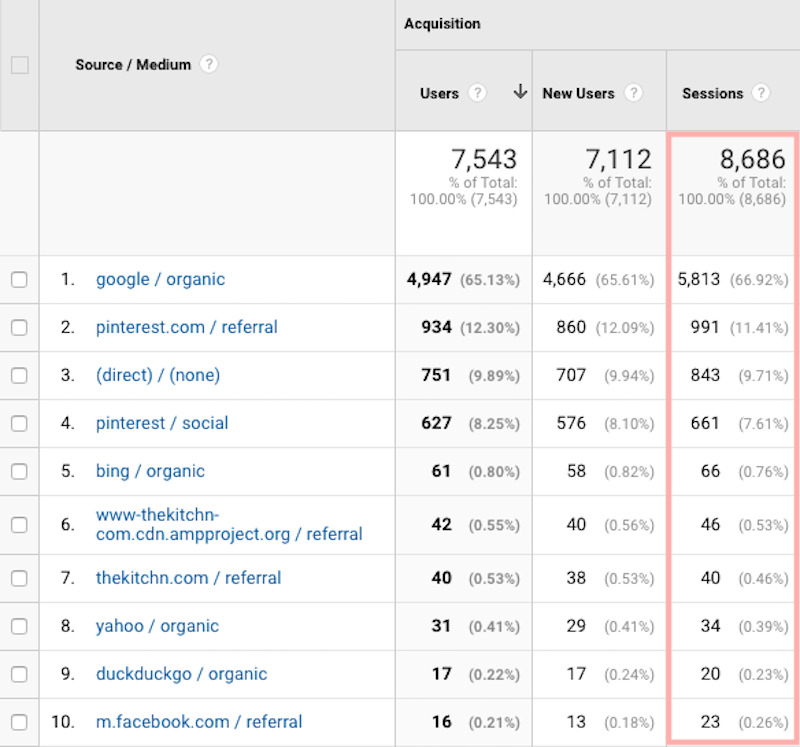 New content on Fork in the Road in April 2019
New recipe posts: 1 new recipe post + 1 updated old recipe
New green guide: 1 new green eating guide
New resources post: 1 new income report
TRAFFIC TAKEAWAY: In the food blogging world December is usually a great month for comfort food, January is great month for healthy food, and February your traffic drops off after Valentine's Day. Then March or early April you may have an increase because of Easter, but then there's a lull through the end of summer because people are usually out enjoying the warm weather.
Thankfully I didn't experience a drop in February or March because I also have specific niche content that does very well in January through March, my resources for future dietitians. This content is strictly for nutrition students who are trying to match to a dietetic internship, and the application due date is in February with interviews happening in March and match day in April, so my traffic is heavier during this time.
However, now that April has hit I was expecting my traffic to decrease a bit. It will likely slow down throughout the summer months and ramp back up in August or September as people get back in the kitchens when school starts and the weather begins to cool off.
---
Email List Growth
264 subscribers (+45 net new subscribers in March 2019, 21% growth)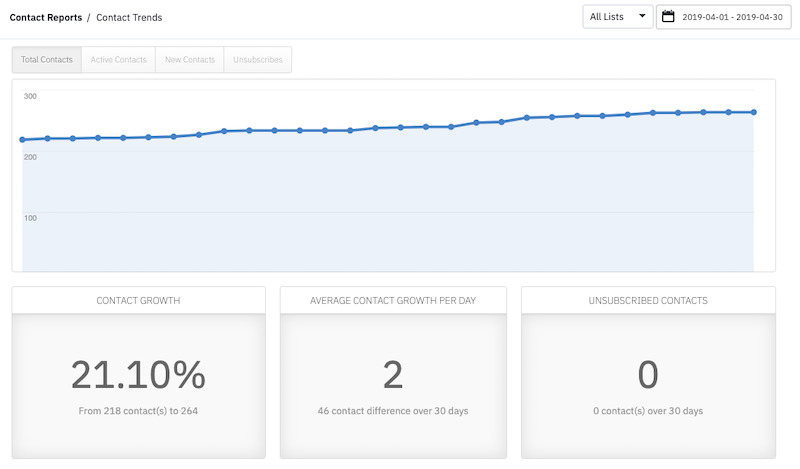 EMAIL TAKEAWAY: In April I had 45 new subscribers join my list, which was a 21% increase from the month before. I have a lot of ideas for my email list in the future, so as I experiment I will share what's working (and what isn't). Watch this space!
---
RPM: $24.45
What is RPM? RPM is Revenue per Mille, or the amount of revenue per 1,000 pageviews. The formula for RPM is: (estimated earnings / number of pageviews) * 1000. In March 2019 I earned $643.75 and had 26,322 pageviews, which means my RPM was $37.70. This means that for every 1000 pageviews I received, I made $37.70.
---
April 2019 Food Blog Income Report Summary
If I had to to sum up April in one (or two) word it would be: bare minimum. As I shared in last month's income report, I found out I am pregnant the very last day of February and in April I started to feel the first trimester symptoms (fatigue, nausea) and it was all I could do at the end of a work day to stay awake past 8pm.
However, April was a good month for the blog overall as I hit my longtime goal of being accepted to Mediavine. My goal with the blog is to build it to a create passive income while allowing me to do what I love (share plant-based recipes and tips for helping my readers go green in the kitchen)…but on my own terms. So I consider making $600+ a month while doing next to nothing a success!
---
2019 Goals Update
In 2019 I decided to define focus areas for the year instead of hard number goals. Below is a summary of the goals and an update on progress.
Content, content, content. I intend to create a lot of content around my niche topic, green eating and sustainable living, in addition to the usual recipes.

Update: In April I created 3 new pieces of content, including one long-form green eating guide.

Consistency. Work 3-4 weeks ahead on content (blog posts and emails) so when life gets in the way the blog doesn't suffer.

Update: I think I'm going to give up on the goal of getting weeks ahead and instead just focus on creating consistent content, even if that's just one new post a week.

Grow email list. Grow my email list, the Green Living Community, by sending weekly blog recap emails and share featured content not available on the website.

Update: the email list grew, but I wasn't consistent with sending out my weekly recaps.
---
Thanks for sticking it out and reading Fork in the Road's April 2019 journey!
Make sure to check out the Food Blogging Resources page for past income reports and blogging tips, and sign up below to receive emails when new reports and blogging resources are live.
Do you have a question about food blogging you want answered in a future report? Leave a comment below or contact me!