How My Food Blog Side Hustle Made $20,000 its First Year
How my part-time food blog made $20,000 in my first full year blogging — while working a full time job! I'm sharing my tips and strategies for building a successful food blog and taking your blog from hobby to business.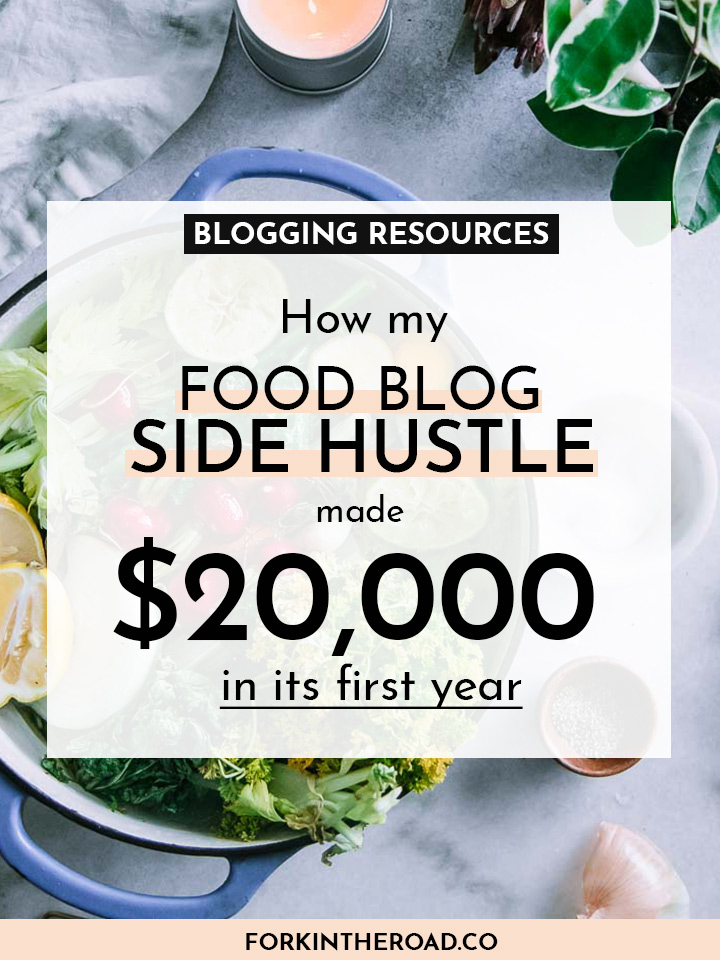 This post may contain affiliate links, which means if you purchase I may receive a small commission. I only share products and services that I know, trust, and have used myself. Please see my Disclosure for more info.
Welcome to the first Fork in the Road income report! If this is your first time here, my name is Kristina and I am a registered dietitian and the face behind this seasonal recipe and sustainable living blog. Find out more about what we do at Fork in the Road here.
I have been a blogger in some way, shape, or form since the early 2000s (I'm aging myself here) but it wasn't until 2015 that I started Fork in the Road, and even then it was purely a hobby — though a very time consuming hobby. It was not until the summer of 2017 that l joined Food Blogger Pro and learned that people were actually making money from something I had been doing for fun for years!
It was then that I decided to shake things up and start taking this food blog seriously, because what did I have to lose? I was spending time on the blog for fun anyway, why not learn how to make a little money from it? So I spent the last half of 2017 absorbing as much information as I could about Wordpress, food photography, and search engine optimization and in December 2017 I made my first dollar from the blog.
Now a year later at the end of 2018 I have made over $20,000 on my food blog — all while working a full time job. And I'm excited to share with you exactly how I did it so that you too can create a food blog side hustle for yourself!
Why share food blog side hustle income and traffic?
You might be wondering why I am sharing how much money I made from my food blog with the entire world. Why would I want to put myself out there and share the nitty gritty details of what I'm bringing in?
The main reason for sharing this information is to inspire you to start taking your own blog seriously. I found other food blog income reports from bloggers like Pinch of Yum and Making Sense of Cents very inspirational in my own food blogging journey. I devoured every word that these bloggers shared about building their own online businesses and their posts have been invaluable over the last year when I was low on inspiration and needed a push to keep going.
The other reason for sharing is a bit more selfish: while I've done well creating new content and mastering food photography, I haven't been great at tracking my own progress and setting attainable goals. I have a ton of ideas for the blog, but sometimes not a lot of follow-through due to time restraints and not knowing where to start on everything I want to accomplish. So sharing my monthly food blog side hustle reports with you is a way for me to stay accountable.
Before we get into the numbers, let's first get a bit of history on Fork in the Road…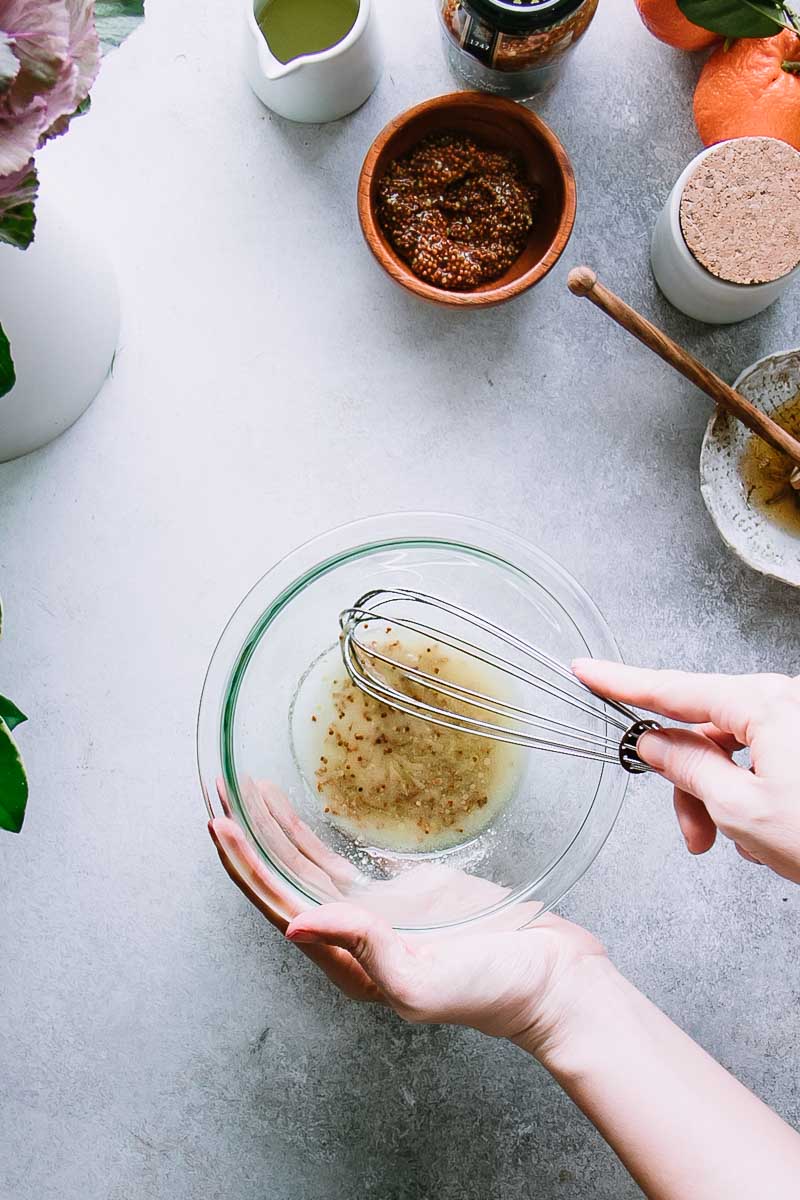 ---
The history of Fork in the Road
Before I share the traffic and income breakdown, first let me share a bit of background about Fork in the Road and my blogging journey so you can get a full picture view of my blogging path and how the site makes money. And hopefully so you can learn from the food blogging mistakes I made along the way.
Like I mentioned above, I've blogged in some fashion since the early 2000s when the internet became a thing beyond just AOL messenger chat rooms (RIP). I stumbled upon an online journal (old school internet users may remember Xanga and LiveJournal) and kept it up for almost eight years. It was mostly a record of my crazy late teens and early twenties and I'm happy to say that website is no longer around because it would be very embarrassing to read now.
Around 2010 I started a Tumblr site, which I used mostly to record my daily meals and exercise (riveting information, obviously). But I was inconsistent and let this go around 2013 when I went back to school to become a dietitian and my life was consumed by finishing my degree in nutrition and completing my one-year dietetic internship program — learn more about becoming a registered dietitian nutritionist here.
Fast forward to 2015 and I decided to give blogging another shot. My husband and I were finishing up our degrees and spent our summers traveling the world. Friends and family began asking for travel and restaurant recommendations for the destinations we had visited, and instead of typing out long emails each and every time I decided to start a food travel blog so I could easily share those pages . And that's how "Fork in the Road" was named — food and travel.
Over the next two years I started sharing recipes on the site and began figuring out how to use my DSLR camera I had purchased in 2008 but never bothered to learn. I fell in love with recipe development and also started full time as a dietitian in nutrition and culinary communications, so it was literally my job to write and share about healthy food every day.
That's when I stumbled upon the Food Blogger Pro podcast in 2017. I knew that some bloggers made money, but I didn't understand how and finding the podcast was a light bulb moment for me. People are actually making money (and good money at that) doing what I'm already doing for fun? Sign me up!
I spent the last part of 2017 diving deep on all things food blogging and making sure my site was set up for success. I was posting sporadically, but I spent most of my time learning and gathering as much information as possible and in 2018 I went full force creating content regularly and building Fork in the Road as a brand.
Here's where I want to provide a little fine print: you might find the title of this post misleading because it's true that I did start this blog in 2015 and have a long history of hobby blogging. 2018 was not actually Fork in the Road's "first year" in the sense that it was the year I set up this blog.
However, 2018 was truly the first year that I treat this blog as a business and was strategic with my time, content, and monetization strategy. I was fumbling around for years with no purpose or direction and it was in 2018 that I decided to get down to work and give this thing a real shot. So in my eyes, 2018 was the first year Fork in the Road was truly a business.
Ok, now that you have a little history of the blog, let's get into how I made money from it in 2018!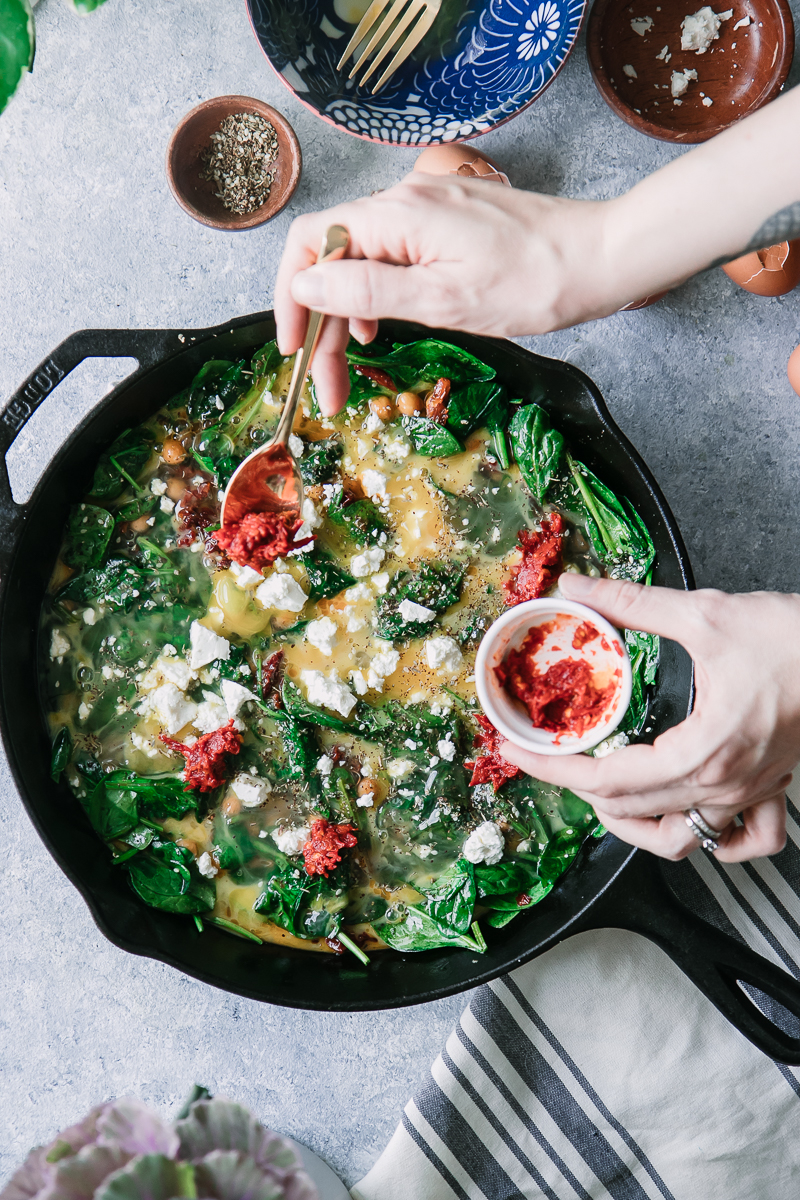 ---
2018 Income Report
TOTAL INCOME: $20,081.30
Display ads: $263
Affiliate Marketing: $218.30
Sponsored Posts: $7500
Freelance Writing, Photography, Design: $9500
Consulting: $2000
Coaching: $600
TOTAL EXPENSES: $7396
Website Upkeep: $1695
Photo + video editing: $180 (Adobe Creative Cloud)
Email service provider: $112 (Active Campaign + ConvertKit)
Content + social media management: $418

Tailwind: $120 (Pinterest planning)
CoSchedule: $190 (content calendar + Facebook and Twitter)
Planoly: $108 (Instagram planning)

Learning + Courses + Conferences: $2991
Other (groceries, office tools, etc.): ~$2000
NET PROFIT: $12,685.30
---
Income + Expense Review
Wow! That was a lot to pull together. I wasn't tracking a lot of these numbers properly over the course of 2018, so some totals are estimates (groceries was a guestimate because I truly don't have time to go back over every grocery bill from 2018, sorry guys).
Let's talk about income…
If you've been reading food blog income reports for awhile, you'll know that no two blogs monetize in the same way. Some are high traffic with high display ad earnings, some are killing it at affiliate marketing, and some sell their own products and courses. And some are doing a little bit of everything.
Let's dive a bit deeper into the way Fork in the Road created income in 2019.
DISPLAY ADS
In 2018 Fork in the Road's traffic was still relatively low (see below for traffic totals). This means the site was not eligible for higher end display ad companies, such as Mediavine (sites need 25,000 sessions to apply) and AdThrive (must have 100,000 pageviews to apply).
In the beginning of the year I had a few Google Adsense display ads on the site, but I was bringing in maybe $3 a month. I then applied to Gourmet Ads once I hit 10,000 pageviews and brought in between $15-$30 a month. A bit better, but still nothing to write home about.
After a few months I started to realize that the Gourmet Ads were severely affecting my site speed. All display ads will slow down your site load times, but this was ridiculous: I went from a 3.5 second load time to 28 second load time! In the end I decided the $15/month wasn't worth the slow site speed if it was turning off readers from staying on my site, not to mention possibly causing Google to stop featuring me in search because my page speed was so low. I had the ads removed and decided to just go without until I reach the 25,000 sessions needed to apply to Mediavine.
At the end of the year I did add Chicory ads, which is an ad company that displays a "click here for ingredients" ad in my recipe cards. This brings in a very small amount of income each month, but again about as much as the cost of a latte.
AFFILIATE MARKETING
Affiliate marketing is when a blogger promotes another brand's product or service and receives a small commission if the reader purchases after clicking through an affiliate link. Many bloggers make a lot of money through affiliate marketing, such as personal finance blogger Michelle at Making Sense of Cents.
I didn't pay much attention to affiliate marketing in 2018 except to join Amazon Associates and link to ingredients and tools that my readers may find helpful when preparing my recipes. This brought in a very small amount monthly throughout the year, but nothing substantial.
At the end of 2018 I took the Making Sense of Affiliate Marketing course by Michelle from Making Sense of Cents. It was a deep dive on how to find, join, and promote affiliate programs that fit your brand and also solve problems for your readers.
After taking the course I was inspired to put the teachings into action and ended up writing two posts that were relevant to my readers and included affiliate links to programs that fit my brand: Your Zero Waste Kitchen Start Guide and 20 Eco-Friendly Stocking Stuffers Under $20. Between these two posts I brought in over $140 in December by readers who clicked through and purchased eco-friendly products through links I suggested.
This solidified to me that affiliate marketing does work and can be a great way to bring in income if you are truly providing your readers with content that solves a problem they are experiencing. Almost all of my traffic for these posts came through Google or Pinterest, which means that many people were searching for eco-friendly gifts for the holidays and my post provided them with ideas for their shopping lists.
I'm looking forward to exploring affiliate marketing more in 2019, look forward to future income reports!
SPONSORED POSTS
A significant amount of the money Fork in the Road made in 2018 came through brand sponsorship of blog articles, social media posts, emails directly to my email list, and food videos. However, I must admit I don't have a set strategy for getting blog sponsorships; in fact, I have never actively sought them out and instead have only taken on sponsored posts when brands have reached out to me directly or through an agency.
How do brands find me? If I had to guess, I would say that 90% or more brands initially find me on Instagram and then check out the blog, which just goes to show that you don't need a lot of followers on Instagram to make money (I had between 2500-3500 Instagram followers in 2018). I think the fact that I'm a dietitian helps, but I would say that it is probably my photography and Instagram feed that is the draw.
Many bloggers are proactive about pitching to brands and public relations agencies representing brands for sponsored posts and other brand work. In fact, I was pitched to quiet often by bloggers and influencers at my past job working at a food public relations company. However, I haven't put much effort into this yet and instead focused on building content and learning as much as possible before reaching out for collaborations. This is an area for growth in 2019 and beyond.
FREELANCE WRITING, PHOTOGRAPHY, DESIGN + CONSULTING + COACHING
The biggest bucket of income from 2019 was freelance writing, food photography, and website design work. I also had smaller amounts of income that were generated from consulting and providing coaching services. Income from these services is not directly linked to the blog, but I'm including it here because I would not have secured this type of work without Fork in the Road serving as my brand and portfolio.
Here's an overview of each area and the type of work:
Freelance writing: I contributed writing to online health publications and took on a few copy editing gigs through an agency that works with health writers. I did most of this work in early 2018 and it trickled toward the end of the year because I began focusing on building content for Fork in the Road and not other people's sites.
Freelance photography: probably the biggest income generator of 2018 besides sponsored posts. This category is all food photography work for brands and bloggers that was not housed on my own blog. One significant portion of this money came from shooting recipes for a cookbook and another from taking food photos for another food blogger who outsourced their photography to me. I pulled back on this toward the end of the year to focus more on my own site, but I do still have one freelance photography client that I'm carrying into 2019.
Freelance design: because I have setup many blogs in the past and worked with both Wordpress and Squarespace, I was hired to help a fellow blogger move their content from one platform to another and set up and design a new website (I'm not a developer but I know how to set up and install a website, plus make minor CSS changes…don't discount the skills you learn while blogging!).
Consulting: because I'm a registered dietitian and work in the nutrition and culinary marketing field full time, I sometimes consult with food companies for various cprojects. In 2018 I worked on two consulting projects: one marketing plan for a children's snack company and product development for a spice company. I really enjoy this type of work and hope to do more in the future.
Coaching: in 2018 I also provided coaching services by helping nutrition students finalize their dietetic internship applications and guiding new bloggers to gain clarity in building their brands.
TAKEAWAY: what I hope this income report shows you is that there are many ways to bring in income from a food blog. I personally believe in diversifying your income streams as much as possible so you are not building a business on one money generator, which comes with a lot of risk if for some reason that income was to disappear. The key is to spread the love a little and have income coming in from multiple sources.
I think it's also important to note that none of this income was consistent. There were months I made $4000 and months I made $40, so it's far from a full time income and far from anything I can count on month after month. I hope to change that in 2019 by implementing more consistent income streams, like display ads.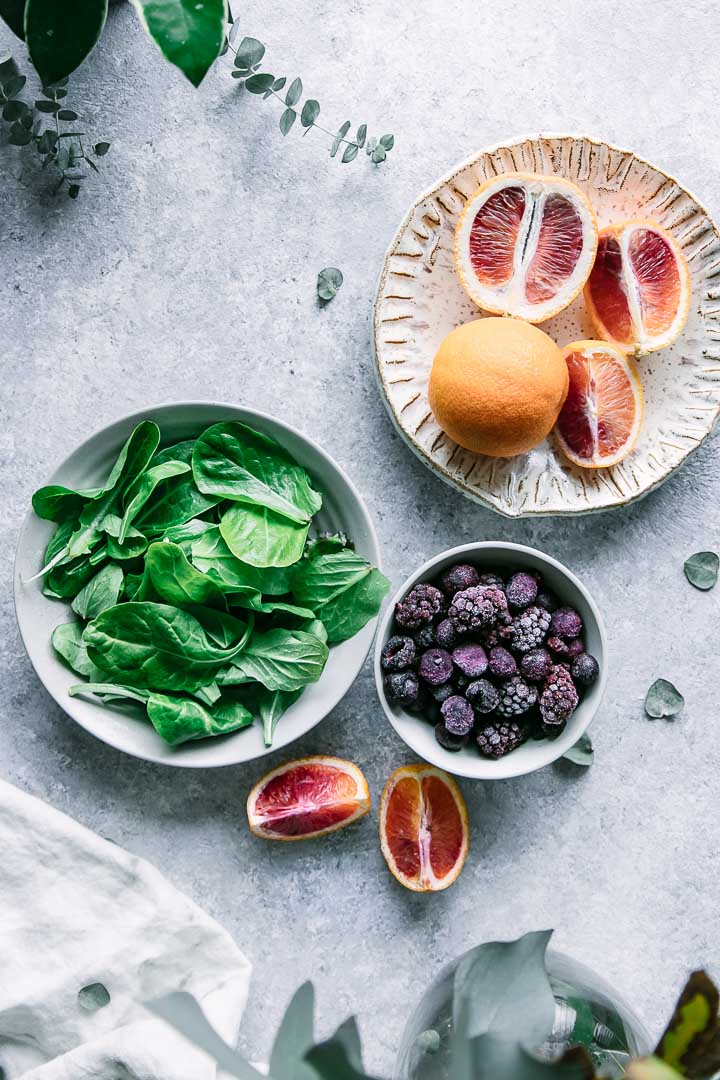 ---
Let's talk about expenses…
What you can see from this breakdown is that while I brought in a fair amount in revenue for a side hustle, I also spent a lot on expenses to keep the blog running. I consider these costs of doing business, because I work full time so I use tools to automate some things like social media and my emails to my mailing list to make these tasks as hands-off as possible.
I also learned the hard way that sometimes it's better to pay an expert to do things that you don't have the knowledge or time to do yourself. I've DIY-ed almost everything on Fork in the Road, but after experiencing a few website issues I decided to hire out my tech and minor development needs. At one point my site was down for three days because I got it in my head that I could update something seemingly minor in my website files that ended up breaking my site, and that's when I threw in the towel. I consider this money well spent because it allows me to spend more time working on what I'm good at: creating more content.
I also spent a lot of money on education, particularly online courses and conferences. I love learning and I love learning about all things blogging, so I will happily spend money on an online course or learning experience that will teach me the exact information I want to know straight from an expert without having to spend time fumbling around watching YouTube videos or searching Facebook forums that aren't specific to food blogging (and frankly might not be great advice overall).
This included taking a Lightroom editing course to help hone in on my photo editing style, a blogging business course to really define and attract my ideal reader (green eaters who want to live a sustainable lifestyle), and a food video course that I ended up buying when a client asked "Do you do video?" and I said "Yes, of course!" (Secret: I had no idea how to do video, so I paid for the course and learned in one weekend. Sometimes you have to get scrappy.)
TAKEAWAY: it's true what they say, sometimes you have to spend money to make money. I'm happy with the totals at the end of the 2018 considering this was my first year bringing in any income and I spent a lot of the year learning and refining my skills. I'm pulling back a bit on online education in 2019 and instead going back and reviewing the courses I've already purchased and spending time putting those learnings into action.
---
2018 Traffic Report
2018 total traffic: 129,655 pageviews for the year (an average of 10,800 per month)

TAKEAWAY: as you can see, my site traffic was not very high for most of the year but after summer it steadily increased in the second half of 2018. This is due to many factors, but mostly because I was not posting consistently in the beginning of the year because I was working on many of the food photography and other side projects that didn't directly have to do with the blog. However, in the summer I began getting serious about SEO and updating text and photos in older posts to be more searchable by Google. The spike you see in September was from a Buzzfeed share of my Pozole Verde with Chicken recipe, and after that spike the recipe also started gaining traction on Google; it ended up being my best post of the year.
Top ten traffic sources for 2018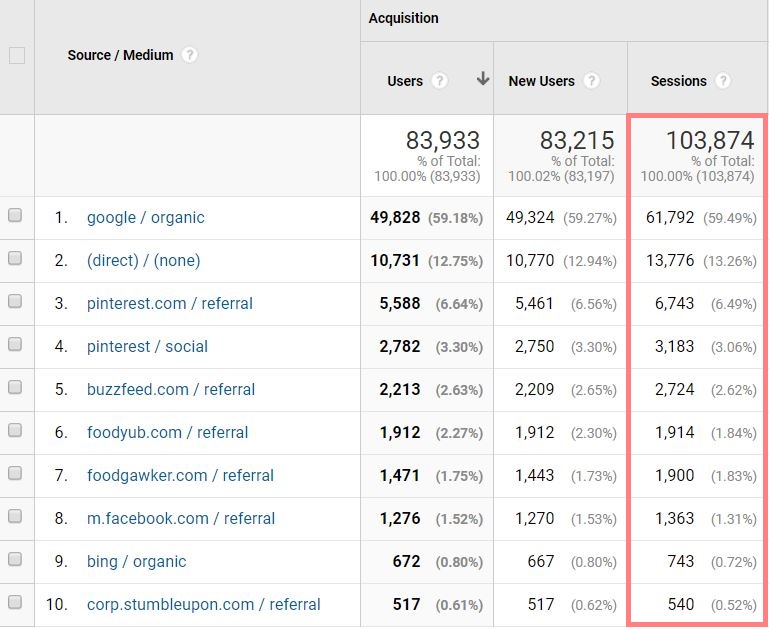 TAKEAWAY: Google was by far my largest traffic driver in 2018, which is because I spent a lot of time crafting my content to be SEO-friendly and this definitely paid off. Pinterest was my third biggest traffic source, but to be honest I didn't put much effort into the platform until the end of the year (more on that in future income reports). Next was Buzzfeed (and it was only the one recipe), as well as a few recipe sharing sites. The last major traffic driver is Facebook, which again I really don't spend time on. A lot of bloggers have found success with Facebook but I don't care for it and I only have so much time to spend on social media so I put that effort into Pinterest (which drives more traffic) and Instagram (which drives income and engagement with readers and other bloggers).
Top 10 Posts on Fork in the Road in 2018
TAKEAWAY: the bottom line here is that while this is predominantly a recipe blog, I get a fair amount of traffic to my resources for nutrition students. This bothered me for awhile because I wanted my food content to do well, but toward the end of the year I started seeing it in another way after I had success with the affiliate marketing posts: how-to guides that actually solve real problems for people, as opposed to just recipes, really do get great engagement and traffic. They're giving people actionable tips for things they truly want and need, and make you (the blogger) the expert source for this information. I began implementing more of these types of posts at the end of the year and want to continue to do this into 2019.
Email List Growth

TAKEAWAY: I was collecting emails for years but never actively communicated with my subscribers until the end of 2018. At this point I had a few hundred subscribers but it was a cold list, meaning they had never heard from me and likely forget what Fork in the Road is and why they signed up. In the fall I sent out an email letting them know that I would begin sending them weekly emails the following week and giving them the option to opt out. A few did, but most stayed and then over the course of the next few months I also culled my list down after checking my analytics and seeing that many people had never even opened my email (I don't want people on my list who aren't engaged just for vanity metrics). I actually felt really good about having a small but engaged list a the end of the year with high open rates and click-throughs. Building my list is a big goal in 2019!
RPM: $154.88
What is RPM? RPM is Revenue per Mille, or the amount of revenue per 1,000 pageviews. The formula for RPM is: (estimated earnings / number of pageviews) * 1000
This means that for every 1000 pageviews I received, I made $154.88. This is great considering my pageviews were not very high, which means I'm bringing in high revenue compared to how much traffic my site brings in. This just goes to show that pageviews are not everything and you can build a business around your blog even if it's not a large traffic site. If we take expenses into account the site's RPM is $97.84.
---
2018 Summary
If I had to to sum up the year in a few words they would be: learning and absorbing. If I think back to where I was at the beginning of 2018 and at the end, it's a night and day difference. I began the year doing a lot of freelance work and consulting for other people, but the goal was always to grow Fork in the Road.
By the end of the year I had pulled back on working for other people and instead was bringing in sponsored posts and experimenting with other income-generating ideas. By the end of the year Fork in the Road was starting to resemble an actual business!
One area I did struggle with throughout the year was consistency. This is mostly because, as I've mentioned, I do work a full time job so my time working on the blog is designated to the nights and weekends. However, part of this issue is also my own doing because I'm always pushing myself to do more and I will bust out a few weeks of consistent posts and then go dark for two weeks because I was burned out.
I love the work I do on the blog, but I also felt that I didn't have a lot of work-life balance throughout the year so in 2019 I'm searching for that happy medium of putting out great content regularly and also actually having a life outside of work and the blog.
2019 Goals
I hesitate to make really concrete numbers goals for the year ahead because they made me nervous due to the limited time I have to spend on the blog, so instead I want to focus on habits that I can take action on every day or every week that will make the site a resource for green eating, which in turn will help reach higher numbers in 2019 (I highly recommend reading James Clear's Atomic Habits for more about focusing on habits rather than goals).
Content, content, content. In 2018 I learned the power of taking time to create good quality content that solves a problem and brings value to my readers, so in 2019 I want to continue this goal. I intend to create a lot of content around my niche topic, green eating and sustainable living, in addition to the usual recipes. While recipes are always the foundation of this blog, I think it's key to diversify content to show I'm an expert in this topic.
Consistency. This one is a struggle. Ideally I would love to be working 3-4 weeks ahead on content (blog posts and emails) so when life gets in the way the blog doesn't suffer. I'm considering bringing on a virtual assistant for some of the more mundane tasks that I could push off my plate so I can focus on getting ahead.
Grow email list. Growing the my email list, the Green Living Community, is a big goal in 2019. I want it to be more than an email saying "Here's my new recipe!" I want the emails to feel like a chat between friends and I want to provide valuable resources that only my email subscribers will receive, so content that is not available on the blog publicly. I'm still brainstorming tactics and I'll share how these are working in future income reports.
---
Thanks for sticking it out and reading Fork in the Road's 2018 journey! I'm excited to start sharing income reports monthly in 2019, so make sure to check out the Food Blogging Resources page and sign up to receive emails when new reports are live and blogging resources I'm creating as I learn the ropes of building a successful food blog.
Do you have a question about food blogging you want answered in a future report? Leave a comment below or contact me!