How to Make Pan Roasted Okra
Pan Roasted Okra, a simple vegan okra recipes pan fried in olive oil and dusted with paprika-spiced cornmeal in a skillet. Easy, fresh, and delicious!
What are your thoughts on okra? To tell you the truth, I never gave okra much thought until recently. I knew it as the green circular vegetable in my gumbo and when it is breaded and fried, but I never really considered okra a vegetable to eat everyday.
That is until I realized how delicious okra is pan fried. Many people avoid cooking okra on its own because it has a slimy texture, but when prepared properly with a vinegar soak it can be pan roasted to be browned and delicious.
Are you ready to change your mind about okra? Let me know show you the super simple, 7 ingredient recipe that will make you change your tune and fall in love with okra. Let's do it!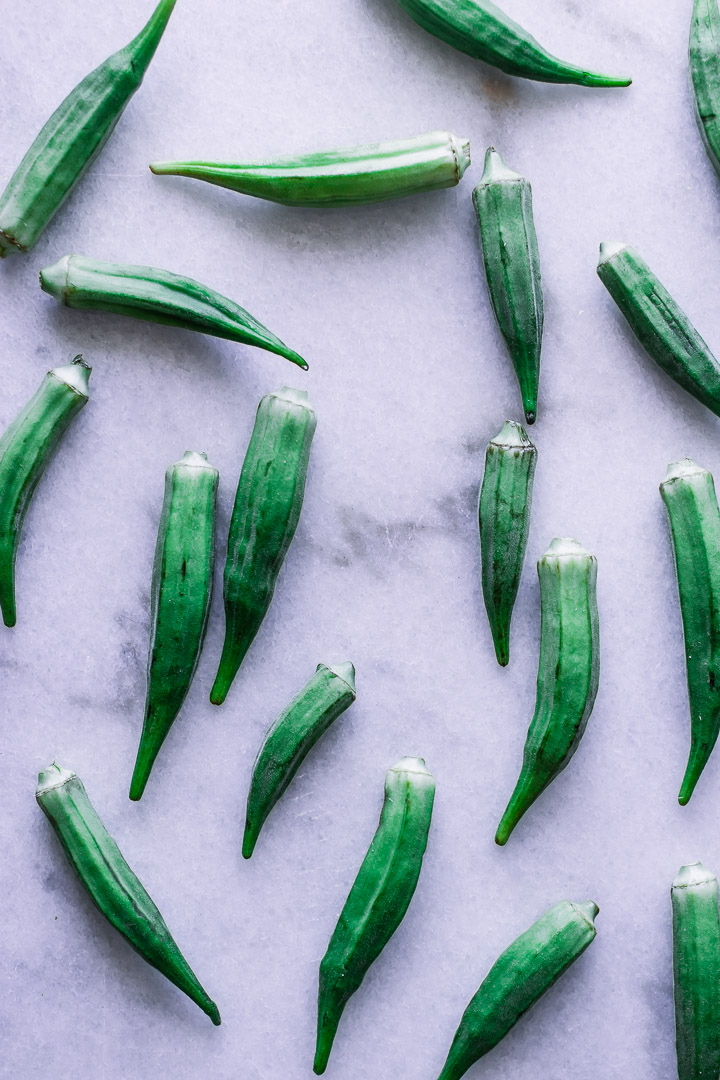 What is okra and where is it from?
Okra is a plant in the mallow family that is revered for its edible green pods. Much debate has happened around the origin of okra, but it is generally thought to have first been cultivated in India and Southeast Asia and was eventually brought to portions of West Africa.
From there the small pods were brought to the American South by slave traders and it became a staple of the United States' southern cuisine.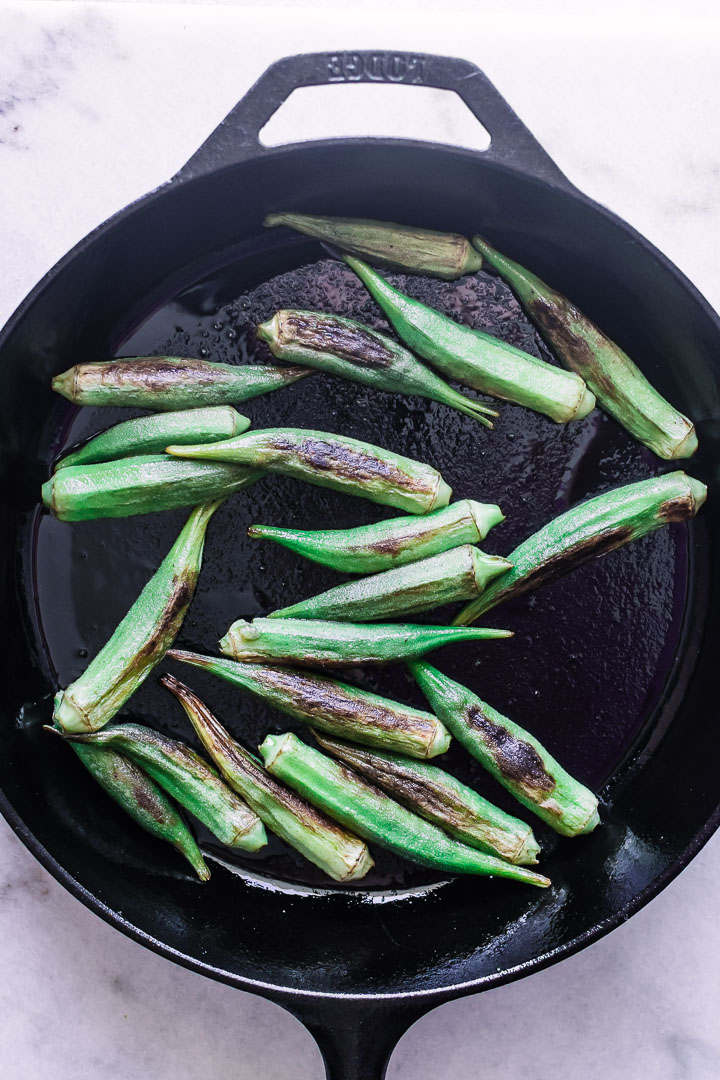 How to cook okra without the slime
When okra is cooked its seeds create a gelatinous substance, which makes it a great addition to soups and stews because it is a naturally thickener (think gumbo).
However, when it is cooked on its own the slimy mouthfeel is a turnoff for some people. This is why okra is often deep fried, which makes it crispy…but also makes it generally unhealthy.
However, it's super simple to cook okra without the slime if you follow these steps:
Add water to a large mixing bowl and add about ¼ cup vinegar, mixing to combine
Soak okra in vinegar water for 30 minutes
Remove okra, rinse, and prepare without the slime!
By doing these simple steps you'll be able to roast okra without the frying oil and unhealthy breading. The okra will still be on the softer side as it is a naturally soft vegetable, but you'll remove the gooey mouthfeel (have I scared you away from okra yet?).
How to roast okra in a pan
Roasting okra in a pan is a super simple way to prepare okra and ensure it stays healthy without frying oils and breading. I personally love my cast iron skillet for those perfectly browned okra pods, but any large pan will do.
First, you'll heat a skillet with oil over medium heat until warm. Then add okra and saute, stirring often to brown all sides (about 10 minutes).
Then add your spices. A simple salt and pepper sprinkle will do, but I like to add a cornmeal and paprika dusting to get that "fried" feeling without actually deep frying the okra.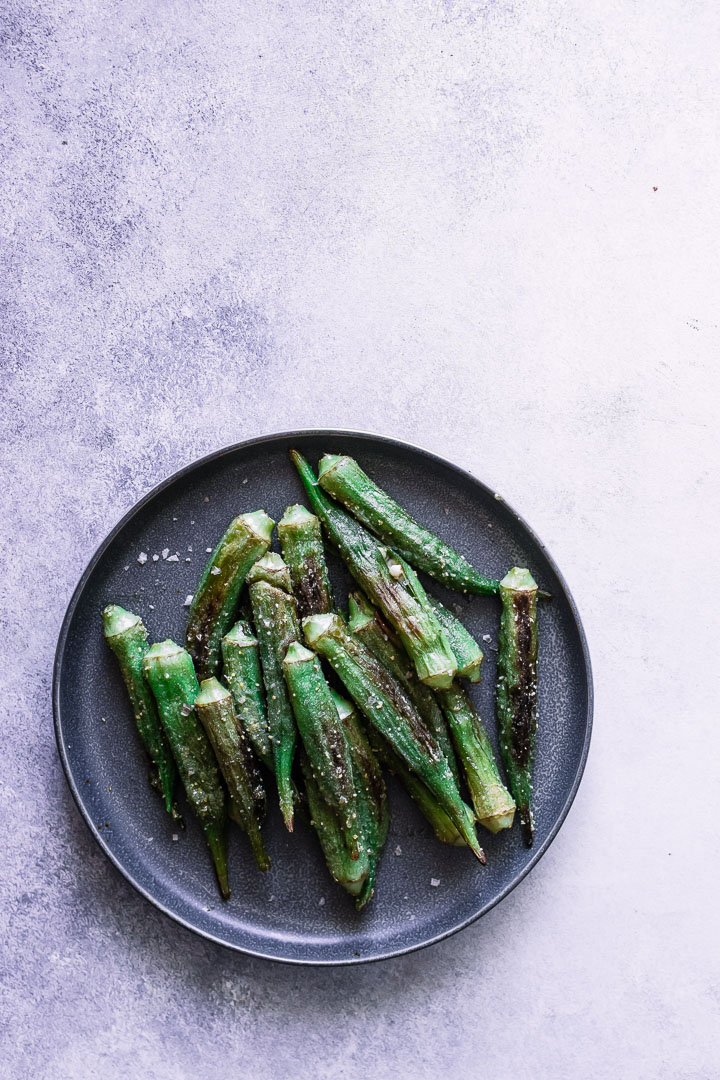 Pan Roasted Okra: Tips, tricks & tools
This super simple okra recipe does not require many tips or tools, however there are a few things that making preparing it a bit easier.
Tools: I've said it before and I'll say it again, a cast iron skillet is a healthy kitchen essential
Ingredients: I use this smoked sea salt, this cornmeal powder, and this paprika, all made by companies I have researched to ensure they are environmentally friendly
Special dietary considerations: this okra recipe is vegan, gluten-free, and nut-free (and seed-free) so it's a great choice if you have dinner guests with allergies
I hope you enjoy this simple Pan Fried Okra recipe and that it inspires you to think outside the "normal" vegetable box and try something new! Are you already an okra eater? Drop me a comment and let me know your favorite way to prepare it.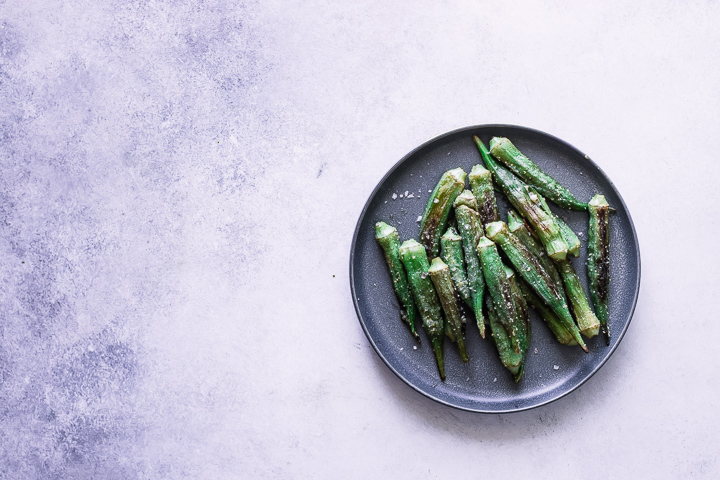 ---
Craving more simple vegetable side dish recipes? Check out our Warm Marinated Olives and Smoked Paprika Skillet Potatoes recipes, both plant-based vegetable dishes with lots of flavor.
Did you make this Pan Roasted Okra recipe? Leave a comment below and rate the recipe to let us know how it turned out. Save this okra recipe for later by pinning to your favorite Pinterest board and make sure to tag me on Fork in the Road's Instagram to show me your okra creations!
Yield: 2 1-cup portions
Pan Roasted Okra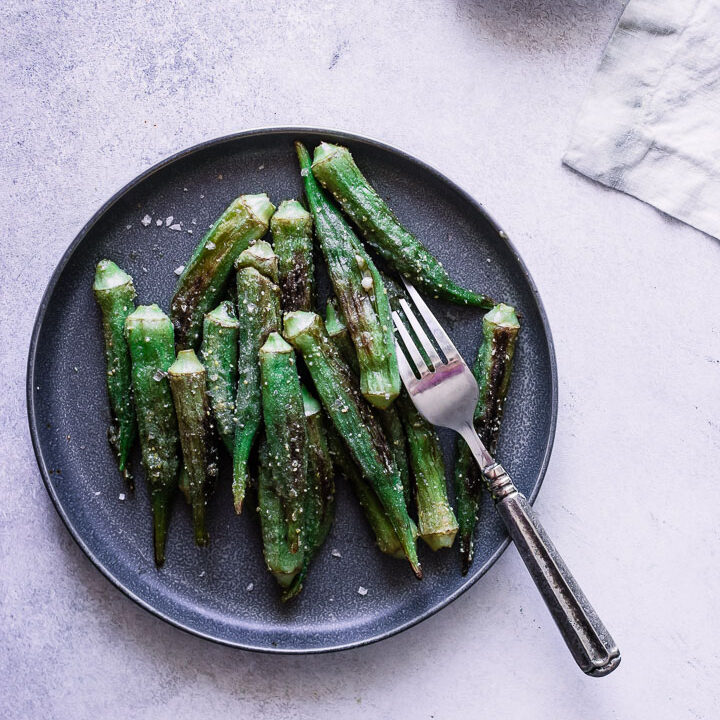 Pan Roasted Okra, a simple vegan okra recipes pan fried in olive oil and dusted with paprika-spiced cornmeal in a skillet. Easy, fresh, and delicious!
Prep Time 30 minutes
Cook Time 15 minutes
Total Time 45 minutes
Ingredients
¼ cup vinegar
⅛ cup cornmeal
¼ teaspoon paprika
¼ teaspoon garlic powder
½ teaspoon sea salt
¼ teaspoon black pepper
1 teaspoon oil
1 pound (450g) fresh okra, stemmed
Instructions
To prepare okra: fill a large mixing bowl with water and vinegar and soak okra for 30 minutes. Rinse and pat dry.
To make paprika-spiced cornmeal: Mix together cornmeal, paprika, garlic powder, sea salt, and black pepper in a small dish and set aside.
To cook okra: Heat olive oil in a skillet on medium heat. When hot, add okra and saute, stirring often to brown on all sides, about 15 minutes. When okra is browned, sprinkled spiced cornmeal powder in pan with okra and toss in coat. Remove from heat and eat immediately.
Notes
Notes // Tips: Cooking okra on medium heat for longer will allow it to brown but will also prevent the slimy mouthfeel that often comes with the vegetable. If you prefer to serve with a dipping sauce, try a vegan avocado dip.
Leftovers & Storage: For best results, each the okra immediately after cooking. Because okra gets soft and mushy easily, it will soften during refrigeration and reheating. This does not mean it won't be tasty if reheated, though.
Nutrition: This simple vegan pan roasted okra recipe is a light and fresh side dish is low in fat, low in sodium, and high in fiber, potassium, and vitamin C.
Nutrition Information:
Yield:
2
Serving Size:
1 1-cup serving
Amount Per Serving:
Calories: 73
Total Fat: 3g
Saturated Fat: 0g
Trans Fat: 0g
Unsaturated Fat: 2g
Cholesterol: 0mg
Sodium: 537mg
Carbohydrates: 10g
Fiber: 3g
Sugar: 2g
Protein: 2g
We are participant in the Amazon Services LLC Associates Program, an affiliate advertising program designed to provide a means for us to earn fees by linking to Amazon.com and affiliated sites.