Honey Citrus Carrot Salad
Honey Citrus Carrot Salad, a seasonal side dish or salad topper made fresh shredded carrots and a homemade honey citrus dressing.
Listen, if the only carrots you're eating are baby carrots then you are missing out one of life's great pleasures.
Now, there is nothing wrong with baby carrots (such an easy lunch box staple) but I think most would admit there is marked flavor difference between bagged baby carrots and their fresh farmer's market counterparts.
If you're not familiar with the complexity of carrot growing and the effect of environmental stress on carrots, I go in-depth into what makes for a great tasting carrot in my Honey-Glazed Veggies with Carrot Top Pesto recipe.
And yes, I know not everyone wants to nerd out on the cultivation of carrots but I am one of those food and farming nerds and I'm assuming because you are here that you are too.
So when I passed through the farmer's market recently and saw piles upon piles of carrot bundles, I knew it time to whip up a batch of my favorite Honey Citrus Carrot Salad.
I've mentioned it before, but I have spent a lot of time in restaurant kitchens in my lifetime. In my past lifetime before becoming a registered dietitian, I worked in the kitchens of Spanish, Italian, Ethiopian, Greek and German restaurants. And while I've picked up a few tips and tricks from each of these cultures along the way, no other cuisine does root vegetables quite like the Germans do.
This recipe was inspired by my time working in a small German cafe in Berkeley for years while studying to become a RD. I would spend my mornings in class, my afternoons studying, and most nights were spent serving tables and pouring beer for the area's German food lovers.
While the food was honestly some of the best I've ever had (you know a restaurant's food is good is former employee still sings its praises!), one of the highlights was a shredded carrot salad with a light homemade orange honey mustard.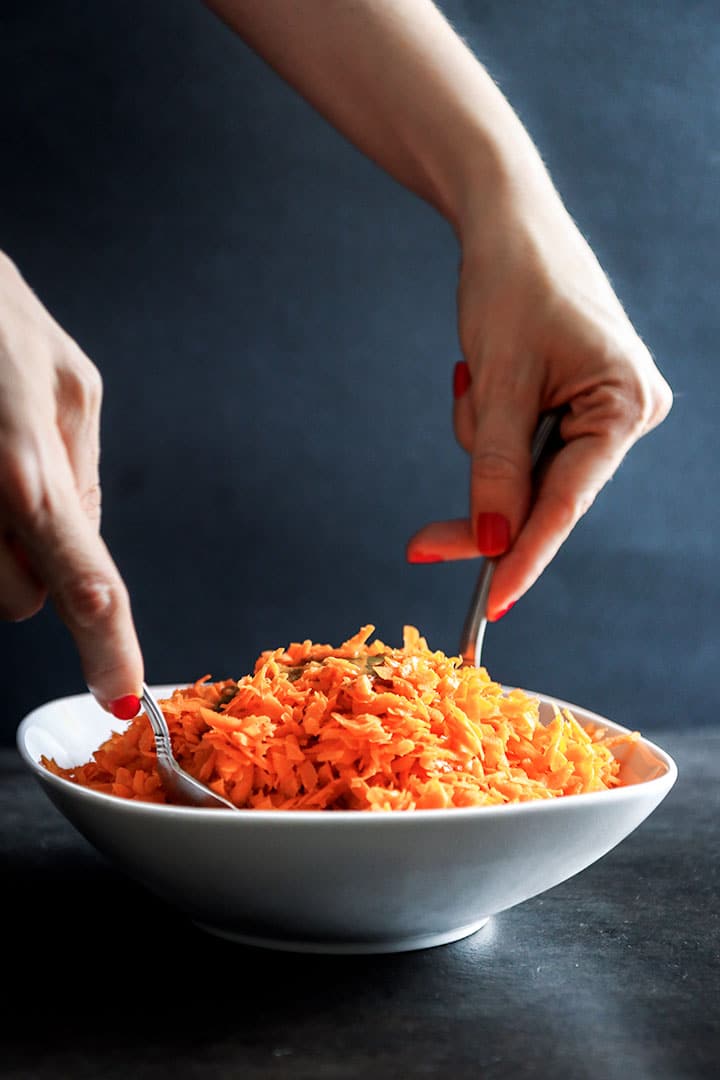 This Honey Citrus Carrot salad is my take on the fresh German version, which can be eaten as a light cold side dish or can be used as a salad topping itself (it's like Inception for salads). Super easy to make with the right tools (see below), it's ready in only ten minutes and keeps well as a make-ahead dish to nibble on throughout the week.
Honey Citrus Carrot Salad: Tips, Tricks & Tools
While this salad is ridiculously easy to make and only has a few ingredients, it does require the grunt work of shredding A LOT of carrots. Don't make the same mistake I did when I first made it and shred each carrot by hand – this will take an hour of your life and will leave you with a sore shoulder and a sprained hand (I legitimately had a sprain in my hand for days after making it).
Save yourself, and your arm, some time and invest in either a food processor or, my new discovery (because I avoid trends) a spiralizer. Both get the job done in minutes while saving your poor muscles from pain.
Like this Honey Citrus Carrot Salad?
Try one of my favorite simple and light salad recipes with easy homemade dressings:
Yield: 8 servings
Honey Citrus Carrot Salad
Honey Citrus Carrot Salad, a fresh, seasonal side dish or salad topper made fresh shredded carrots and a homemade honey citrus dressing.
Prep Time 10 minutes
Total Time 10 minutes
Ingredients
1.5 lbs of carrots, peeled and shredded
1/2 cup olive oil
Juice of one orange
Juice of one lemon
1 tablespoon ground mustard
1 tablespoon honey
Pinch of salt and pepper
Instructions
In a small blender combine oil, orange juice, lemon juice, mustard, honey and salt and pepper. Blend until well mixed and begins to thicken (alternatively ingredients can be whisked together if you do not have a blender).
Top shredded carrots with dressing, toss to coat, and serve!
Notes
Leftovers & Storage: This recipe is perfect for leftovers! Store extra salad in refrigerator for up to five days. Dressing can be made ahead of time and will stay good for a about a week).
Nutrition Information:
Yield:
8
Serving Size:
1 serving
Amount Per Serving:
Calories: 187
Total Fat: 14g
Saturated Fat: 2g
Trans Fat: 0g
Unsaturated Fat: 12g
Cholesterol: 0mg
Sodium: 77mg
Carbohydrates: 16g
Fiber: 3g
Sugar: 10g
Protein: 1g
We are participant in the Amazon Services LLC Associates Program, an affiliate advertising program designed to provide a means for us to earn fees by linking to Amazon.com and affiliated sites.