Homemade Ciabatta Croutons
Homemade Ciabatta Croutons, an easy oven-baked croutons recipe using ciabatta bread, dried herbs, and spices. Only 5 ingredients and 10 minutes to make!
Love croutons? Make your own! Making croutons at home is super easy and one of our favorite ways to make them is with a hearty loaf of Italian bread.
👉 Here are three you should making your own homemade ciabatta croutons:
It's super easy. With only 5 ingredients and 10 minutes, you can make your own tasty croutons at home with bread you already have on hand.
It uses up stale bread. Have older ciabatta bread you're not sure what to do with? Make these DIY croutons for easy salad or soup toppers.
It reduces packaging waste. No more plastic-packaged croutons, make your own to save money and reduce food packaging waste.
Ready to learn how to make homemade croutons from ciabatta bread? Let's do it!
---
🥖 Ingredients you'll need
Making homemade croutons is as easy as it gets and there are endless substitutions. Below is a list of our favorites for this recipe, but get creative and make it your own.
Ciabatta bread: The core ingredient for making croutons is the bread, and Italian ciabatta bread is the perfect base. You can also substitute ciabatta with different breads like French bread, sourdough, or even a hearty whole grain in this foundational recipe.
Olive oil: While any oil will do, olive oil lends a richer flavor to croutons, and is traditionally used in Italian cuisine.
Fresh or dried herbs: We used dried basil in this recipe, but any fresh or dried herbs like oregano, thyme, or sage would be a great addition.
Spices + seasonings: The spices and seasonings are where you can get creative with croutons! We used garlic powder and a light sprinkling of salt and pepper to keep things simple, but you can use any spices you'd like to add extra flavor.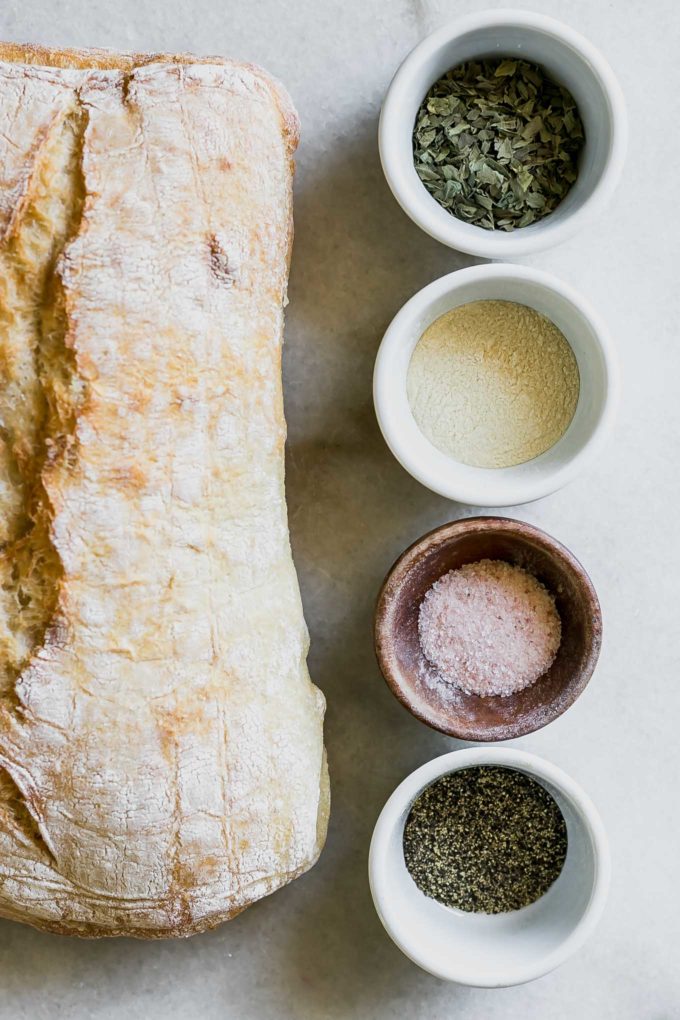 ---
🥣 How to make (step-by-step photos)
1️⃣ Step One: Preheat the oven + prep the bread
First, preheat your oven to 350 degrees F (175 degrees C).
Cut or tear the ciabatta loaf into 1 inch slices, then cut each of the slices into 1 inch cubes. Then place the bread cubes into a large mixing bowl.
---
2️⃣ Step Two: Toss bread cubes in oil + spices
Drizzle olive oil generously over the cubed bread slices in the large mixing bowl.
Sprinkle garlic powder and a pinch of salt and pepper, then mix to combine using a large spoon so the oil and spices are evenly coating the bread cubes.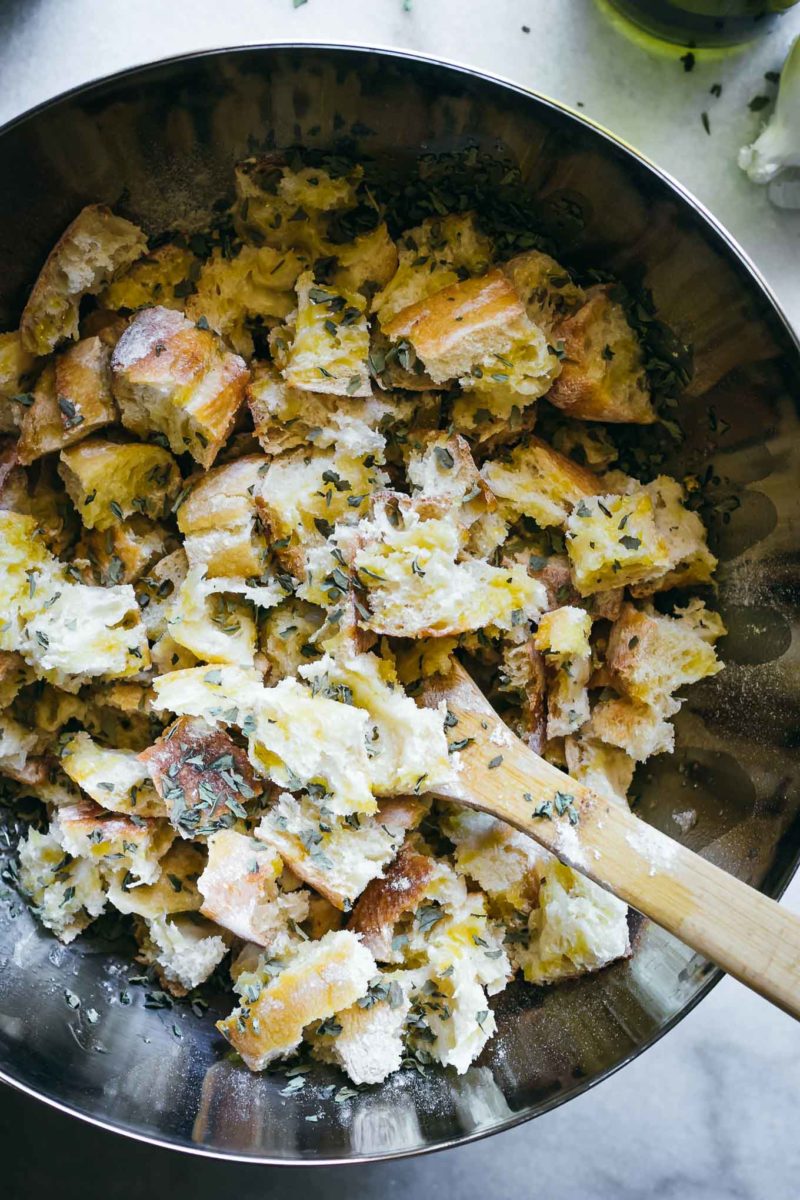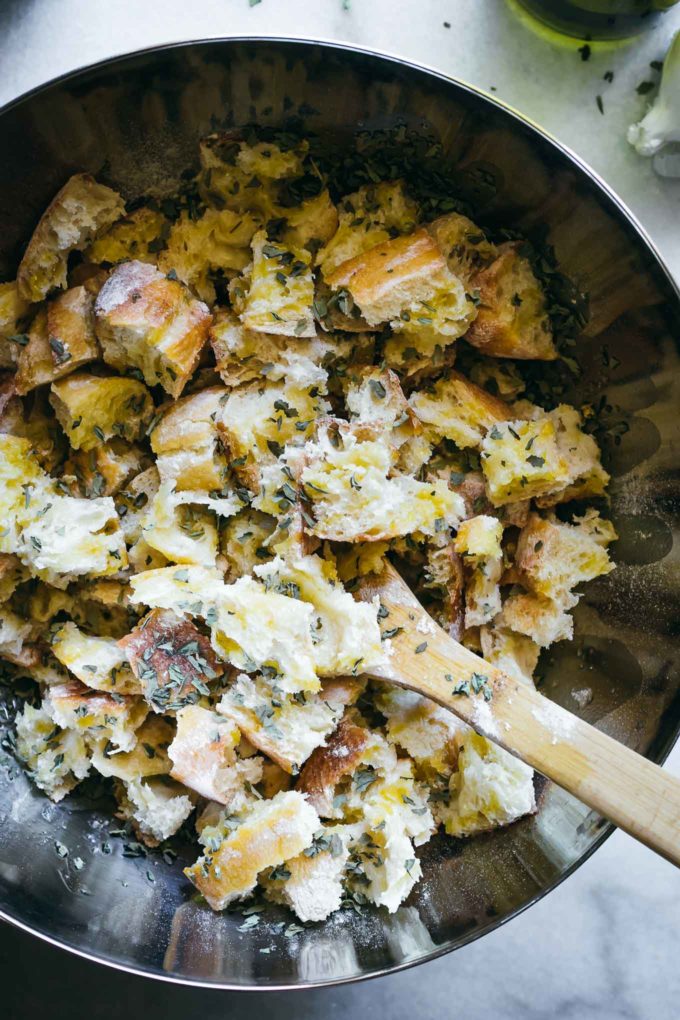 ---
3️⃣ Step Three: Roast the croutons until crispy
Spread the oiled and seasoned bread cubes onto a large baking sheet, then add to the preheated oven.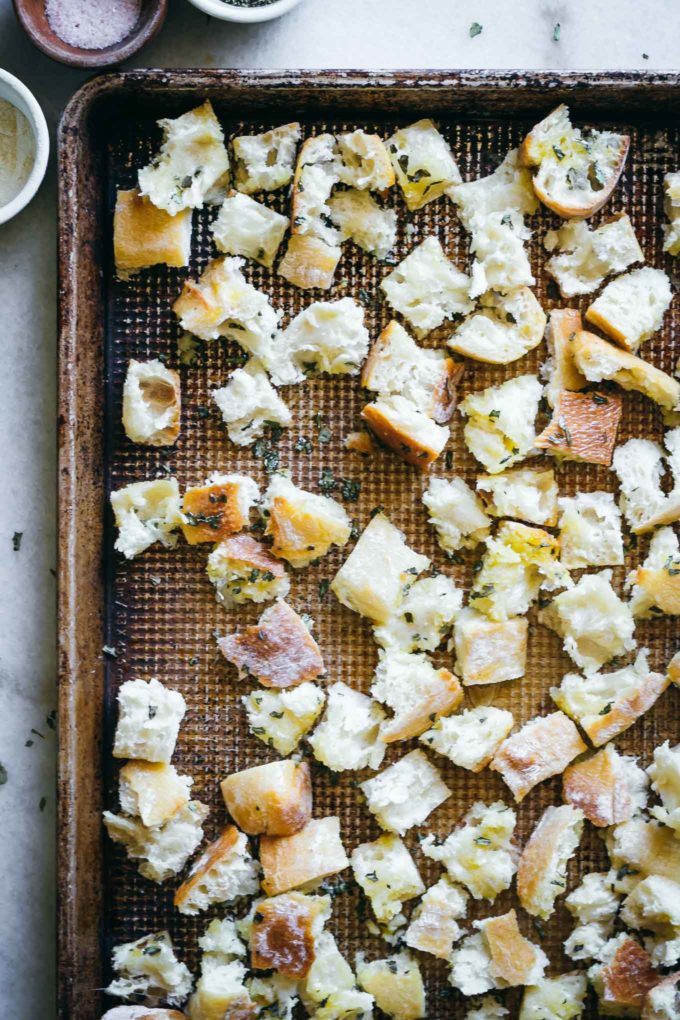 Bake in the oven until the crouton are crispy and beginning to brown, about 8-10 minutes. Flip at least once throughout baking to make sure the croutons are cooked on all sides.
When the croutons are done, remove them from the oven and allow them to cool on the baking sheet. Taste them and add more seasoning, if needed (but try not to eat them all!).
---
❓ Questions + quick tips
Are croutons just stale bread?
Croutons are small pieces of dried bread that are seasoned and used on top of salads or soups. Croutons can be made by drying out bread or you can bake croutons in the oven, as the heat removes the moisture when baking. Stale bread can also be used to make croutons.
Are croutons supposed to be hard?
Croutons are dried pieces of bread that are used to top salads and soups, and provide a crunchy texture and extra seasoning. Croutons are inherently dry and hard, though they should be soft enough to easily chew.
How do you store homemade croutons?
Homemade croutons should be stored in an airtight bag or container at room temperature for up to 5-6 days. Croutons can also be stored in the refrigerator, however the humidity may soften them. Croutons can be frozen, however once thawed they will not keep their crunchy texture.
How do you keep croutons crisp?
Croutons can be kept crisp by storing in an airtight container or bag at room temperature for up to 5-6 days. Humidity will cause croutons to become soft, so you can store them in the refrigerator however they may lose their crisp texture.
Why do croutons get soggy in the refrigerator?
Croutons get soggy when stored in the refrigerator because the humidity in the air in a fridge allows moisture to enter the crispy crouton, which softens the texture and can make croutons soggy.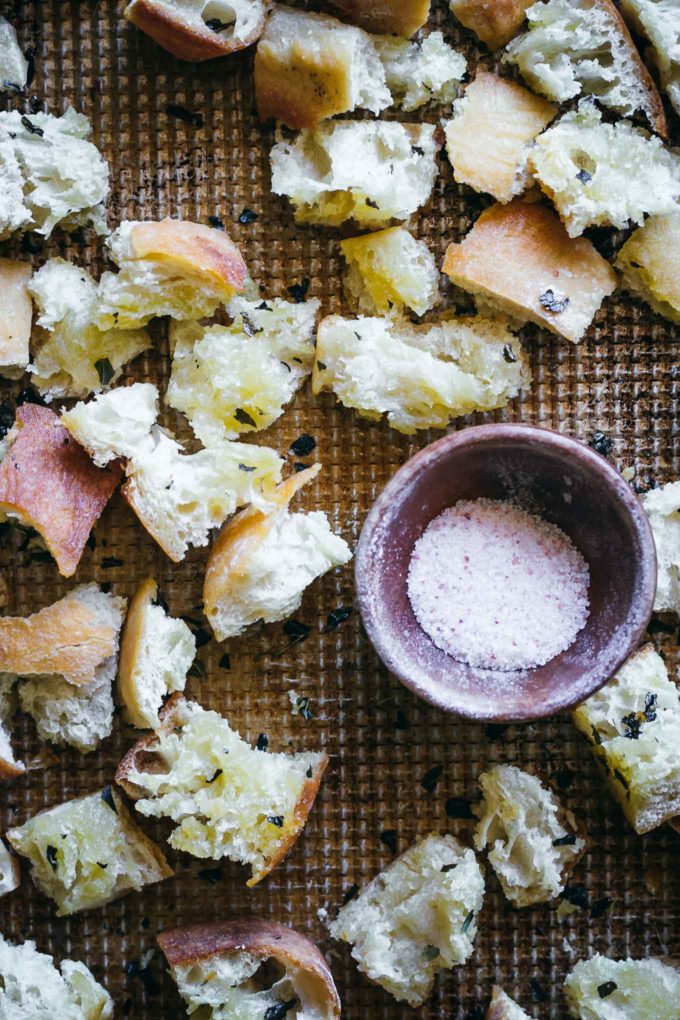 ---
🍞 More recipes using croutons
We love using croutons on top of salads and soups. Here are a few of our favorite recipes to use these croutons on:
🌟 Did you make this recipe? Leave a ⭐️⭐️⭐️⭐️⭐️ star rating and a comment below to let us know how it turned out. Save it for later by pinning to your favorite Pinterest board and make sure to tag us on Fork in the Road's Instagram to show off your sustainable food creations!
Yield: 6 cups
Homemade Ciabatta Croutons Recipe
Homemade Ciabatta Croutons, an easy oven-baked croutons recipe using ciabatta bread, dried herbs, and spices. Only 5 ingredients and 10 minutes to make!
Prep Time 5 minutes
Cook Time 10 minutes
Total Time 15 minutes
Ingredients
1 loaf ciabatta bread
1 tablespoon olive oil
1 teaspoon garlic powder
1 teaspoon dried herbs (basil, thyme, oregano)
Pinch of salt, to taste
Pinch of pepper
Instructions
Preheat oven + prep bread: Preheat oven to 350 degrees F (175 degrees C). Cut ciabatta bread loaf into 1 inch thick slices, then cut each bread slices into 1 inch cubes. Place the cubed bread pieces into a large mixing bowl.
Add oil + spices: Drizzle olive oil over the bread, then sprinkle it with garlic powder, dried herbs, and a pinch of salt and pepper. Toss to combine.
Bake until crispy: Spread the oiled and seasoned ciabatta bread cubes onto a baking sheet. Baked in the oven for 8-10 minutes, or until the croutons are crispy and beginning to brown, flipping once halfway to cook on all sides. When the bread is done baking, remove form the oven and let cool.
To serve + store: After the croutons have cooled, serve on top of salads or soups, or use for dipping in a sauce like pesto. Store in an airtight container on the countertop for up to 5-6 days.
Notes
Recipe notes: This crouton recipe is made with ciabatta bread, but any type of bread can be used. We like French bread or a thick whole grain loaf for homemade croutons.
Leftovers + storage: After croutons have cooled, store in an airtight container at room temperature for 5 days, or in the refrigerator for 6-7 days (though the croutons will not be as crisp if kept in the humidity of a refrigerator). We do not recommend freezing as the croutons will lose their crisp texture after thawing.
Nutrition notes: This recipe uses all plant-based ingredients, making it suitable for vegan diets. Make this recipe gluten-free by using gluten-free bread.
Nutrition Information:
Yield:
12
Serving Size:
1/2 cup
Amount Per Serving:
Calories: 112
Total Fat: 2g
Saturated Fat: 0g
Trans Fat: 0g
Unsaturated Fat: 2g
Cholesterol: 0mg
Sodium: 197mg
Carbohydrates: 19g
Fiber: 1g
Sugar: 2g
Protein: 3g
UPDATE: This post was originally written in 2017 and was updated in June 2021 with new photos and instructions.
We are participant in the Amazon Services LLC Associates Program, an affiliate advertising program designed to provide a means for us to earn fees by linking to Amazon.com and affiliated sites.