Homemade Garlicky Ciabatta Croutons
Homemade Garlicky Ciabatta Croutons, an easy and fast crunchy crouton recipe made from fresh ciabatta bread, olive oil, garlic, and fresh herbs. Ditch the store bought croutons and make them home made!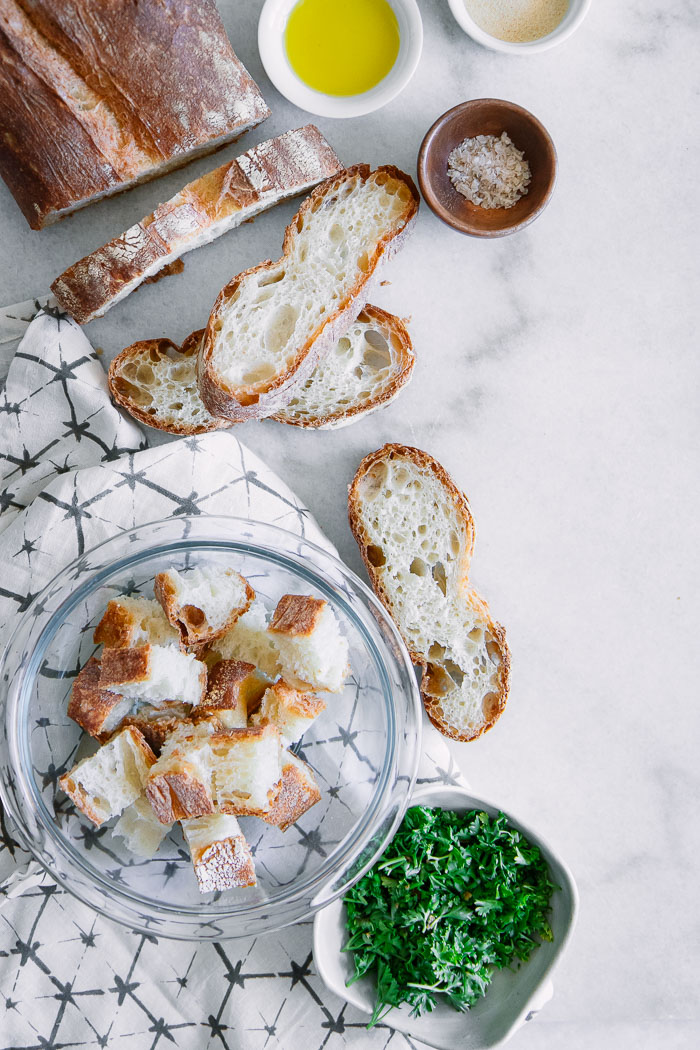 I must admit that I never really gave croutons much thought when I was younger. As far as I knew, croutons were the crunchy, oily, over-salted squares that came in a bag bought at the store. I never considered that you could actually a) make croutons at home, and b) that they would be far more delicious than the generic bagged salad toppers.
Thankfully I finally realized: croutons are just baked and seasoned bread. Shocking, I know.
Now that I've solved this great culinary mystery, I'm here to share my favorite (and ridiculously easy) homemade crouton recipe, Homemade Garlic Ciabatta Croutons.
How to make Homemade Garlic Ciabatta Croutons
There are many ways to make homemade croutons. From baking to frying to air drying, there is no one tried and true way to get fresh bread from loaf to crunch croutons. However, I have pinned down the fastest and easiest method (in my opinion) that doesn't skimp on flavor but also keeps the croutons as light and healthy as possible (meaning, no frying).
The way to crunchy and delicious croutons in fifteen minutes flat is as easy as 1-2-3:
Cut fresh bread into ½ inch thick cubes.
Toss with olive oil and spices.
Baked on low heat until dry and crispy, about 8-10 minutes.
It's truly as simple as that and the beauty is that the croutons keep for up to a week after they are dried. While this homemade crouton recipe uses ciabatta bread, any type of bread will work well and it is my go-to solution for that extra bakery bread that may be on the older (read: hard and stale) side. A perfect way to repurpose food and reduce waste!
---
Loving this homemade crispy crouton recipe? Try it on one of our favorite salads, such as this Kale Persimmon Salad with Pecan Yogurt Dressing or this Summer Peach Panzanella Salad.
Did you make this Homemade Garlicky Ciabatta Croutons recipe? Don't forget to leave us a comment and recipe rating to let us know how it was! Save this recipe for later by pinning to your salad Pinterest board and tag us on Instagram so we can see your homemade salad creations!
Yield: 6 cups
Homemade Garlicky Ciabatta Croutons
Homemade Garlicky Ciabatta Croutons, an easy and fast crunchy crouton recipe made from fresh ciabatta bread, olive oil, garlic, and fresh herbs.
Prep Time 5 minutes
Cook Time 10 minutes
Total Time 15 minutes
Ingredients
1/2 loaf ciabatta bread
Optional: chopped fresh herbs (I used 1 cup chopped parsley)
Instructions
Preheat oven to 350 degrees.
Cut ciabatta bread into 1 inch thick slices, then cutting each slice into ½ inch cubes and place into large mixing bowl.
Add olive oil, garlic powder, sea salt, black pepper, and fresh herbs (if using) and toss to combine.
Spread bread mixture onto a baking sheet greased with olive oil and bake 8-10 minutes, or until bread cubes are dried but not burnt.
Let cool and serve on your favorite salad.
Notes
Leftovers & Storage: The croutons can be stored in an airtight container at room temperature for up to a week after making.
Nutrition: Croutons on their own are a not a balanced meals or snack, but rather add crunch and flavor to salads and soups. To build a balanced meal, combine a protein (animal or plant-based), carbohydrate, and healthy fat source together to stay full and nourished throughout the day.
Nutrition Information:
Yield:
6
Serving Size:
1 cup
Amount Per Serving:
Calories: 124
Total Fat: 4g
Saturated Fat: 1g
Trans Fat: 0g
Unsaturated Fat: 3g
Cholesterol: 0mg
Sodium: 362mg
Carbohydrates: 19g
Fiber: 1g
Sugar: 2g
Protein: 4g
We are participant in the Amazon Services LLC Associates Program, an affiliate advertising program designed to provide a means for us to earn fees by linking to Amazon.com and affiliated sites.