Grilled Romaine Burrata Salad with Garlic Dill Dressing
Grilled Romaine Burrata Salad, a platter of grilled heads of romaine topped with creamy burrata cheese, grilled summer vegetables and a garlic dill dressing drizzle. A perfect starter for summer barbecues!
Grilled lettuce, you say? Stay with me here.
I wasn't too sure about grilled salads when they first became trendy. My first thought was "how exactly does one grill a head of lettuce?" I then ordered a few while out in restaurants and fell in love with the charred flavor of leaves and knew I had to try it myself.
And you know what? It's remarkably easy. And looks fancy. Which are the two things I like most when cooking: things that make you look like you have mad chef skills when in fact it took you 10 minutes. That's my kind of dish.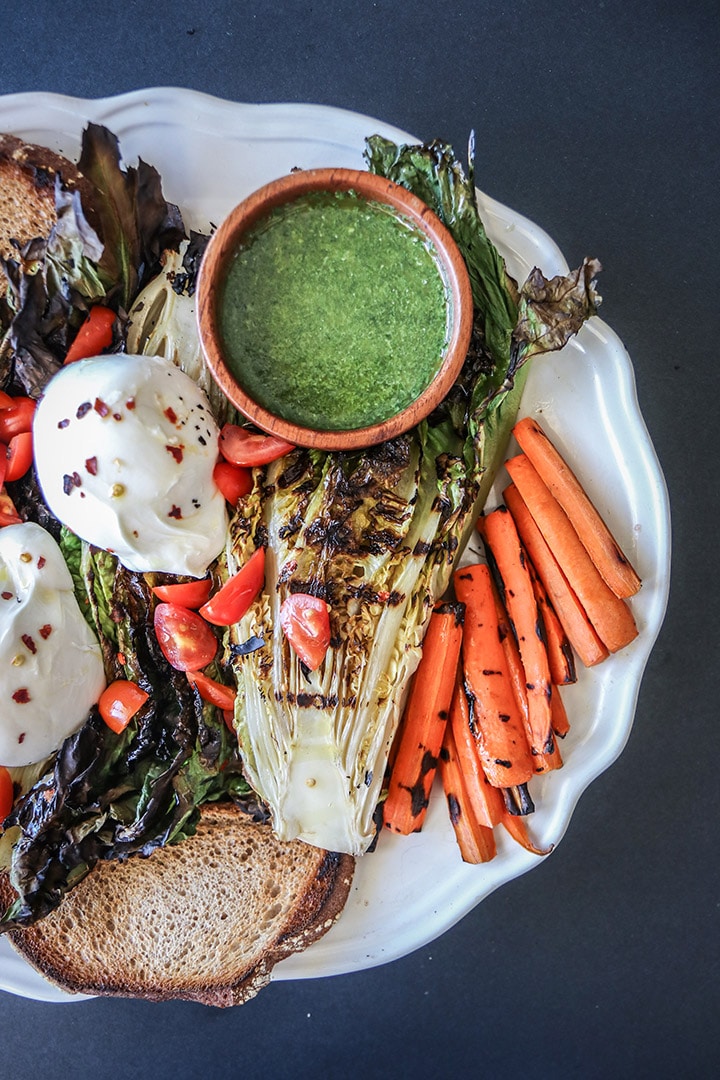 And because we are nearing peak summer produce, I couldn't stop at grilling just romaine when there are ears of corn and carrots galore at the markets. Who doesn't love the sweetness of fresh summer corn or the earthy taste of warm carrots? And if you don't then maybe this isn't the food blog for you (just saying).
Let's admit that romaine is not exactly having a moment. While it will always be a staple, the influx of trendy leafy greens such as butter lettuce, kale, arugula and watercress means romaine has been left behind. However, when you slice a head of romaine and put it on a grill, it takes on a new edge. It transforms into a bad ass crispy, charred salad that not only looks interesting but tastes delicious.
But grilled romaine is not to be eaten alone, it's a food that begs for company. And what better way to dress a salad than will grilled summer veggies and topped with creamy burrata cheese? Throw in an easy 5 ingredient garlic dill dressing and your simple summer salad dreams come to life: the Grilled Romaine Burrata Salad.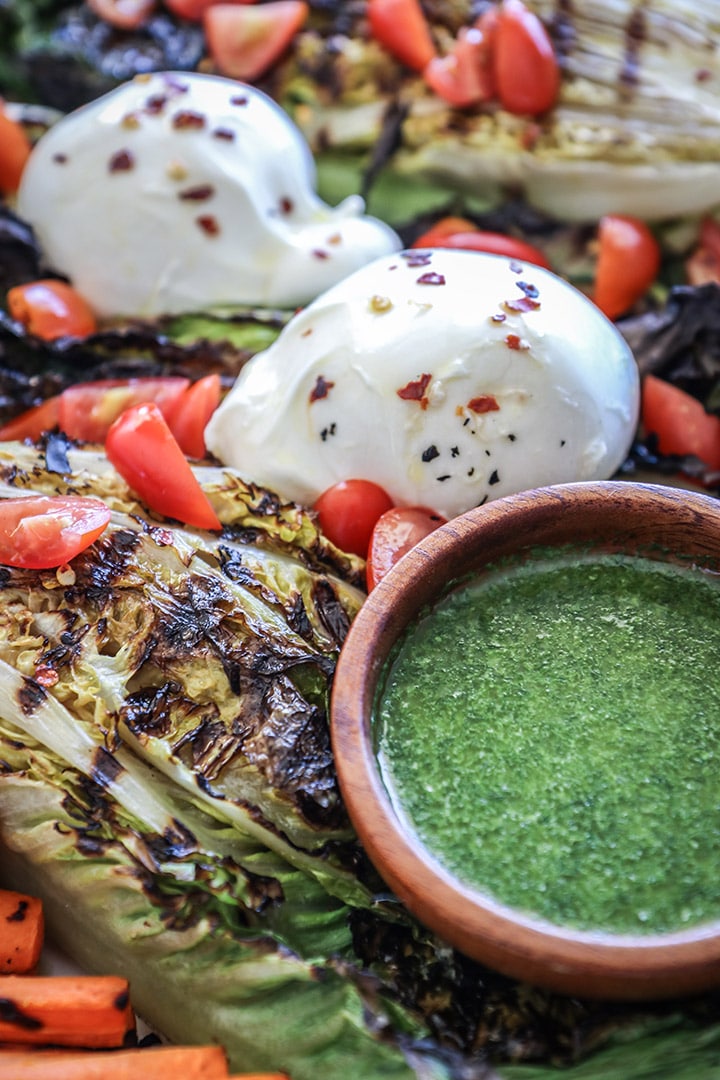 Grilled Romaine + Burrata Salad Recipes: Ideas + Inspiration
If you've read my blog for long you'll know I'm not much of a recipe follower myself. I use a recipe as a base or foundation and then experiment with what's in season and what I have on hand. For this reason I always encourage you to try new flavor and ingredient combinations.
Below is the framework of this Grilled Romaine Burrata Salad and ideas for you to make it your own:
Grilled lettuce: Romaine or other thick-leaved leafy greens that grow in 'heads' are best for grilling. Just imagine trying to grill arugula or watercress – its a ridiculous idea. Instead, try kale, chard or even butter lettuce on your next grilled salad.
Toppings: I always like to keep it fresh and seasonal, so any summer vegetables at their peak will work will on this easy grilled salad. Corn, carrots, tomatoes, eggplant, onion or squash are great choices.
Get cheesy: Vegans can skip this step, but if you're a fan of dairy then there really is no bad cheese choice for this grilled romaine salad (but let's be real, is there ever really a bad cheese choice?). I love the creaminess of burrata and think it pairs well with the charred veggies of this salad (and almost serves as a second "dressing") but a crumbled cheese liked herbed feta or even a pungent blue would work well.
Dress it up! Because of the burrata I kept the dressing on this salad very minimal, but that doesn't mean it lacks flavor. I love making my own dressings from olive oil, any herbs we have on hand, garlic, lemon or lime, and salt and pepper. Easy over salads, grilled veggies and even on meats.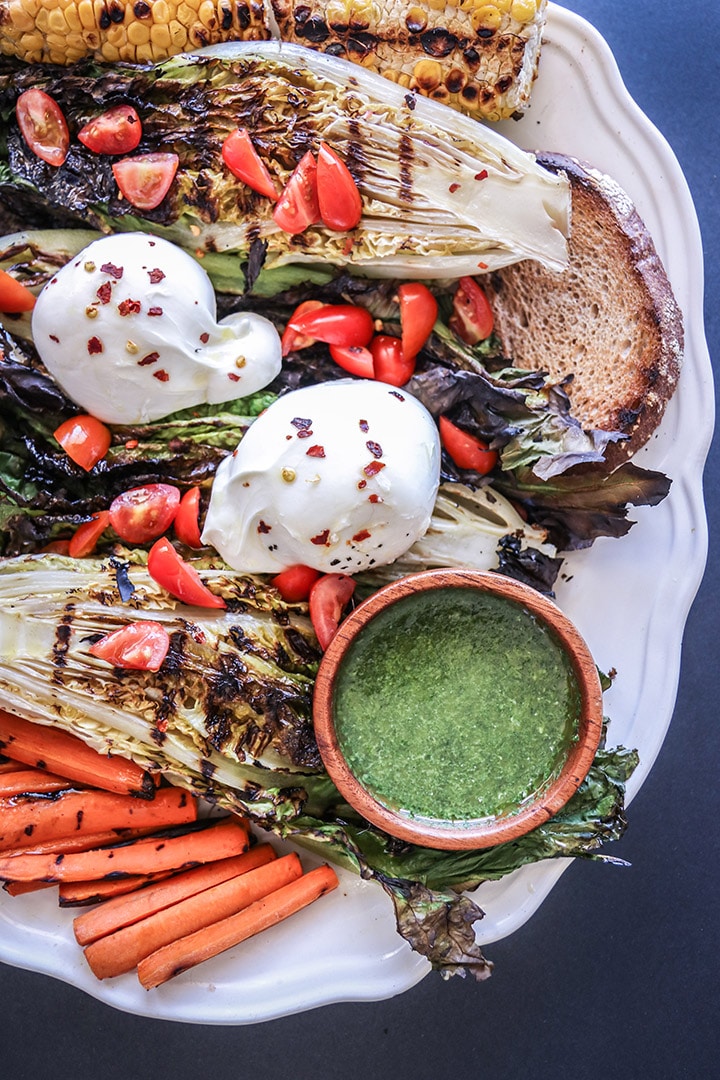 If you like this Grilled Romaine Burrata Salad, don't miss these simple salad recipes:
Yield: 4 servings
Grilled Romaine + Burrata Salad with Garlic Dill Dressing
Grilled Romaine Burrata Salad, a platter of grilled heads of romaine topped with creamy burrata cheese, grilled summer vegetables and a garlic dill dressing drizzle. A perfect starter for summer barbecues!
Prep Time 5 minutes
Cook Time 15 minutes
Total Time 20 minutes
Ingredients
For Salad
2 heads of romaine, halved
1 teaspoon olive oil
2 ears of corn
4-6 carrots, peeled and sliced
1 cup cherry tomatoes, halved
2 balls of burrata, drained
For Dressing
1/2 -  1 cup fresh herbs (I used dill)
2 cloves garlic
1/4 cup olive oil
juice of 1 lemon
salt and pepper to taste
Instructions
For Salad
Lightly rub cut side of romaine heads with olive oil and place facedown on grill over medium heat. Cook 3-4 minutes per side, being careful not to burn.
While cooking romaine, grill other vegetables as desired. When done, arrange romaine and vegetables on platter and top with burrata cheese and drizzle with dressing (instructions below).
For Dressing
Combine herbs and garlic into food processor and pulse until cut into small pieces.
Add olive oil and lemon juice and pulse lightly until thoroughly mixed but not smooth.
Add salt and pepper to taste.
Notes
Add a side of grilled bread to round out this salad and make it a meal!
Nutrition Information:
Yield:
4
Serving Size:
1 serving (1/4 romaine head)
Amount Per Serving:
Calories: 300
Total Fat: 20g
Saturated Fat: 4g
Trans Fat: 0g
Unsaturated Fat: 14g
Cholesterol: 11mg
Sodium: 231mg
Carbohydrates: 28g
Fiber: 10g
Sugar: 9g
Protein: 9g
We are participant in the Amazon Services LLC Associates Program, an affiliate advertising program designed to provide a means for us to earn fees by linking to Amazon.com and affiliated sites.