Green Gift Guide: Eco-Friendly Holiday Gift Ideas
The Green Gift Guide is here, just in time for the holidays! We've found the perfect eco-friendly, sustainable, and ethically made gift for each person on your list. Here's to a healthy and environmentally friendly holiday season!
A gift-giving challenge eco-conscious consumer have during the holidays is finding gifts that are ethically and sustainably made. I don't know about you, but when I decided to adopt a green living lifestyle I found it challenging to find gifts that fit my eco-friendly expectations. Year after year I struggle to find gift ideas that align with my personal values, but also don't break the budget.
But never fear, green living warriors, the Fork in the Road Green Gift Guide is here! Below you'll find gifts to fit anyone on your list, even that hard-to-shop-for person you can never seem to find something for.
Whether you have green eaters, green homebodies, green travelers, or budding eco-warrior kids on your list, we've found something you for you. Let's do it!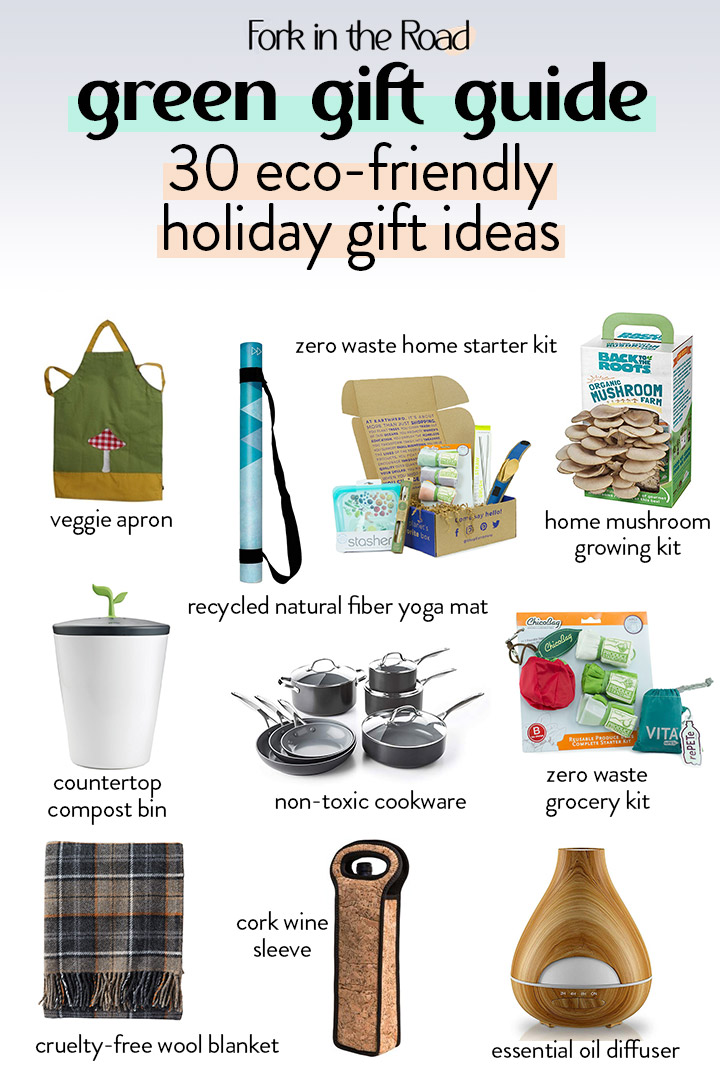 ---
🌱 Green Gift Guide: The Green + Healthy Eater
Can't find the perfect gift for the eco-conscious foodie? Don't worry, that's what we're all about here on Fork in the Road. You may even want to get two of these green eating and green kitchen goodies (one for you, of course!).
Budget gifts for foodies
Splurge gifts for foodies
---
🏠 Green Gift Guide: The Green + Mindful Homebody
Not sure what to gift the environmentally-conscious domestic dweller? Never fear, we've got the perfect gifts for homebodies who love to make their home their eco-sanctuary.
Budget gifts for homebodies
Splurge gifts for homebodies
---
🧳 Green Gift Guide: The Green + Ethical Traveler
Clueless about what to get for the ethical intrepid traveler? A few simple and sustainable travel goodies will go a long way when you spend a lot of time on the road.
Budget gifts for travelers
Splurge gifts for travelers
---
🧸 Green Gift Guide: The Little Green Warrior
Wonder what to buy for the budding environmentalist in your family? These fun eco-friendly gifts will help them grow into the green warrior they're meant to be.
Budget gifts for kids
---
♻️ More sustainable gift guides
Looking for more eco-conscious gifts? Check out our other holiday-specific eco-friendly and ethical gift guides:
What's on your eco-friendly wishlist this season? Do you have any creative homemade gifts to share with the FITR Green Living Community? Leave a comment below and let us know!
UPDATE: This gift guide was originally published in 2018 and is updated every year, mostly recently October 2021, to include our favorite green gift suggestions.