Gooseberry Currant Yogurt Bowl
Gooseberry Currant Yogurt Bowl, a simple breakfast of thick creamy yogurt and maple walnut granola topped with fresh gooseberries and black currants. Late summer in a bowl!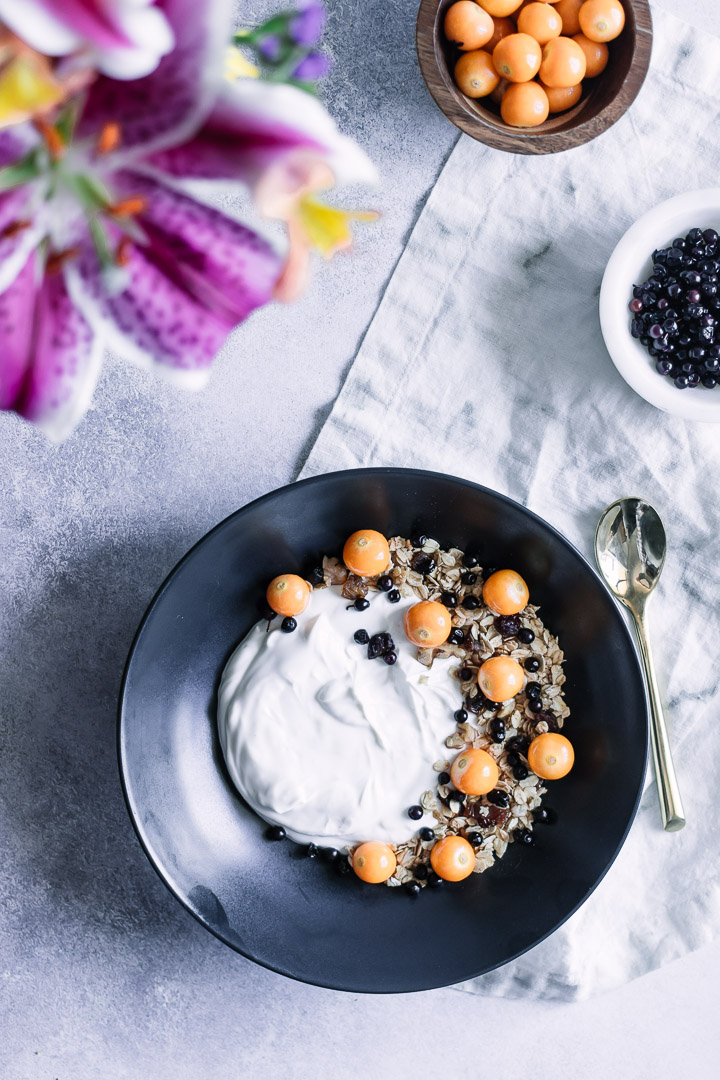 Don't you hate boring mornings? I know that when I wake up early the last thing I want is a boring breakfast. If I have to wake up before I'm ready then I want a hot cup of coffee and a delicious breakfast to entice me out of my comfy bed.
That's why I love getting creative with my morning yogurt and granola bowls. Plain (full fat) creamy yogurt with a homemade granola is my base, topped with fresh seasonal fruit, nuts, and seeds.
And we're not talking boring fruits here, I love to get creative and try unconventional and underutilized fruits…like gooseberries and currants.
Are you dealing with boring and uninspired morning breakfasts? Then I have the perfect answer for you: Gooseberry Currant Yogurt Bowl, a simple yogurt and granola bowl topped with the season's fresh and fun fruit.
Want the so-easy recipe? Let's get to it!
What are gooseberries? How do you cook with them?
Gooseberries are a seedy berry that grows in the wild in Europe, Northern Africa, Western Asia, and in pockets throughout North America.
They have a sour flavor and are often used in jams, jellies, and pies, but are also eaten raw and used as toppings such as this yogurt granola bowl. Gooseberries are high in vitamin C and are lower in sugar than other similar berries.
Peak gooseberry season is through the summer months May to early September, so get your gooseberries before the season is over!
What are currants? How do you cook with them?
Black currants are a small bush berry that is native to Northern Europe and Asia. They have a rich, tart flavor and are used in jams, jellies, and desserts, especially in the cuisines of Norway, Sweden, Denmark, and Germany. Black currants are high in vitamin C and also have iron and manganese.
The best season for black currants is usually end of summer and very early fall, when the berries are firm and juicy. Black currant farming was actually banned in the United States for many years because currant bushes often carry a common plant virus (not harmful to humans) that caused damage to US pine trees, but the ban has been lifted and now they are cultivated throughout the country.
How to build a seasonal yogurt breakfast bowl
A simple yogurt bowl can be built in as easy as 1-2-3:
Add yogurt to the bowl, plain or flavored (opt for lower sugar options like creamy skyr or Greek)
Add in granola, preferably homemade with just a touch of sweetness like our Maple Walnut Granola
Top with your favorite seasonal fruits, nuts, seeds, and a drizzle of sweet from honey, maple or agave
A yogurt and granola bowl on its own is not the most exciting breakfast, but top it with fresh seasonal (and outside-the-box) fruit like gooseberries and currants and you have yourself a fun and festive breakfast.
Here's are some ideas to switch up your morning yogurt bowl to stay fresh with the season's best offerings:
In spring: plain yogurt with vanilla, homemade coconut granola, and top with the season's freshest berries like strawberries, blackberries, and blueberries
In summer: use citrus or berry yogurt, granola with dried berries, and stone fruits like peaches and apricots
In fall: pumpkin yogurt, Maple Walnut Granola, and dried fruit with drizzled maple syrup
In winter: citrus yogurt, homemade gingerbread granola, topped with pomegranates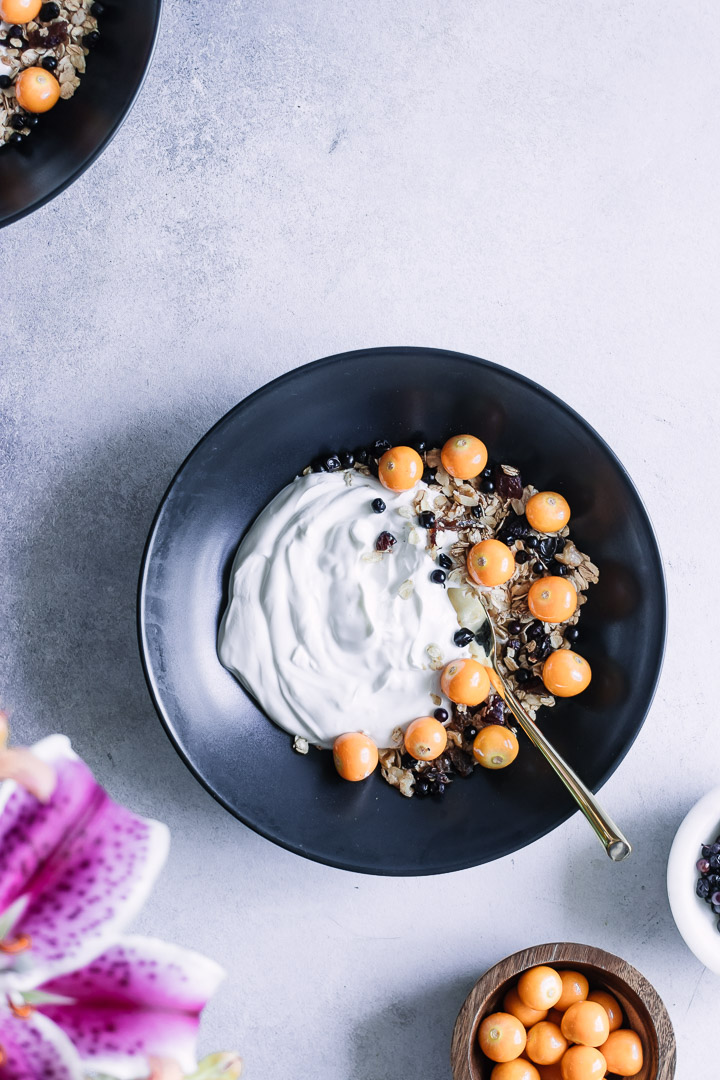 Gooseberry Currant Yogurt Bowl: Tips, tricks & tools
This simple yogurt bowl with granola recipe does not require much in the way of kitchen tools, however there are a few things that help make this recipe even simpler:
A great breakfast bowl: a big breakfast bowl is perfect for cereals, oatmeal, and yogurt and I love these colorful large bowls because they not only hold your food, they also make breakfast fun
Simple healthy granola: don't want to make your own? No problem! I love Kind granola and Bear Naked granola, both made with simple organic ingredients
Sealable glass bowls: taking your breakfast bowl on the run? Build it the night before in an eco-friendly portable glass bowl and refrigerate then grab and go. Easy for busy mornings!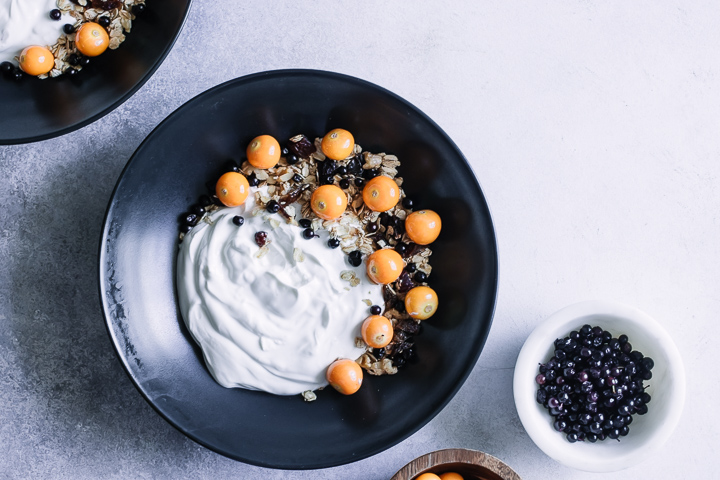 ---
Craving more simple breakfast recipes? Check out our Smoked Salmon Breakfast Bowl for a savory breakfast recipe and our Mellow Yellow Superfood Smoothie if you're feeling something sweet for the first meal of the day.
Did you make this Gooseberry Currant Yogurt Bowl? Leave a comment below and rate the recipe to let us know how it turned out. Save this simple yogurt bowl recipe for later by pinning to your favorite breakfast Pinterest board and make sure to tag me on Fork in the Road's Instagram to show me your yogurt bowl creations!
Yield: 1 bowl
Gooseberry Currant Yogurt Bowl
Gooseberry Currant Yogurt Bowl, a simple breakfast of thick creamy yogurt and maple walnut granola topped with fresh gooseberries and black currants.
Prep Time 5 minutes
Total Time 5 minutes
Ingredients
1 cup (150g) yogurt (I like skyr or Greek)
½ cup (60g) granola (I used Maple Walnut Granola)
⅓ cup (50g) gooseberries
¼ cup (30g) black currants
Instructions
Add yogurt and granola to bowl.
Top with gooseberries and currants. Enjoy!
Notes
Notes // Tips: Try using different yogurt and granola flavors, as well as fresh seasonal fruit variations.
Leftovers & Storage: Store Gooseberry Currant Yogurt Bowl ingredients separately, unless building the bowl the night before and eating within the next 12-16 hours (or else granola will get soggy). Yogurt, gooseberries, and black currants can be stored in the refrigerator for up to five days, while granola can be stored in an airtight container for up to one month.
Nutrition: This simple berry yogurt granola bowl is a nutritious way to start the day. With protein and fat from the yogurt and fiber from berries and granola, it will keep your nourished throughout the morning.
Nutrition Information:
Yield:
1
Serving Size:
1 bowl
Amount Per Serving:
Calories: 102
Total Fat: 0g
Saturated Fat: 0g
Trans Fat: 0g
Unsaturated Fat: 0g
Cholesterol: 0mg
Sodium: 3mg
Carbohydrates: 27g
Fiber: 2g
Sugar: 24g
Protein: 1g
We are participant in the Amazon Services LLC Associates Program, an affiliate advertising program designed to provide a means for us to earn fees by linking to Amazon.com and affiliated sites.