Seven good mood foods to boost your happiness. Because healthy foods are good for your body and your mind!
As a lover of food and dining, you know food has a direct relationship on mood. Whether it's savoring the first sip of coffee or tea in the morning or the piece of dark chocolate and sip of wine at night, some (ok, maybe most) of life's best little moments are because of food.
While you've likely noticed your happiness rises the moment your favorite ice cream hits your lips, did you also know that many everyday healthy foods are proven mood boosters? Read on for a list of foods studies suggest play a role in upping your happiness factor…because we all could stand a little more joy in our daily lives).
7 Good Mood Foods to Boost Your Joy and Happiness
Fatty fish
While you may love a slab of salmon or grilled sardines for their taste, did you also know they may contribute to happiness? Oily fish are high in omega-3 fatty acids, which have been associated with improved depression symptoms and plays a vital role in serotonin and dopamine regulation in the brain. Fish that are high in healthy fats also contain vitamins D and B12, which affect mood and brain function if lacking from your diet.
Leafy Greens
While any vegetable lover can tell you it's no secret that a big bowl of greens can be a source of joy, there is actually research to prove your salad bowl is bringing you bliss. Leafy greens contain folate, which if deficient from your diet may lead to lethargy and lowered serotonin levels, and are a plant-based source of calcium, which has been associated with lowered levels of depression in some people. Leafy greens are also packed with mood-boosting antioxidants and are packed with fiber, which helps regulate digestion and keep you full and satisfied. Now that's something to smile about!
Want to up your leafy green intake? Try our Kale Persimmon Salad with Pecan Yogurt Dressing and Grilled Romaine Burrata Salad with Garlic Dill Dressing salads!
Legumes
Legumes like beans, peas, lentils, and peanuts are not only a great source of fiber and plant-based protein, they also have natural mood boosting properties. Legumes have folate and iron, which plays a vital role in blood production. Lowered levels of iron may cause anemia, which is associated with fatigue and changes in mood.
Looking for delicious recipes featuring legumes? Check out our Black Bean, Corn & Farro Salad, Za'atar Crispy Chickpea and Leek Salad, and Easy Lentil Bowl with Sunny Egg & Spicy Harissa recipes, all of which feature legumes such as beans, chickpeas, and lentils.
Eggs
Eggs are a magical food that elevate any dish (the hashtag #putaneggonit isn't a hit for nothing). Eggs are also chock full of potential happiness nutrients, as they provide vitamin D, B vitamins B6 and B12, and are a good source of selenium, which has been associated with decreased anxiety and improved mood.
Want to add a runny, sunny egg to your next meal? Try our Olive Tapenade with Sunny Egg and Wasabi Ginger Deviled Eggs for a happiness (and protein) egg boost!
Nuts & Seeds
Nuts and seeds are not just snacks to satisfy hunger until your next meal, they may also play a role in your overall satisfaction. Nuts are high in magnesium, which plays a role in serotonin production and may decrease anxiety, and seeds are often high in zinc, which may decrease depressive symptoms.
Get your nuts and seeds on with our Maple Walnut Granola.
Dark Chocolate
It's not hard a hard sell to prove that chocolate brings happiness. Anyone who has ever sipped hot chocolate can tell you that, but there is actually some science to back up what you likely already knew. Chocolate contains magnesium and zinc, both which ward off unhappy feelings, and a recent study also connected dark chocolate with lowered stress levels and higher immunity. I think that news deserves another piece!
Try our Peppermint Mocha Matcha Latte for a dark chocolate and caffeine boost!
Caffeine
Any caffeine addict can tell you the first hit of coffee or tea in the morning brings a sense of joy. But research also shows that coffee may have mood boosting effects and play a role in longevity and a Harvard study found that people drinking 3-5 cups of coffee may have less risk of disease.
However, there can be too much of a good thing. Some research has shown that there is a line when too much coffee may increase anxiety and induce insomnia, which may lead to depression and mood disorders. Each person's tolerance for coffee is different and while three cups may be fine for one person, more than one cup may have adverse health effects in others.
Want to get creative with your caffeine? Try our  and Hazelnut Liqeur Affogato for a mood boost.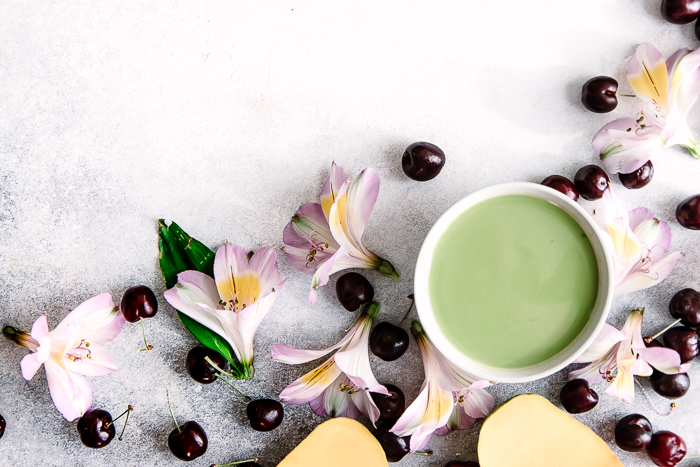 ---
What foods make you happy? For meal, fresh seasonal fruit, a big salad, and a cup of matcha in the afternoon bring little moments of joy in my life. Leave a comment below and or connect with me on Instagram to let me know your favorite good mood foods.