Homemade Golden Milk Spice Mix
Homemade Golden Milk Mix, a tasty spice blend of turmeric, ginger, cinnamon, coconut, vanilla, cardamom, nutmeg, and black pepper. Perfect for golden milk lattes and as a spice on savory vegetables, soups, and stews. Let's get golden spiced!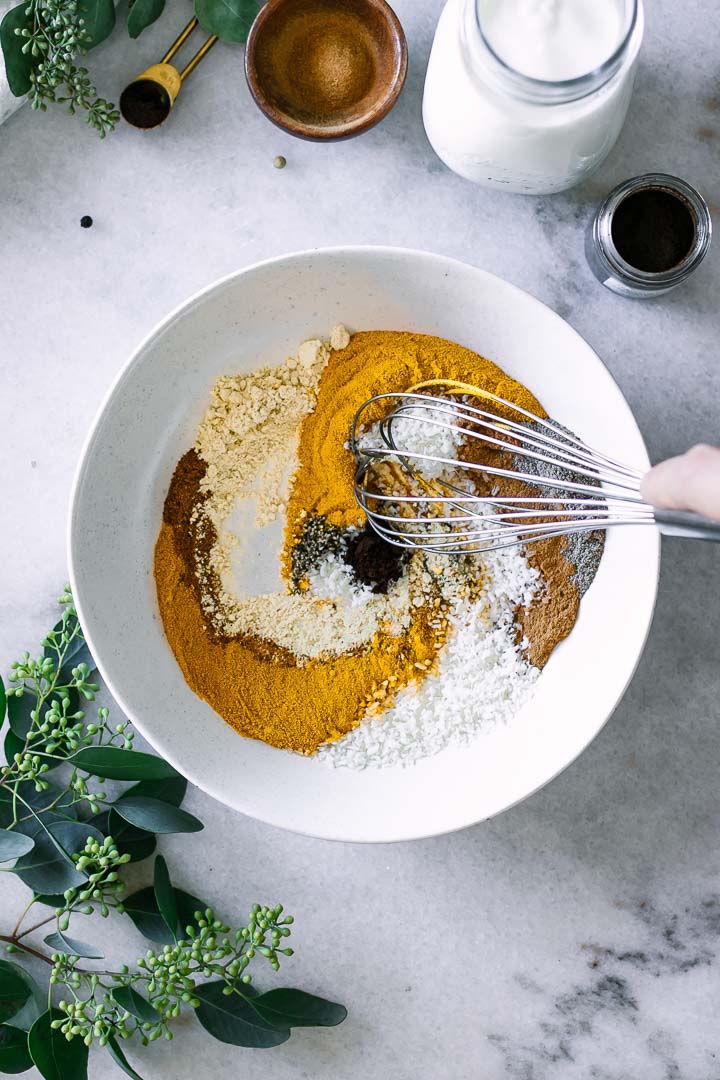 Are you a golden milk fanatic? The turmeric tea and latte trend is at its peak, but is mostly available only in coffee shops. But did you know you can make your own homemade golden milk powder mix simply by mixing together a few spices?
👉 Here's why you should be making your own golden milk spice mix:
It's easy. Simply mix together turmeric, ginger powder, cinnamon, coconut, vanilla bean powder, cardamom, nutmeg, and a pinch of black pepper.
It's tasty. With the earthy mix of turmeric and the warming flavors of cardamom, cinnamon, and ginger, this spice blend is big on bold flavors.
It's a great edible gift idea. I love mixing together this yellow turmeric tea mix and using throughout the week or even gifting to friends and family for holidays and birthdays.
Want the recipe for this great make-ahead 5-minute Golden Milk Spice Mix? Let's do it!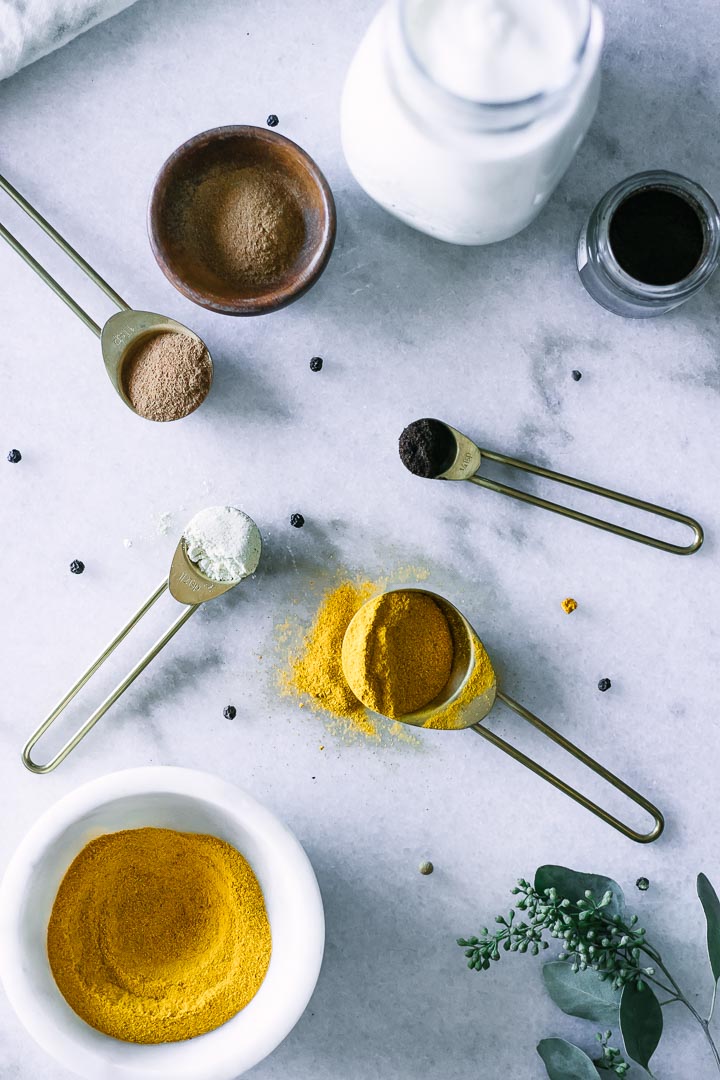 ---
💛 What is golden milk?
While there are many golden milk recipes floating around, it generally contains:
Ground turmeric as a base spice, hence the name "turmeric tea"
Cinnamon, coconut (sometimes in the form of coconut milk), and black pepper
Other spices such as ginger, cardamom, and nutmeg, as desired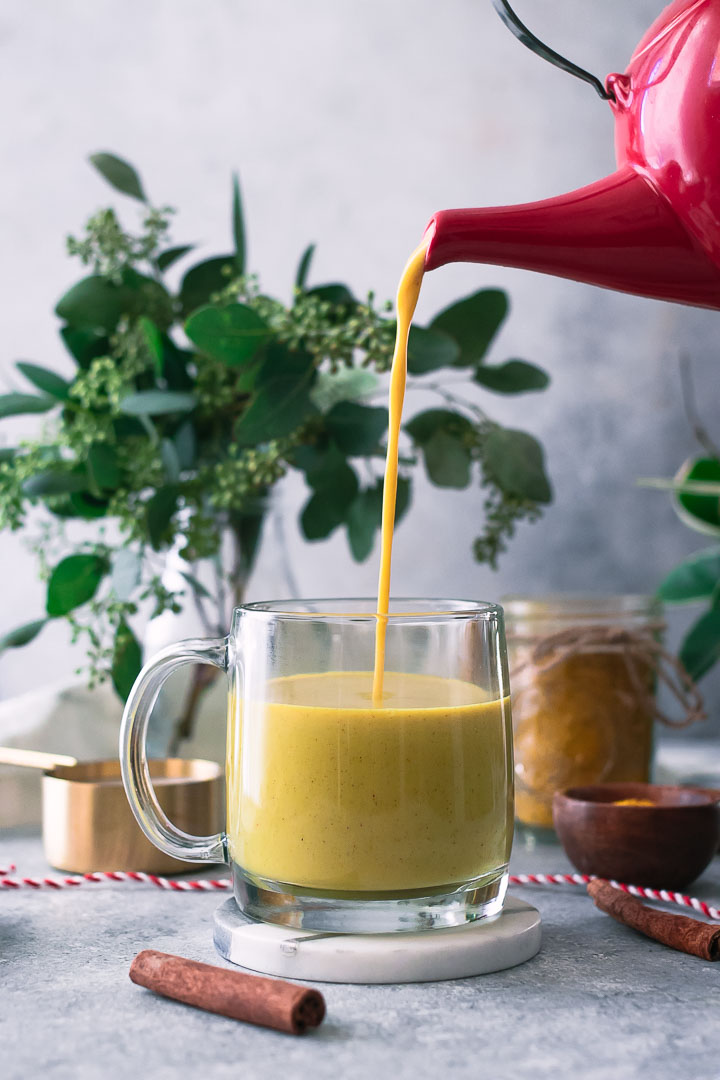 ---
🟡 Spices in golden milk
I tested many different variations of this Golden Milk Spice Mix recipe before landing on what I've found to be the perfect blend, including:
Turmeric
Turmeric powder is the foundation of golden milk and is what gives it its bright yellow color. Turmeric is a root in the same family as ginger and galangal, and is grown in India and parts of Southern Asia. It is dried and ground into a powder, which is bright yellow in color and is often used in soups, stews, and — most notably — in curries.
Studies have shown that curcumin, the bioactive compound in turmeric, may have anti-inflammatory factors that may improve joint pain, skin irritation, and may even reduce the risk of heart disease. Ground turmeric, and golden milk in general, have long been used in ayurvedic medicine.
Ginger powder
Ginger is a cousin of turmeric, and is a flowering perennial plant with a root that is used in cooking both raw and dried and ground into ginger powder.
Ginger is from the southern part of India and Asia, as has long been used to cure nausea and upset stomach, and some studies show that ginger creates a calming effect as consuming.
Ground cinnamon
Cinnamon comes from the bark of the Cinnamomum tree species, which is grown in Southern Asia, specifically China and Indonesia. The bark is dried and then ground to produce ground cinnamon, which is commonly used in baked goods.
Like ginger, cinnamon has a long history of use as a digestive aid and some research suggests it may have anti-inflammatory and anti-bacterial properties.
Coconut powder
Coconuts are a tropical fruit that come from the palm tree, and are used for their milk, flesh, oils, and even their shells. Coconut powder is made by draining coconut milk and drying coconut flesh, then grinding into a powder.
Coconut powder is great in curries, soups, and stews, and mixes well into hot liquids like golden milk. It adds a smooth tropical taste to golden milk.
Vanilla bean
Vanilla plants are actually orchids that grow on a vine and are harvest for their fruit, the vanilla "bean" pod that can be scraped to release its tiny black seeds.
Vanilla originated in Mexico, but is now grown across the world in tropical regions in places like Madagascar and Tahiti. Vanillas is most often used in baked goods, but its' extract is also delicious in drinks like lattes.
Cardamom
Cardamom is a strong spices made from the small pods of the Zingiberaceae plant species, which is grown in India and Southern Asia.
It is used in both sweet and savory Asian cuisines, as well as more widely in baking. Cardamom contains antioxidants which may reduce inflammation and may have antibacterial effects.
Nutmeg
Nutmeg is made from the ground seed of the Myristica tree, an evergreen tree found in Malaysia, Sri Lanka, and Indonesia. It is used in both sweet and savory dishes worldwide and is used in alternative medicine for pain relief and digestion.
Black pepper
Black pepper is the ground spice made from the peppercorn fruit from the Piperaceae plant, which is native to Southern India but is now also grown in Vietnam. It is now a staple spice used in cuisines throughout the world.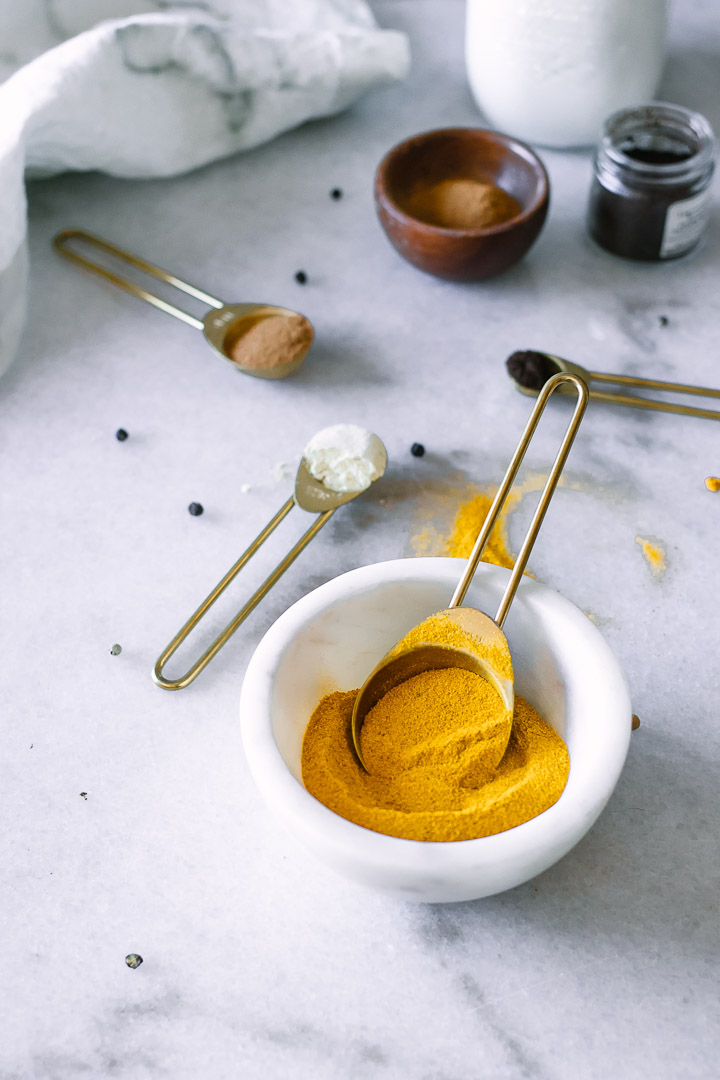 ---
🥣 How to make homemade golden milk spice mix
1️⃣ Step One: Combine all spices into a bowl
Add the turmeric, ginger, coconut powder, cinnamon, cardamom, nutmeg, and black pepper in a large bowl.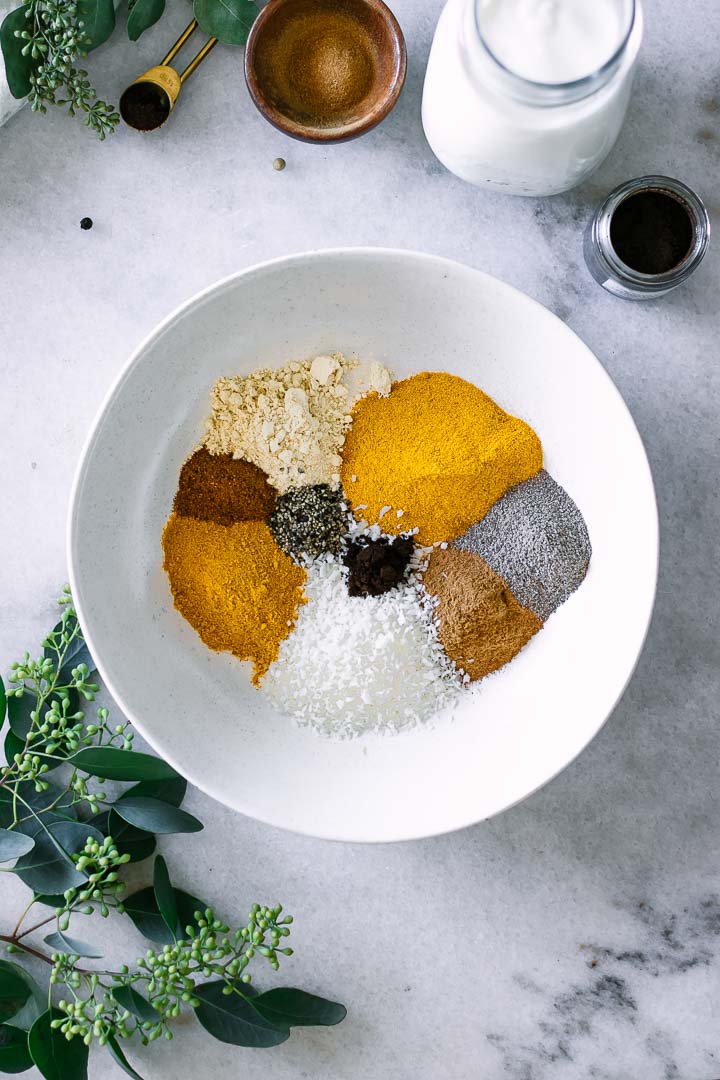 2️⃣ Step Two: Mix well to combine
Mix the golden milk spices with a whisk or large spoon to evenly distribute the spices.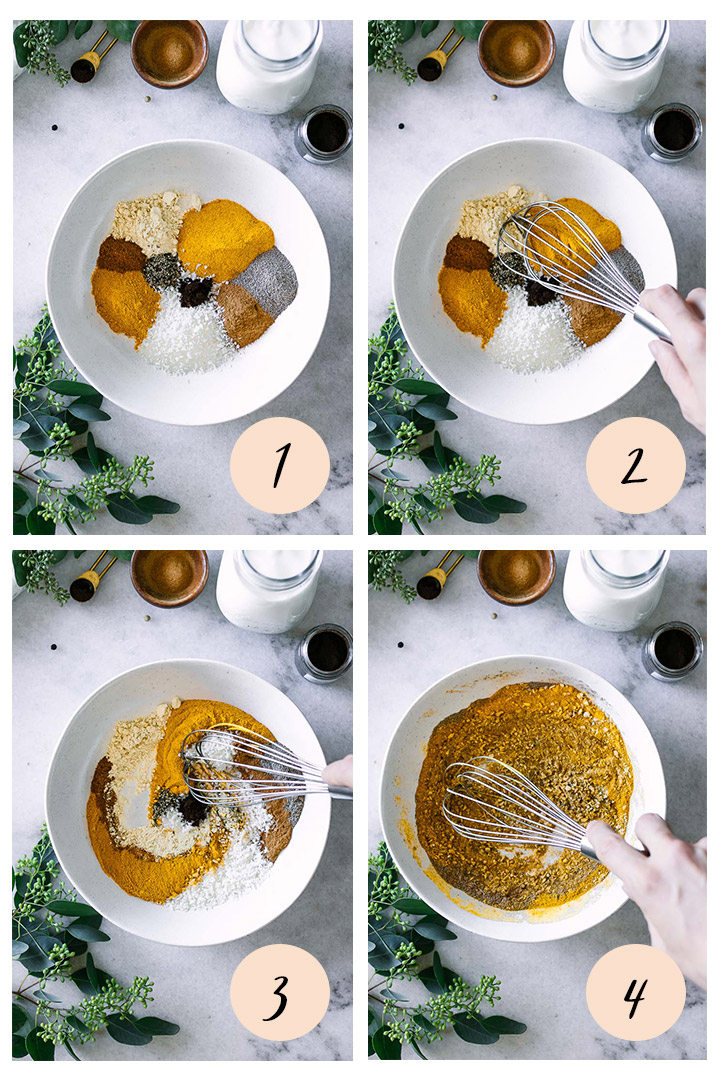 ---
⭐️ How to store
Storing this spice blend is simple: store in an airtight jar or container in a cool dry place until needed. Because spices have a long shelf life, this can be kept for up to two or three years.
Spices don't necessarily go rancid, or bad, they just lose their flavor potency after time, so use your judgement on the flavor if they've been stored for awhile (it definitely won't make you sick to eat spices past their due date, they just may not taste as good).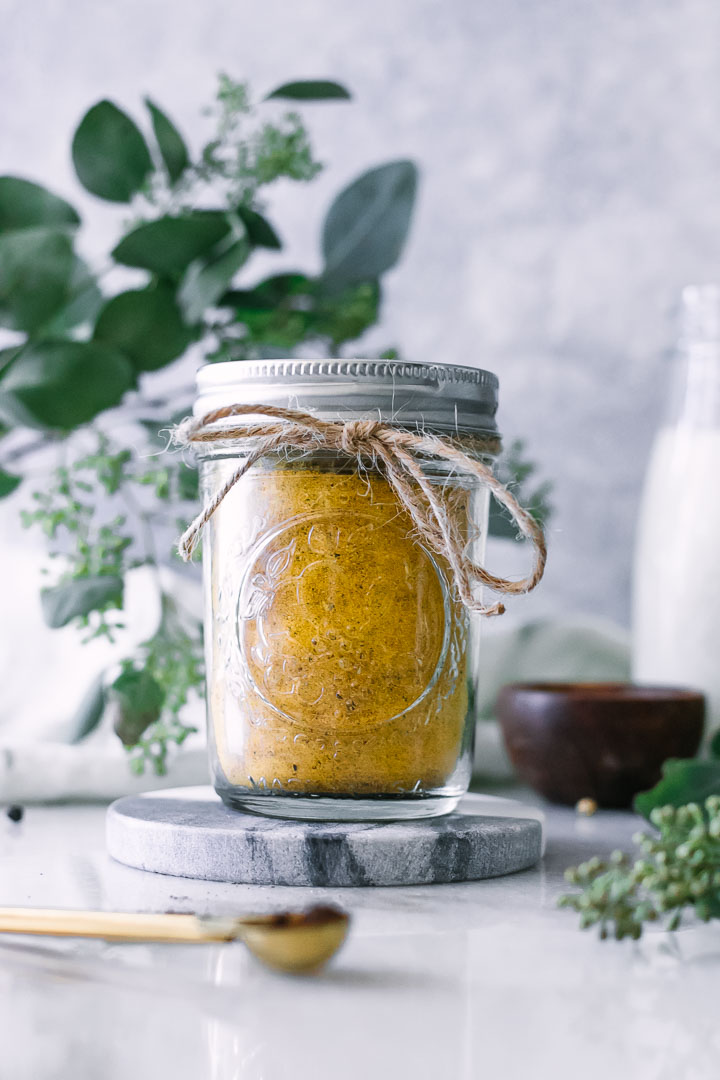 ---
💡 Golden milk spice tips
This simple spice mixture is as simple as mixing spices together, but there are a few tips and tricks I recommend to make sure you are buying ethical, sustainable, and fair trade spices:
Go Fair Trade Certified: the world's spice industry is large and many of the most common spices like turmeric are grown and processed in countries that do not have fair working wages or who have very serious human rights violations. For this reason I try to always source my spices from Fair Trade Certified makers.
Spice brands we believe in: Diaspora Co for turmeric; Frontier Co-op, Curio Spice, Oaktown Spice for most other spices
Buy the good stuff: once you begin building your spice cabinet with well-sourced spices, you will notice the flavor difference compared to what you picked up at the local store. Spending a little more to ensure you're sourcing from fair supply chains you'll feel good AND your food will likely taste better. And you'll find that a little of the good stuff goes a long way.
Don't have coconut powder? Replace it with a bit of coconut oil or use coconut milk as your base.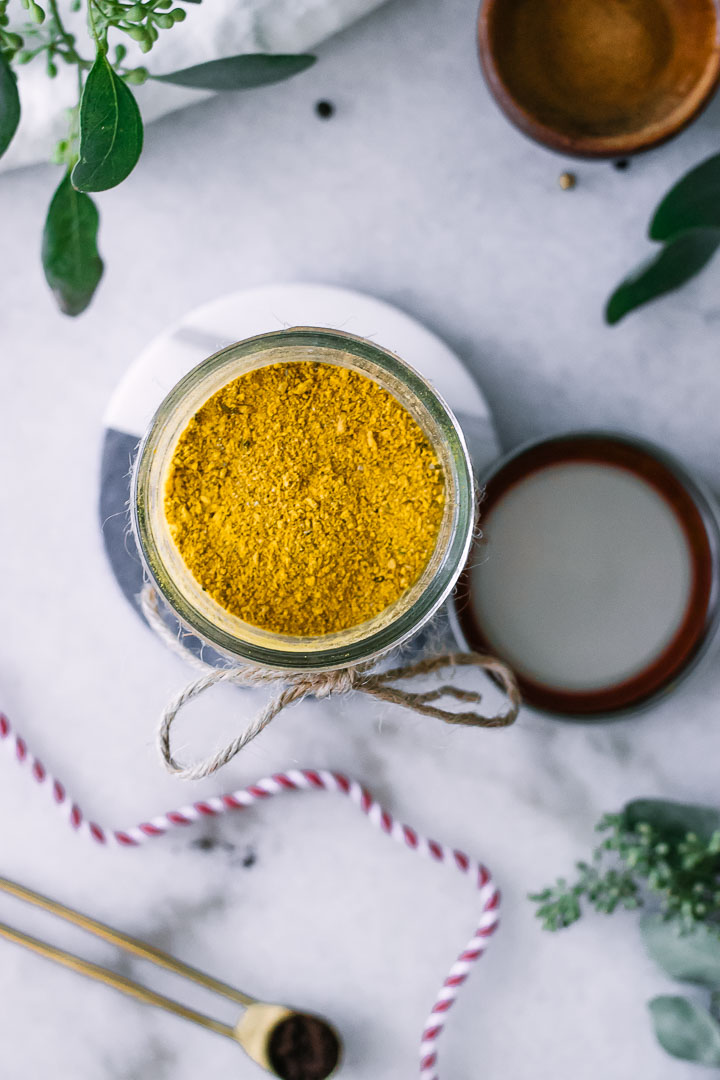 👉 Recipe using golden milk spices
Use your golden milk spice blend in:
This Golden Milk Spice Mix can also be used in other foods as well: add it to your oatmeal, cookies, cakes, vegetables, curries, soups, stews, or even over meats like chicken or seafood. The possibilities are endless!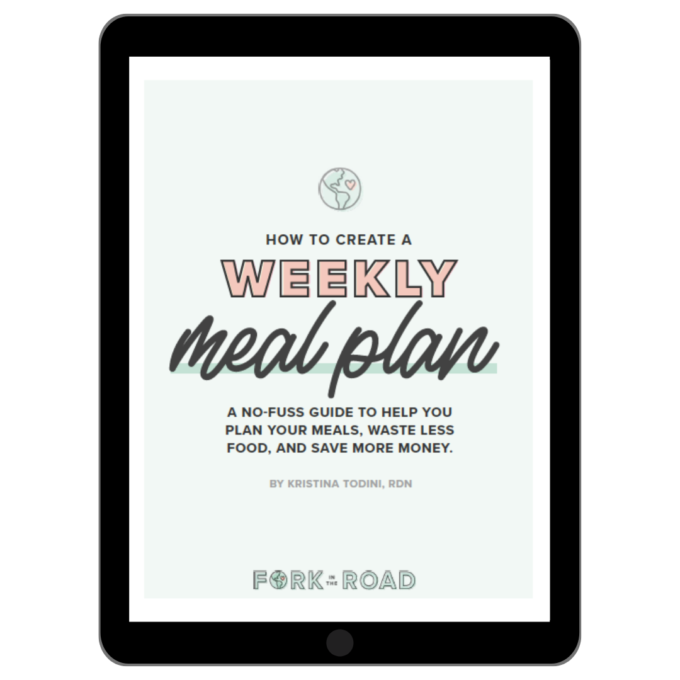 Homemade Golden Milk Spice Mix
Homemade Golden Milk Mix, a tasty spice blend of turmeric, ginger, cinnamon, coconut, vanilla, cardamom, nutmeg, and black pepper. Perfect for golden milk lattes and as a spice on savory vegetables, soups, and stews. Let's get golden spiced!
Ingredients
2

cups

turmeric

4

tablespoons

ginger powder

8

teaspoons

ground cinnamon

8

teaspoons

coconut powder

8

teaspoons

ground dried vanilla

4

teaspoons

cardamom

2

teaspoons

nutmeg

1

teaspoon

black pepper
Instructions
To make spice blend: Add turmeric, ginger powder, coconut powder, vanilla powder, cardamom, nutmeg, and black pepper to a large bowl. Mix with a whisk or wooden spoon until well combined.

To make golden milk: Add 1-2 tablespoons to your favorite milk and stir to combine. Alternatively, this golden milk mix can be used on vegetables, in soups and stews, on meats, and even in baked goods.

To store: Store mix in a glass jar in a cool, dry place until ready to be used. Mix can be stored up to two to three years, or at the earliest expiration date for one of the individual spices used in mix.
Notes
Tools needed: glass mixing bowls, whisk or wooden spoon, jar(s) for storage
Notes: Be careful to not wear clothing that can easily be stained when making this recipe, as turmeric easily stains clothing, counter tops, and even nails and fingers.
Leftovers and storage: Store spice mixture in an airtight container in a cool, dry place for up to three years.
Nutrition: This spice mixture is very low in calories and overall nutrients, but does provide a small amount of fiber and iron. It is also full of antioxidants from the spices, including the anti-inflammatory curcuminoids in turmeric and gingerol in ginger powder.
Allergens: This recipe contains coconut powder; if you have a coconut allergy or sensitivity, simply omit it (no need to substitute with other spices, they will still contribute a lot of flavor).
Nutrition
Serving:
1
serving (1 teaspoon)
Calories:
29
kcal
Carbohydrates:
5
g
Protein:
1
g
Fat:
1
g
Saturated Fat:
1
g
Polyunsaturated Fat:
1
g
Monounsaturated Fat:
1
g
Sodium:
4
mg
Potassium:
166
mg
Fiber:
2
g
Sugar:
1
g
Vitamin A:
1
IU
Vitamin C:
2
mg
Calcium:
15
mg
Iron:
3
mg
UPDATE: This recipe was originally publish in December 2018 and was updated with new photos and clearer instructions in May 2021.