The Lowdown on the Dietetic Internship Application
Everything you need to know about dietetic internship application, from the personal statement, resume, and letters of recommendation to DICAS and D&D Digital.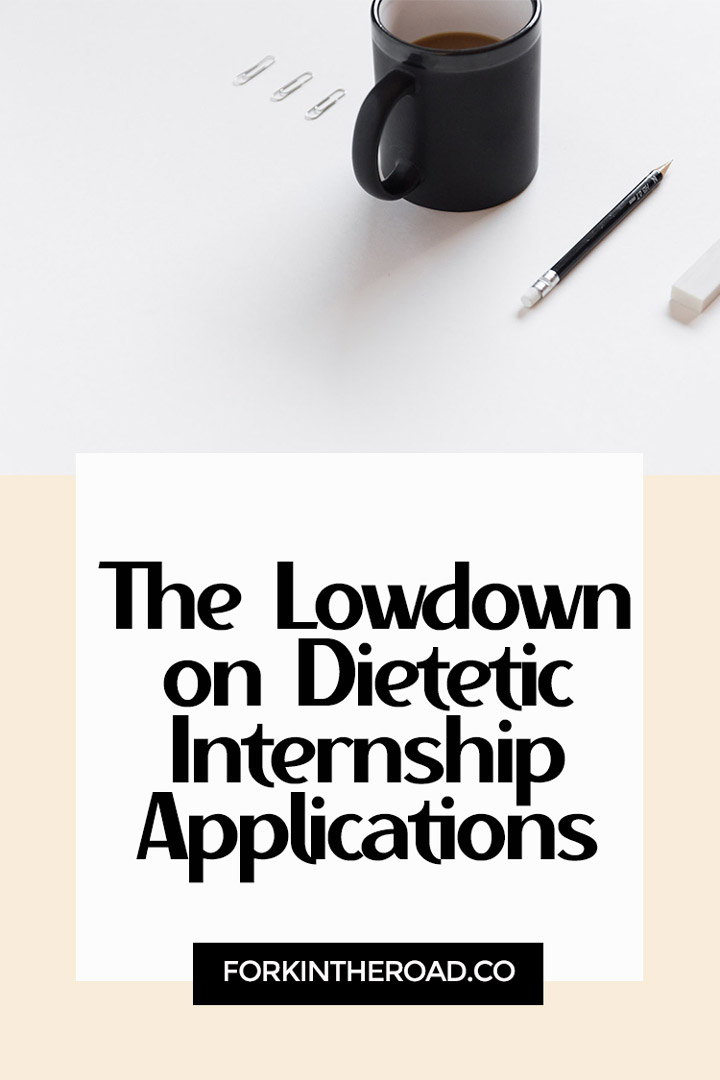 Are you thinking of applying for dietetic internships and don't know where to start? I was in your shoes not long ago and it took weeks–no months!–of reading and searching to fully understand how the application process works.
I'm here to tell you, it's not easy. In fact, it was one of the most stressful times in my life. Speaking now from the other side I can tell you that it's very intense and, as you've probably heard before, the match rate hovers around 50%. I can also tell you that in the end the hard work, late nights, and liters of coffee that fueled me through the application process were all worth it when I was matched to my number one program.
So you know you have to apply, but how exactly does it work? Let's break it down…
DICAS
DICAS, or the Dietetic Internship Centralized Application Services, is the centralized application that all programs use that participate in the computer matching process. Every applicant fills in their information and uploads their resumes, personal statements, and letters of recommendation and then submits their applications to the programs to which they are applying.
It is important to note that there are two application periods per year, spring and fall, and the website shuts down to new accounts prior to opening for each application period. Your information will be saved if you have already created an account and started filling out the application, but you will not be able to access it for the short period prior to the next match (more information on application periods below under D&D Digital).
The website can be a bit confusing and for this reason I highly recommend creating an account well ahead of your matching period to ensure you have had time to take a look around and get used to the format. My fellow classmates and I found that the customer service representatives at DICAS were very attentive and quick to answer any questions that I had during the application period.
Below is a list of the materials that you will need to upload and the information that you will need to supply for the DICAS application.
Resume
DICAS allows you to upload only one resume, so make sure that it is not specific to one program as all of the programs you will apply to will be able to view it. I heard from many professors and dietitians that being concise and keeping your resume to one page is preferred, but if you have a lot of relevant experience then it is perfectly acceptable to have more than one page.
If you DO decide to do a two page resume, make sure to fill your second page–you don't want to leave half of a page blank. Personally, I had many different experiences I wanted to highlight and filled my resume to two pages. There is no right or wrong answer to this, just go with your gut and decide what you would like to highlight without trying to cram too much information in for the sake of length.
Some other important tips I received for the dietetic internship resume:
Extend your margins to 0.5″ to create more space
Make sure formatting is uniform throughout
Choose a font that is clear and easy on the eye
Bulleted sentences do not get periods
Lump your clinical, community, food service, or other experiences into sections to highlight strengths
If you want to include your GPA for one school, you must include it for all. If you have one less than stellar GPA you'd rather not highlight then leave all of them off  (GPA is still viewable in the personal information section of DICAS)
Use action words to start each description, and avoid using the same action word twice
Find a way to show your personality in the resume: use interesting action words, adjectives, and phrases when describing your experiences
Personal Statement
Your personal statement is the meat and potatoes of your application and is arguably the most important component because it is the only piece in which you are able to let your personality shine! DICAS allows you to upload and attach a different personal statement for each internship program you are applying. This means that you absolutely, positively, 100% should tailor your personal statement for each internship and should NOT use one uniform statement.
The personal statement has five prompted questions that must be answered, but make sure to check the website of each program to make sure they do no have additional questions they'd like included.
Why do you want to enter the dietetics profession?
Discuss experiences that have helped to prepare you for your career.
What are your short-term and long-term goals?
What are your strengths and weaknesses or areas needing improvement?
What other information do you consider important for the selection decision?
Make sure not to miss my article on the mistakes you should avoid when writing your personal statement, but there are a few key guidelines to remember when writing your personal statement:
The prompt calls for 1000 words or 8000 characters, so if you find yourself at 1000 words and still have characters left then you should definitely use them! Take every opportunity to tell the director how amazing you are. Unless–and this is important!–the program's website specifically says only 100 words.
The personal statements must be pasted into a text form on DICAS, so don't waste time formatting your draft when you won't even be uploading the document.
Don't use your personal statement to restate all of the experiences that are already listed on your resume. Use the statement to explain why you're a great intern and then use your experiences to back them up.
Ask your friends, parents, grandparents, aunts, uncles, professors, boss–whoever–to read it. Then ask them again.
Read it out loud. Then do it again.
Letters of Recommendation
DICAS allows you to upload a total of four letters of recommendation, but you are only allowed to attach three letters to each application. This is beneficial because you are able to decide which letters would make the most impact to each specific program.
Let's say that you have four letters: one from your DPD director, one from a professor, one from a volunteer supervisor, and one from your boss. If a program specifies that they would like to see two academic letters and one from work/volunteer then you can send the letters from your DPD director, professor, and choose between the remaining two for your experience recommendation. If a program has no preference and highlights work and volunteer experience as important in their decision, then choosing the work, volunteer, and DPD program letters may be more impactful.
A few important tips when asking for letters of recommendation:
Only ask for letters from people that know you well and are absolutely sure will write you a great letter. Many directors say that the letters are one of the most important parts of the decision-making process.
The form that letter writers must fill out includes a table in which they rate you as 'Outstanding', 'More than Satisfactory', 'Satisfactory', and 'Needs Improvement', and includes such qualities as conceptual skills, interpersonal skills, punctuality (ahem), and responsibility. The form also prompts the writer to list the applicant's strengths and weaknesses.
Ask early and be prepared! Create a small portfolio about yourself including the programs you'd like to apply to, the the dates the applications are due, a list of your strengths and weaknesses, and any other information that you would like the letter writer to focus on. You may also list classes and projects you completed for a specific professor, or a list of how your improved your workplace for a supervisor. Be creative!
You must generate an email from within the DICAS application to each letter writer, so make sure to ask the writer in person before doing so. The letters can take a lot of time to write, so get the go-ahead before generating the email.
Choose letter writers who understand the importance of the dietetic internship application. I have classmates who asked a supervisor who was not well versed with the DI application process and the letter did not have the impact it could have if the supervisor knew how important it was to the applicant's future.
Transcripts
Order your transcripts ASAP! There is always, always, always trouble with transcripts before the application deadlines. Always. Even for friends who had graduated the semester before. DICAS must receive the transcripts directly from your school and usually takes about 4-5 business days to process and show as received.
I applied for spring match in January/February of 2015 and my fall 2014 grades did not post until January 22nd. I had already ordered a transcript to 'Hold for Final Grades' but the transcript was sent out prior to my grades being posted. A friend of mine had to overnight her transcript to NYU to make the cut–she ended up getting matched, but the stress of that week waiting for the transcript to post on the DICAS was enough to drive her crazy!
You are required to send in all transcripts from all academic institutions that you have ever attended, no matter what. Many people were unaware of this before applying and were very disappointed that their cumulative GPA was lower because of classes that were take years ago. Also be aware of this so you can order transcripts from schools you attended in the past.
Awards, Experience, & Volunteer Activities
DICAS allows you to enter as many present and past experiences as you'd like and this is an excellent way to throw in more information than you put in your resume. Maybe you only volunteered with an organization for a few days and didn't want to include it on your resume, you could definitely add it to this section. Take care to really understand and fill out the awards and experience carefully and uniformly. Directors are able to print applications and clear, readable, and concise descriptions will be better than long paragraphs.
Past Personal & Academic Information
DICAS asks for personal information including your contact information, personal information, past colleges, etc. In addition to general information, you must also input your DPD coursework to evaluate your GPA (in addition to your transcripts).
GPA, Coursework, & Course List
You will be asked to input all DPD courses taken presently and in the past, as well as those to be taken in the future. Be careful to fill out the classes exactly as they appear on your transcript.  You will also be required to upload your university's courselist, which can be obtained from your director. This is a list of your classes and how they are designated (DPD, science, electives, etc).
After all classes are entered, DICAS will calculate your overall, DPD, and science GPAs. From experience, I have found that the GPA that DICAS calculates is usually a few points higher than the ones that students calculate on their own. I'll take it!
Past Convictions
In addition to your current personal information, you will be prompted to answer questions regarding your past misdemeanor and felony conviction. Don't lie, it's not worth it. Just because you have something on your record doesn't mean that you won't match, but lying could guarantee losing an internship placement if you are caught. If you do have a past you're worried about, it's best to contact a director and be forthright. It's better to know your chances of having your application completely disregarded than wasting time applying.
Pressing Submit
Once you have uploaded your resume, personal statements, filled out all information, and have your letters uploads by your writers, you are ready to designate programs. You can choose as many programs as you'd like, but there are many who agree that you don't want to apply to too many as the matching process can be confusing.
Suffice to say, you designate the programs you'd like to apply to, attach the correct letters of recommendation and personal statement to each application, pay your fee, and press submit. Once you submit once application, you cannot go back and change the information you entered in the application. Your application is essentially locked and you can only control the letters of recommendation and personal statement attached to new program designations.
D&D Digital
After you have finished inputting information to DICAS and have designated your programs (and paid your fees–don't forget!) you must then register and pay for the matching process through D&D Digital. D&D Digital is the matching service that is used to match applicants to the best possible program through an algorithm that is a mystical anomaly. You will hear many myths about how the matching process works throughout the application process, but the bottom line is that you put the best possible application together to give yourself the best possible chance to get into the best possible program for you.
Then…
What do you do after the application is done? You relax, have a glass of wine, and pat yourself on the back. Then you start freaking out about dietetic internship interviews!
Have questions about DI applications? Leave a comment or contact me, I love to help nutrition students in any way I can.
We are participant in the Amazon Services LLC Associates Program, an affiliate advertising program designed to provide a means for us to earn fees by linking to Amazon.com and affiliated sites.