Crunchy Celery Apple Salad
Crunchy Celery Apple Salad, a light and refreshing celery salad with crisp green apples, radishes, red onion, fresh parsley and mint, dried cranberries, and sunflower seeds. The perfect way to use up leftover celery!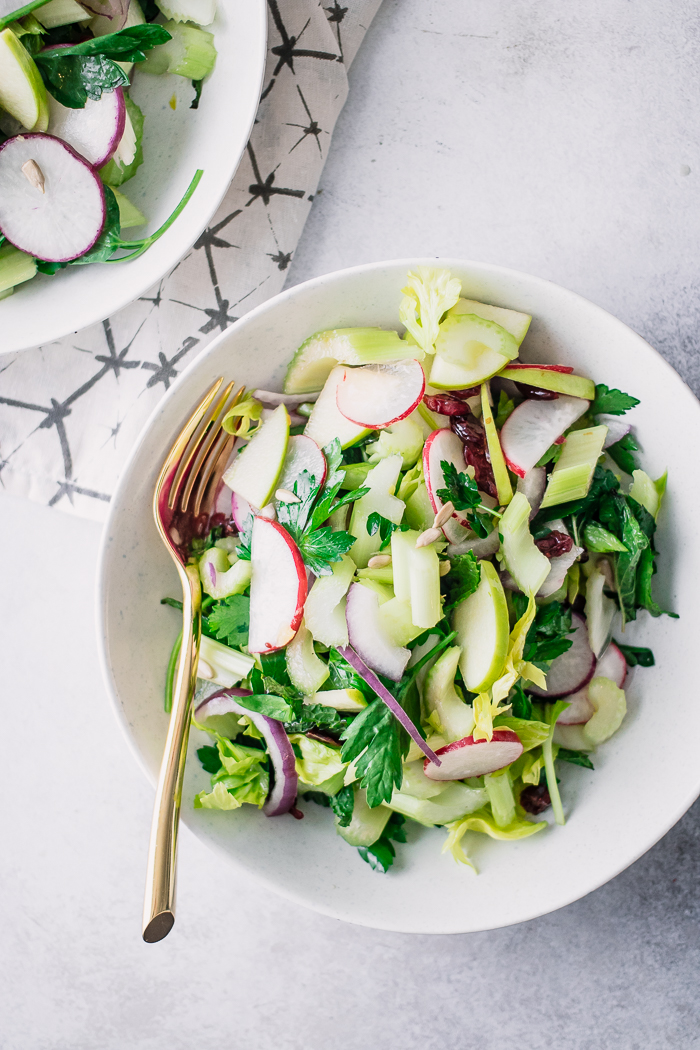 Have you ever noticed that when celery is used in a dish the recipe always calls for "1 stalk" of celery? And then you're stuck with a huge bunch of celery and you have no idea what to make with it?
Too often that bag of celery goes to waste in the refrigerator, forgotten and slowing wilting in the crisper drawer until you find it and throw it out.
Beyond the childhood favorite "bumps on a log," celery isn't the type of vegetable that is the main event of a dish and is usually relegated to be a complimentary ingredient.
Well, this Crunchy Celery Apple Salad is here to change that.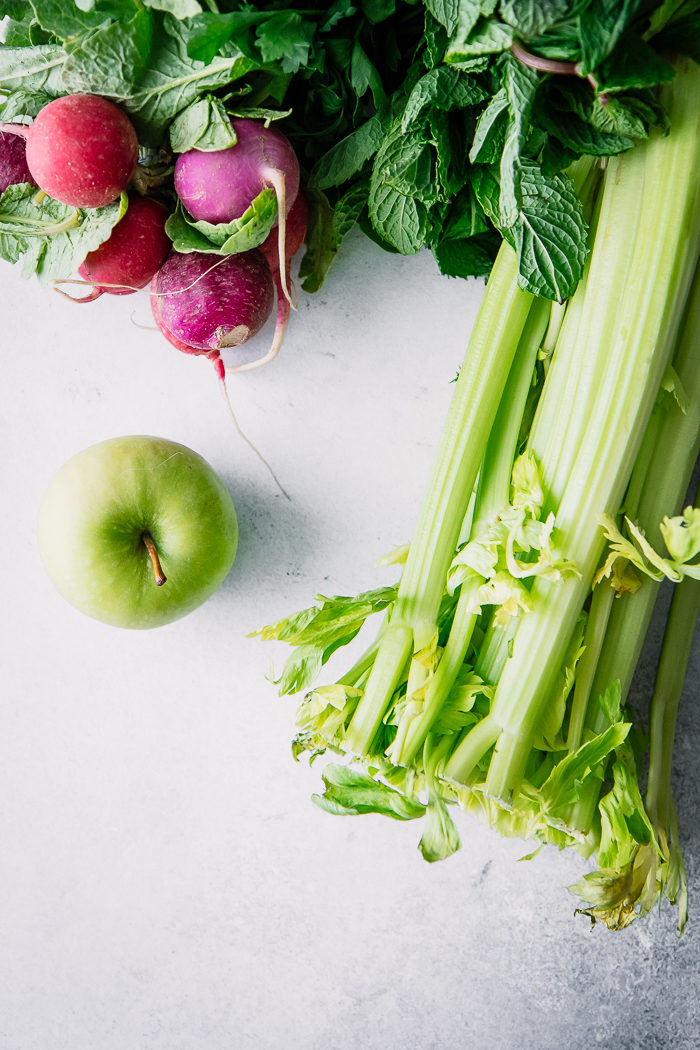 This fresh salad uses sliced celery stalks as the star, along with crisp green apple slices and crunchy radishes tossed with fresh parsley in a light olive oil and lemon dressing.
Sweet and tangy dried cranberries and crunchy sunflower seeds top off the dish and take the crunch factor to the next level.
This Crunchy Celery Apple Salad is a perfect option for outdoor cookouts and picnics, as the apples and celery hold up well for traveling and do not wilt when dressed like salads made from leafy greens.
It's also a simple recipe that comes together in less than ten minutes, so it's a perfect side dish or quick lunch if you have extra celery lying around after making soups or stews.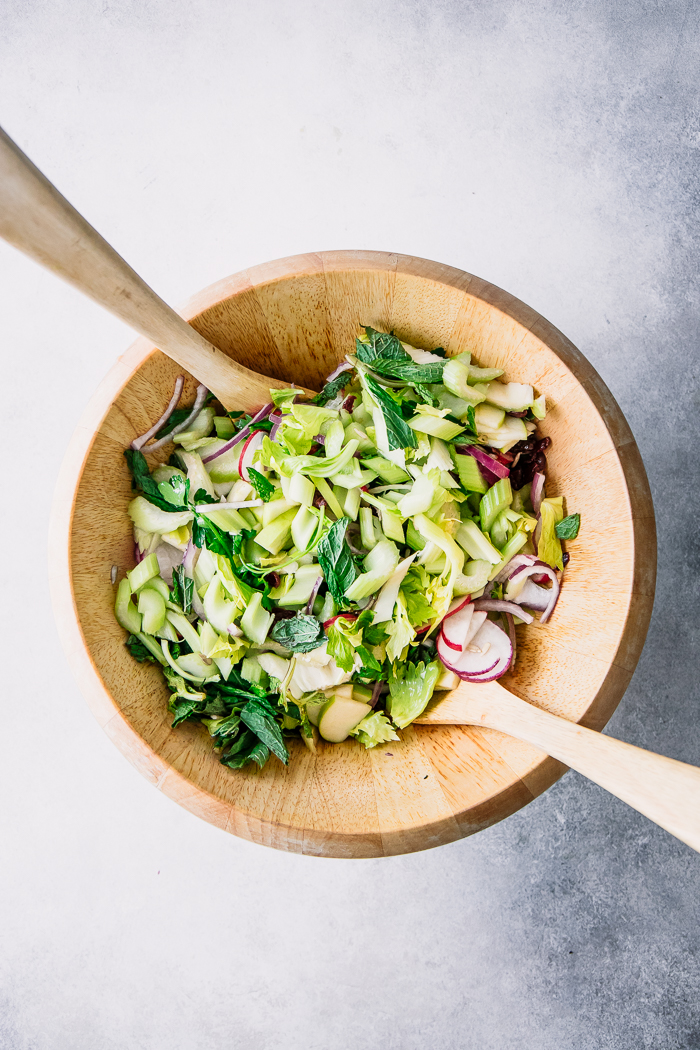 Crunchy Celery Apple Salad: Tips, Tricks & Tools
This light salad does not require special ingredients or tools, however there are a few pieces of kitchen equipment that will make preparing this Crunch Celery Apple Salad easier.
A great set of mixing bowls: For years I avoided buying a good set of mixing bowls and tried to survive with just one large hand-me-down bowl from my mother. I'm a (wannabe) minimalist, I don't need mixing bowls! Well, I finally broke down and bought a set of clear Pyrex glass bowls and I have to say my life is much easier for it.
A great set of knives: A great set of kitchen knives are essential and come in handy when slicing and dicing crispy vegetables.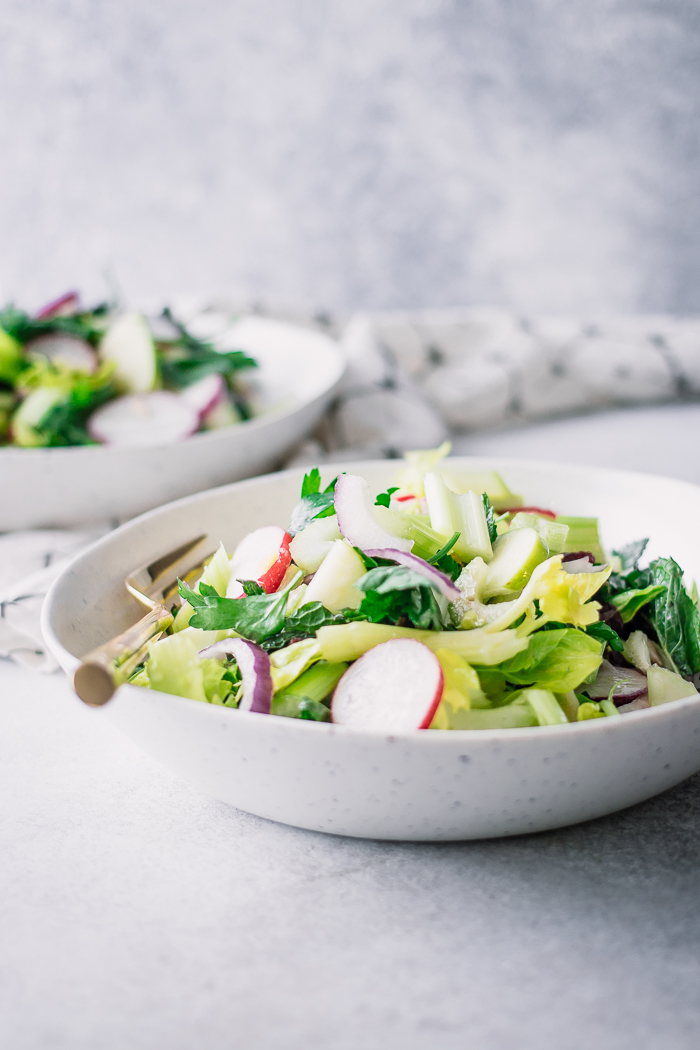 ---
More recipes using leftovers
Save those lonely vegetables and other foods from going to waste by using them up in these food waste recovery recipes:
Did you make this Crunchy Celery Apple Salad recipe? Don't forget to leave a comment below and let us know how it turned out, and save it to your salads board on Pinterest and tag me on Instagram. I want to see your salad creations!
Yield: 4 servings
Crunchy Celery Apple Salad
Crunchy Celery Apple Salad, a light celery salad with crisp green apples, radishes, red onion, fresh parsley and mint, dried cranberries, and sunflower seeds.
Prep Time 10 minutes
Total Time 10 minutes
Ingredients
4 cups celery, sliced
1 medium green apple, thinly sliced
2 cups radishes, thinly sliced
1/2 red onion, thinly sliced
1 cup parsley, chopped
1 cup mint leaves, chopped
1/4 cup lemon juice
Instructions
Toss chopped celery, apple, radishes, onion, parsley, and mint leaves in a large mixing bowl.
Combine lemon juice, olive oil, salt, and pepper and drizzle on salad. Toss to coat and top with sunflower seeds.
Notes
Leftovers & Storage: Because of the crunchy nature of celery, apples, and radishes, this salad is a great make-ahead option for outdoor parties and picnics. It will hold up well for about 2-3 days in the refrigerator if dressed, up to four days if dressing is added later.
Nutrition: This salad is a a great side dish meant to be paired with your choice of protein and / or whole grains. It is low in saturated fat, high in fiber, and packs an antioxidant punch from the array of fresh vegetables, fruits, and healthy fats.
*Recipe inspired by and adapted from Well + Good's celery salad.
Nutrition Information:
Yield:
4
Serving Size:
1 serving
Amount Per Serving:
Calories: 315
Total Fat: 20g
Saturated Fat: 3g
Trans Fat: 0g
Unsaturated Fat: 16g
Cholesterol: 0mg
Sodium: 942mg
Carbohydrates: 36g
Fiber: 8g
Sugar: 25g
Protein: 5g
We are participant in the Amazon Services LLC Associates Program, an affiliate advertising program designed to provide a means for us to earn fees by linking to Amazon.com and affiliated sites.