Crispy Baked Beet Greens, a simple roasted beet green chips crunchy snack recipe. Reduce food waste and turn those beet tops into a healthy baked chip!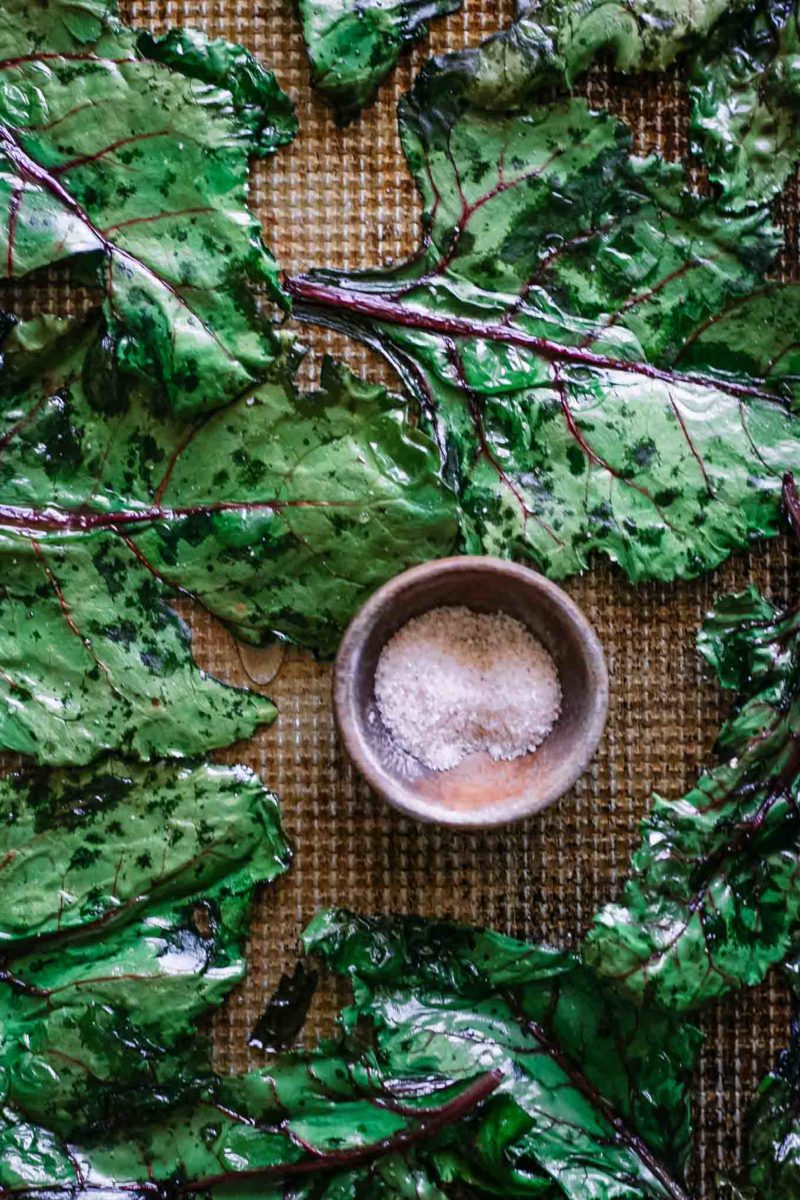 Move over kale chips, there's a new leafy green chip in town: beet greens chips! If you've never made chips from the leaves of beets, you're missing out on a crunchy (and healthy) snack that also happens to reduce food waste.
👉 Here are three reasons you should be crisping beet leaves into snackable chips:
They're tasty. First and foremost, roasted beet greens are a simple snack that hits the spot when you're craving chips but want to keep it healthy.
It reduces food waste. Unfortunately, beet greens are often thrown out because people don't realize they're edible, so this recipe saves them from the compost (or worse, the trash can!).
It's super easy and very versatile. Simply wash the greens, toss them in oil and spices, and bake until crispy (just 10 minutes!). Super simple, super flavorful.
Ready to learn how to make chips from beet leaves? Let's do it!
---
🌿 Ingredients + Tools You'll Need
Beet leaves: The leaves of greens are edible and are great for making baked chips! Simply cut the leafy greens part of beet tops from the stems, and give them a good wash and dry before making chips.
Oil: Oil coats the beet leaves and allows them to get a crispy, chip-like texture when baked in the oven. We used olive oil, but you can also use canola, avocado, or other high heat-safe oils.
Spices: Salt and pepper are essential and we give the greens a light sprinkling before baking, but you can also add other spices like garlic powder, nutritional yeast, and even a drizzle of lemon juice for a punch of extra flavor. Get creative!
Tools you'll need: You'll need a baking sheet, a mixing bowl, and a spatula. However, you could get away with adding oil and spices directly onto the greens on the baking pan if you don't have mixing bowls (or if you're trying to reduce dish clean up).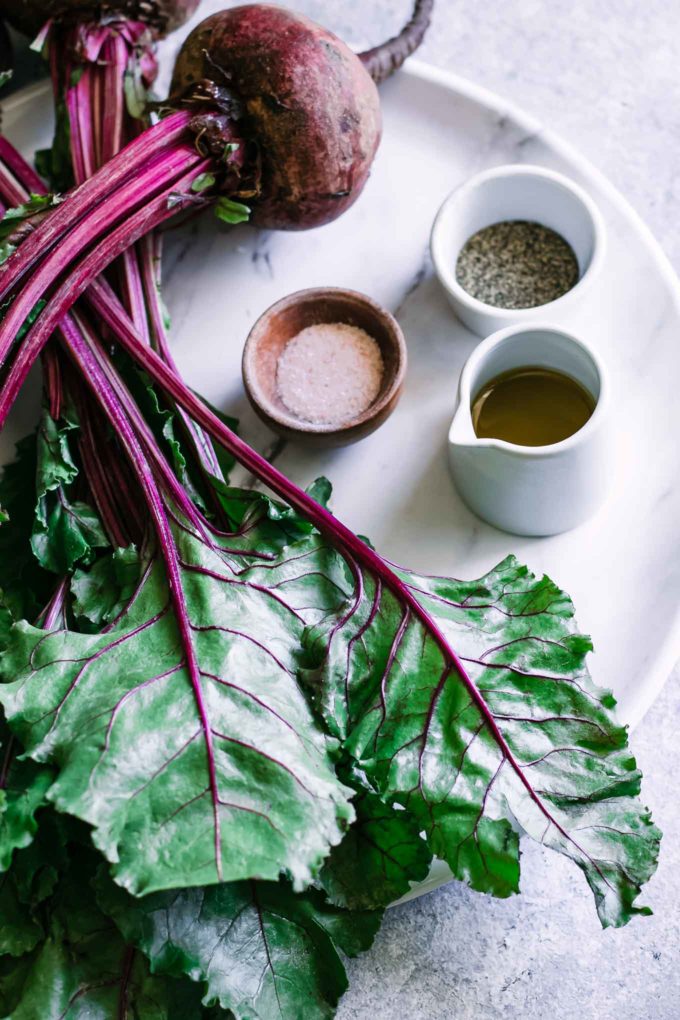 ---
🥣 How to make chips from beet leaves (step-by-step photos)
1️⃣ Step One: Wash and prep beet tops
First, cut the leaves from the stem of the beetroot. Save the stems for food scrap vegetable broth!
Next, give the beet tops a good wash. Beets are a root vegetable, so the leaves are very close to the ground and are often dirty. Most stores don't wash the greens well because people are not eating the greens.
To do this, you can either wash them under running water or you can submerge them in a bowl of water. To dry them, either lay them flat on a kitchen towel or spin them in a salad spinner to remove water faster.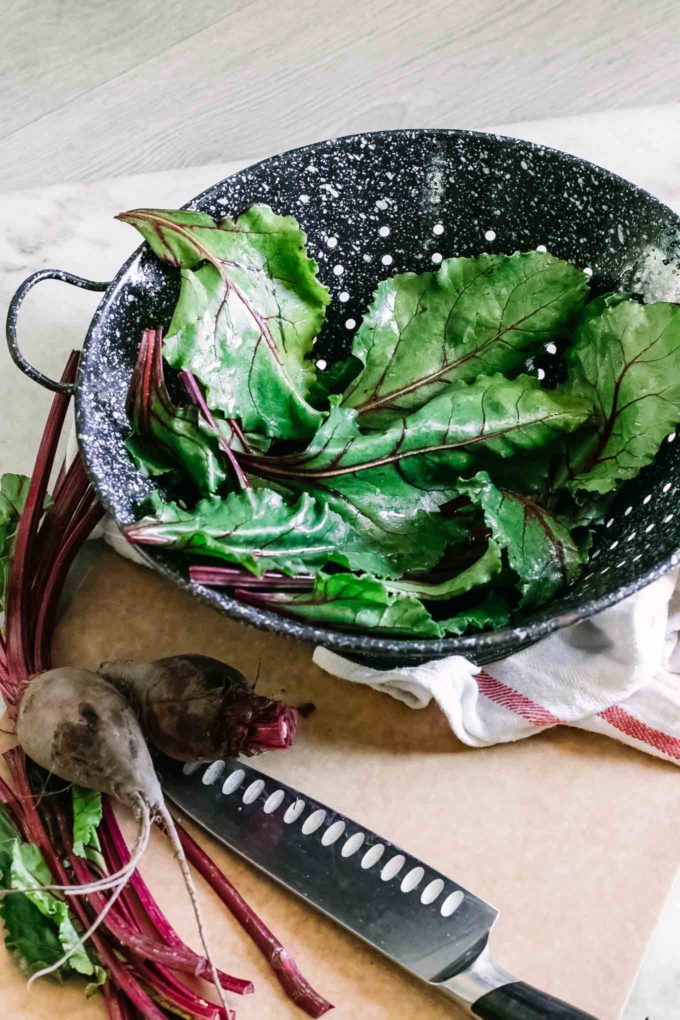 ---
2️⃣ Step Two: Preheat the oven + prep the greens
When the greens are washed and dried, preheat the oven to 400° F (200° C).
Then add the beet greens to a large mixing bowl and drizzle them with olive oil. Use your hands to massage the greens, coating them in oil so they cook evenly on all sides.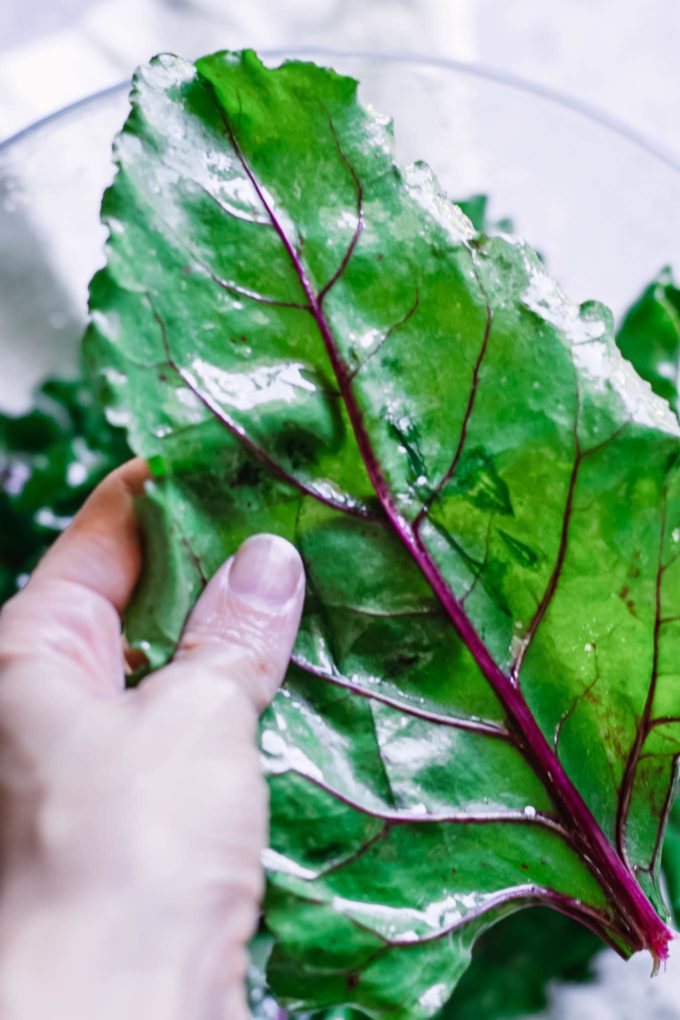 Then coat the baking sheet with a small amount of oil and add the oiled beet greens. Sprinkle them with a bit of salt and pepper, and any other desired spices.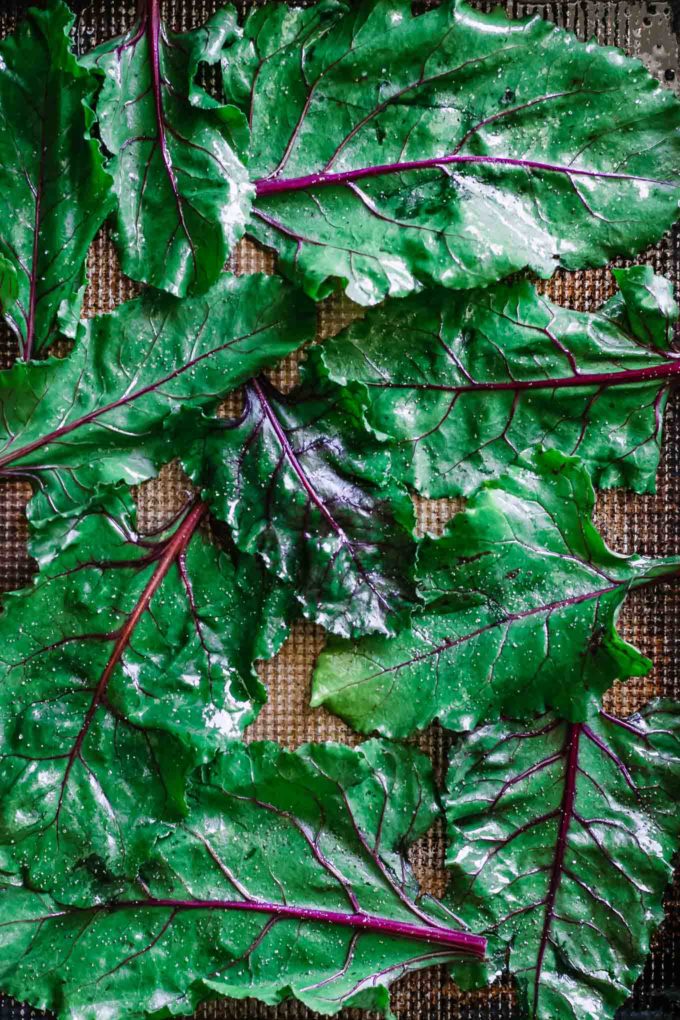 ---
3️⃣ Step Three: Bake beet greens until crispy
Roast the greens in the oven until they're crispy, but not burnt, about 8-10 minutes total. Flip them once halfway through baking to ensure they are roasted evenly on all sides.
When they're done, remove them from the oven and enjoy! They're best eaten right away when they're warm and crispy, however you can bake them ahead of time and save for snacking later.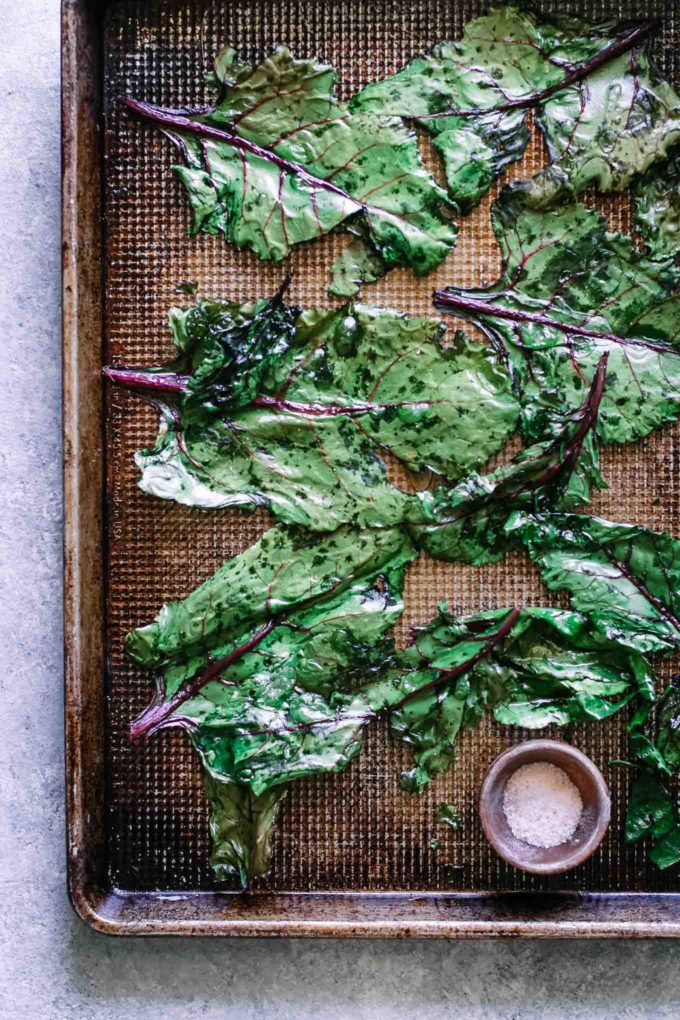 ---
❓ Recipe + beet greens questions
Can you eat the greens from beets?
Beet greens are not only edible, they're delicious! The sturdy green leaves from beets are tasty in salads, soups, in smoothies, baked as chips, or even sautéed on their own as a side dish.
Are beet greens good for you?
Beet tops are a healthy leafy green option to replace other lettuces like swiss chard or mustard greens. One cup of beet greens is an excellent source of vitamin A and vitamin C, and contains fiber and potassium (USDA Food Nutrient Database).
What can you do with beet greens?
Beet greens are a flexible leafy green that is great in salads, soups, and smoothies. They're also delicious in sauces like pesto or chimichurri, cooked until wilted as a side dish like spinach, or even baked into healthy crispy "chips".
---
♻️ Sustainable kitchen tips + tools
This recipe is inherently a food waste recovery recipe, but here are a few tips and tricks for making it even more sustainable:
Take advantage of beet season! Here in California beets are available all year round, however they are in-season May through November in most other parts of the United States.
Use beet stem scraps: Don't throw out the unused parts of the beet stems after cutting, instead use them to flavor soup stocks. No vegetable goes to waste!
Prep ahead to save time: While the beet chips themselves are best eaten right away, you can can wash the greens ahead of time and then store in an airtight container in the refrigerator until you're ready to bake. Perfect for when a snack craving hits!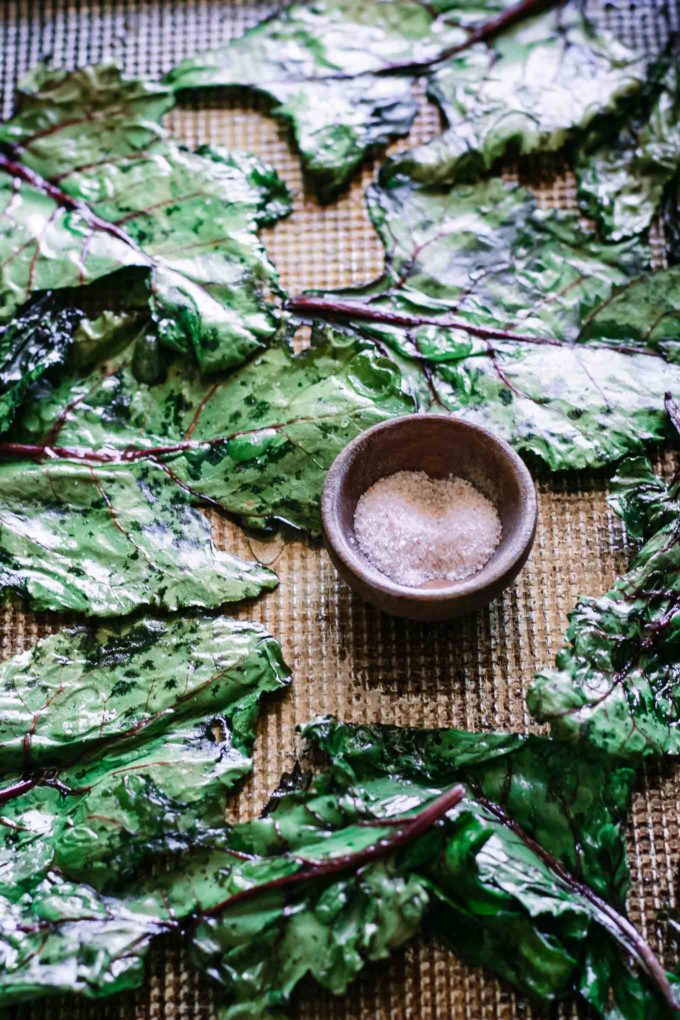 ---
🌱 More recipes using beet greens
Looking for more recipes using beet greens? We've got you covered:
Want more alternative baked leafy greens recipes? Try Roasted Chard Chips or Baked Radish Top Crisps.
Crispy Baked Beet Greens Recipe
Crispy Baked Beet Greens, a simple roasted beet green chips crunchy snack recipe. Reduce food waste and use up those beet tops!
Ingredients
2

cups

beet greens

from about 1 bunch

4

teaspoons

olive oil

divided

1

pinch

salt and pepper

Optional:

garlic powder, nutritional yeast, lemon juice
Instructions
Wash and dry beet leaves: First cut greens from the beetroot, then cut off the stiff stems right under where the greens start to grow. Fill a large mixing bowl with cold water and submerge beet stems for a few minutes, stirring or moving the leaves around with your hands to make sure as much dirt is removed as possible. Next, remove the leaves from the water and use a salad spinner to remove water and put into a bowl or lay flat to dry (about 15 minutes).

Preheat oven and prep greens: Preheat the oven to 400° F (200° C). To a medium mixing bowl, add dry beet leaves and 2 teaspoons olive oil and, using your hands, massage the greens to coat them completely in oil. Add the remaining 2 teaspoons of olive oil to grease a baking sheet, then add oiled greens and sprinkle with salt and pepper. Add any additional desired spices, like a sprinkle of garlic powder, nutritional yeast, or a sprinkle of lemon juice.

Bake beet greens: Place the baking sheet into the oven and bake beet tops for 8-10 minutes, flipping the leaves halfway through baking so they get crispy on all sides. Once they're completely crispy, remove from the oven and eat immediately for best flavor. Enjoy!
Notes
Tools Needed: mixing bowl, baking sheet, spatula
Prep Ahead: Wash and dry beet greens up to three days ahead of time so they are ready to prep for baking when your snack craving hits.
Leftovers and Storage: While the flavor and crispiness is best when eaten right after baking, you can store leftover roasted beet greens in an airtight container on the counter for up to two days.
Nutrition notes: This recipe made as written is plant-based, gluten-free, nut-free, and is a healthier alternative to traditional chips and crisps.
Nutrition
Serving:
1
serving
Calories:
79
kcal
Carbohydrates:
2
g
Protein:
1
g
Fat:
8
g
Saturated Fat:
1
g
Polyunsaturated Fat:
1
g
Monounsaturated Fat:
6
g
Sodium:
105
mg
Potassium:
290
mg
Fiber:
1
g
Sugar:
1
g
Vitamin A:
2404
IU
Vitamin C:
11
mg
Calcium:
45
mg
Iron:
1
mg