Savory Chestnut Chocolate Pasta
Savory Chestnut Chocolate Pasta, a savory recipe featuring chocolate pasta made with cocoa. Add a warm chestnut sauce and top with fresh sage and smoked sea salt for a rich and unique new comfort food favorite!
Ok, you might be a little confused. Pasta made witch chocolate? No, it's not a joke. And yes, it's absolutely delicious.
Last year when we traveled to Colombia, we perused the streets of Cartagena and stumbled upon a small chocolate shop that was part retail store and part chocolate farming education. There were whole chocolate plants, unsweetened cocoa tastings, and products containing chocolate that you would have never dreamed of.
So when I found these pasta noodles made of chocolate, I knew I had to try my hand cooking with them. They sat in my pantry for over a year and I was a bit worried to experiment with a savory chocolate pasta recipe and it end up terrible, but thankfully this Savory Chestnut Chocolate Pasta was an absolutely hit (and Italian husband approved…and he's very, very picky about his pasta).
Want to make this simple savory pasta recipe with cocoa pasta noodles, chestnuts, garlic, and sage? Let's do it!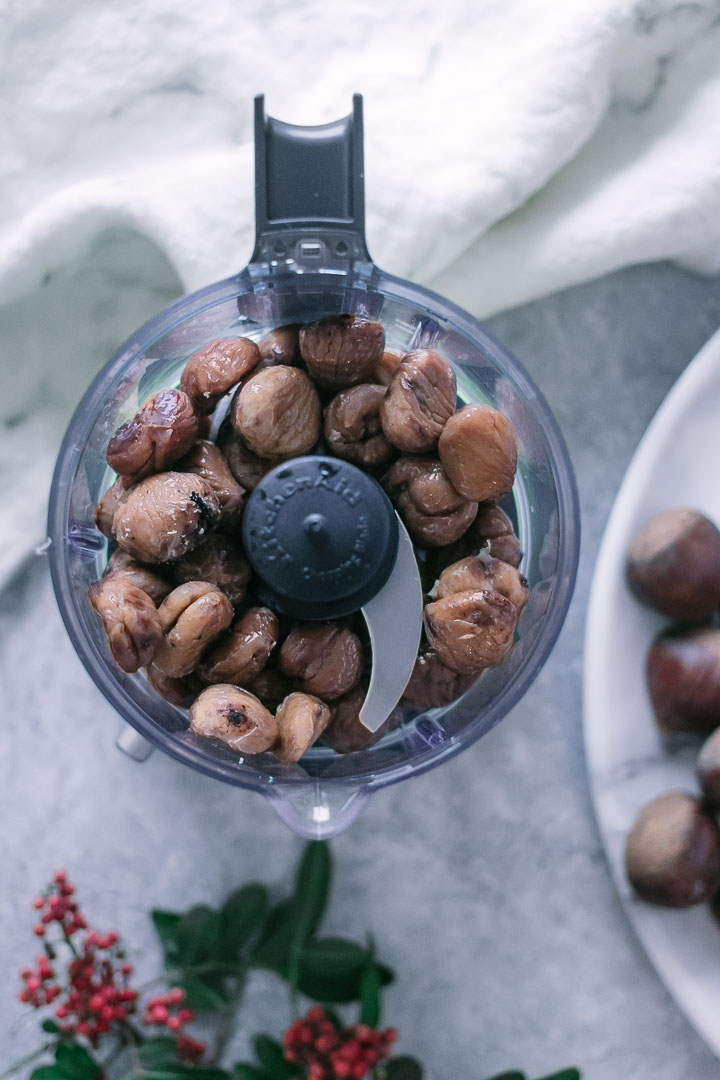 How to make Savory Chestnut Chocolate Pasta
First, make the chestnut sauce by combining chestnuts, oil, and a pinch of salt to a food processor. Pulse until chestnuts are uniformly chopped and set aside. Meanwhile, bring lightly salted water to a boil and add chocolate pasta. Cook until al dente, about 8 minutes. Drain and set aside.
To put it all together, add a bit of oil to a large pan over medium heat and add sliced garlic. Cook until slightly crispy and fragrant, about 2 minutes. Then add the chestnut sauce and stir to heat throughout. Finally, add chocolate pasta and stir to combine, then serve with a sprinkle of smoked sea salt and freshly chopped sage.
Where to find chocolate pasta
I purchased my chocolate pasta while at a specialty cocoa shop in Cartagena, Colombia. I have not seen chocolate pasta in my local grocery store, however chocolate pasta is available on Amazon and I also found a few brands that sell it in online shops (just do a simple Google search).
Should you buy whole or already ready-to-eat chestnuts?
We often roast whole chestnuts at home and serve them with wine and cheese, but they do take about 20-30 minutes and they're kind of a pain to peel unless they're cooked perfectly. Because of this I purchased ready-to-eat chestnuts and then popped them right into the food processor, but you could roast whole and peel…it would just add about 30 minutes to your total cook time.
Savory Chestnut Chocolate Pasta : Tips, tricks, and tools
This chocolate pasta in a homemade chestnut sauce is easy to make, but there are a few tips and tricks to simplify the process:
Choose your chestnuts: as mentioned above, I chose ready-to-eat chestnuts to save time instead of roasting them whole and peeling
Don't skimp on quality sea salt: the flaked sea salt sprinkle really makes this dish, so get the best smoked sea salt
Get creative: experiment with chocolate pasta by using various fresh herbs, spices, cheeses (a sprinkle of parmesan would be delicious), or even go crazy and make a sweet chocolate pasta (and make sure to share the recipe with me!)
---
Love this simple chocolate pasta recipe? Check out our other seasonal pasta, like this Broccoli Rabe Orrechiette or this Pasta with Clams winter favorite.
Did you make this Savory Chestnut Chocolate Pasta? Leave a comment below and rate the recipe to let us know how it turned out. Save this pasta recipe for later by pinning to your favorite winter Pinterest board and make sure to tag me on Fork in the Road's Instagram to show me your chocolate pasta creations!
Yield: 2 servings
Savory Chestnut Chocolate Pasta
Savory Chestnut Chocolate Pasta, a savory recipe featuring chocolate pasta made with cocoa. Add a warm chestnut sauce and top with fresh sage and smoked sea salt for a rich and unique new comfort food favorite!
Prep Time 10 minutes
Cook Time 20 minutes
Total Time 30 minutes
Ingredients
3 tablespoons olive oil, plus 1 teaspoon
7 ounces (200g) chopped chestnuts, cooked and shelled
1/4 teaspoon flaked sea salt
9 ounces (255g) chocolate pasta
2 garlic cloves, thinly sliced
2 tablespoons sage, thinly chopped
Instructions
To make chestnut sauce: add 3 tablespoons olive oil, chestnuts and salt to a food processor and pulse until well combined
To make pasta: boil in salted water for 8 minutes or until al dente (about 8 minutes), and then drain
Heat remaining olive oil in large pan over medium high heat and add sliced garlic. Cook until crispy, about three minutes, and then add chestnut sauce and heat until well combined, about 2 minutes more. Add drained chocolate pasta, stirring to combine and heat. Serve with a sprinkle of sea salt and chopped sage.
Notes
Notes: Experiment with toppings for this recipe by using different flavored oil. Make a sweet pasta recipe with sweet cream and chocolate shavings.
Tools needed: environmentally-friendly cookware, knife set
Prep ahead: Make the chestnut sauce up to four days ahead of time and add to chocolate pasta after cooking
Leftovers and Storage: Store this savory chocolate pasta recipe in an airtight container for up to three day and reheat before serving.
Nutrition notes: This chocolate pasta recipe is on the more indulgent side, so pair with a green salad with a protein for a complete meal. It is high in fiber, plant-based protein, and antioxidants from the cocoa in the chocolate pasta.
Nutrition Information:
Serving Size:
1 serving (about 2 cups cooked)
Amount Per Serving:
Calories: 403
Total Fat: 46g
Saturated Fat: 6g
Trans Fat: 0g
Unsaturated Fat: 40g
Cholesterol: 0mg
Sodium: 400mg
Carbohydrates: 100g
Fiber: 25g
Sugar: 13g
Protein: 19g
We are participant in the Amazon Services LLC Associates Program, an affiliate advertising program designed to provide a means for us to earn fees by linking to Amazon.com and affiliated sites.