Caprese Ciabatta Toast
Caprese Ciabatta Toast – baked garlic ciabatta bread with fresh summer tomatoes and mozzarella balls tossed in basil and olive oil. It's tomato season!
It's official – tomato season is here.
I have to admit I always want to start posting tomato recipes earlier than the rest of the world most summers because they are always available here in California. Holding off before face planting into all things tomato is always a struggle, but I admit that when I do resist the urge I never regret it.
There's nothing like the taste of fresh, in-season tomatoes to make you remember what real tomatoes are supposed to taste like.
But wait no longer, because tomato season has arrived! Each week the tomato bin at the market gets bigger and bigger, with more and more varieties on display. And this week it was impossible to pass up them up any longer.
In my opinion,(which is biased because I'm married to an Italian) tomatoes are made for mozzarella. A simple, sliced tomato with a bit of mozzarella and basil on top and drizzled with olive oil is my idea of perfection. And that's why this Caprese Ciabatta Toast is one of my favorite quick and easy, but damn delicious, pickable meals.
I'm a bit of a purist when it comes to caprese salads; you will never see me ordering a "caprese stuffed hoagie" or a "caprese calzone." But topping garlic ciabatta toast with a tossed caprese salad made of cherry tomatoes and fresh mozzarella seemed intuitive.
And because, in my humble opinion, everything tastes better on top of toast. Especially garlic ciabatta toast.
Like this Caprese Ciabatta Toast?
Try one of my other favorite easy Italian recipes:

Yield: 4-6 servings
Caprese Ciabatta Toast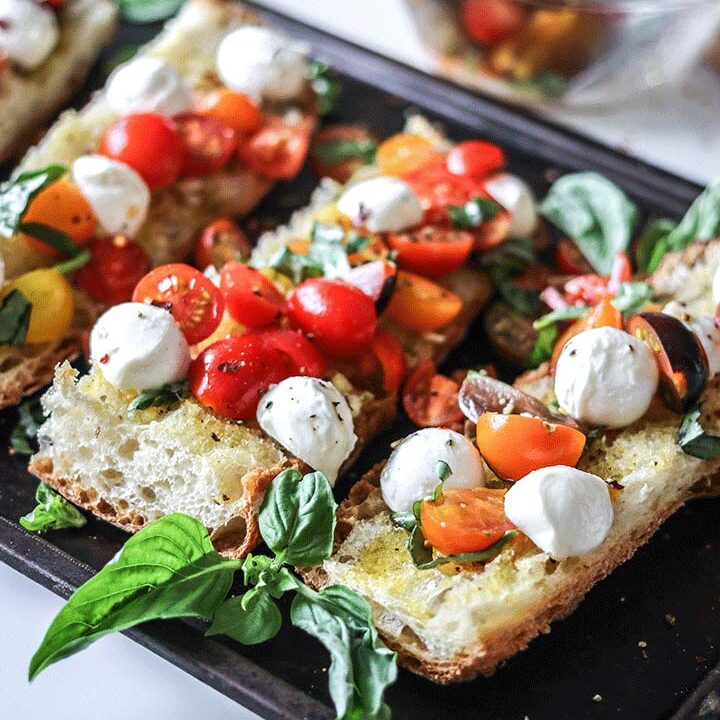 Caprese Ciabatta Toast | Baked garlic ciabatta bread with fresh summer tomatoes and mozzarella balls tossed in basil and olive oil. Easy summer dinner!
Prep Time 10 minutes
Cook Time 20 minutes
Total Time 30 minutes
Ingredients
1 loaf ciabatta bread
2 tablespoons olive oil
3 garlic cloves, minced
pinch dried red pepper
1 carton (about 25) cherry tomatoes
1 carton (about 3 oz) mozzarella balls
1/2 cup fresh basil
pinch salt and pepper
Instructions
Preheat oven to 350 degrees (or, if you don't want to use the oven because it's too hot, turn on grill to medium heat).
Cut ciabatta into long, thin pieces. Mix together olive oil, garlic and a pinch of salt and pepper and brush onto ciabatta loaves. Place loaves on a cookie sheet (or directly on grill) and bake (or grill) 5-6 minutes, or until crispy.
In the mean time, slice cherry tomatoes and mozzarella balls in half and toss with olive oil, pinch of salt and pepper, and chopped basil.
Remove bread from oven, top with tomato and cheese mixture and enjoy!
Notes
If you're in the market for a good olive oil (which you should absolutely use for this recipe), try out this La Tourangelle Organic Olive Oil or this smoked olive oil, which would lend a really interesting flavor to this Caprese Ciabatta Toast.
Nutrition Information:
Yield:
6
Serving Size:
1 6" piece of toast with toppings
Amount Per Serving:
Calories: 247
Total Fat: 7g
Saturated Fat: 1g
Trans Fat: 0g
Unsaturated Fat: 5g
Cholesterol: 0mg
Sodium: 385mg
Carbohydrates: 39g
Fiber: 2g
Sugar: 5g
Protein: 7g
We are participant in the Amazon Services LLC Associates Program, an affiliate advertising program designed to provide a means for us to earn fees by linking to Amazon.com and affiliated sites.